During my trip to Helen in the north Georgia mountains it was my goal to find the most unique attractions the area has to offer.
Of course, "unique" is based on my own definition which falls somewhere on the awesome to one-of-a-kind to "huh, that's interesting" scale.
That said, the Helen area did not disappoint and I'm happy to share my top 5 picks.
5 Unique Georgia Attractions In Helen You Have To Experience
Note, one of the unique Georgia attractions is in nearby Cleveland, but absolutely had to be included in this list!
Georgia Mountain Coaster
For some, this Georgia Mountain Coaster may be a tame ride, but for me, it's just the right amount of fun.
You'll jump on your coaster seat at the bottom of the mountain and enjoy a slow easy ride to the top.
Make sure you know how the brakes work and once you crest the top of the hill be prepared for a speedy ride to the bottom. I knew where the brakes were but didn't want to use them.
My goal was to see how fast I could go.
I used the brakes exactly twice, each time on a curve that felt like I might yeet myself off the track if I didn't.
Because I was full speed ahead the ride was over in no time at all.
The good news is, if you prefer a slower descent, you can do that as well. Simply apply the brakes as you go down the hill but make sure you don't fully stop.
As you come towards the end of the ride there will be signs to slow down, you do have to exit the ride while it's still slowly moving so be prepared for that.
My biggest bummer is that my video didn't work, and I didn't realize it until after the ride was over.
What I Love: It's my level of "thrill" ride which means no dips, no drops and it's close to the ground.
My Cons: It's over much too quickly, but still worth it.
Best Tip: You might want to buy a package and ride it a couple times.
Uhuburg Castle
Ok, hold up your hand and put a finger down if you were exploring the beautiful outdoors of Helen, Georgia and happened to stumble across a full blown castle. <<Me, putting a finger down, anyone else?>>
It's true, a couple miles from downtown Helen you'll find Uhuburg (pronounce ooo-hoo-berg) Castle.
And I don't mean one of those cute places you sometimes see in the U.S. that they call a castle that is really a mini McMansion. I mean a full on, looks like I stepped through a worm hole into Europe, castle.
This Renaissance Castle has twelve towers, one turret, three gatehouses, an eight story lookout tower, Great Hall, cloistered walls with rampart and lower walkways, ten guest chambers, two apartments, a master chamber, tropical atrium, grotto, murals, and two acres of courtyard gardens.
It is situated on a mountain knoll with spectacular views from each of the walls and towers.
This castle has been under construction since 2008 and finally opened its doors for visitors in 2023.
Hopefully, in 2024 or sooner they will have accommodations ready so that you can spend the night in a castle without leaving the U.S.
Uhuburg is named for the largest owl in the world, the Eurasian Owl and since that is the castle mascot there are plans to open an owl aviary in 2025.
Self-guided and guided tours are available.
What I Love: Duh, it's a castle in the mountains of Georgia, enough said.
My Con: Lodging isn't available yet and I'm impatient to stay at a castle.
Best Tip: Take the guided tour if you have time. If you do the self-guided don't miss the murals.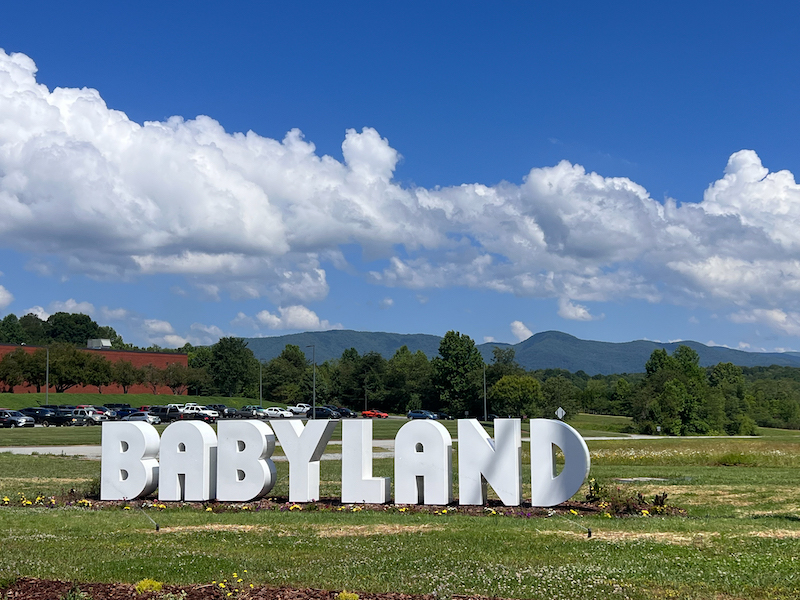 BabyLand General Hospital
Speaking of things you have to see to believe, BabyLand General® Hospital in Cleveland is one of those things.
Honestly, most of it defies description, but if you love Appalachian Art OR are a fan of Cabbage Patch dolls this is the place for you.
Today, those that love Cabbage Patch and/or sculpture art can visit BabyLand General Hospital.
The highlight for some might be to see Mother Cabbage give birth, for others it might be appreciating the thousands of dolls on display and available for adoption.
Interested? Read more about BabyLand General Hospital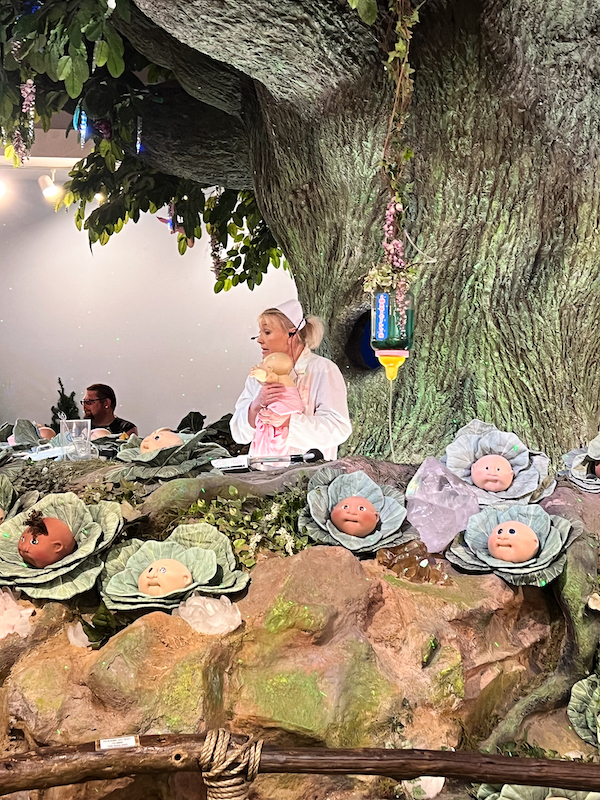 What I Love: Free to visit and the perfect rainy-day activity for families.
My Con: None
Best Tip: Do not miss Mother Cabbage giving birth to a Cabbage Patch doll. It's seriously something you must witness for yourself.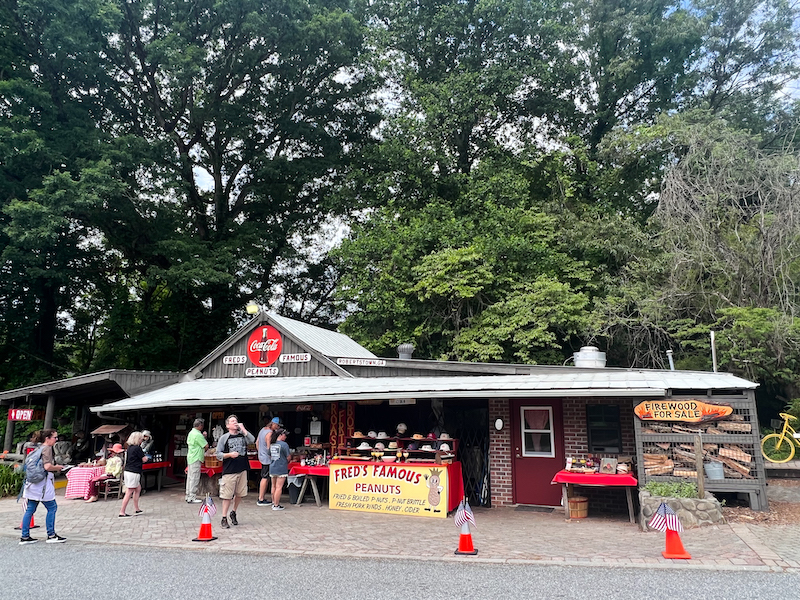 Fred's Famous Peanuts
This wouldn't be a very good list if I didn't include at least one really good roadside attraction and that is Fred's Famous Peanuts.
If you're heading out to Anna Ruby Falls (highly recommend) you'll pass right by Fred's so just go ahead and stop.
This is a country roadside store that has been in operation for the last 40 years.
Fred's is known for its Famous Fried Peanuts, Fresh Roasted Peanuts, Homemade Peanut Brittle, Fresh Pork Rinds, and Cinnamon Twists.
Be sure to enjoy some samples during your visit and be prepared to load up on road trip snacks.
Enjoy the outdoor art sculptures and handcrafted gift options during your visit.
What I Love: Great roasted peanuts. I'm not a fan of boiled peanuts but I've heard they are some of the best.
My Con: Located in a busy-ish area with limited parking. Use caution crossing the road.
Best Tip: It's never too early to start shopping for the holidays/birthdays.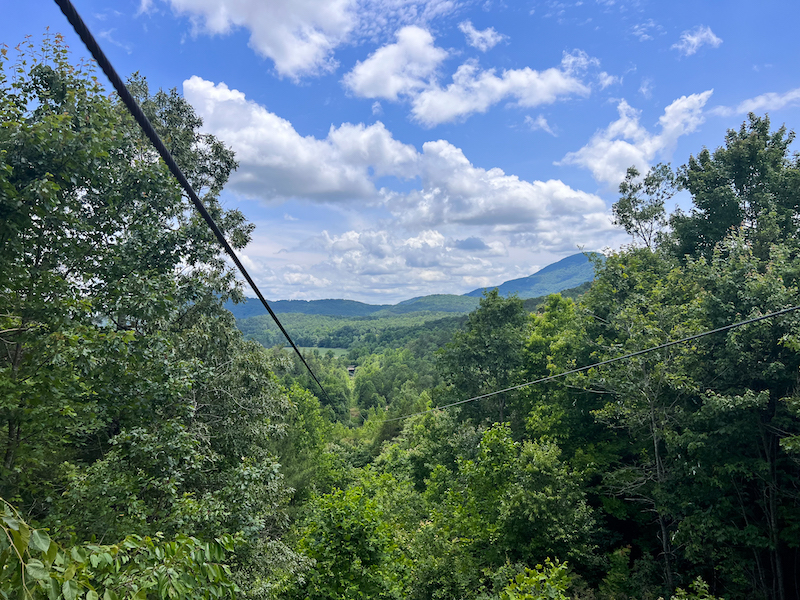 Nacoochee Adventures "The Intimidator" Zip Line
If you love a good zip line you have to head to Nacoochee Adventures in Helen and check out the Intimidator.
At nearly 1/2 mile long, this zip line isn't called "The Intimidator" for nothing!
Step onto the platform with a spectacular view of Mount Yonah and listen to the Sautee Nacoochee Indian Mound Legend.
Race a partner down one of the longest dual zip lines in the county while catching speeds 50+ mph.
What I Love: Watching others do the scary things. I'm happy to keep feet firmly planted on the ground.
My Con: I'm always a hard pass for zip lines, but I know many of my readers are going to love this!
Best Tip: Don't love zip lining or adrenaline packed adventures? Order a wine slushy and enjoy your beverage while watching people zip down the mountain.
Pin To Pinterest: