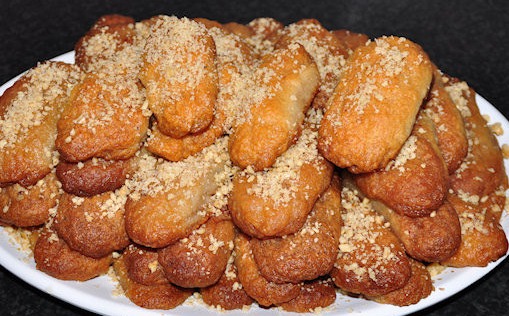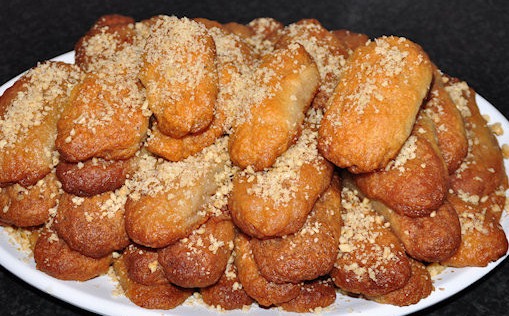 Please welcome Paula from the soon to be published site Love & Gingerbread to the blog. Love & Gingerbread is set to go live on Oct 15. It is all about European Christmas' and I can't wait. I convinced Paula to share a few sneak peaks from her site with us. She shared an European Brown Gingerbread, Chestnut Tortelli Cookies (aka Baby Jesus' Pillows), Mantacados (aka Spanish Crumble Cakes Recipe), and now she brings us Greek Christmas Cookies.
Now, over to Paula:
Little did I know when house sitting in Pelopennese, Greece,  I would get involved in baking Christmas cookies!
I have been told ever so often that the Greek were the first to use olive oil for Christmas baking! I say these delish cookies are a league in their own!
Greek Christmas sweets are plentiful with the ingredients symbolic of prosperity and hope for the coming year: walnuts, almonds, and dried fruits communicate wishes for the coming year, while white powdered sugar is the hope-conveying cover on numerous holiday cookies. Honey is drizzled over mountains of dough fritters – made in olive oil, of course!
Apparently Neapoli, Pelopennese, was the birthplace of this classic Christmas cookie.
Greek Christmas Cookies Recipe
For the syrup
1 cup sugar
1 cup honey
1⁄2 / 120ml water
1 medium cinnamon stick
1 inch strip lemon zest
For the cookies:
3-31⁄2 cups all-purpose flour, as needed
1 scant teaspoon baking powder
1 teaspoon ground cinnamon
1⁄2 teaspoon ground cloves
1 cup / 240 ml extra virgin Greek olive oil
1⁄2 cup sugar
1⁄2 teaspoon baking sod
1⁄2 teaspoon baking soda
1⁄2 cup / 120 ml fresh orange or lemon juice
1⁄4 cup / 60 ml brandy
1 cup chopped walnuts
Grated zest of 1 orange
Preheat Oven to 325 F.
SYRUP:
Bring the sugar, honey and water to a boil in a medium-size saucepan.
Add the cinnamon and lemon zest and simmer over medium heat for 10 minutes.
Let cool completely.
COOKIES:
Sift together 3 cups of the flour, the baking powder, cinnamon, and cloves in a small bowl and set aside.
In a large bowl, beat the olive oil with the sugar until creamy. Stir the baking soda into the citrus juice and add to the oil-and-sugar mixture. Add the brandy, walnuts and grated zest, and continue mixing vigorously until combined.
Slowly add the flour to the mixture, beating vigorously with a wooden spoon until a stiff dough forms.
Lightly oil 2 large baking sheets.
One at a time, break off pieces of dough the size of an unshelled walnut and shape into
small, oblong mounds. Place 1 inch apart on the baking sheets and bake until lightly browned, about 20 minutes.
Remove from the oven and submerge in the cooled syrup to soak for a few minutes. Drain on racks.
Optional: Sprinkle with walnuts