Bloomfield, Indiana, located about 80 miles SW of Indianapolis, is home to so many unique things that I'm shocked I haven't heard of this small town before. I mean, the weird and unique is right smack dab in the center of my wheelhouse and Bloomfield has that and so much more.
I was thrilled to receive an email from a community member (Big thanks to Jason!) sharing all the cool things there are to do in Bloomfield. Everyone always wants to go to the big cities, but these small communities are so worth a visit.
If you're already in Indianapolis or the immediate surrounding area I encourage you to consider taking the short drive to Bloomfield to spend the day or longer.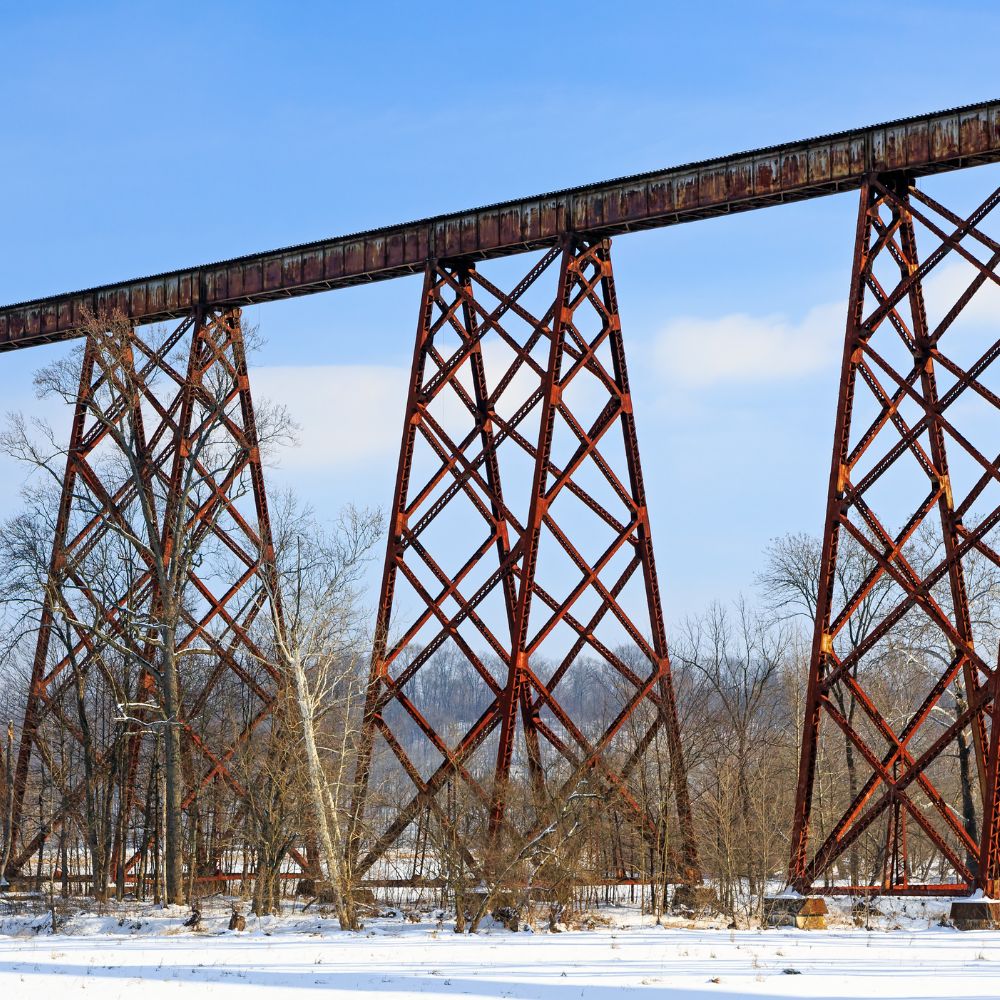 10 Things To See and Do in Bloomfield, Indiana
America's Longest Railroad Trestle (aka the Tulip Trestle)
This is an amazing structure that now has an observation area with lots of great views. The trestle is 2,307 feet long and 157 feet tall steel-girded railroad trestle and is one the longest of this type of bridge in the world still in use today by the Indiana Railroad Company. Located near the Tulip Community.
World's Largest Jack
This was a gift to the Bloomfield Jack Factory from their supplier in Europe. The cast iron replica jack is 20 ft. tall and weighs in at 2,980-pounds. Located at West Spring St. in Bloomfield outside the factory.
Gnome Village
A local artist creates sculptures from junk and has a full gnome village to see. Located at 2740 N Harshman Rd Bloomfield IN 47424
Outdoor Metal Sculpture Museum
Sculpture Trails Outdoor Museum is located deep in the woods amongst the rolling hills of Solsberry, Indiana. Founded in 2002, it displays over 166 large-scale sculptures by artists from around the world along a 3-mile trail. This might be the best thing, in my opinion.
The Goose pond
Goose Pond Fish & Wildlife Area in Greene County is the perfect place for my wildlife and birder friends. The "pond" is a huge expanse of wetlands that includes over 30 miles of earthen dikes, 1,400 acres of prairie, and nearly 4,000 acres of shallow water.
The area is becoming a significant destination for Midwestern birders and hunters; and home to many migrating bird species, attested by the impressive Sandhill Crane fly-in each spring, as well as many endangered species such as the Bald Eagle, Northern Harrier, Short-Eared Owl, Wilson's Phalarope, King Rail, Sedge Wren, Henslow's Sparrow, Whooping Crane, and American and Least Bitterns. Located Southwest of Linton.
Shawnee Summer Theatre
Indiana's longest, continuously-running summer stock theatre. Since opening its doors in 1960, it has become a favorite Indiana summer tradition. This is closed for the season but is a good reason to come back. Located south of town in Bloomfield
Greene-Sullivan State Forest (not in Bloomfield, but worth the visit)
Fish, camp, or just rest and relaxation at Greene-Sullivan State Forest. This is one of the most beautiful and serene places to visit in the area. Nearly 9,000 acres of wooded rolling hills dotted with more than 120 easily accessible lakes, making It one of the most unique areas in Southern Indiana.
Many of the lakes are stocked with largemouth bass, bluegill and red-ear sunfish offering some of the finest fishing in the State. With over 100 family campsites available between Narrow Lake, Wampler Lake, and Reservoir #26 and an additional 20 sites in the Horseman's Campground near Ladder Lake, there is something for everyone including picnicking, mushroom hunting, horseback riding, photography, and wildlife viewing.
Redbird Off-Road State Recreation Area
This 1400-acre property contains approximately 50 miles of "marked" Off-Road Vehicle Trails. From gentle slopes to technically difficult trails, "Redbird" (as it is known locally) delivers trails for all skill levels as they twist through the spoil piles left by early-era mining in the region.
Redbird has something for every off-road enthusiast, whether pick-up truck, dirt bike, SUV, ATV, UTV, or dune buggy. Located in Dugger this is a fun way to spend the day.
Richland-Plummer Creek Covered Bridge
This is a historic Burr Arch Truss wooden covered bridge located in Greene County, it was built in 1883 measuring 102' long, 14' wide, and 16' tall. Located 2 1/2 miles south of downtown.
Largest Sycamore Tree (not quite Bloomfield, but nearby)
If you're a fan of odd roadside attractions like us than make the 15-minute drive north to the town of Worthington to see the Largest Sycamore Tree.
This is a monument containing one of the surviving remnants of this tree, the western limb (23 ft. 2 in. in circumference) and smaller of the two, was moved to this location in 1925 after it succumbed to a storm.
Estimated at 500 years old, the Oxford Journal of Heredity reported in September 1915 that the tree was the largest "Broad-Leaf Tree in the United States" measuring 42 feet 3 inches in circumference. In its heyday, the shady tree was a popular place young lovers because the tree was so hollow one could have picnics inside the trunk and so large that a horse and buggy could easily be hidden behind it.
Where To Shop in Bloomfield, Indiana
Persimmon Tree Foods and Gifts
A great place in Bloomfield to get unique items and foods. It's a fun store to visit and the perfect place to find your next treasure. The store is located on Bloomfield's Southside.
An amazing thrift store that sells clothing, furniture and everything in between, not to mention their outreach programs that help the community. Second Times the Charm is located on Bloomfield's Southside.
This toy store is super cute and has high quality toys for every child that will last for generations. The store is located just off the square in Bloomfield.
This small family farm has produce, plants, handcrafted items and homemade foods, they are online and have a self-serve roadside stand located 3 miles East of Bloomfield.
Where to Eat and Drink in Bloomfield, Indiana
This watering hole brews beer and often has a food truck to serve dinner parked outside. They do trivia nights and other events. Located on the West side of Bloomfield.
This is a wonderful little store and gas station that has a long history in the county. They have ice cream and pork tenderloins and other lunch foods. IYKYK, but in the South gas station eats are suprisingly delicious. I'm think the same can be said for Yoho's. Located in Solsberry.
Sit down, carryout or delivery. More than just pizza this family owned and operated restaurant is delightful. Find them on the Eastside of Bloomfield.
Carrying on a pizza tradition that has lasted over 40 years in the same location! The Home of the Square Pizza, located on South Seminary St. in Bloomfield.
Small-town festivals and Community Events
May – Bloomfield Town Wide Yard Sales
May – Barbecue, Blues, & Brews
July – 4th of July Celebration at Bloomfield Town Park & Fireworks Show
July – Bloomfield Downtown Revitalization Street Fest
October – Bloomfield Apple Festival – The perfect fall season activity
December – Hometown Christmas
April 8th, 2024 – Bloomfield Indiana will be a prime view location for the solar eclipse!
Where To Stay In The Bloomfield Area
Hotels
Mainstay Suites Newberry – Crane
BnB Style Accommodations
Camping
Greene – Sullivan State Forest – Located about 30 minutes wests of Bloomfield. Primitive campsites are available on a first-come, first-serve basis PLUS 15 RENT-A-CAMP CABINS available for rent year round. Each cabin has a front porch with a swing. Inside there are two small rooms.
The front room offers a small table with bench seats, a corner shelf, a chair, a rocking chair, and a loft. The backroom offers a bunk bed (single) and a double bed (NO LINENS or MATTRESS PROVIDED). Air or cushioned mattress recommended. The cabins feature ceiling fans with light, a heating/cooling unit, and electrical outlets. While there isn't a national park this is a good place for a great time outdoors.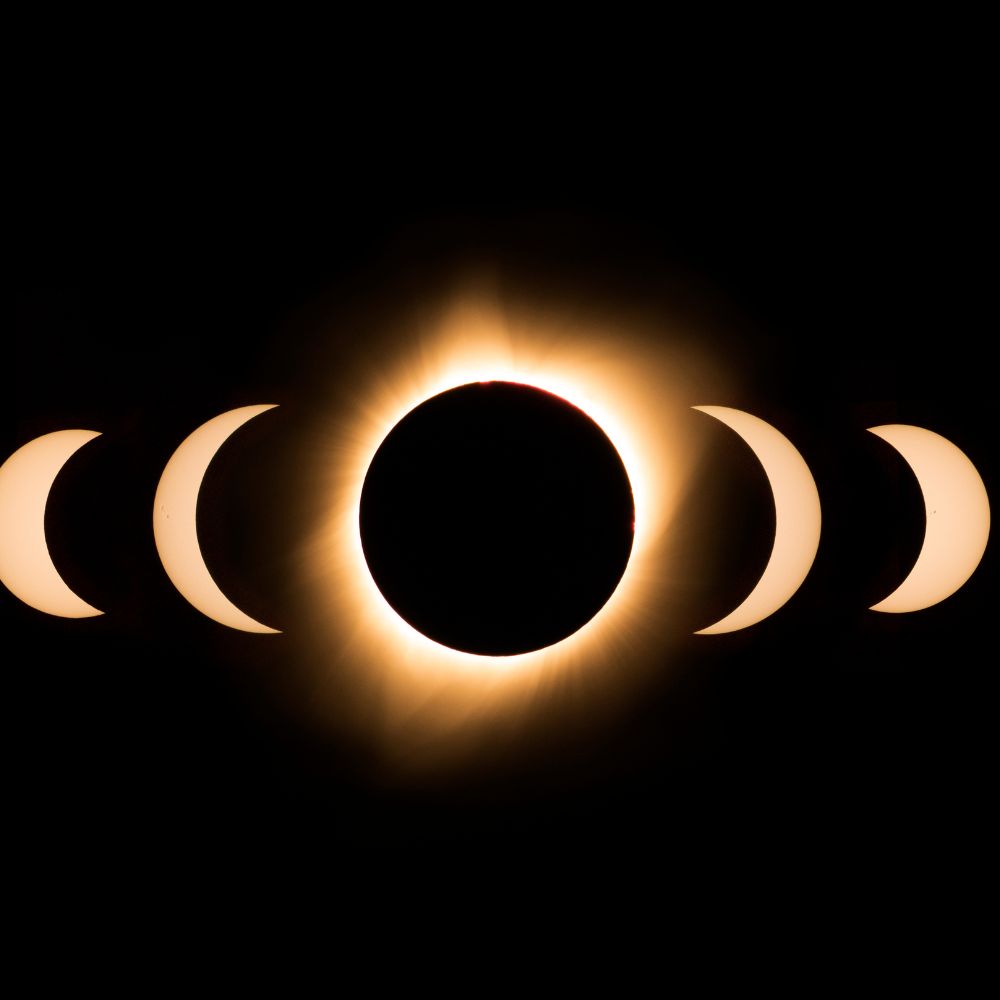 2024 TOTAL SOLAR ECLIPSE IN BLOOMFIELD, INDIANA
Bloomfield will be centered on the path of the 2024 Total Solar Eclipse. The eclipse, as seen from Bloomfield, will have a duration of 4 minutes and 4 seconds. During a total solar eclipse, the moon blocks the sun's bright face called the photosphere, briefly revealing our sun's outer atmosphere.
You'll definitely want to book your stay now. I did a little research already and as of the date of publication, these accommodations still have very limited availability for April 7-9, 2024:
Mainstay Suites Newberry – Crane
Greene-Sullivan State Forest. For my hard-core camping friends. There are 100+ PRIMITIVE camping sites BUT the sites are first come, first serve. Honestly, I'd arrive on Friday to try for a spot and make an entire long weekend of it. In our opinion this is always a fantastic way to spend a weekend.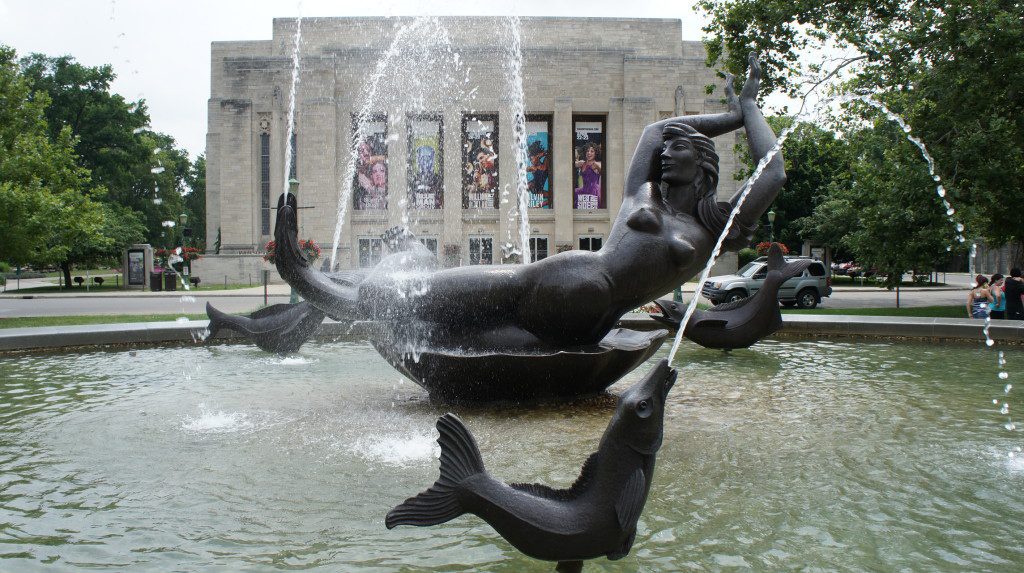 More Information on Bloomfield & Surrounding Area
Bloomfield is located in Greene County, Indiana. You can find more information about visiting here.
How To Make The Most of Your Visit to French Lick, Indiana 1 hour southeast
Things To Do In Southern Indiana – Corydon 2 hours southeast
10 Reasons You Need To Visit Buffalo Trace Park In Southern Indiana 1.5 hours southeast
The Charm of Bloomington Indiana 45 minutes northeast
Reasons To Visit Santa Claus, Indiana This Holiday 1.5 hours south
Outdoor Adventures in Hendricks County, Indiana You Don't Want To Miss 1.5 hours north
Pin To Pinterest