We use our air fryer all the time! It's one of our favorite small appliances in the kitchen. Now, I have to say, I mostly use the air fryer to make tator tots–lol. I know, I know, tots are NOT on my eating plan but sometimes I slide off the healthy eating wagon.Other times we use it for bacon, veggies and even chicken like this air fryer buttermilk fried chicken recipe.
THE EASY AIR FRYER COOKBOOK
Healthy Everyday Recipes for People With Diabetes by Kathy Moore & Roxanne Wyss celebrates one of the most celebrated kitchen inventions in recent memory: the air fryer!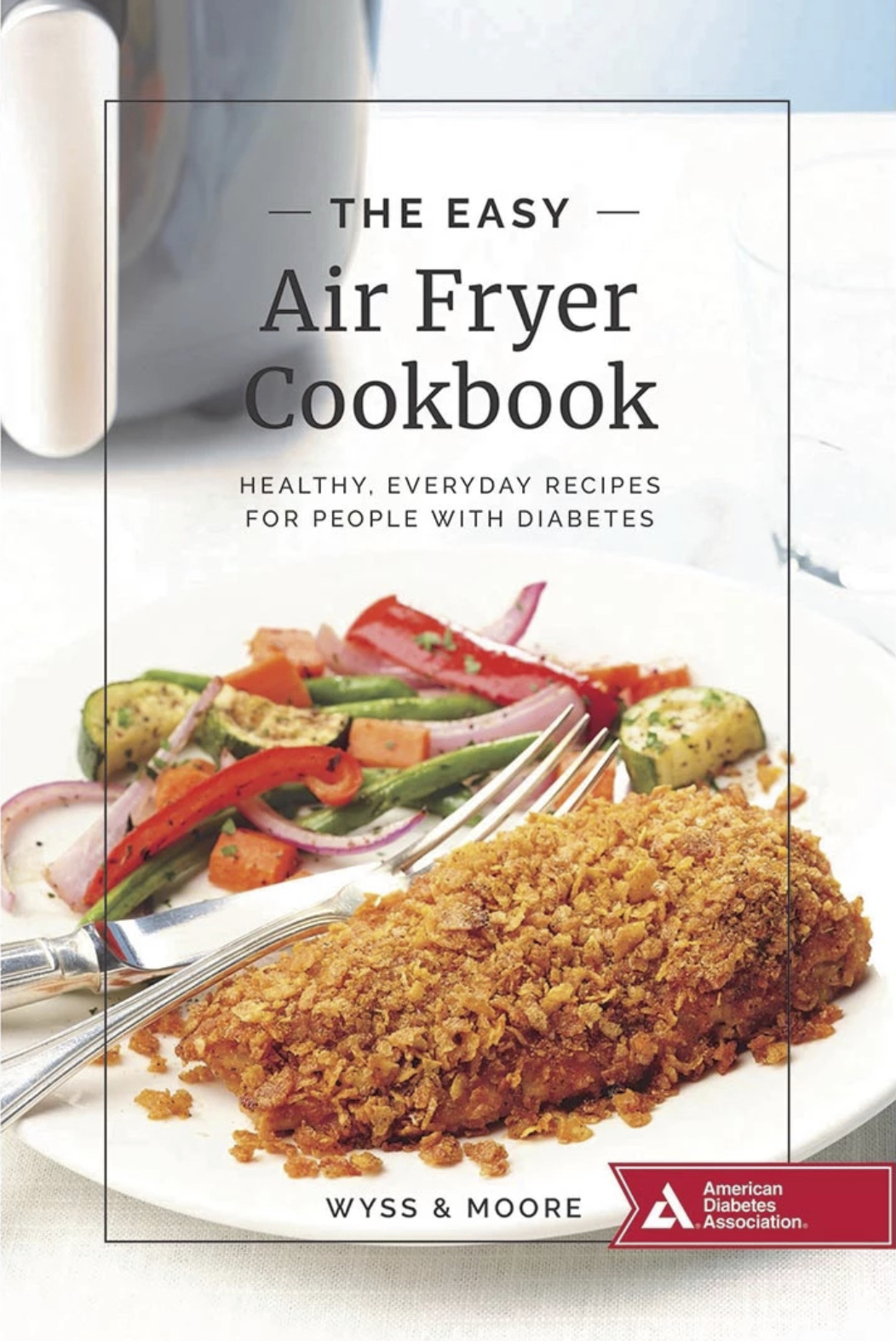 Packed with 80 delicious recipes for the handy countertop appliance, the book helps readers make fried favorites healthy.
Best of all, every recipe has been customized to meet the nutritional guidelines established by the American Diabetes Association making them all diabetes-friendly!
Sunday Morning French Toast
Diner-Style Pork Chops
Crisp Parmesan Broccoli Florets
Pecan Baked Apples
Southwestern Egg Rolls
Nashville Hot Chicken
The air fryer has revolutionized home-cooked fried foods. By using up to 75% less fat than traditional frying methods, they've made foods once strictly off-limits to use accessible and enjoyable for the whole family.
And with THE EASY AIR FRYER COOKBOOK arriving on bookshelves just in time for the holidays, it's going to be a very happy, healthy, and mouthwateringly good season for all!
About the Authors
Kathy Moore and Roxanne Wyss, also known as The Electrified Cooks, are food writers and consultants, cookbook authors, bloggers (wwwpluggedintocooking.com), and culinary educators who love to share their passion for cooking.
As close friends and colleagues, they use their culinary experience and expertise to help others prepare delicious, easy family meals.
AIR FRYER BUTTERMILK FRIED CHICKEN RECIPE
SERVES: 4
SERVING SIZE: 4 OUNCES
CHICKEN PREP TIME: 12 MINUTES PLUS 15 MINUTES MARINATING TIME
COOK TIME: 14–17 MINUTES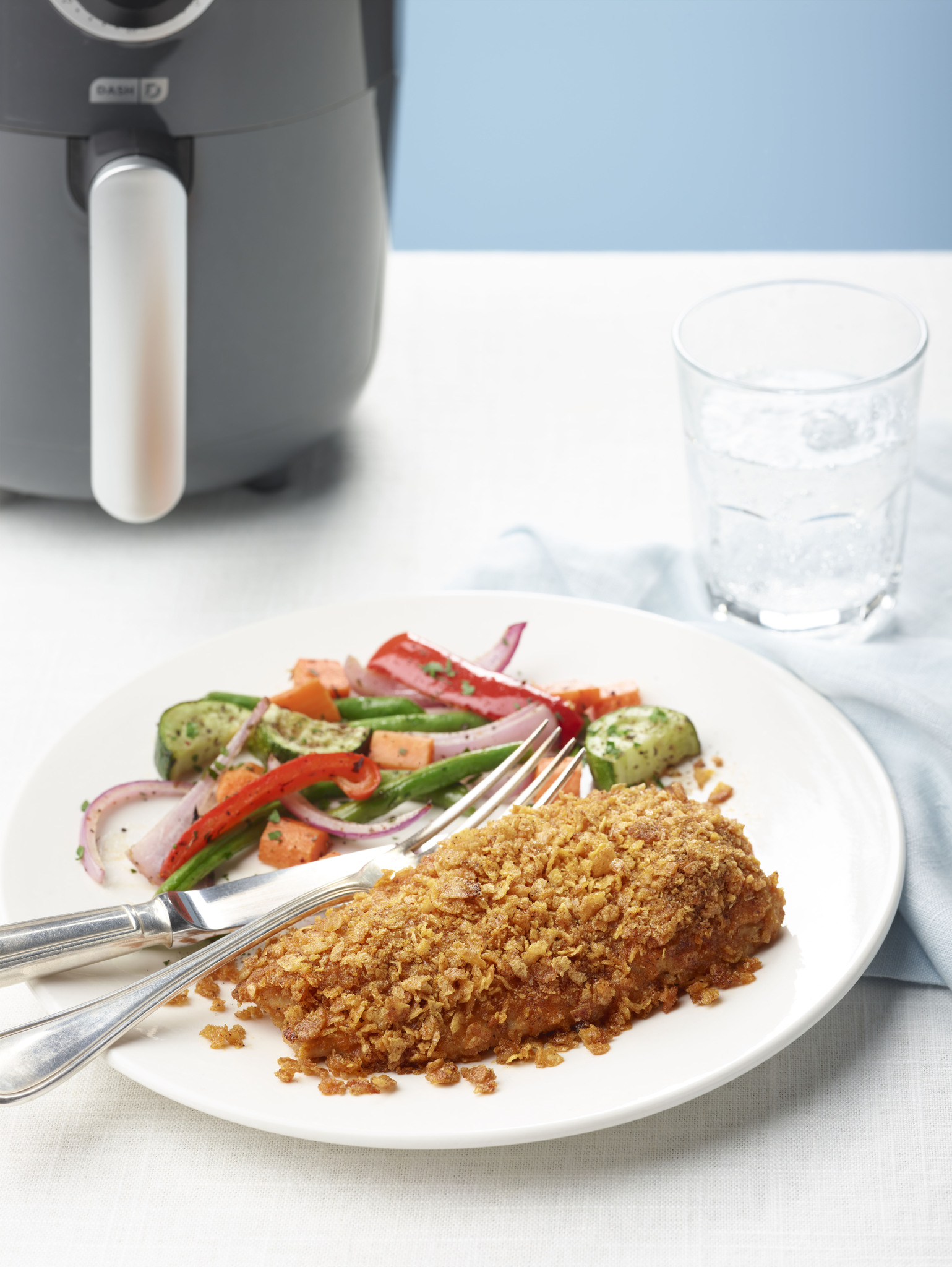 AIR FRYER BUTTERMILK FRIED CHICKEN RECIPE INGREDIENTS
1⁄3 cup low-fat buttermilk
1⁄4 teaspoon hot sauce
1 pound boneless, skinless chicken breasts, all fat discarded, cut in half lengthwise
6 tablespoons cornflakes
3 tablespoons stone-ground cornmeal
1 teaspoon garlic powder
1 teaspoon paprika
1⁄4 teaspoon salt
1⁄4 teaspoon coarse ground black pepper
Nonstick cooking spray
AIR FRYER BUTTERMILK FRIED CHICKEN RECIPE DIRECTIONS
In a deep bowl, stir together the buttermilk and hot sauce. Place the chicken in the buttermilk mixture. Allow to stand 15 minutes.
Place the cornflakes into the work bowl of a food processor. Process until coarse crumbs form. Add the cornmeal, garlic powder, paprika, salt, and pepper and pulse until evenly mixed. Pour the crumbs into a shallow bowl.
Drain the chicken, allowing the excess buttermilk to drip back into the bowl. Coat the chicken pieces evenly in the cornflake mixture. Place the coated chicken pieces on a wire rack.
Place the chicken in the air fryer basket. Spray with nonstick cooking spray for 2 seconds. Set the temperature to 375°F and air fry for 7 minutes. Turn the chicken pieces. Air fry for an additional 7–10 minutes or until the chicken is done and a meat thermometer inserted in the center registers 165°F.
CHOICES/EXCHANGES: 1⁄2 Starch | 3 Lean Protein
BASIC NUTRITIONAL VALUES: Calories 160 | Calories from Fat 30 |Total Fat 3.5 g | Saturated Fat 0.8 g | Trans Fat 0.0 g |Cholesterol 65 mg |Sodium 190 mg |Potassium 230 mg |Total Carbohydrate 7 g |Dietary Fiber 1 g | Sugars 0 g |Protein 24 g |Phosphorus 185 mg
More Air Fryer Recipes:
How To Make Sweet Potato Fries
Pea & Sausage Risotto Balls Recipe
Perfect Spicy Sweet Potato Fries with a Cool Yogurt Dip
Blueberry Goat Cheese Bites Recipe
Pin Air Fryer Buttermilk Fried Chicken To Pinterest