Yazoo City in Mississippi is as unique as its name suggests. It barely spans ten square miles but has enough to offer to make a stay in the Main Street Hotel well worth it.
With a name like Yazoo City you have to stop just to check it out for the name alone which comes from the nearby river.
In spite of a devastating fire in the early 1900s and a catastrophic flood in 1927, Yazoo City is a thriving town in Yazoo County in the Mississippi Delta.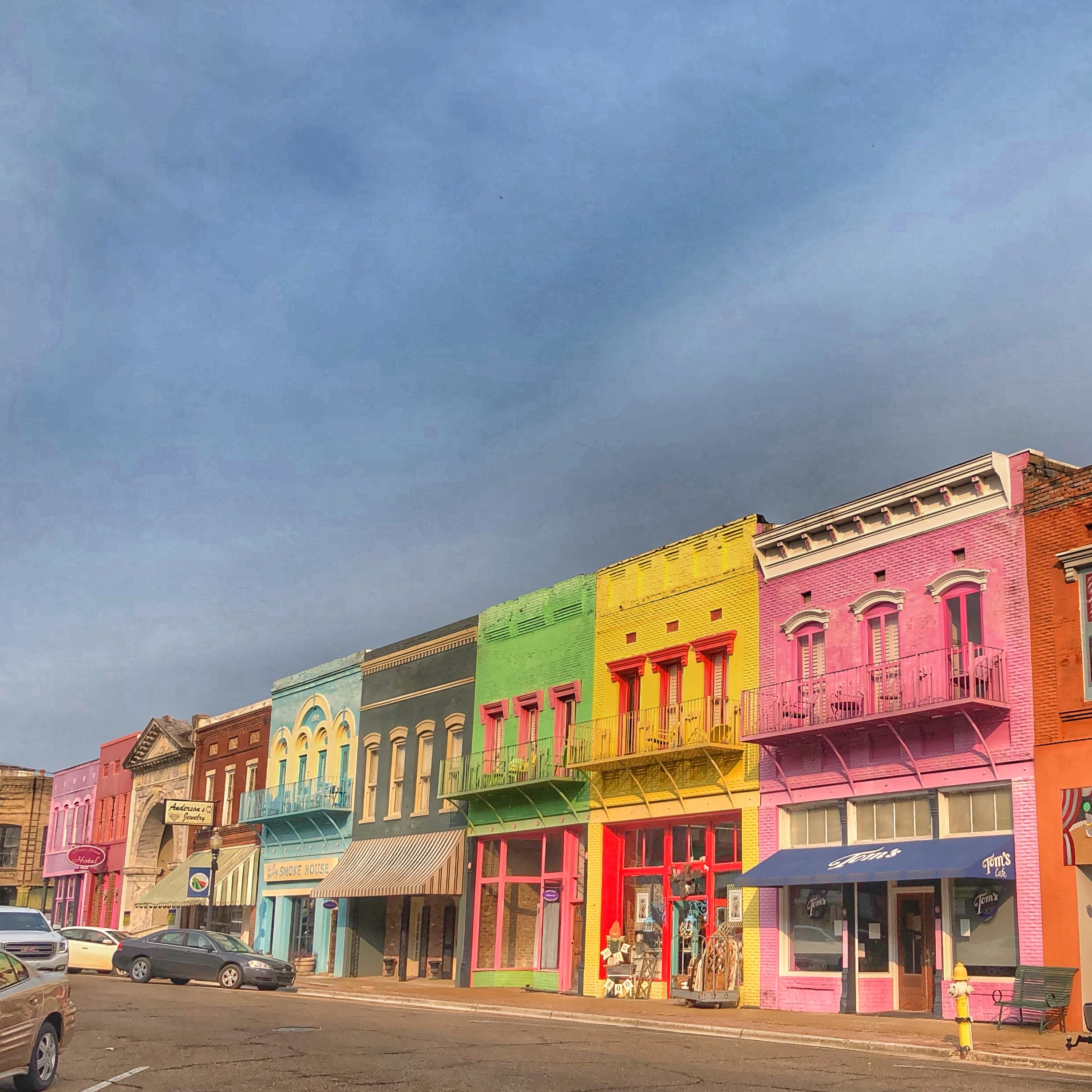 One of its memorable features is the colorful block of Main Street. And right in the midst of that colorful block is the Main Street Hotel.
HOTEL IN YAZOO CITY
Main Street Hotel
The best hotel might just be the Main Street Hotel in Yazoo City. It is as unique as it is fun.
The rooms span across the second floor of the historic Main Street buildings.
Each room has access to the balconies that look out over the street where festivals, fairs, concerts, and other activities are often held.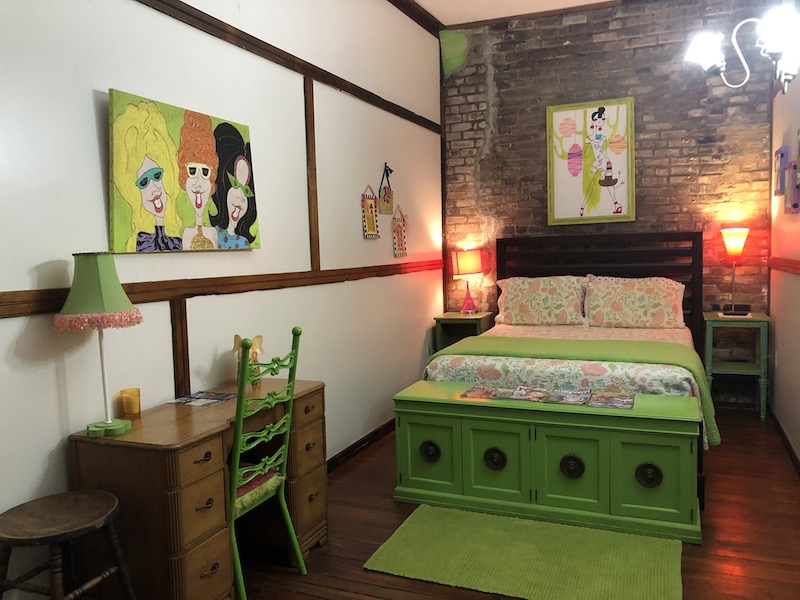 The eclectic decor and style of each room are true to the uniqueness of this city.
Colors and patterns grace every area with plenty of local art and antique furniture.
You'll even find claw-foot bathtubs in the bathrooms.
Premium sheets on comfy beds with air conditioning in each room ensure a restful night's sleep.
The Main Street Hotel gives the feel of home with its cozy accommodations.
But it is important to note that not every room has a window.
Their website has a comprehensive list of their rooms and the amenities, including whether or not there is a window.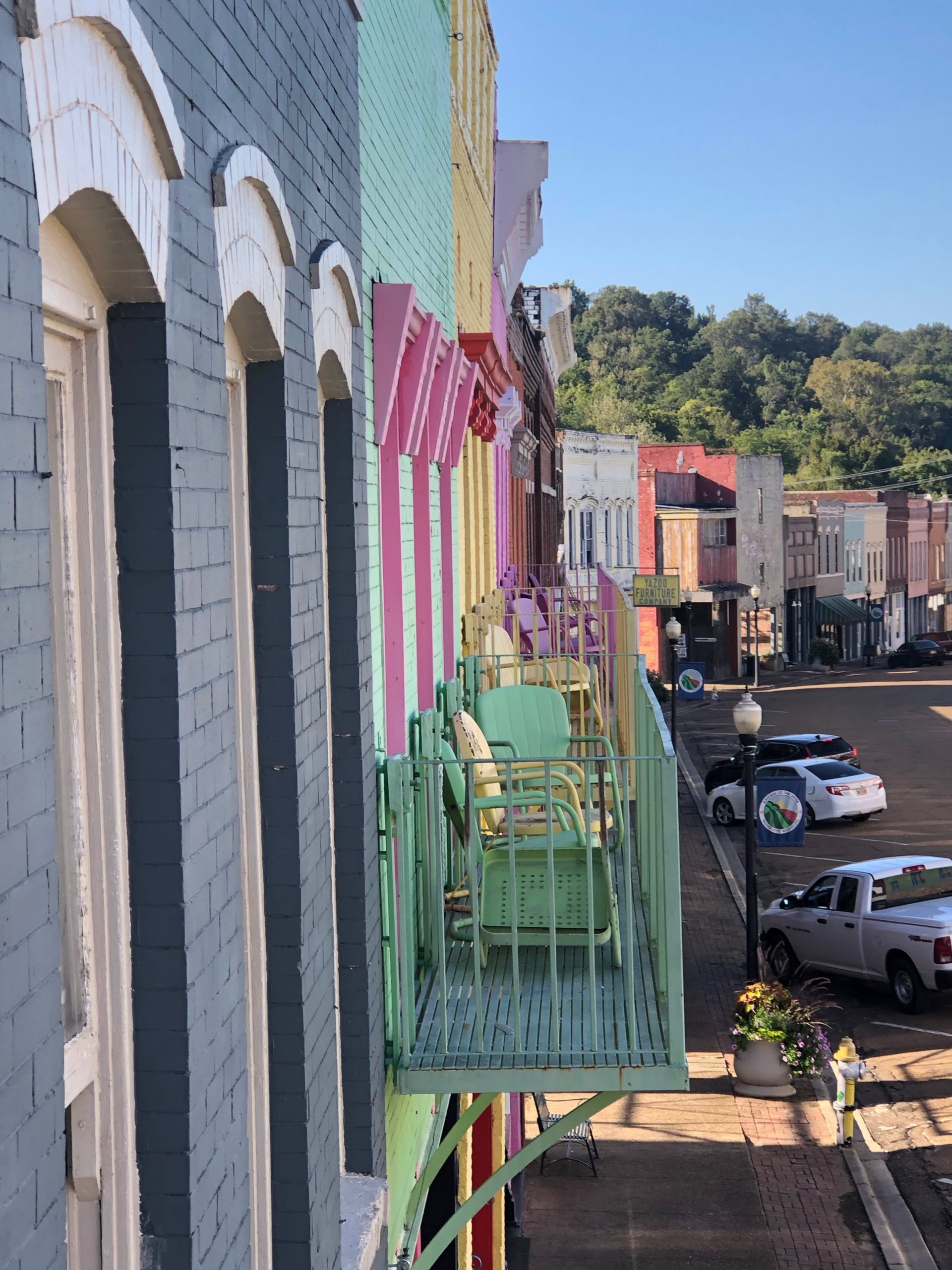 The favorite suite among their 16 rooms is called the Honey Girl Suite. It is one of the most spacious with a king size bed, a pull out bed, a full kitchen, and a fantastic view of the street.
WHERE TO EAT IN YAZOO CITY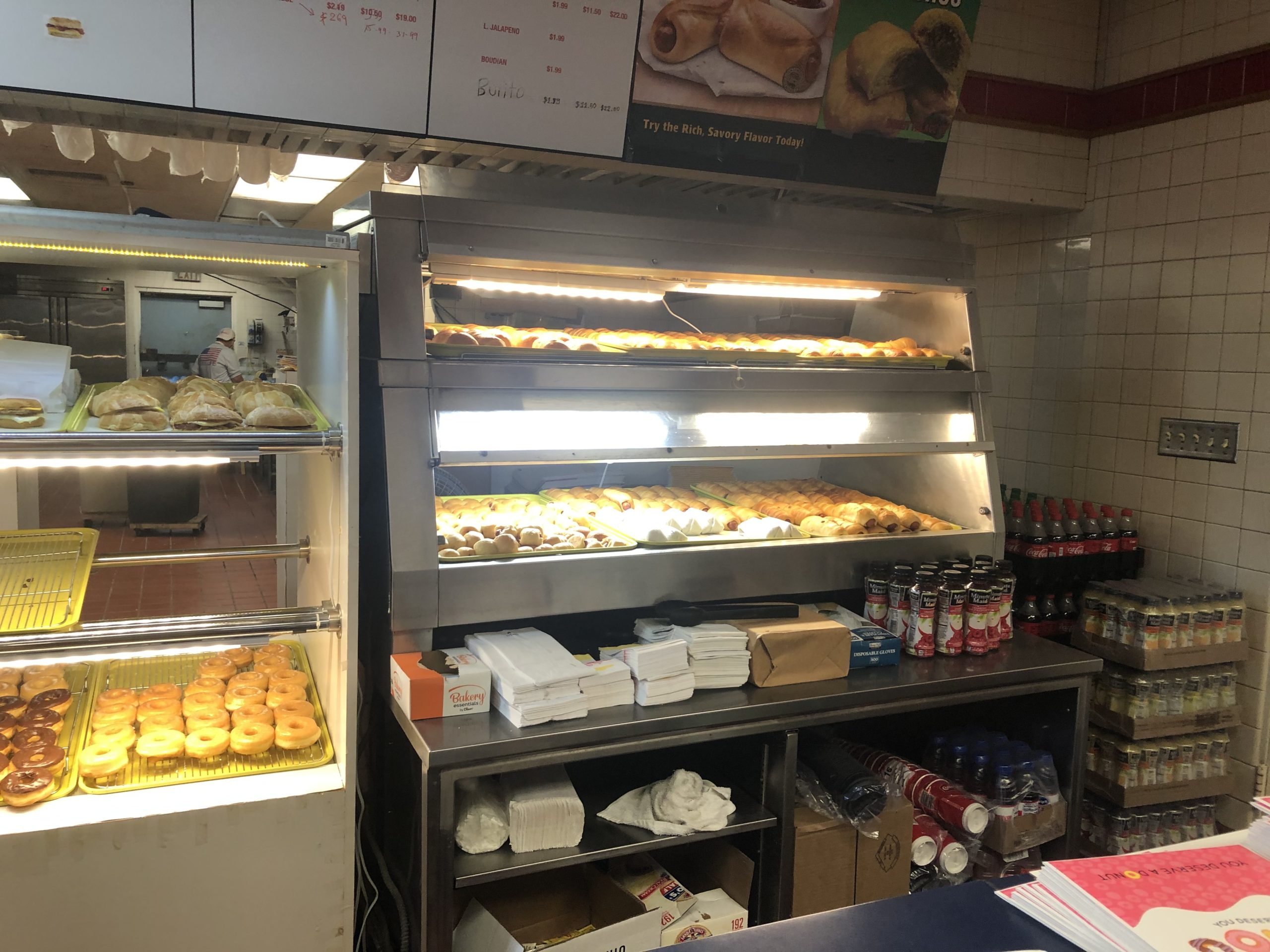 YAZOO DONUTS
Breakfast isn't included at the Main Street Hotel, but only steps away you'll find plenty to eat.
Down just a couple of blocks, you'll find Yazoo Doughnuts. The perfect breakfast stop.
Along with fabulous doughnuts, the menu offers breakfast sandwiches, pigs in a blanket, croissants, and more.
They have an excellent selection of delicious donuts. We ordered a selection of donuts plus a cinnamon roll to share and we were not disappointed. Also, the coffee will cure your caffeine craving.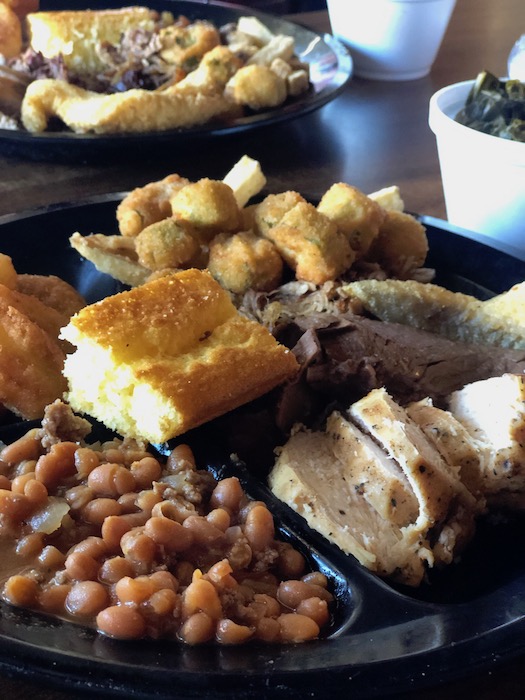 UBONS BBQ
Lunch at Ubons BBQ is an absolute MUST! Ubons is the home of the BBQ Princess, Leslie Roark Scott, who carries on her family's longstanding tradition of cooking up great BBQ for the world.
I sat down with Leslie and enjoyed lunch while she shared stories of bbq, competitions, the restaurant industry, and the struggles of staying afloat during the time of Covid.
In 1992 Leslie was the first female to win a Memphis in May sanctioned Grand Championship. Since then Ubons has been conquering any number of competitions including the Jack Daniels World Championship and the Best of the Best.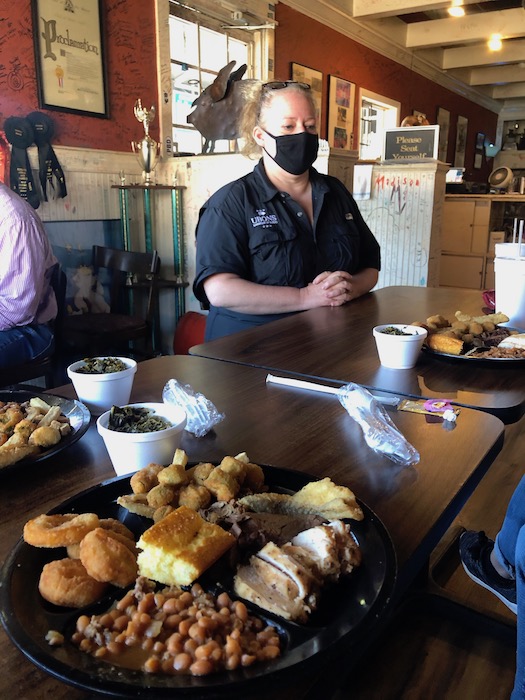 They have also been invited to numerous festivals around the country including NYC's BBQ Block Park, Chicago's Windy City Smoke Out and St. Louis' Que in the Lou.
In addition, you might have been fortunate to see them on BBQ Pitmaster, Smoked, Chopped Drillmasters and Chopped Impossible.
You will be so glad you stopped by for lunch. Order up a meat combo plate with some collard greens, baked beans, and fried squash.
Try their comeback sauce–seriously, I'm pretty sure comeback sauce is just a southern thing that I wish would make its way north.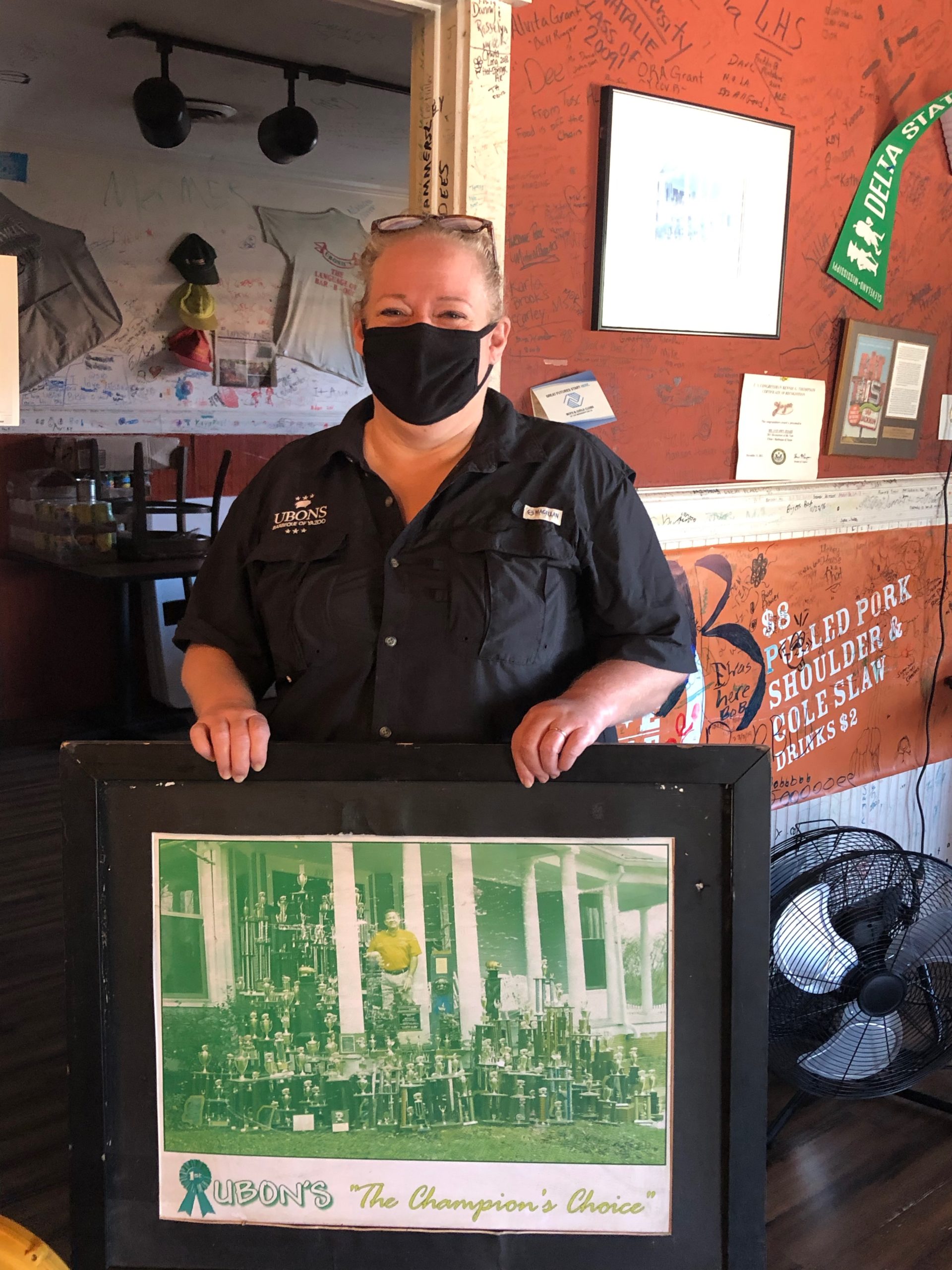 Currently, you'll need to call in your order or place an order at the walk up window to get it to go. There are a couple picnic tables out front you can sit at as well.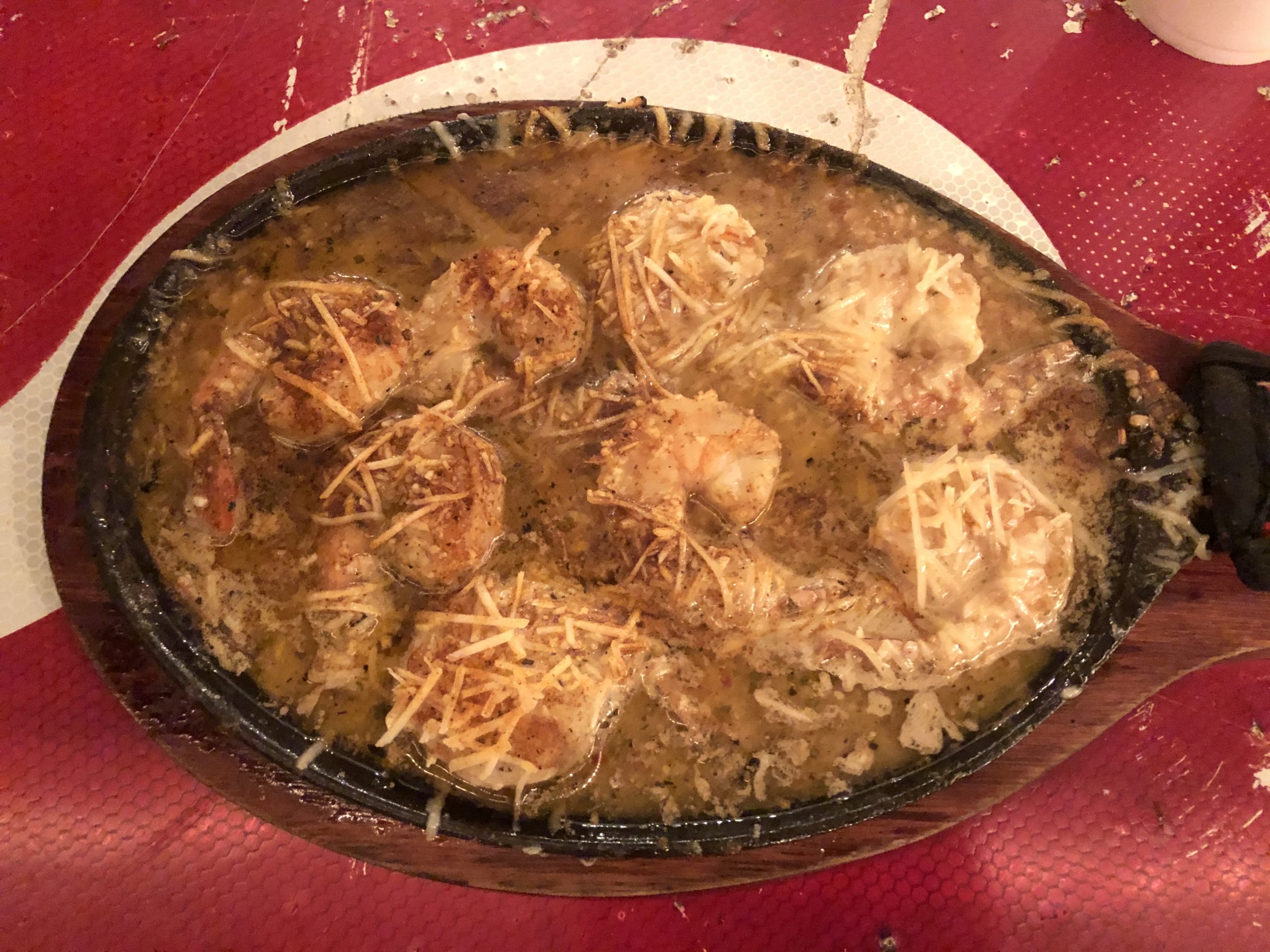 P'Reaux's Mudbugs & Shrimp
Continue to soak up the quirkiness of Yazoo City by enjoying dinner at P'Reaux's Mudbugs & Shrimp. Sink your teeth into true Mississippi cuisine at this unsuspecting restaurant.
Grilled oysters, boudan balls, crab, shrimp, catfish, burgers, steaks, and so much more. We threw down on crawfish kickers, fried okra, fried green tomatoes, bbq shrimp and smashed red potatoes and I didn't have one ounce of guilt.
See if you can grab a seat in the cool old school bus located out back.
The restaurant is an easy and safe walk from Main Street Hotel.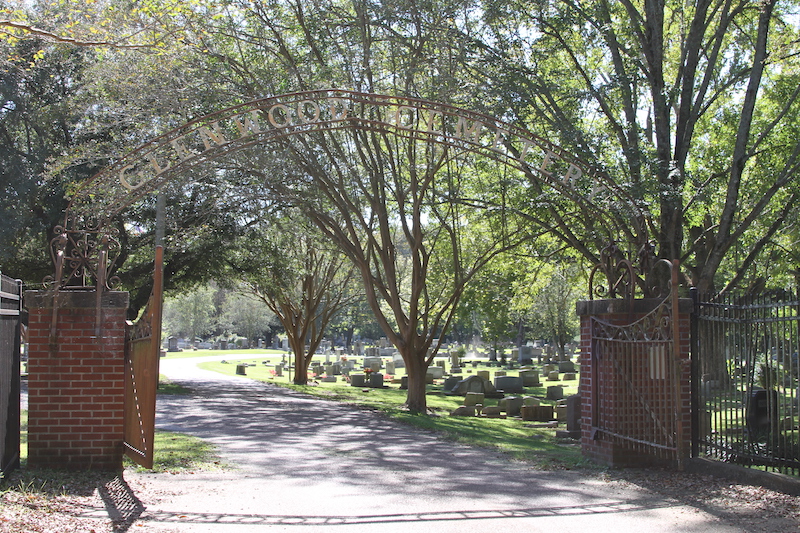 Things To Do In Yazoo City
GLENWOOD CEMETERY & THE WITCH OF YAZOO
One of the best things to do in Yazoo City is a visit to Glenwood Cemetery. This cemetery is on the top 40 list of places to stop along the Mississippi Delta.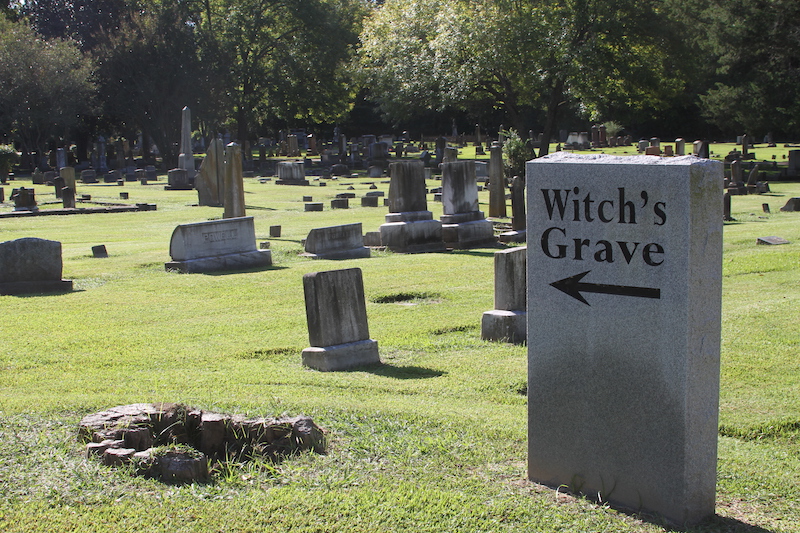 Famous local author, Willie Morris, wrote a book claiming that the witch who burned Yazoo down in 1904 was buried in this cemetery.
The legend of the Witch of Yazoo goes like this:
"According to the legend, the old woman lived on the Yazoo River, and was caught torturing fishermen who she lured in off the river.

The sheriff is said to have chased her through the swamps where she was half drowned in quicksand by the time the sheriff caught up with her.

As she was sinking, she swore her revenge on Yazoo City and on the town's people.

"In 20 years, I will return and burn this town to the ground!"

No one thought much of it at the time. Then came May 25, 1904…

The Fire of 1904 destroyed over 200 residences and nearly every business in Yazoo City – 324 buildings in total.

Many theories evolved as to how the fire started, but none were conclusive.

The most popular theory is that the fire started in the parlor of a young Miss Wise who was in preparation for her wedding to be held later that day.

While this is quite possible and certainly innocent enough, it is the strange and fierce winds that were blowing on that fateful day, unusual for the time, that lead many to blame the witch.

The flames were said by witnesses to have jumped through the air, as if driven by some supernaturally forceful winds. This is one of the eeriest facts of the story.

Area weather reports from May 25, 1904, make no mention of high winds in the area.

A group of citizens made their way into Glenwood on the day after the fire, and found the large chains around the grave of the witch broken in two."–VisitYazoo.org
Visit the eerie, broken grave marker, surrounded by heavy chain just as it was described in Willie's book. It's been said that the heavy chains surrounding the grave are constantly being repaired, only to fall apart again shortly after without any explanation.
I find the story both fascinating and sad. I'd love to know the witch's side of the story. My guess, it might be a lot different that the account given by the sheriff.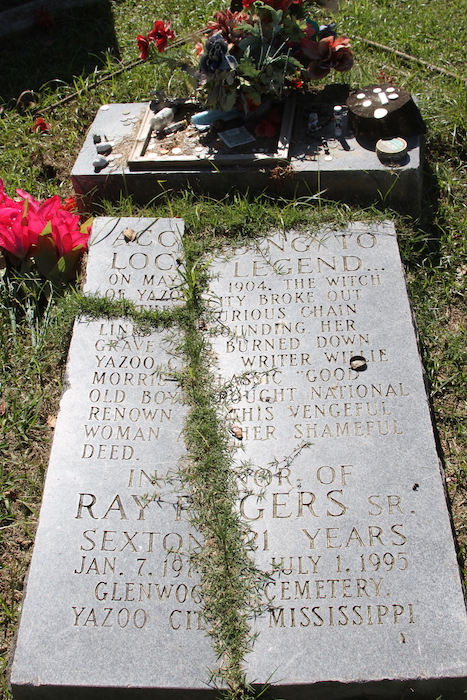 However, the witch's story is lost to death and time, but she did leave Yazoo City with an epic legend that is well worth exploring.
Be sure to stop by Willie Morris' grave just a few steps away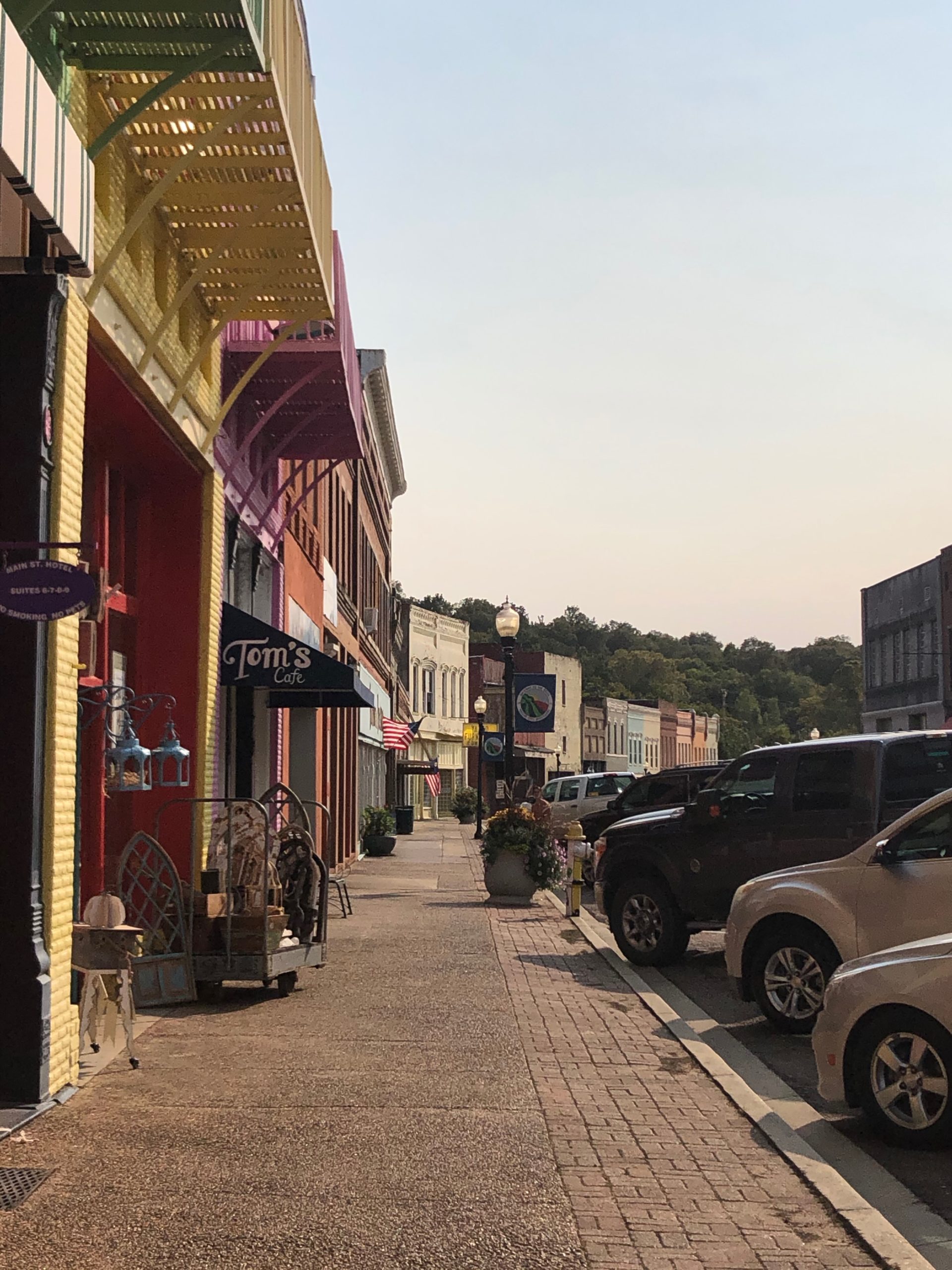 BOUTIQUE SHOPPING
Browse the colorful downtown boutiques and gift shops to find everything from the latest fashion trends to antiques and home decor. You could spend a couple hours looking around the stores. If you only have time for a couple I highly recommend stopping in at The Downtown Market, Junkyard Dog Salvage Company and Good Hope.
OUTDOOR ACTIVITIES
Nearby you'll find the Theodore Roosevelt National Wildlife Refuge which has thousands of acres for recreational use by birders, hikers, hunters, and fisherman.
HISTORIC BELL ROAD
Because I'm ALWAYS on the hunt for the interesting and the weird I have to share this little gem with you:
"Once a Native American trail, this sunken roadway later served ox-drawn carts. The road, still in use today, is so narrow that only one vehicle can pass through at a time. At one time, a bell was located at both ends to warn that someone was entering… and so it became known as Bell Road." —VisitYazoo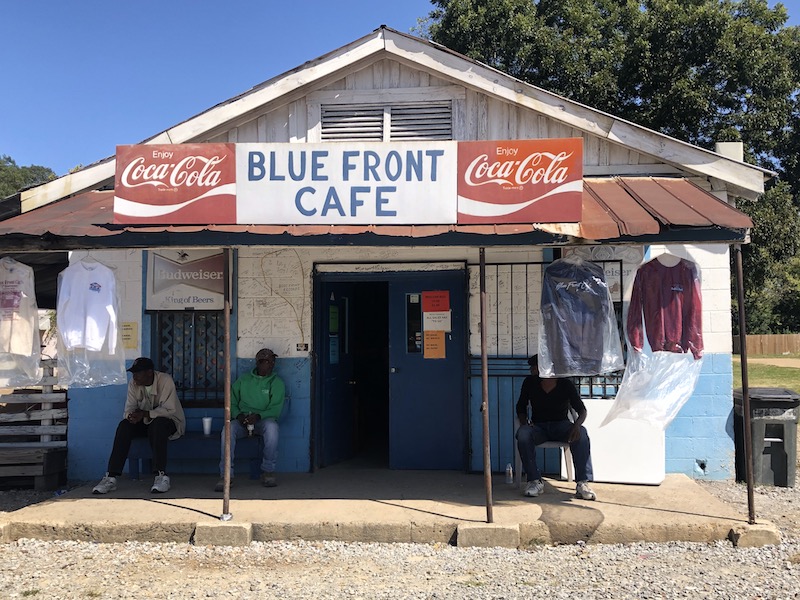 BLUE FRONT CAFE
Not too far away in Bentonia is the Blue Front Cafe. An authentic Mississippi Delta "juke joint" where the world-famous Bentonia Blues was born and where you can still hear it today.
Opened in 1948 it's considered the oldest ACTIVE juke joint in Mississippi.
Rolling up to the Blue Front Cafe you'll find a small aged white and blue building settled in next to an old cotton gin that is now a music venue.
Out front, shirts hanging from the porch overhang are covered in plastic that blow in the gentle breeze and some locals sit in the shade watching life unfold along a dusty road and trains go by in this tiny piece of the Delta.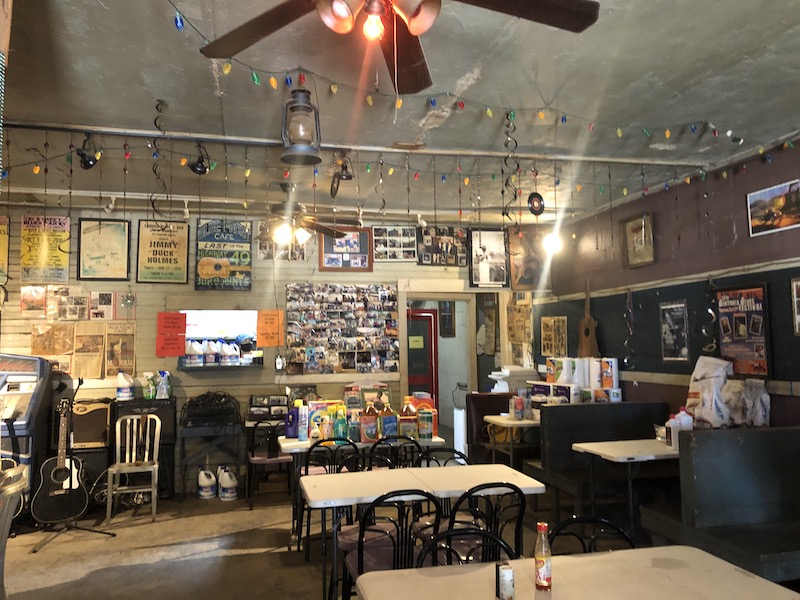 Inside Blue Front you can find everything from a hot lunch to cleaning supplies for home. Just like in the old days the juke joint provides anything a local might need but has the added bonus of some of the best blues music in the Delta.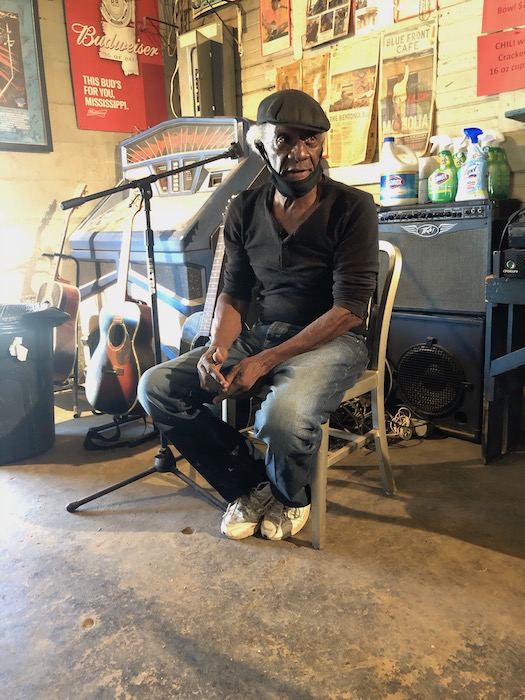 The day we visited we were able to meet the owner, the one and only Jimmy "Duck" Holmes. He is one of the most celebrated rural blues musicians performing today and is known as the last of the Bentonia bluesmen.
Meeting him was an honor, but then he invited us to sit down and played us some blues music (swoon).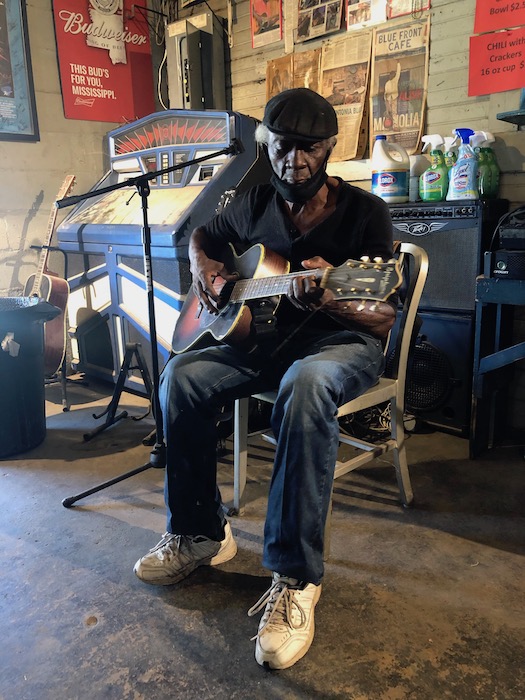 I could have left the Mississippi Delta then and there and the trip would be one for the memory books.
What an incredible treat to have a private concert with Jimmy "Duck" Holmes.
If you're a music lover you know exactly what I'm talking about. Music will always have the ability to speak to my soul and the Bentonia blues did not disappoint.
UPCOMING EVENTS: BENTONIA BLUES FESTIVAL
You can have this same experience and so much more if you visit during the Bentonia Blue Festival, usually held each June.
The festival started as a small event in 1972 at the Holmes family farm until it moved to downtown Bentonia in 2006. Since then, the festival has grown from an audience of a couple hundred to ten thousand, so the festival was moved back to the farm to accommodate all the visitors.
The festival attracts blues performers and fans from around the world.
Oh, and here's a fun little fact. Jimmy (can we be on first name basis or is that too forward?) made a cameo appearance in Keith Richards' new video Hate It When You Leave (he's a 4:14).

YAZOO CITY FAQ's
WHERE IS YAZOO CITY LOCATED?
Yazoo City is located in the Mississippi Delta about 50 minutes north of Jackson, MS and about 3 hours south of Memphis, TN.
Here are some estimated drive times from the surrounding area:
Yazoo City, MS to Jackson, MS: 50 minutes
Yazoo City, MS to Cleveland, MS: 1 1/2 hours
Yazoo City, MS to Clarksdale, MS: 2 hours
Yazoo City, MS to Natchez, MS: 2 1/2 hours
Yazoo City, MS to Baton Rouge, LA: 3 1/2 hours
Yazoo City, MS to Birmingham, AL: 4 1/2 hours
WHAT IS YAZOO CITY FAMOUS FOR?
It is home of the Bentonian Blues and Jimmy "Duck" Holmes
When you find yourself in the Mississippi Delta don't miss the chance to visit the City of Yazoo; a friendly, quirky kind of place.
Pin A Visit to Yazoo City to Pinterest