There are so many choices when it comes to weekend getaways. Coastal, mountains, plains, luxury, budget, camping, culture, shopping, the list of options goes on and on.
I'm going to help you narrow down your choices. If you are an easy drive from Shenandoah Valley, VA you need to go there and, more importantly, I'm sharing how to have the best weekend getaway there.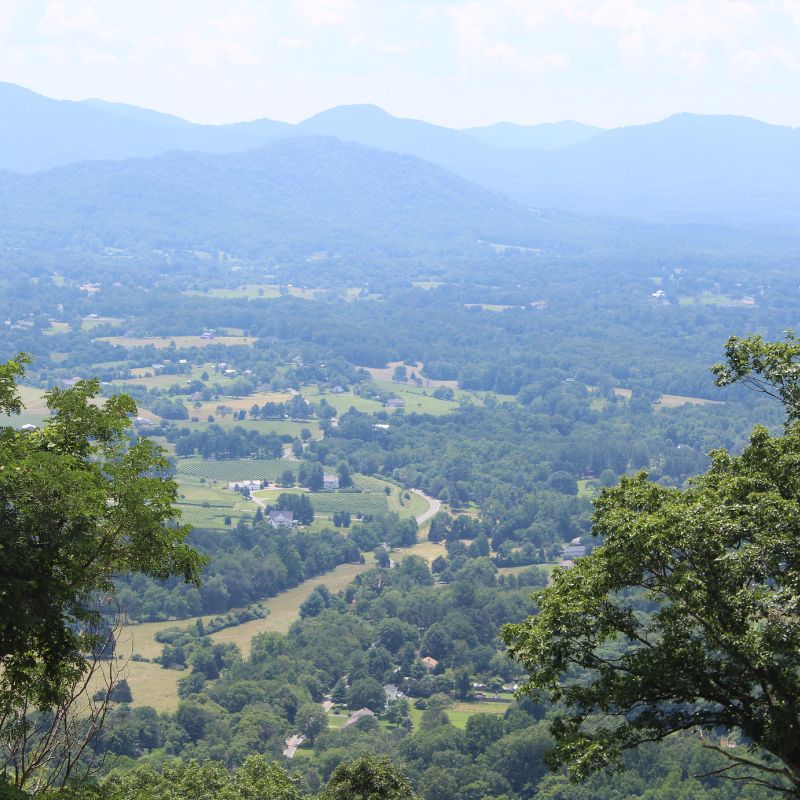 If you don't know already, Virginia is simply stunning. The rolling mountains are like eye-candy. Massanutten Mountain is beautiful year round.
Hiking, or at least driving up the mountain at Shenandoah National Park is an obvious choice of activity while visiting the Valley. But that is not all there is to do around this town.
Use this list to plan your next visit to Virginia so you can take in all that Shenandoah Valley has to offer there is everything from museums and great food to camping and horseback riding. You're going to fall in love.
WHAT TO DO IN SHENANDOAH VALLEY
Enjoy unplugging and soaking in the gorgeous scenery in the saddle of a horse or in a covered, horse drawn wagon.
This is definitely the way to go if you want to get in some serious rest and relaxation.
Extend that unplugged feeling a few nights by spending a night or two in one of the bunkhouses.
Shenandoah County Historic Courthouse
Constructed in 1795, the Shenandoah County Historic Courthouse is the oldest courthouse in continuous use west of the Blue Ridge. It saw much activity during the civil war with troops from both sides leaving their marks with graffiti on interior walls.
Find out what happened when two young boys discovered an underground world. Imagine their wonderment as you follow in their footsteps and hear stories of their candlelit adventures.
Walking through the caverns leads to some jaw-dropping moments. It's hard to believe the grandeur under your feet when your topside. The hidden gems that lie beneath are well worth the visit.
Plus, when you visit Shenandoah Caverns you'll also see the smallest working post office and will visit Main Street of Yesteryear, a display of antique department store windows from the 1940s and 50s.
A 40,000 square foot museum, home to the finest collection of parade floats from inaugurals, rose bowls, and other celebratory parades in America. This place is so much fun to walk through.
Finally, a place to get up close and see how the famous parade float are made and how they work. The workmanship and time involved in each and every float is very impressive. Young and old alike will be fascinated by the display floats.
Started in 1992, Route 11 has been producing small batches of incredibly delicious chips. Now you can stop in to see where the magic happens.
Viewing windows give you a behind the scenes glimpse into how a potato turns into crisp goodness. See the process from start to finish as workers and machinery crank out batch after batch of yum!
My absolute favorite chip is the Yukon Gold. Its a seasonal offering, starting in July until gone, so when you see them you'll want to stock up!
Meems Bottom Covered Bridge
Below the bridge the North Fork of the Shenandoah River runs lazy and low, perfect for skipping rocks or wading in up to your ankles.
Get a behind the scenes tour meeting the jockeys, owners and members of the Virginia Equine Association and National Harness Racing Association.
Place your bets on a favorite horse and carriage team with complimentary vouchers for betting.
Take a walking tour of the Strasburg Murals where world renowned artists have painted the town. The vastness of these paintings are both surprising and stunning. Each picture has a story to tell.
Head over to the town of Tom's Brook and enjoy these three artisan trail creatives:
Laughing Orange Studio– Susie Wilburn specializes in wheel-thrown and highly decorative, functional pottery.
Posey Thisisit Llama Farm– "How about some llama kisses?!" owner Joyce Hall will say with a big laugh. She will joyously show you around and introduce you to all of her big furry friends and their wool. She may even give you a sample viewing of the shearing or spinning processes.
Wolfgang Neudorfer's studio and woodshop– With the setting at the base of the Allegheny mountain range, it's a perfect inspiration for his oil landscapes and woodworking.
WHERE TO EAT | DRINK IN SHENANDOAH COUNTY
Woodstock Café
The Seasonal menu changes monthly at this favorite restaurant amongst locals and visitors alike. Open daily for breakfast and lunch, they also offer dinner on Thursday nights, Sunday brunch and special events.
Woodstock Brewhouse
Local craft brewery within a historic, 1920's era building. Once the home of a Casey Jones Denim factory, the Woodstock Brewhouse now serves as a local gathering spot. Enjoy live music every Thursday night.
Muse Vineyards
Shenandoah County's newest vineyard is also the winner of the 2015 Governor's Cup. The wines are made exclusively from grapes grown on the estate and are a deliberate expression of the Shenandoah Valley.
Enjoy this modern setting against the scenic backdrop of Massanutten Mountain and the Shenandoah River.
Joe's Steakhouse
With restaurants now located throughout the Shenandoah Valley, Woodstock is home to the original Joe's Steakhouse. The menu features unique recipes served alongside the best cuts of meats, fresh seafood and a variety of other fare.
North Mountain Vineyards
The second oldest vineyard and winery in Shenandoah County just celebrated their 35th Anniversary.
Meet Krista and Brad Foster and take a tour of their winemaking facility, then sit down and relax with a glass of Chamborcin and some beautiful mountain views from the deck.
Cristina's Café
Enjoy the freshest flavors of the season at Cristina's Café where farm-to-table isn't just a movement but a way of life. Owner Crissy Wills uses veggies grown out back of the restaurant and meats from her own farm, Cerdonia Farms, where they raise their own pigs.
WHERE TO STAY IN SHENANDOAH VALLEY
Find excellent rates at this newly renovated hotel. It's conveniently located to all the beauty and fun Shenandoah Valley has to offer. Take a dip in the pool and enjoy a relaxing night's sleep after your busy day in beautiful Virginia.
***PIN SHENANDOAH VALLEY TO PINTEREST***