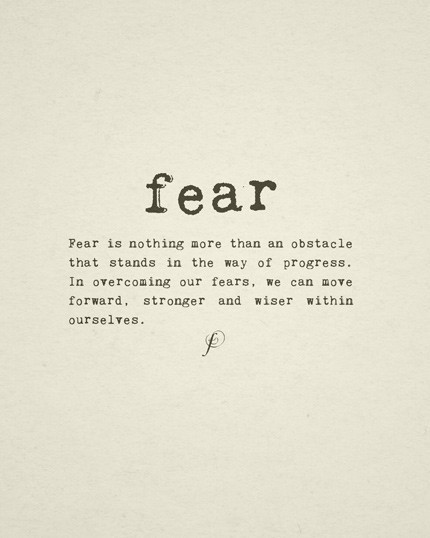 If you read my fear post you know I recently told fear to get the heck out of my life. What has happened since then has been interesting.
My boss is less than thrilled that I am resigning. I have been with the company over 8 years and run a very smooth office, if I do say so myself 🙂 He has tried to talk me out of it numerous times. However, he is completely unwilling to compromise with me.
The President of the company emailed me asking me to reconsider. Unfortunately, without a compromise there can be no reconsideration. Although, it was nice of him to ask.
Coworkers are a little disappointed/upset. I work with all guys. They consider me one of the guys. We can all talk without filters on our mouths and not have to worry about someone being offended. (Well, most of the time) I think they are worried about my replacement. I have told them I'm looking for a miss priss so they start to clean up their acts. I'm going to miss most of them.
Fear is trying to lodge itself firmly back into my life. I'm fighting it every day. It's a battle I intend on winning.
I have received some of the best comments EVER on my fear post. I think I have replied to everyone. If I missed you it was not intentional. A big thank you and group hug for your support.
I want you to know that I'm just your average person. I'm not courageous or brave, I've just decided to no longer accept the status quo and to live my life my way. You can do the same.  I want you to live your life to the fullest and if fear is holding you back I want you to work on kicking it to the curb as well!
I haven't felt so excited about my life in a long time. Only 10 more days until I leave my day job and start a new life.  I. Can't. Wait.
Em & I leave in 13 days for Yellowstone.  Yikes, that is coming up fast. I love that I'm starting a new chapter in my life with a big adventure and I'm so happy that my daughter will be a part of that.
Thank you again. I appreciate each and every one of you that take the time to read my posts.
Cheers