If you suffer from anxiety or stress or have trouble sleeping I have found a solution that you are going to love! You've probably heard of weighted blankets but if you're like me you just kind of blew off the info as a fad. Oh boy, was I ever wrong to not investigate further.
Recently, Emma and I were asked to try the Tranquility™ Weighted Blankets and I thought "why not, let's see what all the fuss is about."
Needless to say, we now know why these are so popular and, for us, they aren't a fad but a way to combat the anxiety, stress, and sleeplessness that plagues us both.
Keep reading to see why the Tranquility™ blanket is our new favorite thing and we are so happy it's been introduced into our world.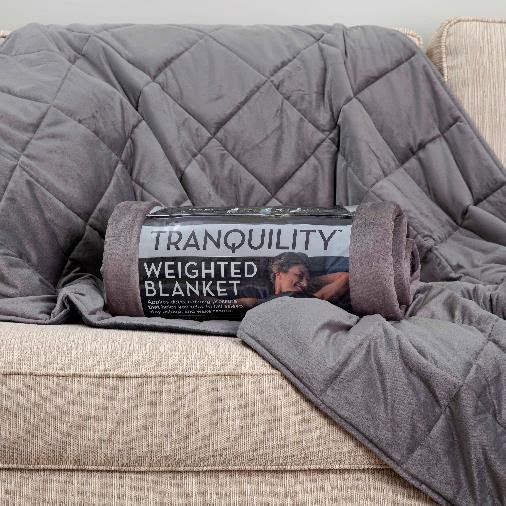 What Are Weighted Blankets For?
Weighted blankets are commonly used to help reduce stress and anxiety and to help with a good nights sleep. The blanket provides equal pressure across the body that, for some, provides a feeling of calm and relaxation.
After researching these blankets I discovered that they also help users fall asleep quicker and help them sleep better. This has also held true for Em and me.
It honestly feels like being wrapped up in one big hug. We love it.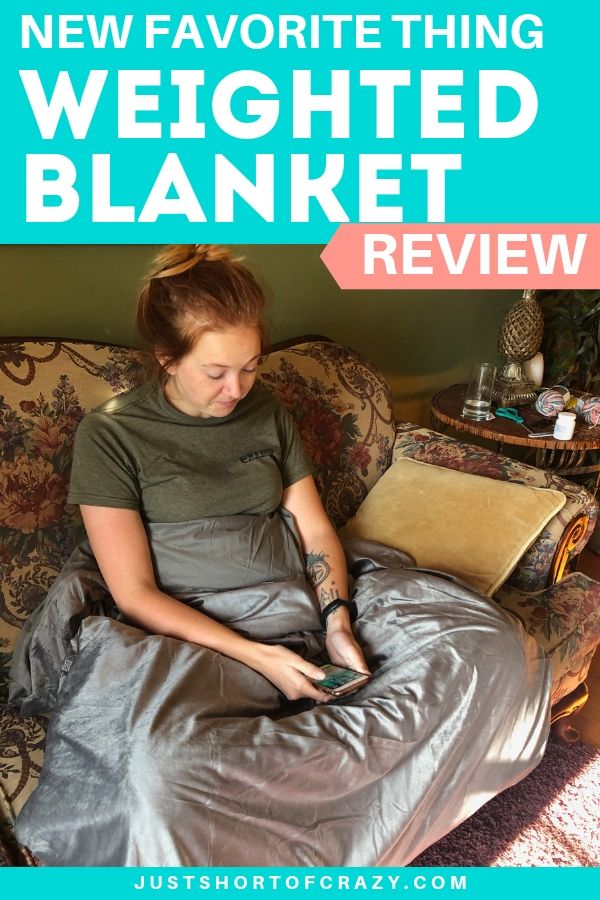 Thank you to Tranquility™ for providing blankets for our review.
Why Is It Our New Favorite Thing?
We have been using 18-pound Tranquility™ weighted blankets for the past couple of weeks. We use them when sleeping and if we are on the couch working or relaxing.
I find that I love having the blanket on my lap when I'm under deadlines to get a number of projects completed.
For whatever reason, the blanket calms me down and helps me stay focused.
I don't understand the science behind it, but as long as it works for me I'm going to continue using it.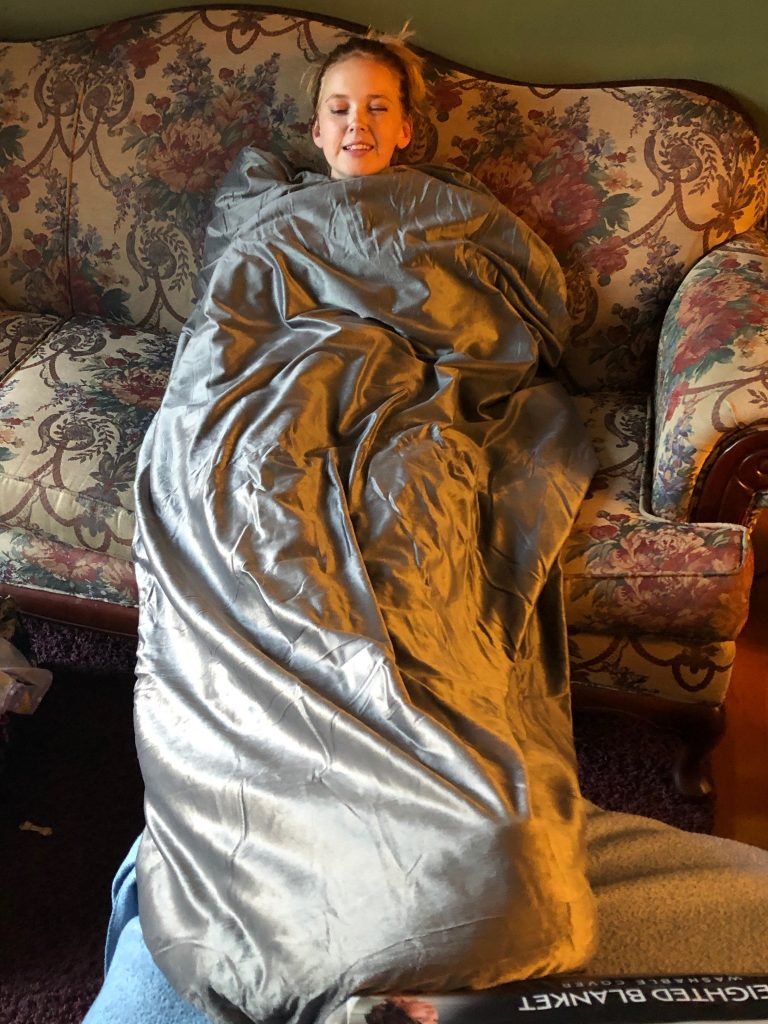 Em has noticed that her anxiety really simmers down when she uses the blanket and it has been especially helpful at night to help her turn off her brain and get a good night sleep.
She recently shared that she took a nap with it when she was feeling anxious and passed right out.
That says a lot coming from someone that struggles with quieting her mind.
Finding something that helps relieve the symptoms of stress and anxiety quickly put this weighted blanket on our new favorite things list.

What Weighted Blanket Weight Is Right For You?
As a general rule weighted blankets should be around 10% of your body weight, give or take a couple of pounds. We simply picked the blanket that was nearest our weight using a chart provided by Tranquility™.
The blankets are available from 6 to 20 pounds.
We are using 18-pound blankets and feel it is the perfect weight for each of us. We could probably use the 15 pounds but we both like the bit of extra the 18 pounds brings us.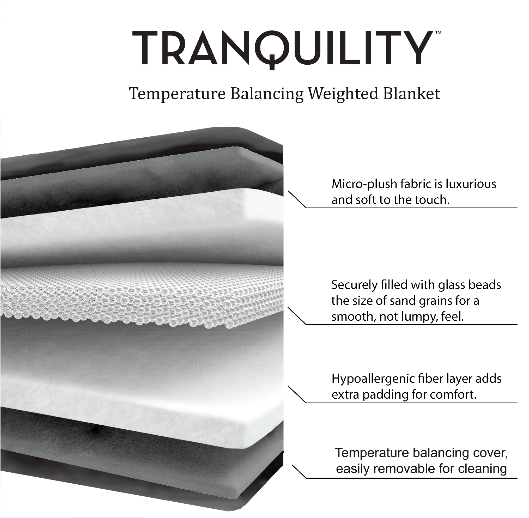 Why We Picked The Tranquility™ Brand Weighted Blanket?
A Little Bit of Luxury
The Tranquility™ Weighted Blanket is incredibly soft and is well made.
Plus it has a box-quilt design to distribute weight evenly by preventing the fill from shifting. That was a really important feature for us.
I don't like when filling shifts within a blanket. I want it all to stay put and the Tranquility blanket does not disappoint.
It's Affordable
Y'all know I'd rather spend my money on travel so finding things that I love that also fit my bank account is so important.
These blankets start at $50 go up to around $65 at Walmart. That is a terrific price point.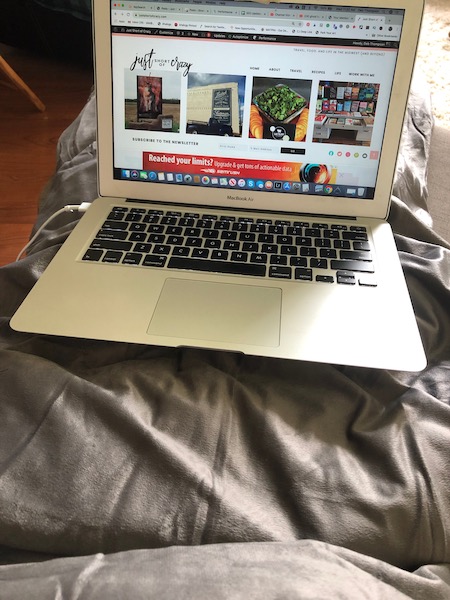 It's Magic
Tranquility™ has woven some magic into the blanket that lets us use it without becoming overheated. It keeps us at comfortable body temperature.
When I asked Em if she got too hot under the blanket she said: "I'm comfortable under it, neither hot nor cold."
Perfect for Travel
I travel a lot and spend many nights at hotels where I often tossed and turned trying to fall asleep and stay asleep. Now, I take the weighted blanket with me and fall asleep much easier.
I've only taken it on my road trips so far.
While it can be taken on a plane I never have enough room in my luggage to include an extra 18 pounds so it hasn't traveled by air with me yet.
Readily Available
I love that Tranquility™ brand blankets are available at major retailers like Walmart and Target.
This makes it easy for most everyone reading this to purchase one. Plus those stores usually offer to ship if you don't feel like going out.
How Do You Wash A Weighted Blanket?
Some blankets come with a removable cover which can be taken off and tossed in the washer and dryer. Easy. Peasy.
Blankets without a removable cover can be spot cleaned.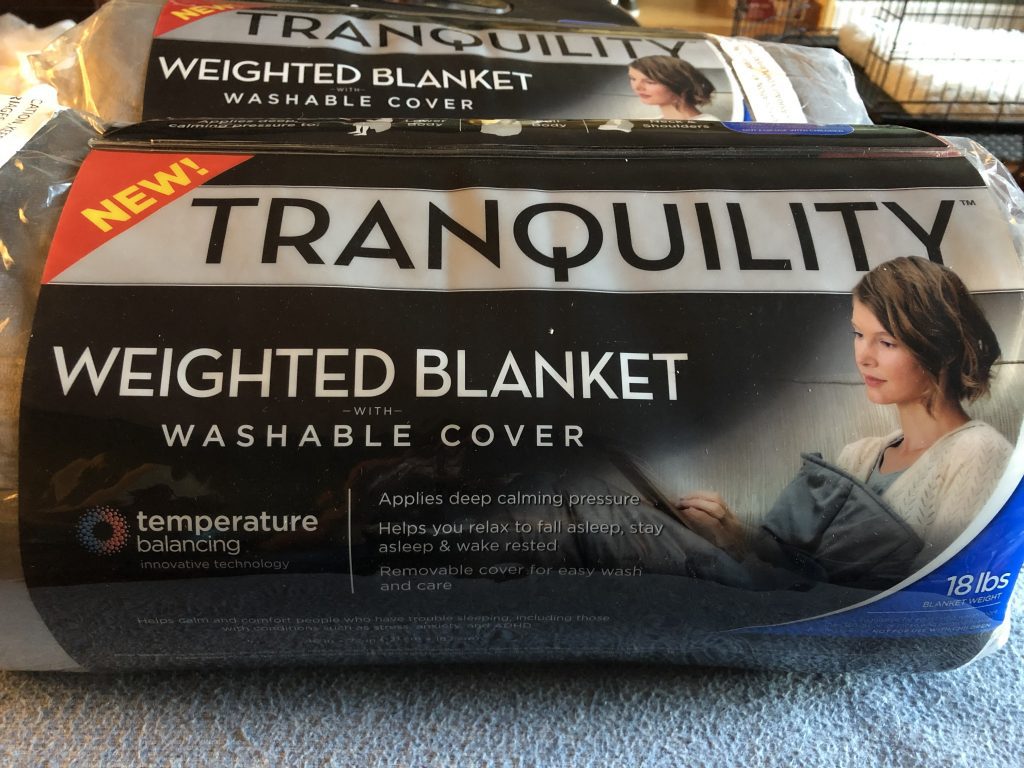 Interesting Info From A Consumer Survey
The majority of people use weighted blankets while chilling out at home and watching tv, reading a book or listening to a podcast.
Use of weighted blankets between men and women is about equal with just about 10% more women using the blanket.
The greatest barrier to trying a weighted blanket is a concern it would be too hot, too expensive or too heavy.
Thankfully, Tranquility™ easily takes care of these concerns by creating a blanket that is temperature balance, affordable and available in a variety of weights.
This is definitely a blanket that we recommend and is one of our new favorite things.