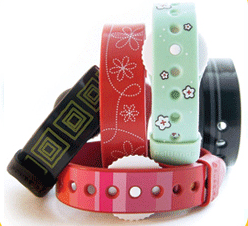 Road trips, boat rides, airplanes all have the potential to make me feel motion sick. It's a challenge because I, well, love all of those modes of transportation. I know that there are pills on the market to help combat the effects of motion sickness, but I don't really like how they make me feel so I've been looking for an alternative.
A couple years ago I was on a whale watching tour on the East coast and the water was so rough I thought I was going to die from being so sick. After that I've stayed away from boats and big water. However, in May I was in Florida for a blogging event and one of the activities was a dolphin watching cruise. I love dolphins and didn't want to miss out so I decided to give wrist the PSIbands a try.
The bands are easy to use. Just slide them on your wrist three finger lengths from the bottom of your hand. That's it. I put the bands on about 15 minutes before boarding the dolphin cruise. For the majority of the cruise we were in fairly calm waters. However, part of the trip required us to be in very rough waters and the boats was rocking and swaying like crazy. I immediately made my way to the back of the boat (usually the best place when you suffer from motion sickness) and had a seat. The bands didn't completely eliminate the motion sickness symptoms during this time, but I wasn't hanging my head over the side of the boat like some of the other passengers and, for that, I'm incredibly grateful!
The bands now have a permanent home in my purse and I pull them out anytime I think they might be helpful (ie: passenger during a mountain drive, airplane ride, etc). My daughter has been using the bands as well during our road trips and is very happy with how they eliminate her symptoms. I'm so happy that I found a way to ease motion sickness without using medication.
You can learn more about PSIbands and where to buy them here.
disclaimer: I received a free pair of bands to facilitate this review. no other compensation was provided.
Happy Travels!
Deb