Natchitoches, Louisiana is famous, in my opinion, for three things: Natchitoches meat pies, filming location of Steel Magnolias, and their annual Natchitoches Christmas Festival!
I can't think of a better place to get in the holiday spirit than in the city of Natchitoches. They have been perfecting the art of the holiday season for almost 100 years.
97th Annual Natchitoches Christmas Festival – Louisiana
What started as a one-day festival 97 years ago has grown into a 6-week festival kicking off on the Saturday before Thanksgiving and concluding on the Epiphany, January 6th.
This is a fun-filled, family friendly event that is jam packed with live entertainment, over 300,000 Christmas lights, 100+ holiday set displays, a visit from Santa and more merriment than should be legal.
All this happens in the historic district and along the historic downtown riverbank.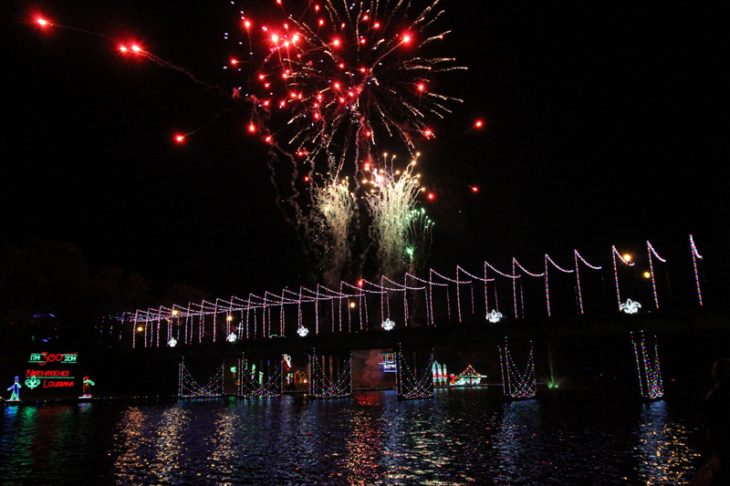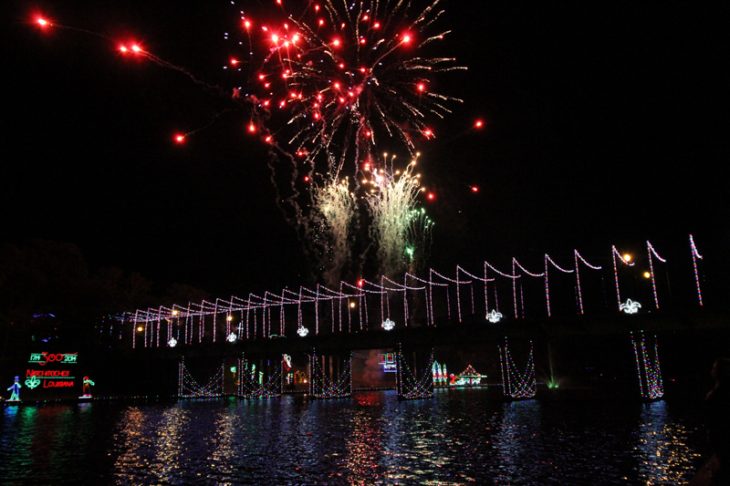 TURN ON THE HOLIDAYS – NOVEMBER 18
This year they'll turn on the lights on Saturday, November 18.
Things will kick off with a Holiday Kids Fest and the official "Turn On The Holidays!" starts at 4:30 and goes until 9:30.
There will be live music and fireworks.
Once the holidays are turned on the lights will light up Natchitoches, LA every evening through Epiphany (January 6th) and spectacular fireworks show happens every Saturday nights through the end of December.
Monday through Friday access to the riverfront is free. However, on Saturdays you'll need to purchase armbands for anyone over the age of 6.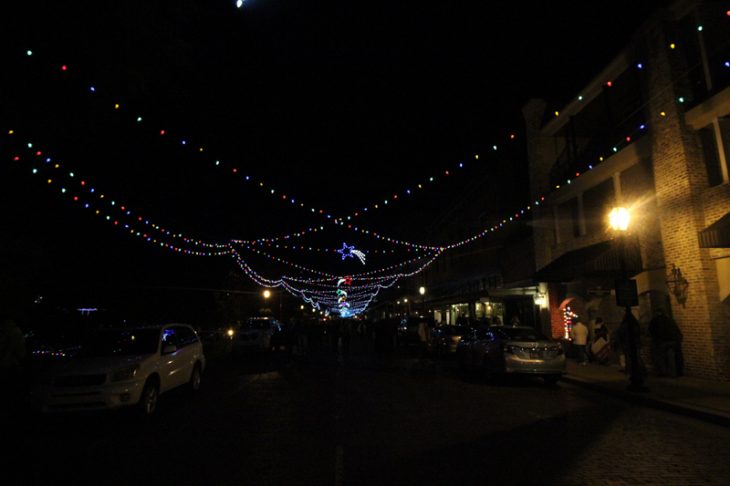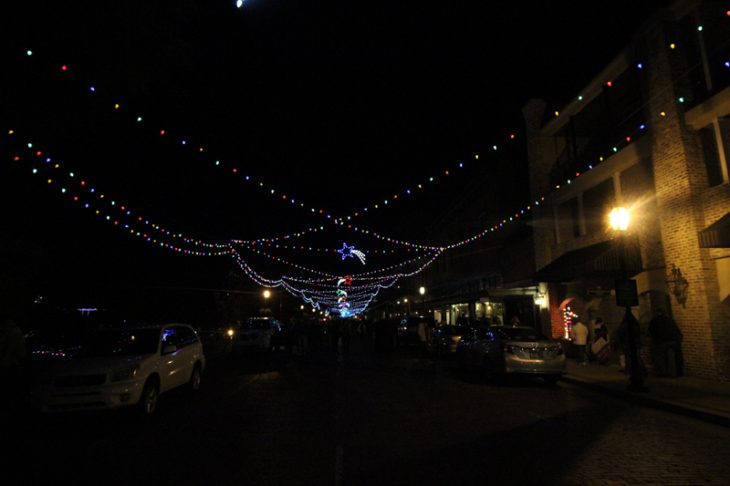 NATCHITOCHES CHRISTMAS FESTIVAL FUN
On Saturdays, the riverbank area is lined with kid's activities and food booths. There are also artisan markets happening a couple of times throughout the holiday celebration. This is a perfect time to take a bit of Natchitoches home with you or purchase last minute Christmas gifts.
Food vendors will be available on the Riverbank 7 days a week throughout the festival.
As you walk along the riverbank enjoy the holiday light displays and set pieces lit up across the river.
NATCHITOCHES CHRISTMAS FESTIVAL ADMISSION
Sunday through Friday access to the riverfront is free.
On Saturdays you'll need to purchase armbands for anyone over the age of 6
HISTORIC DOWNTOWN NATCHITOCHES
If there isn't a market happening during your visit you're still in luck because you'll find several lovely boutiques and shops in historic downtown. One of my favorite places to shop is Kaffie General Store–Louisiana's oldest general store.
For a different view of downtown and the riverfront be sure to enjoy a horse drawn carriage ride, available for a fee.
Hungry? There are any number of restaurants within an easy stroll of the festival area.
MISTLETOE MARKET
This artisan market is happening on Saturday, December 2nd at the City Bank parking lots on Second Street
CHRISTMAS TOUR OF HOMES
The Christmas Tour of Homes is a holiday tour of uniquely decorated properties in Natchitoches, Louisiana.
The event will feature docent-led commentaries on the history of each property as well as the unique holiday decorations.
The Christmas Tour of Homes is a self-guided walking tour that you begin at one of these 3 properties:
Prud'homme-Rouquier House (446 rue Jefferson). Built in 1790. It is the largest bousillage structure in North America.
Scott Corner House (104 rue Poete). Built circa 1900 in classic Creole style with West Indies influence. Approximately 30 trees decorated for the season adorn the period décor on the first and second floors of the Scott Corner House.
Lemee House (310 rue Jefferson). Built in 1837. The Lemee House was also Ouiser's home in the movie, Steel Magnolias (not to be confused with The Steel Magnolias House next door.)
There will be docents to guide you through the interior of each venue. The entire tour takes can take between 2.5 and 3 hours.
Tours are available on the following dates:
Friday, December 8th
Saturday, December 9th
Friday, December 15th
Saturday, December 16th
Tickets are $25 per person and available online. Saturday tickets include a complimentary ticket to The Louisiana Sports Hall of Fame & Northwest Louisiana History Museum located at 800 Front Street.
You can find more information and buy tickets here: Christmas Tour of Homes.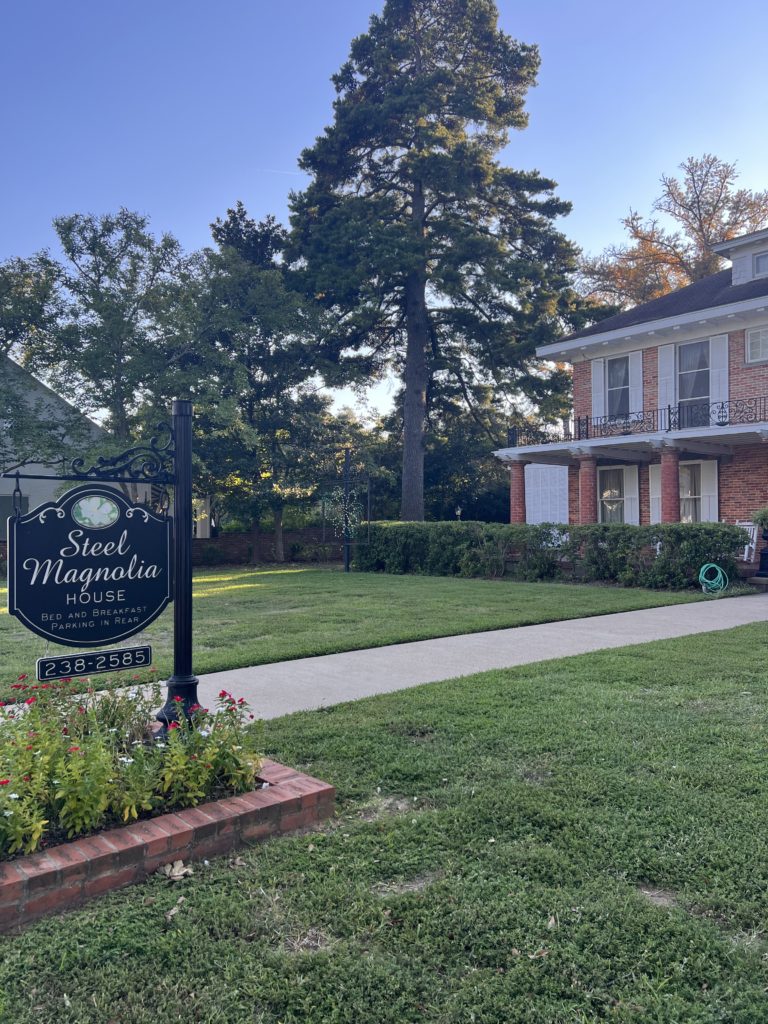 STEEL MAGNOLIAS CHRISTMAS PORCHES TOUR
Enjoy a uniquely curated Christmas tour of "Steel Magnolias" porches.
The tour will begin at The Natchitoches Historic Foundation Headquarters (550 Second Street.).
At 5:30PM we will open our doors for self-guided tours of The Natchitoches Historic Foundation House, hors d'oeuvres, and Christmas cordials. Then beginning PROMPTLY AT 6:00PM, ticket holders will embark on a GUIDED walking tour through our National Landmark District stopping at properties and sites featured in the movie, Steel Magnolias.
The tour will make various stops at select properties where ticket holders will enjoy movie trivia, Christmas decorations, history, and signature tastings along the way.
The actual distance covered is slightly less than a mile and the tour will take approximately 2 hours. Please remember to wear appropriate walking shoes.
Tours are available on the following dates:
Thursday, December 7th
Thursday, December 14th
Tickets are $25 each and available for purchase on the website. Note that you ticket purchase entitles adults over 21 to a complimentary glass of HOUSE wine at Maglieaux's Riverfront Restaurant following the tour.
LIGHTED BOAT PARADE
If you love boats you won't want to miss the lighted boat parade on Saturday, December 9th at 5pm.
FESTIVAL OF LIGHTS CHRISTMAS PARADE
The big holiday parade happens on Saturday, December 2nd at 1pm. You'll want to get there early to save a spot along the parade route.
VISIT SANTA CLAUS
As with all Christmas celebrations you just know you'll have the opportunity to find Santa Claus. Starting December 3rd until December 23rd visit with Santa Claus at the Santa Claus house from 6pm-8:30pm. Visits are free, but Saturday visits do require an armband for Riverbank access.
The Santa House is located on the South end of the Downtown Riverbank.
Cookies with Santa (available for an additional fee) is happening from 10am-4pm on Saturday, November 18 and Saturday, December 9.
WHY YOU SHOULD GO TO THE NATCHITOCHES CHRISTMAS FESTIVAL
Honestly, this is one of the best small town holiday celebrations that I've attended, and I've been to a fair share.
I love the setting in Louisiana's oldest city with the river on one side and historic downtown on the other with its brick paved street.
It's a magical backdrop for an incredible Natchitoches Christmas season. It's a little step back in time and I'm here for it.
Still wondering if you should attend. Would it help if I told you that Natchitoches frequently lands on Best Christmas Towns lists in publications like Travel & Leisure, Southern Living, and Thrillist.
Be sure to check the calendar of events for a complete list of festivities.
NATCHITOCHES MEAT PIE & MORE
Oh, also, be sure to grab some famous Natchitoches meat pies while in town. It's kind of like a Michigan pastie. A handheld pie filled with delicious goodness! Or some hot gumbo. Or go wild and grab both.
I always say yes to both. As a northerner I must get my southern foodie fix when I'm in Natchitoches and I'm never disappointed.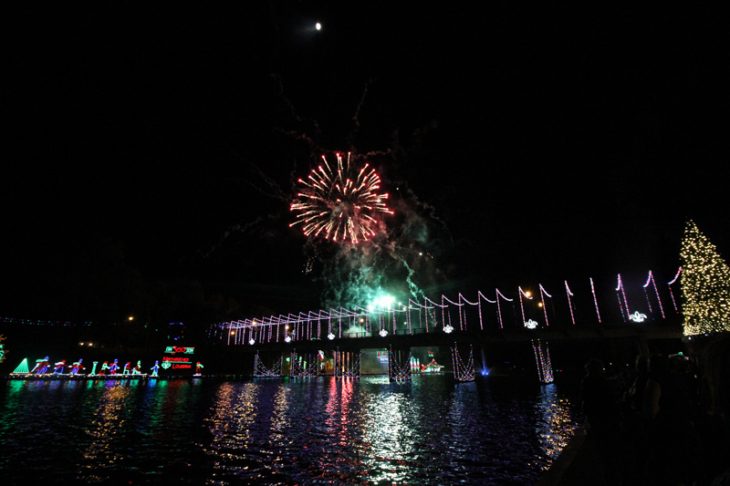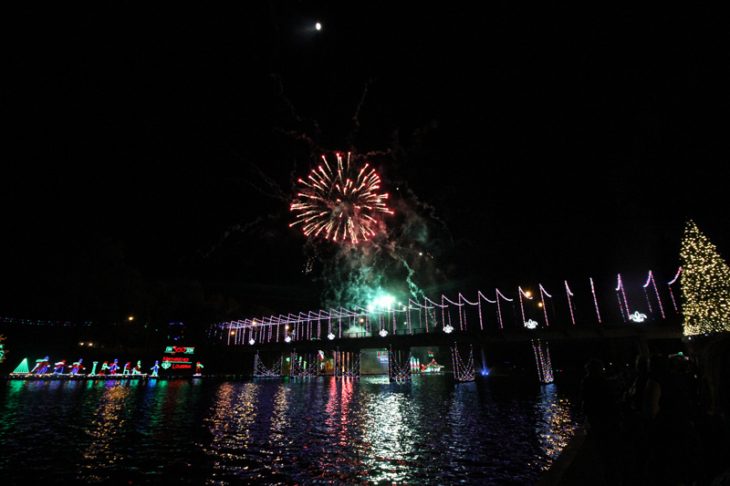 CHRISTMAS IN THE PARK
After you enjoy the Natchitoches Christmas Festival on the Riverbank take a quick 5-minute drive to Christmas In The Park for more Christmas light fun.
Christmas in the Park is fun for the entire family with three hundred thousand (300,000) LED lights and decorations, tasty holiday treats, nightly Christmas character meet and greets, and much more.
The event will kick off on Black Friday for its official "turn on the lights" weekend, then resume December 3rd and run through December 25th most days of the week.
Be sure to check their event calendar to make sure they are open when you'd like to visit.
BE SURE TO SHARE THIS EVENT WITH YOUR FRIENDS VIA FACEBOOK AND PINTEREST