This year, you can head to downtown Natchitoches, LA for an amazing holiday event filled with Christmas lights that your entire family will love.
If holiday travel is one of your favorite things to do, check out this great Southern Christmas travel destination and our tips for enjoying it this year!
96th Annual Natchitoches Christmas Festival – Louisiana
Want to launch your holidays off to a great start? Head over to Natchitoches, LA the Saturday before Thanksgiving and help them turn on the holidays!
This is a fun-filled, family friendly event that is jam packed with live entertainment, hundreds of thousands of Christmas lights, a stellar fireworks display and more merriment than should be legal all along the downtown riverbank.
This event is so popular its been happening since 1927 and is now a 6 week long event!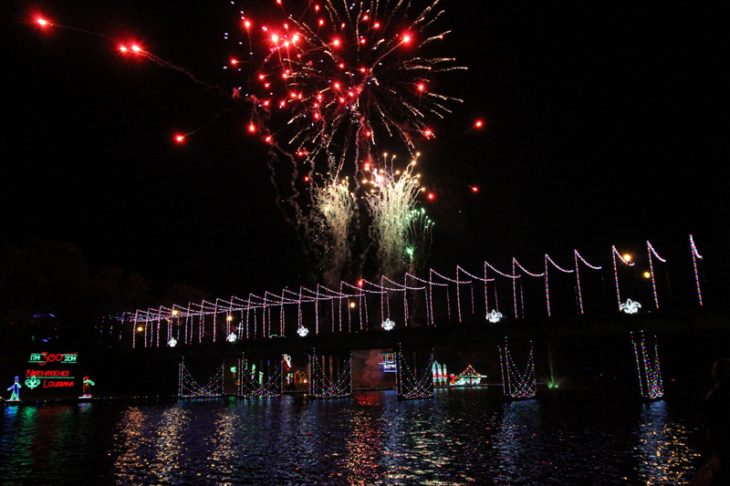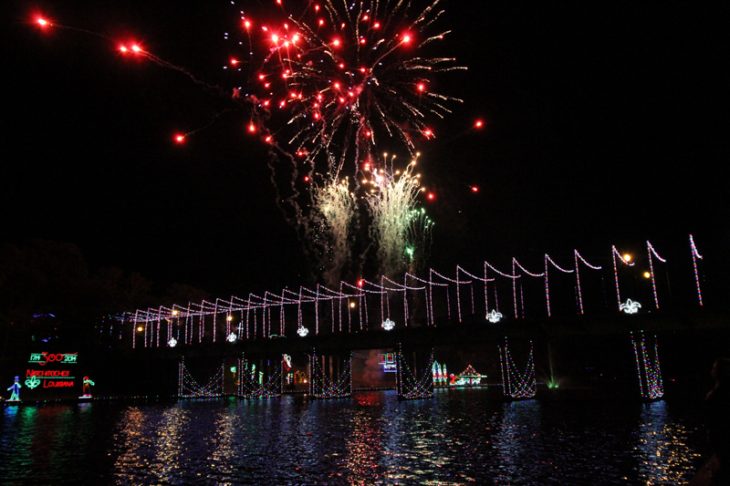 This year they'll turn on the lights on Saturday, November 19. Things kick off with a Holiday Kids Fest and the official "Turn On The Holidays!" starts at 4:30 and goes until 9:30. There will be live music and fireworks.
Once the lights are on they light up Natchitoches, LA every evening through Epiphany (January 6th) and a fireworks show lights up the sky on Saturday nights through the end of December.
On Saturdays you'll need to purchase $10 admission armbands for anyone over the age of 6. The other days the riverfront is free to access.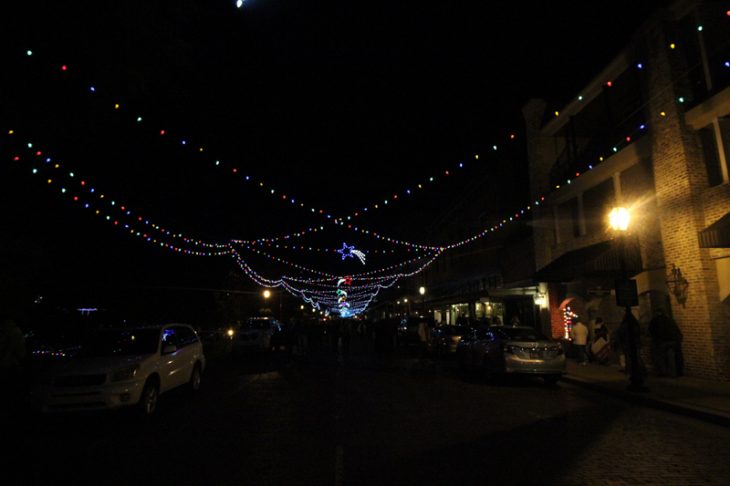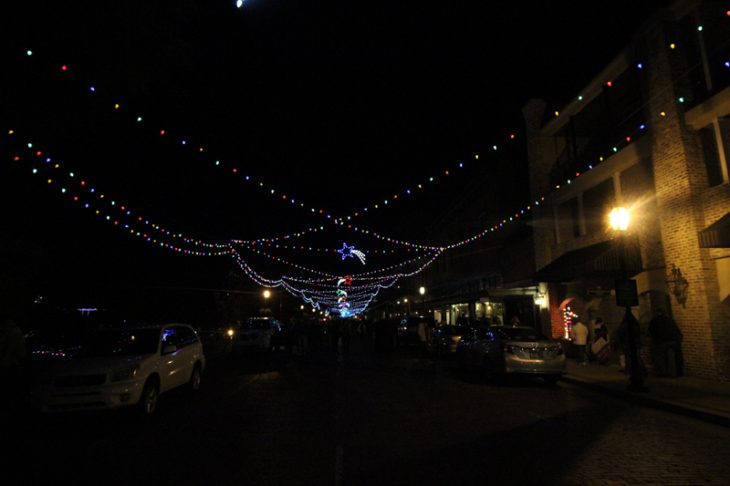 The riverbank area is lined with kids activities and food vendors.
Across the river you'll see holiday set pieces.
Horse drawn carriage rides along the festive streets are available for a fee and stores and restaurants are open a little later. Be sure to stop in at Louisiana's oldest general store.
Some Saturdays you'll find craft vendors for last minute holiday gift purchases.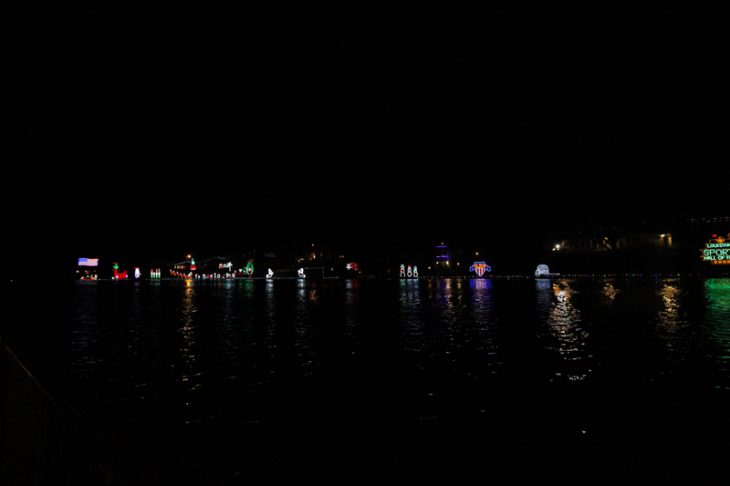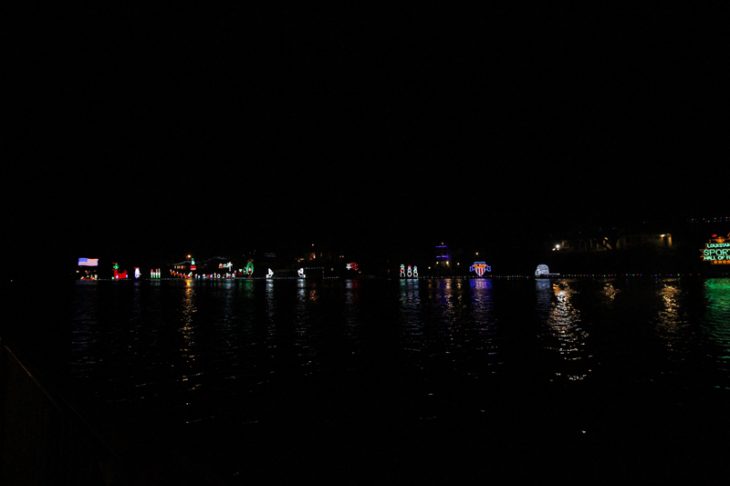 Natchitoches Christmas Festival
This year will mark the 96th year for the Annual Christmas Festival happening on Saturday, December 3rd.
There will be a mistletoe market, Christmas parade, famous firework show and live music.
Christmas Tour of Homes
Throughout the Holiday of Lights celebration, there are a number of open houses that let you peek inside period homes that are decked out for the holidays.
Some of the homes are only open for public viewing at this time of year so be sure to take advantage of this opportunity.
Starting Thursday, December 8 you can take a Christmas Tour of Homes. A $25 ticket lets you step inside historic homes decked out for the holidays. A docent at each location will share stories about the property and lead tours through the house.
Lighted Boat Parade
If you love boats you won't want to miss the lighted boat parade on Saturday, December 1oth at 5p.m.
Santa Claus
As with all Christmas celebrations you just know you'll have the opportunity to find Santa Claus.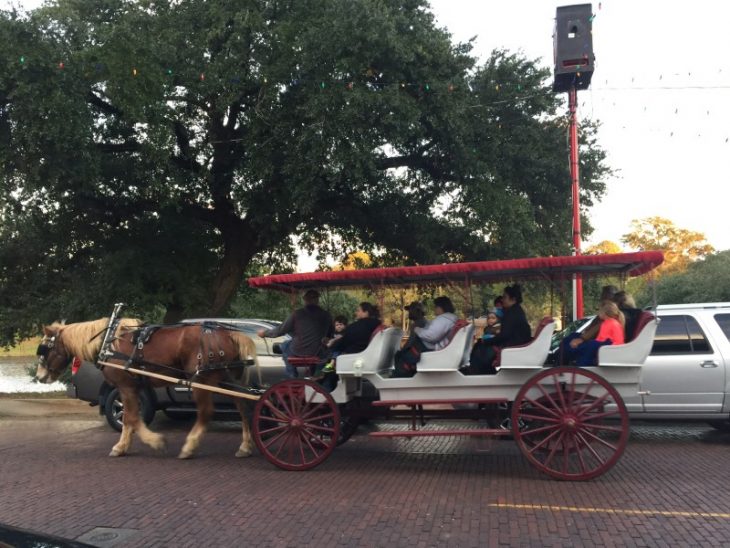 Honestly, this is one of the best holiday celebrations, in my opinion. I love the setting in Louisiana's oldest city with the river on one side and historic front street on the other with its brick paving.
It's definitely a magical backdrop for an incredible Natchitoches Christmas season. It's a little step back in time and I'm here for it.
Be sure to check the calendar of events for a complete list of festivities.
Oh, also, be sure to grab some famous Natchitoches meat pies while in town. It's kind of like a Michigan pastie. A handheld pie filled with delicious goodness! Or some hot gumbo, or both. I always say yes to both. As a northerner I have to get my southern foodie fix when I'm in Natchitoches and I'm never disappointed.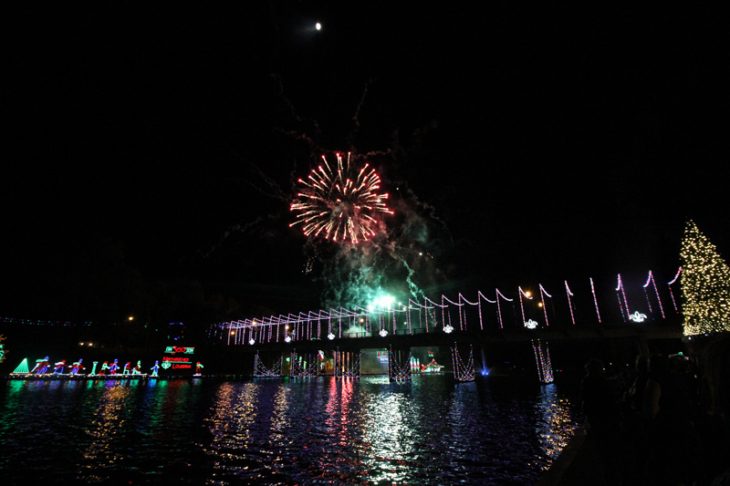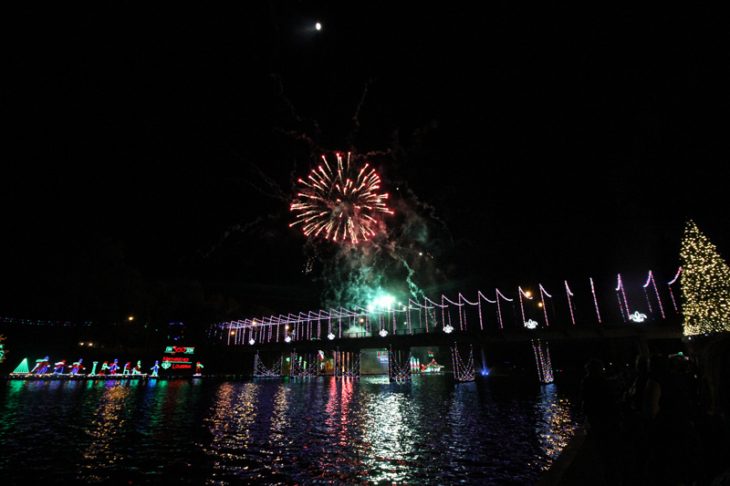 Christmas In The Park
Be sure to visit Christmas in the Park after you explore the Riverbank festivities.
Only a 5 minute drive from downtown, Christmas In The Park is a family friendly environment with over two hundred and fifty thousand LED lights and decorations, tasty holiday treats, nightly Christmas character meet and greets, and much more.
The event will open on Black Friday for its official "turn on the lights" weekend, then resume December 3rd and run through December 25th (Wednesday – Sunday).
Tickets are $6 per person for ages 4 and up.
Grab your family and head South to Natchitoches, LA to enjoy the holidays in a unique new way!
From parades and tours of famous homes to the amazing fireworks presentation, this i an ideal travel destination for the holiday season.
SPREAD THE WORD AND SHARE TO FACEBOOK, PINTEREST AND TWITTER