I've created a guide of some of the best bookstores in the U.S. that have been recommended by friends. I've shared their comments about the bookstore, if available, as well.
I don't know about you guys but I love reading, I'll admit that I mostly read on my kindle because its convenient, but I love browsing and visiting a good bookstore.
These bookstores hit the mark for being some of the best in each region.
If you have a bookstore you love drop us a line and we'll add it to our list.
A Guide to the Best Bookstores in the US-East

Photo From The Montague Bookmill Website
CONNETICUT
Jack And Allie's – Vernon, CT "Delightful." Brett Martin
PENNSYLVANIA
Baldwin's Book Barn – West Chester, PA "I adore Baldwin's Book Barn which is a HUGE barn full of books. It's an amazing place. Simply magical." Kelly Whalen
MASSACHUSETTES
The Montague Bookmill – Montague, MA
Edgartown Books – Edgartown, MA
Porter Square Books – Cambridge, MA
NEW JERSEY
River Road Books – Fair Haven, NJ "…is like a flashback to when bookstores were community gathering places. The owners/staff are the best mix of literary knowledge and friendly neighbor. Love it there." Cristie Ritz King
NEW YORK
The Book Corner – Niagara Falls, NY "One of Niagara Falls' oldest and most beloved businesses – and celebrated 90 years of business this year!" Elizabeth Anne
A Guide to the Best Bookstores in the US-Midwest
Photo From Bookbug Website
IOWA
Prairie Lights – Iowa City, IA
River Lights Bookstore – Dubuque, IA
Dragonfly Books – Decorah, IA "Large selection of books, special orders, select books for gifts, gif wraps, delievers, book readings, actively involved in the community and CVB." Charlene Corson Selbee
Book Vault – Oskaloosa, IA
INDIANA
Indy Reads Books – Indianapolis, IN
The Two Sisters: Books and More – Richmond, IN "2800 square feet of one of a kind finds. They have a Harry Potter room too! They craft their own tea blends… very tasty." Nancy Sartain
ILLINOIS
Anderson's Bookshops – Naperville, IL "Nice selection of books and educational toys." Kathy Rodeghier
Lake Forest Bookstore – Lake Forest, IL "My home town favorite!" Kirsten Maxwell
City Lit Books – Chicago, IL
Women and Children First – Chicago, IL
KANSAS
Watermark Books & Cafe – Wichita, KS
Rainy Day Books – Fairway, KS
MICHIGAN
McLean and Eakin – Petoskey, MI One of my favorite "Up North" bookstores in Michigan! Deb
Bookbug – Kalamazoo, MI
Archives Book Shop – East Lansing, MI "I've always loved the Archives in East Lansing." Becky FIxel
Battle Creek Books – Battle Creek, MI "Owned by a local and has regular book signings and authors in. I love that they are great with encouraging locals to write, and have poetry reading nights!" Katie Hale
The Dawn Treader Book Shop – Ann Arbor, MI "Super Eclectic!" Kimberly Williams
Curious Book Shop – East Lansing, MI
The Cottage Book Shop – Glen Arbor, MI
John K. King Used & Rare Books – Detroit, MI "An amazing place." Renee Monforton
Reader's World – Holland, MI "Their supply of magazines is mind-boggling. They regularly stock hundreds and hundreds of mags alongside their books." Amy S. Eckert
MINNESOTA
Magers & Quinn Booksellers – Minneapolis, MN "…is amazing! They mix new and used books and have a friendly and helpful staff." Kelly Whalen
Once Upon A Crime Mystery Books – Minneapolis, MN
MISSOURI
Dunaway Books – St. Louis, MO
OHIO
The Book Loft of German Village – Columbus, OH "32 rooms filled with books!" Megumi Robinson
Loganberry Books – Shaker Heights, OH
WISCONSIN
Renaissance Book Shop – Milwaukee, WI
A Guide to the Best Bookstores in the US-South
Photo From Avid Bookshop Website
FLORIDA
Sundog Books – Seaside, FL
Bookstore 1 Sarasota – Sarasota, FL
Key West Island Books – Key West, FL "Quaint little place with new, used, original print editions, signed copies, and more!" Stephanee Barnes
GEORGIA
A Cappella Books – Atlanta, GA
Avid Bookshop – Athens, GA
Atlanta Vintage Books – Brookhaven, GA If you're looking for a cool place to visit in addition to a stop at the bookstore be sure to visit Brookhaven.
Horton's Books & Gifts – Carrollton, GA "The oldest independent bookstore in Georgia." Ruth Birch Sykes
Underground Books – Carrollton, GA
MISSISSIPPI
Square Books – Oxford, MS
NORTH CAROLINA
Malaprop's Bookstore/Cafe – Asheville, NC
Park Road Books – Charlotte, NC
Main Street Books – Davidson, NC
Quail Ridge Books – Raleigh, NC
Hudson Booksellers – Raleigh, NC
SOUTH CAROLINA
Blue Bicycle Books – Charleston, SC
VIRGINIA
Fountain Bookstore, Inc. – Richmond, VA
WEST VIRGINIA
Taylor Books – Charleston, WV "Amazing!" Keryn Means
Four Seasons Bookshop – Shepherdstown, WV (recommended by LitsyApp member @MuddyPuddle)
A Guide to the Best Bookstores in the US-Mountain
Photo From The Poisoned Pen Bookstore Website
ARIZONA
Changing Hands Bookstore – Phoenix, AZ
The Poisoned Pen Bookstore – Scottsdale, AZ
NEW MEXICO
Page 1 Books – Albuquerque, NM
TEXAS
Recycled Books – Denton, TX
A Guide to the Best Bookstores in the US-West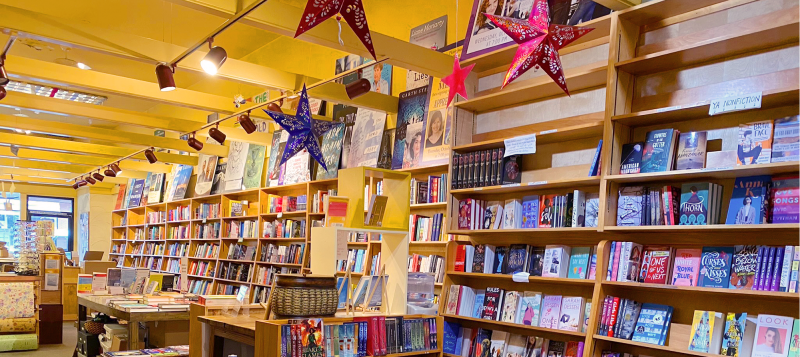 Photo From A Great Good Place For Books Website
CALIFORNIA
The Last Bookstore – Los Angeles, CA
Mysterious Galaxy – San Diego, CA "Specializes in sci-fi, fantasy, horror, and mystery. Been shopping with them for years." Kari Embree
City Lights – San Fransisco, CA
Green Apple – San Fransisco, CA
A Great Good Place for Books – Oakland, CA
OREGON
Powell's City of Books – Portland, OR
WASHINGTON
Village Books – Bellingham, WA "One of the best in Bellingham, WA. 300 singings a year!" Max Hartshorne
Pin To Pinterest