As a curvy girl, it's frustrating trying to find clothes the look and feel great.
Add needing clothes that also travel well and I may as well be searching for a unicorn.
After searching high and low for the right travel clothes "frustrating" becomes an understatement.
There isn't much else to do, but quit, because no one ever sees a unicorn.
I thought all was lost until a friend suggested I check out Chico's.
Note: since this trip I've shed quite a few pounds from my frame, see how I lost 75 pounds and kept most of it off. That being said, it's a life long challenge keeping the pounds off, but I'm a work in progress and giving myself grace.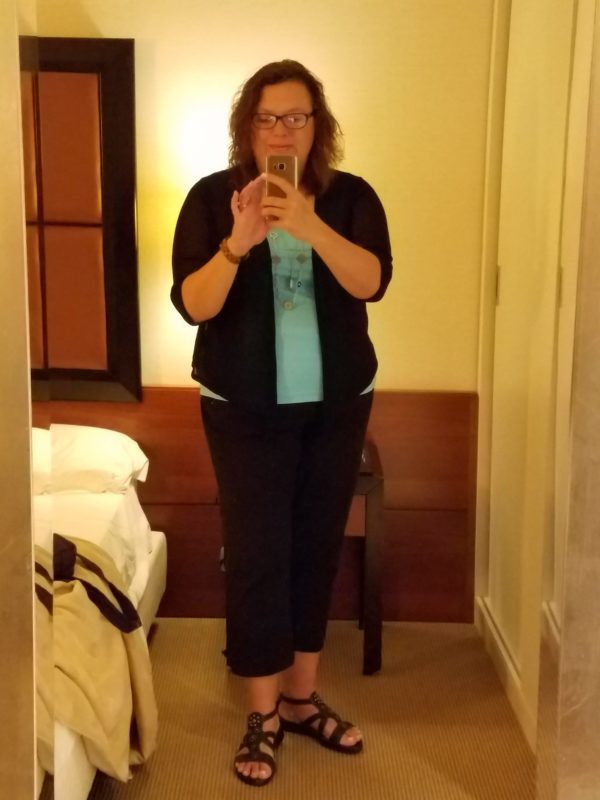 Hotel in Rome. Black Capri+ Tank Top + Cardigan
I'll admit, I'd never shopped at Chico's in the past because I thought they only carried clothes for smaller women.
Surprise, surprise, Chico's clothes actually fit me. Not too baggy, not too tight or short or long.
They fit me perfectly. Not only did they fit, but I looked great in them.
Y'all better sit down because I did, indeed, find a unicorn.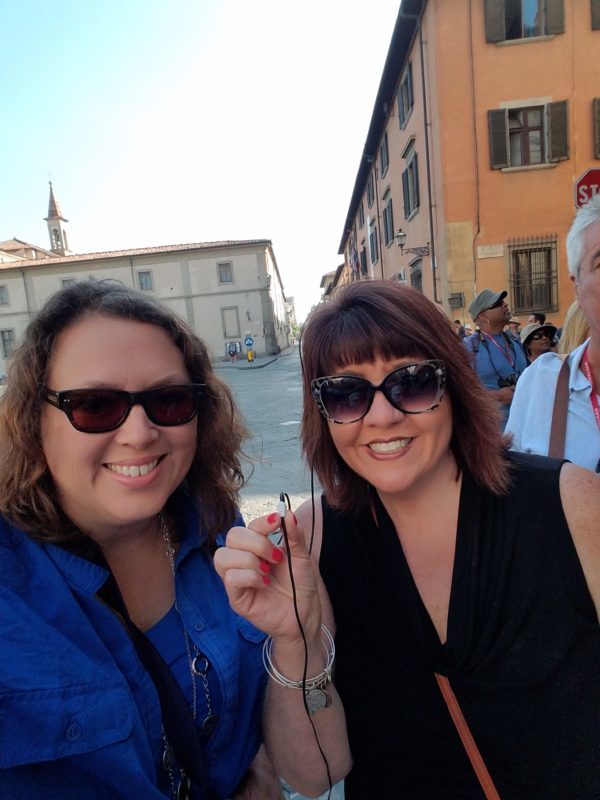 With Val in Florence. Cotton Voile Shirt + Tank Top
Of course, it helped that Hollie at my local Chico's store helped dress me. She is quite the fashionista and she let me know what colors and patterns would and wouldn't work with me. She is hired for life.
I love having someone that can tell me honestly what I should wear and what I shouldn't wear. Hopefully, you'll find a Hollie at your local store.
TIPS FOR FINDING THE PERFECT TRAVEL CLOTHES
Look for colors that will look great with your skin tone. If you are unsure, blacks and whites are a pretty safe bet for most everyone.
Don't shy away from patterns without trying it on. Horizontal stripes are supposed to be a HUGE no-no for curvy girls. For me, they look great!
Select separates that can all be interchanged to have the most outfits with the least amount of pieces.
Find pieces that aren't too snug and allow you to move around. I tried on many pieces to find the right fabrics that fit my body best. It may take a few tries, but you got this.
Make sure your pants are the proper length for your body shape. It was a big NO for me to wear pants that ended right below the knee. I needed to go a little longer, between mid-calf and ankle, to look my best.
STOP looking at the sizes. Oh, I know y0u are so tempted to toss back that great looking shirt because of a number on the tag. Stop it! Buy the shirt, cut the tag out and look and feel good. Same goes with pants if they fit perfectly the number on the tag does not matter.
Don't assume a store doesn't carry your size. Visit stores that aren't on your radar. Look for stores that have helpful employees that look stylish.
It's important to note that these outfits traveled in a backpack and I never once ironed any of my clothes during vacation. I'd say the clothes held up really well.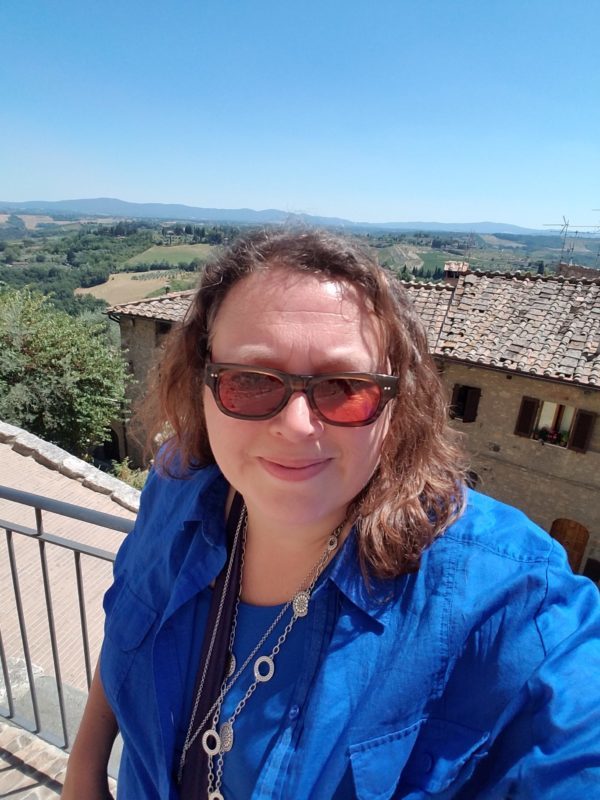 Somewhere in Tuscany….oh Tuscany, you are so very lovely Cotton Voile Shirt + Tank Top + White Crop
This royal blue button-down shirt is so versatile. I wear different color tanks underneath, wear it with a scarf or with a necklace and I have a couple of different outfit.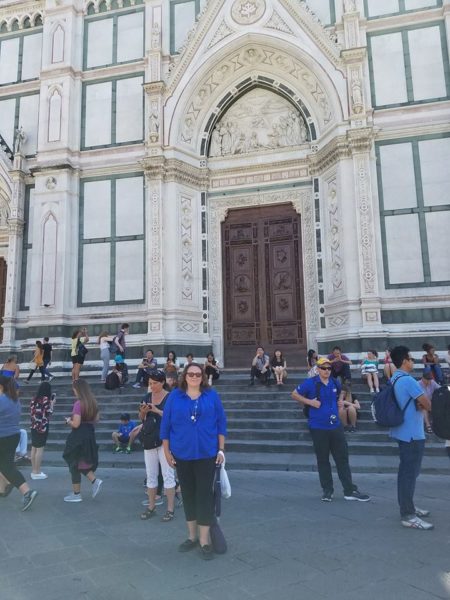 Cotton Voile Shirt + Tank Top + Black Capri
Gah, after all these years I'm still not completely comfortable in front of the camera. Oh, and it looks like royal blue is THE color this season.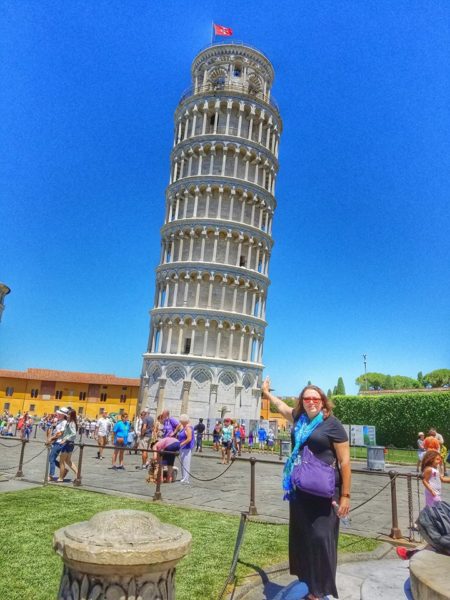 Black maxi and black t-shirt should be a standard in every suitcase. It looks great and is super comfy. Added a pop of color with my Chico's scarf.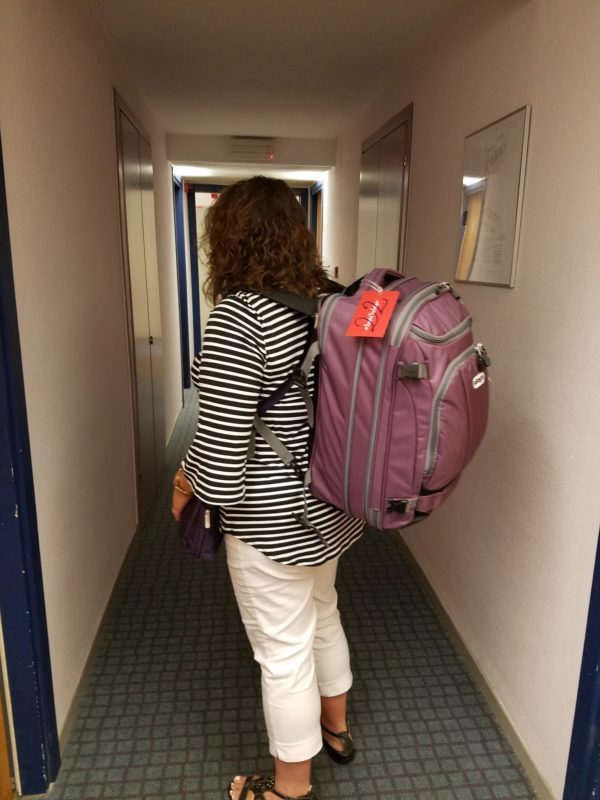 White Crop + Timeless Stripe Necklace Top
My second favorite travel outfit is the black and white striped shirt with white capris.
Everything I needed for two weeks away is in my backpack.
This is at the end of the trip so its a little fuller with trinkets for family and friends back home.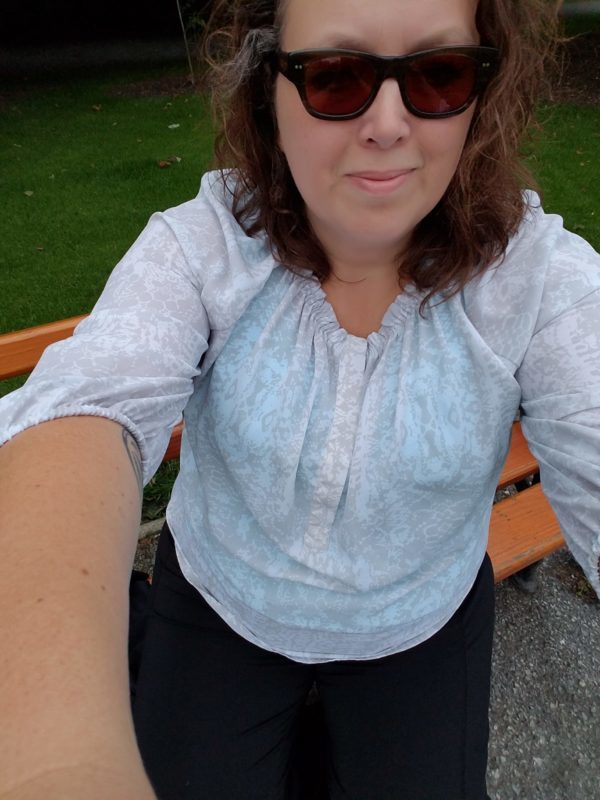 This lightweight shirt paired with black travel pants and a blue tank. Perfect for a day in Dublin.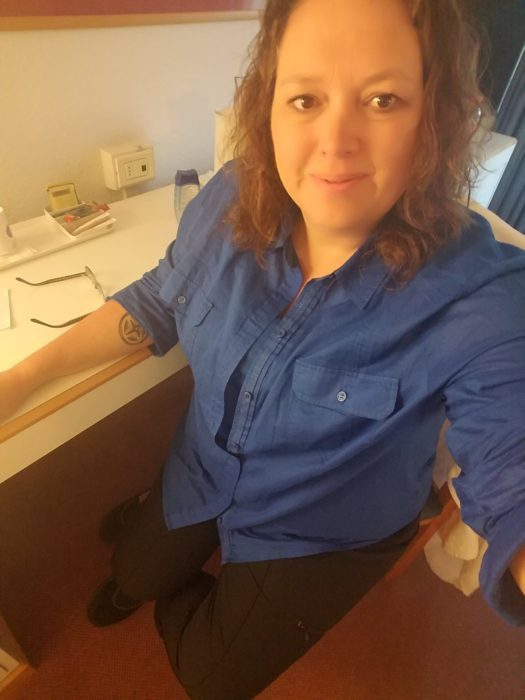 So hard taking entire outfit selfies. Cotton Voile Shirt + Tank Top + Black Capri
If you are in need of some great travel clothes head over to Chico's and try on some of their styles. I'm partial to Zenergy, So Slimming, and the Knit Kit line. All travel and fit well.
Travel Clothes From Chico's
1 White Capri (So Slimming Brigitte Crop)
1 Black Capri (Zenergy line)
1 Timeless Stripe Necklace Top, black & white (Knit Kit line)
1 Cotton Voile Shirt, Royal Blue
2 Tank Tops, Royal Blue & Light Blue
1 Cori Convertible Cardigan
1 Multi-blue scarf
1 silver necklace
***Pin to Pinterest***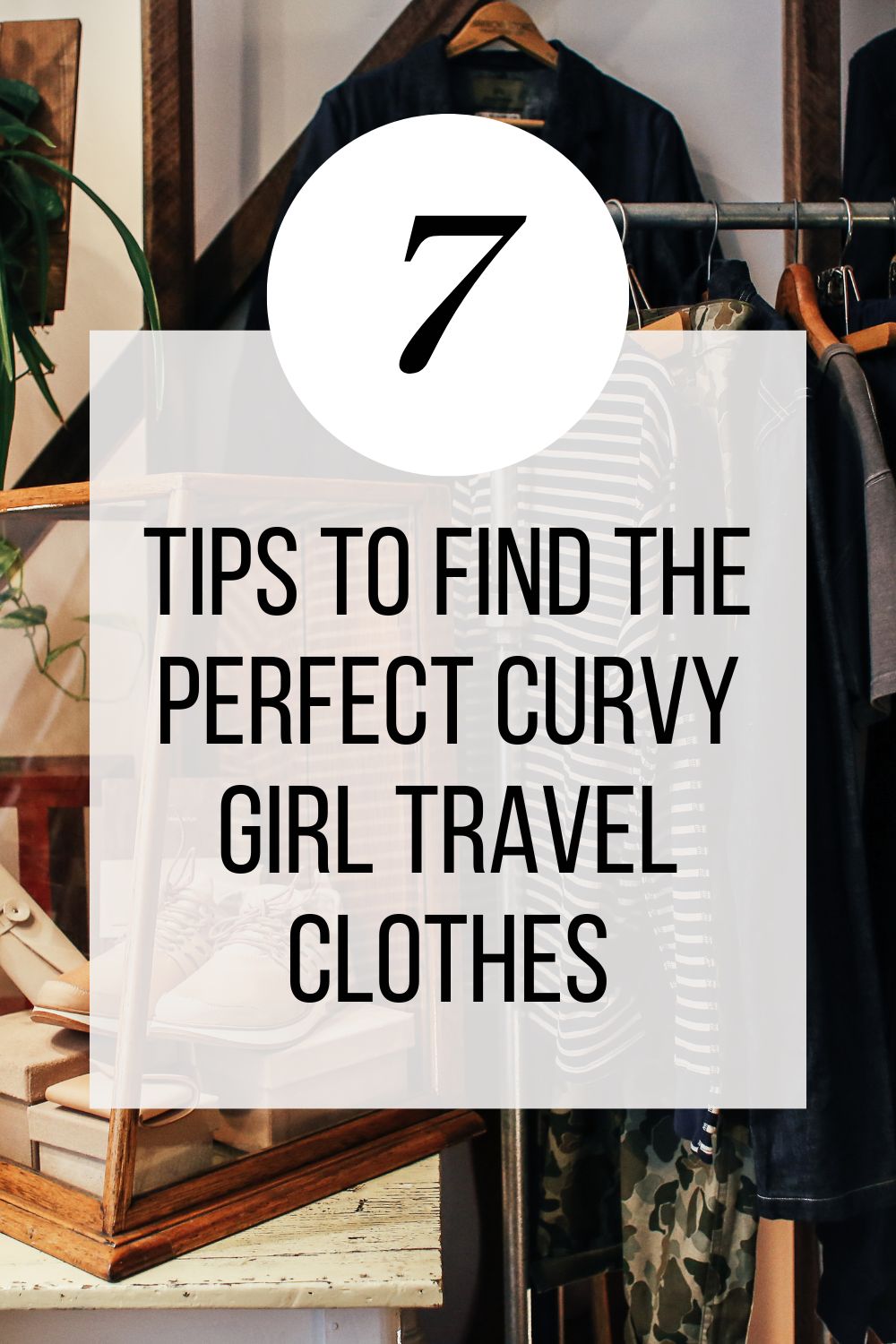 BIG thanks to Chico's for providing me with two outfits. My checkbook provided the additional items, plus a maxi dress that didn't make the cut for travel, but that I wear at home.