This was the first year for Mardi Gras in Beaumont! For years, Mardi Gras of Southeast Texas was held in nearby Port Arthur.
A few year ago it moved to Beaumont to offer more room for parking, crowds, and event growth.
And yes, Mardi Gras happens outside of New Orleans.
In fact, you can go just about anywhere along the Gulf Coast and in the entire state of Louisiana and find any number of Mardi Gras festivities.
But why go anywhere else when you can celebrate Mardi Gras Cajun-Texas style in Beaumont?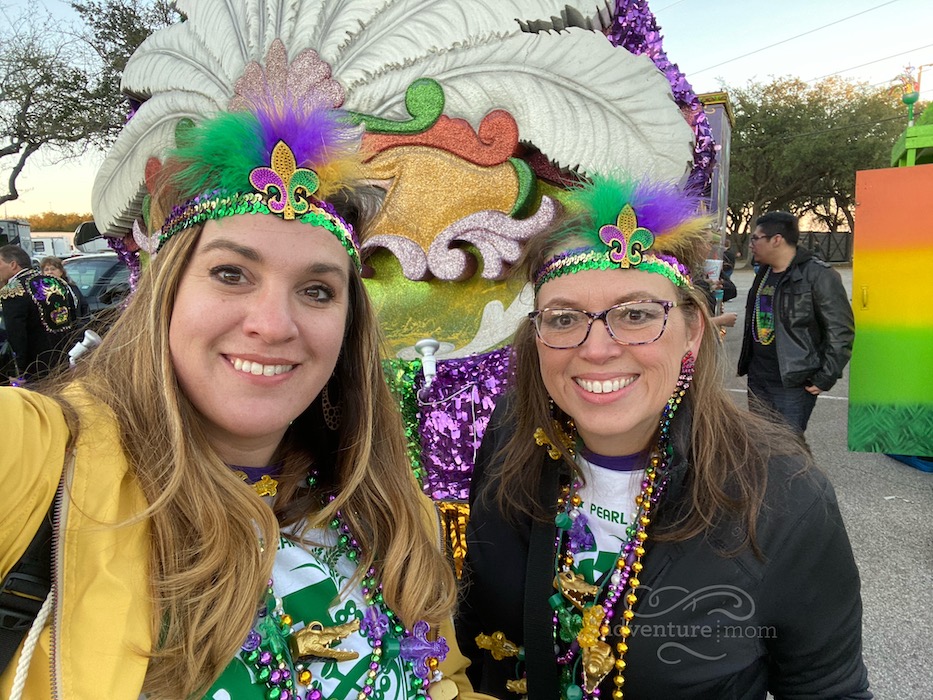 I was joined by Nedra from Adventure Mom to attend the first-ever Mardi Gras of Southeast Texas in Beaumont and we had a great time!
This article is brought to you in partnership with Visit Beaumont. This article contains affiliate links.
Why Celebrate Mardi Gras in Beaumont Texas
Why struggle through traffic and crowds to big city events when you can celebrate Mardi Gras in Beaumont, TX?
If you're road-tripping from Texas to New Orleans for Mardi Gras you can save yourself a lot of miles and drive time just by taking the exit off I-10 to Beaumont.
Seriously, you're going to love Mardi Gras done Texas-style!
There are parades, carnival rides, fireworks, concerts, great food, a small chicken run, some of the best King Cake on the coast and so much more!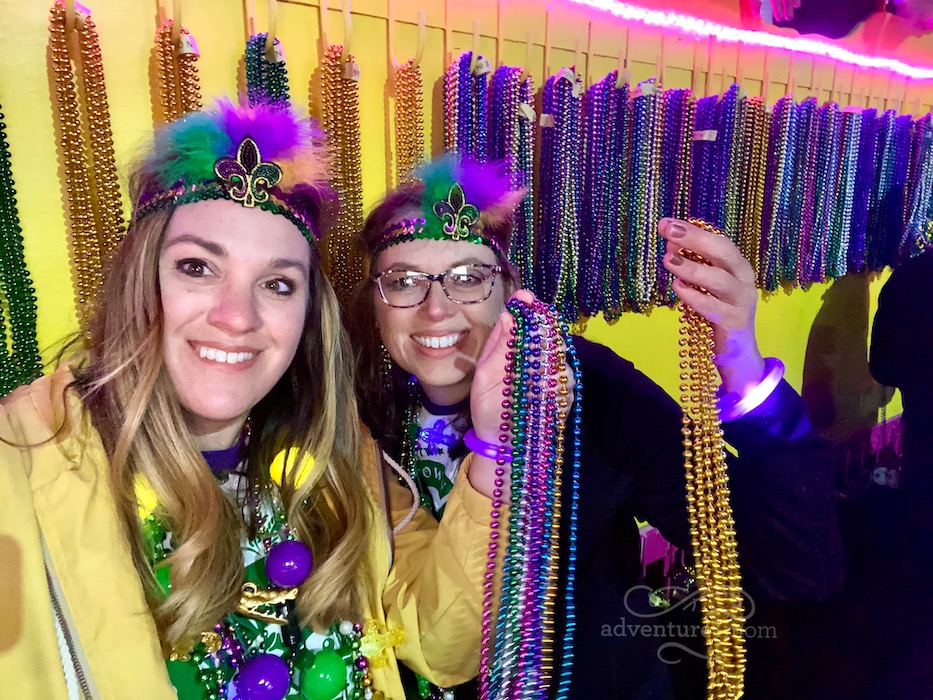 Mardi Gras Beaumont Parades
There were 9 parades during the four-day celebration.
Five of them are held along the city streets while the other four happen inside the festival grounds which required a ticket for entry. More on the fairgrounds later.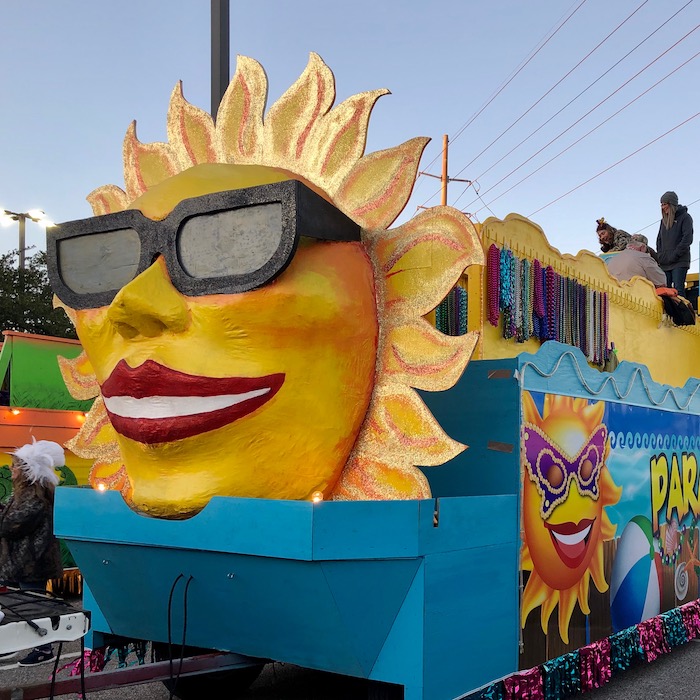 Of course, five free parades are more than enough to keep everyone happy.
There were floats, bands, dancers, fire trucks, cars, jeeps, and even an ATV/Golf Cart parade!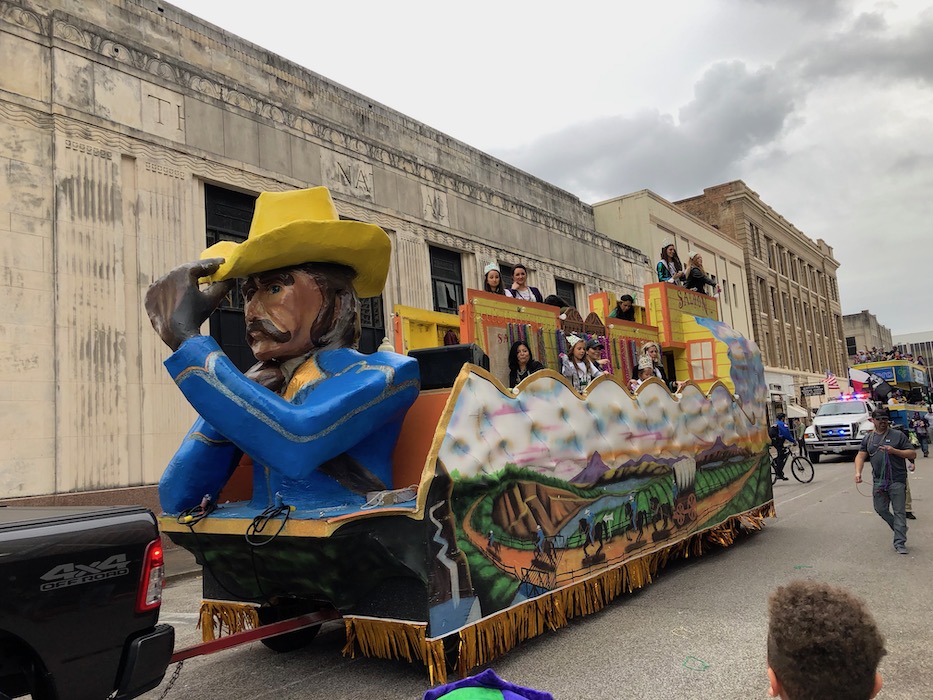 Arrive at the parades ready to have a lot of fun. It's ok to dance in the streets, yell "throw me something, Mister!", and have an all-around good time.
Plus, it's all completely family-friendly.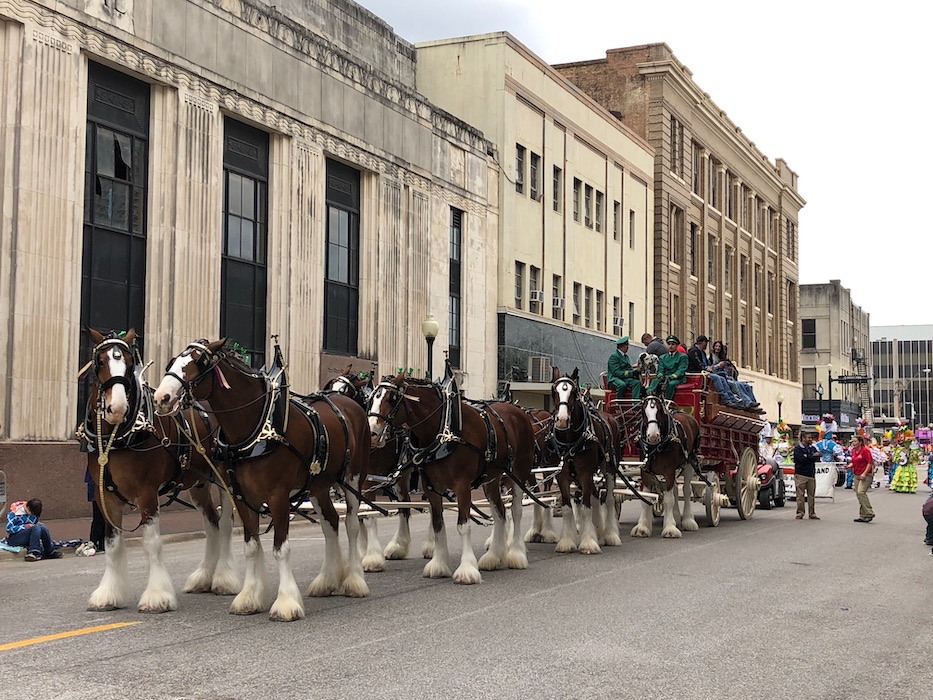 Oh, and the leader at the parades was none other than the Budweiser Clydesdale horses! I hope the Clydesdale horses lead the parades every year.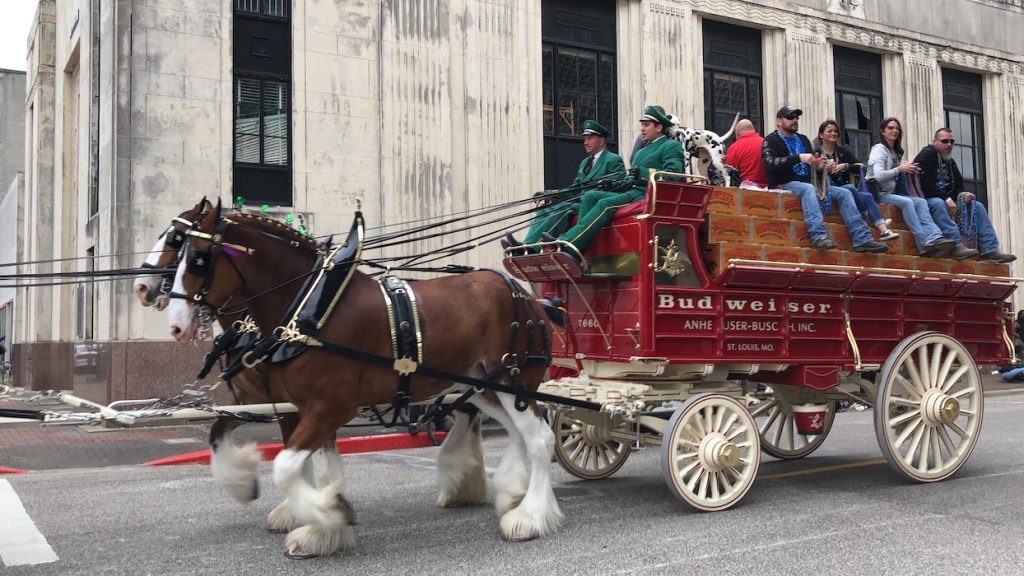 They are incredible to watch plus if you go to the Mardi Gras fairgrounds afterward you can see them up close and personal.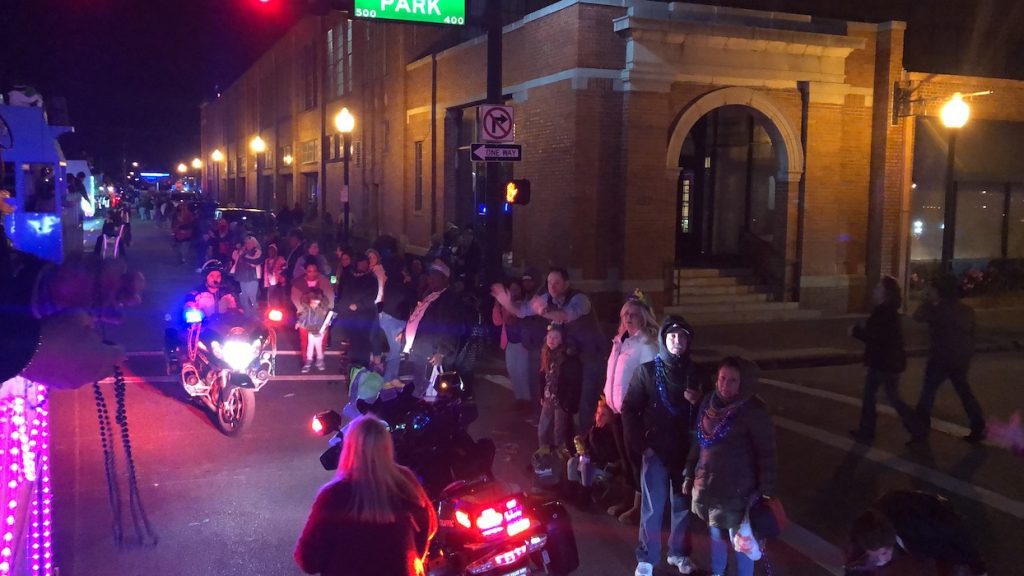 There is great music, lots of throws, and it's one heck of a party.
As each float rolls past be prepared to catch some beads.
They are tossed frequently and in quantity and it's a lot of fun to try to catch them.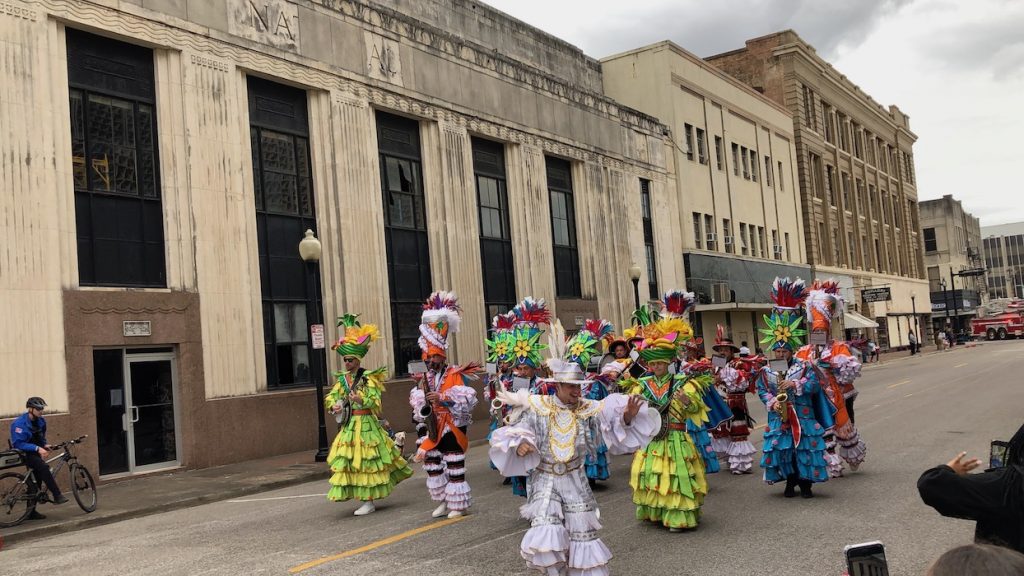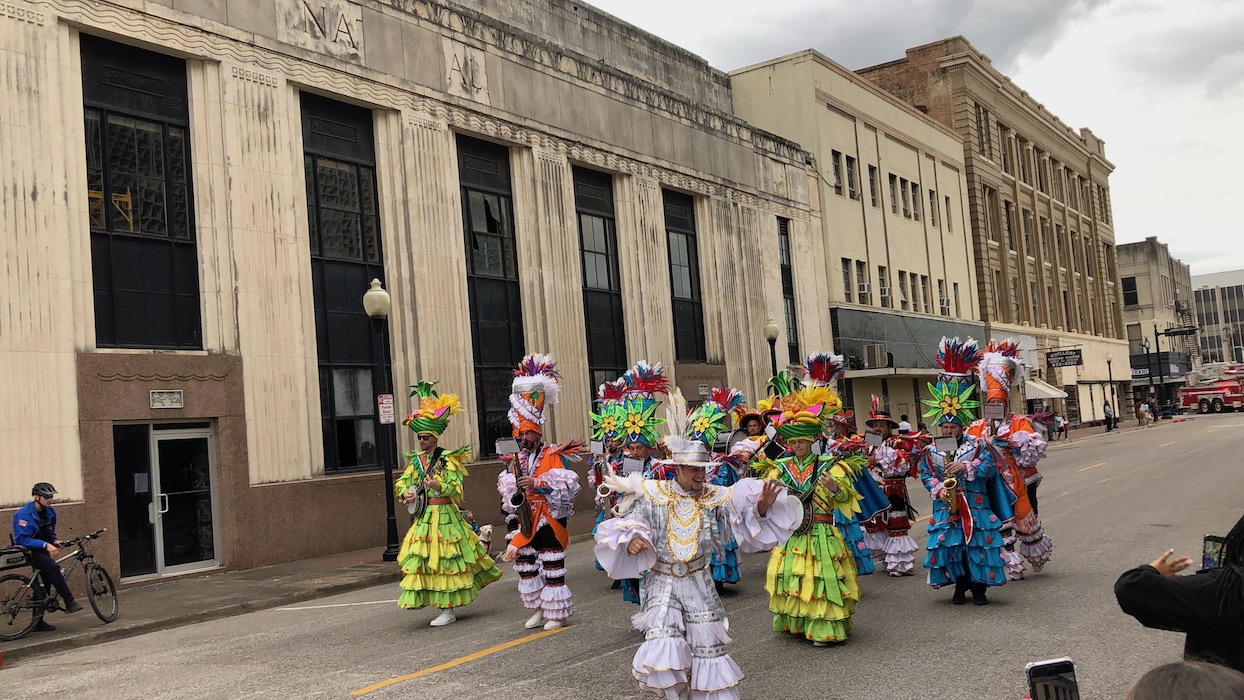 Tips for Attending the Mardi Gras Beaumont Parades
There is lots of free parking available. Some lots charge but we were able to easily find free parking and then walk a couple of blocks to the parade route.
Be aware of flying throws and be ready to catch some beads.
There is plenty of space for everyone along the parade route. No need to save a spot early in the day.
The parades last about 45 minutes.
Dress accordingly, stay hydrated, and use sunscreen, as needed.
Plan to arrive early. During our visit, the times adjusted without notification. If you don't want to miss an event I recommend getting there at least 30 minutes early.
After the parade head to the fairgrounds for more Mardi Gras fun.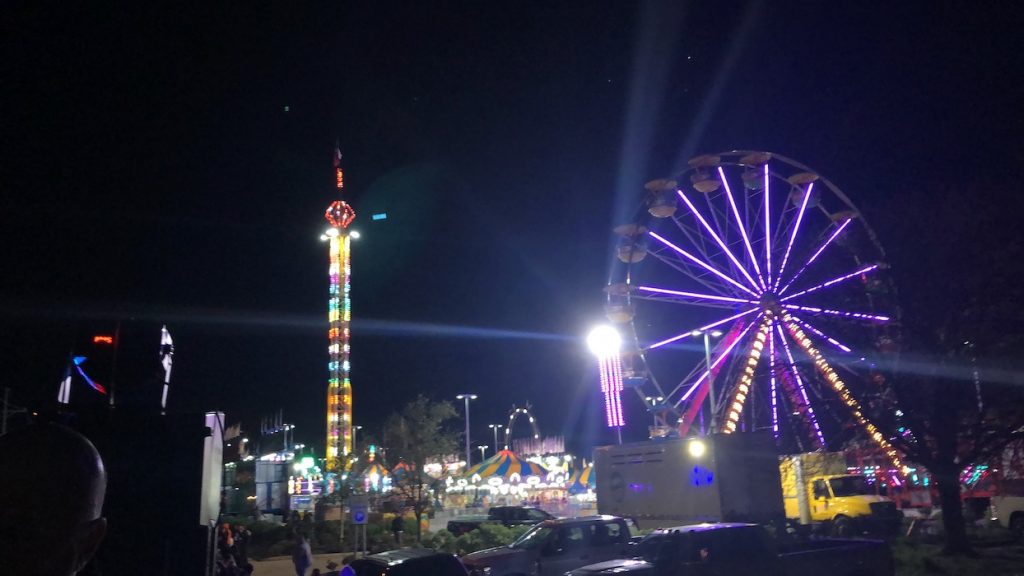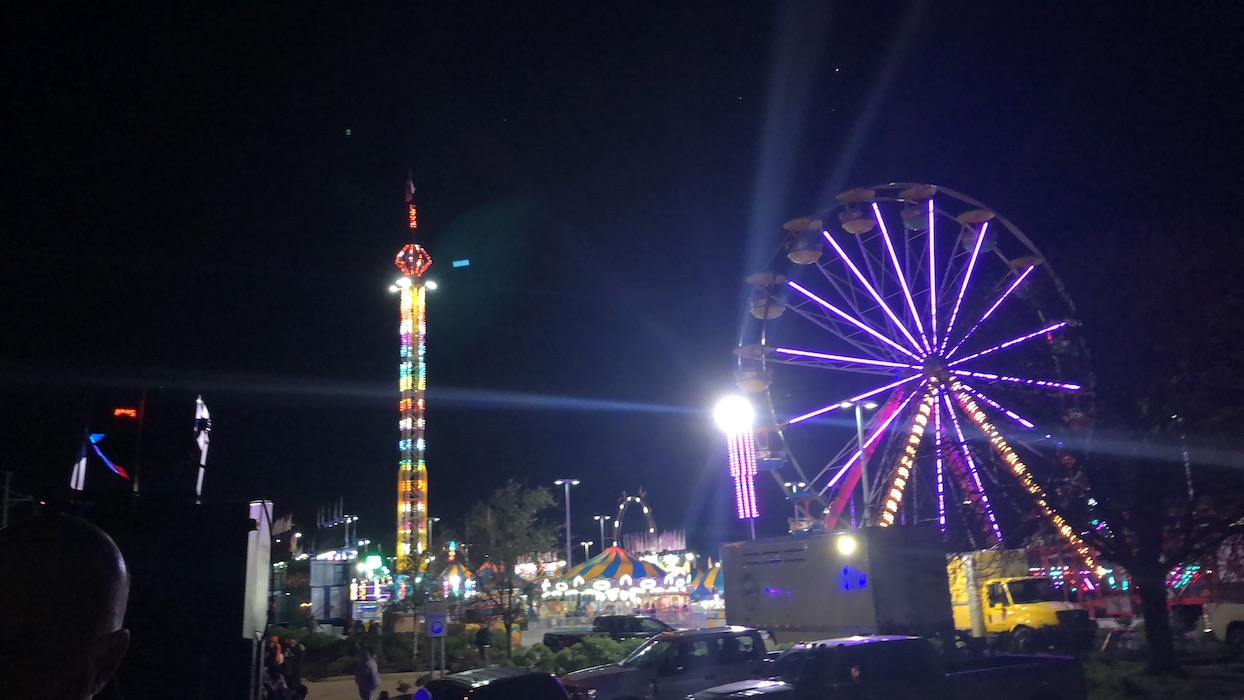 Inside the Mardi Gras Beaumont Fairgrounds
Note: there is a fee to enter the fairgrounds. It ranges from $10-$15/day per person with no discount for children. An additional ticket is needed for carnival rides. The best deal is to purchase tickets in advance online.
Once inside the fairgrounds you'll find carnival rides, fair food (alligator on a stick, anyone?), the Clydesdale horses, and so much great music.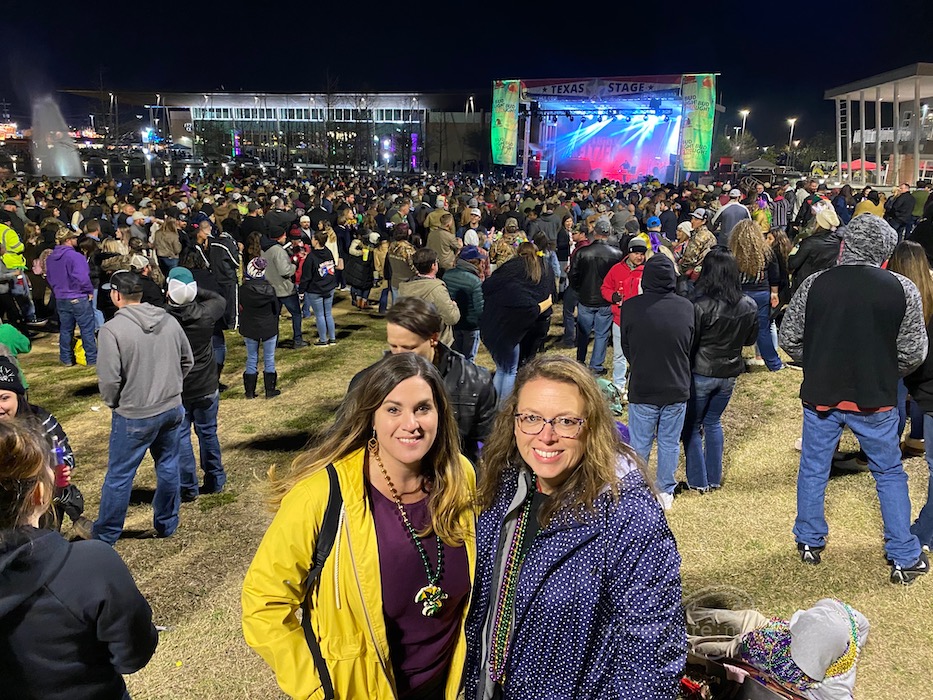 Live Music at Mardi Gras Beaumont
Each night of the event brings in different acts. Saturday night was a throwback to the 90s with Tone Loc and Vanilla Ice.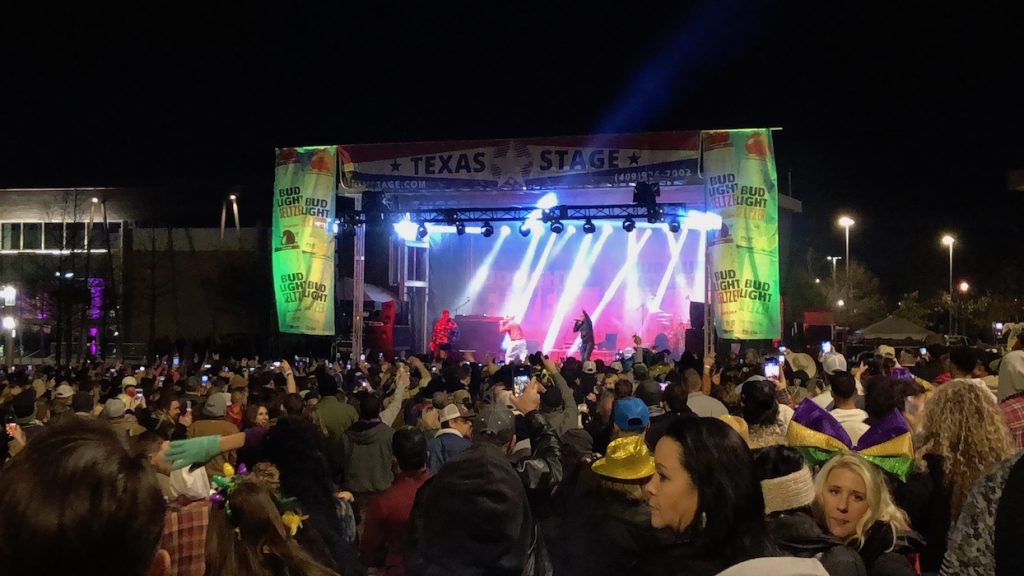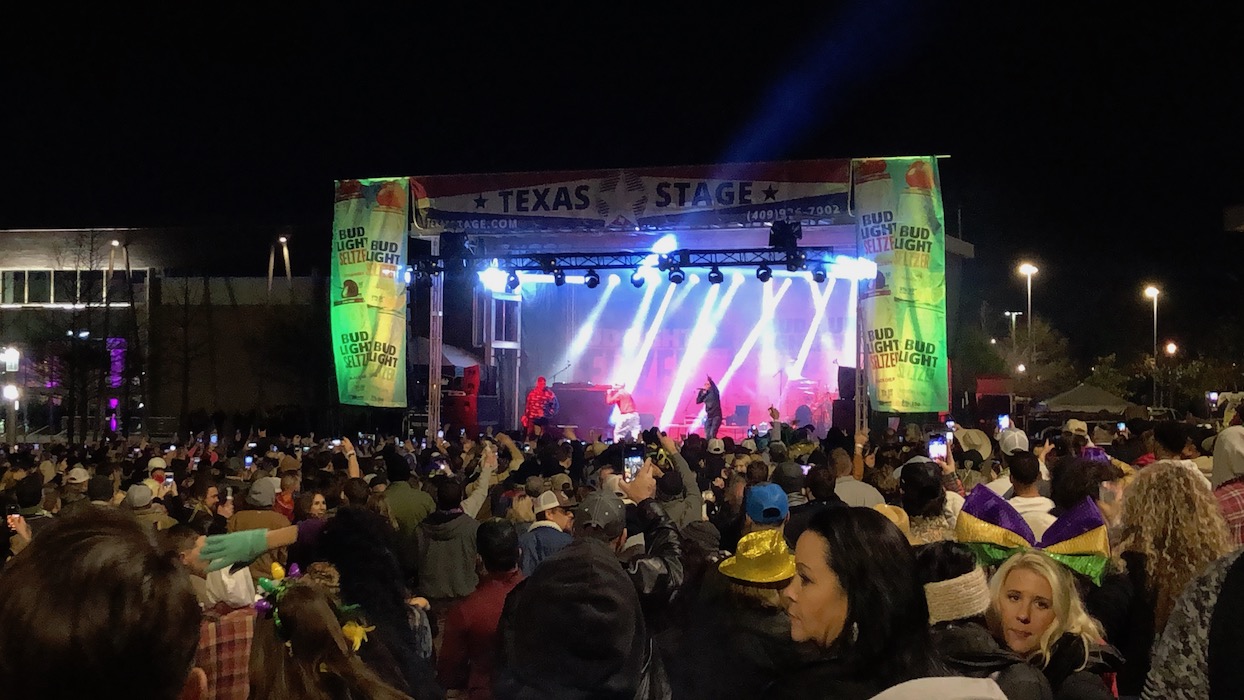 They put on a very energetic and fun show and the crowd went wild.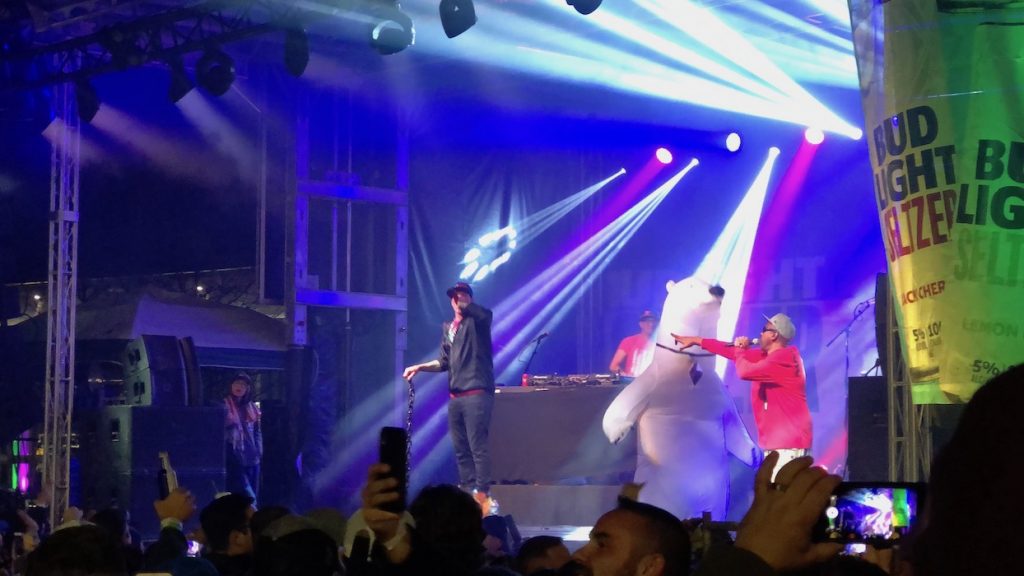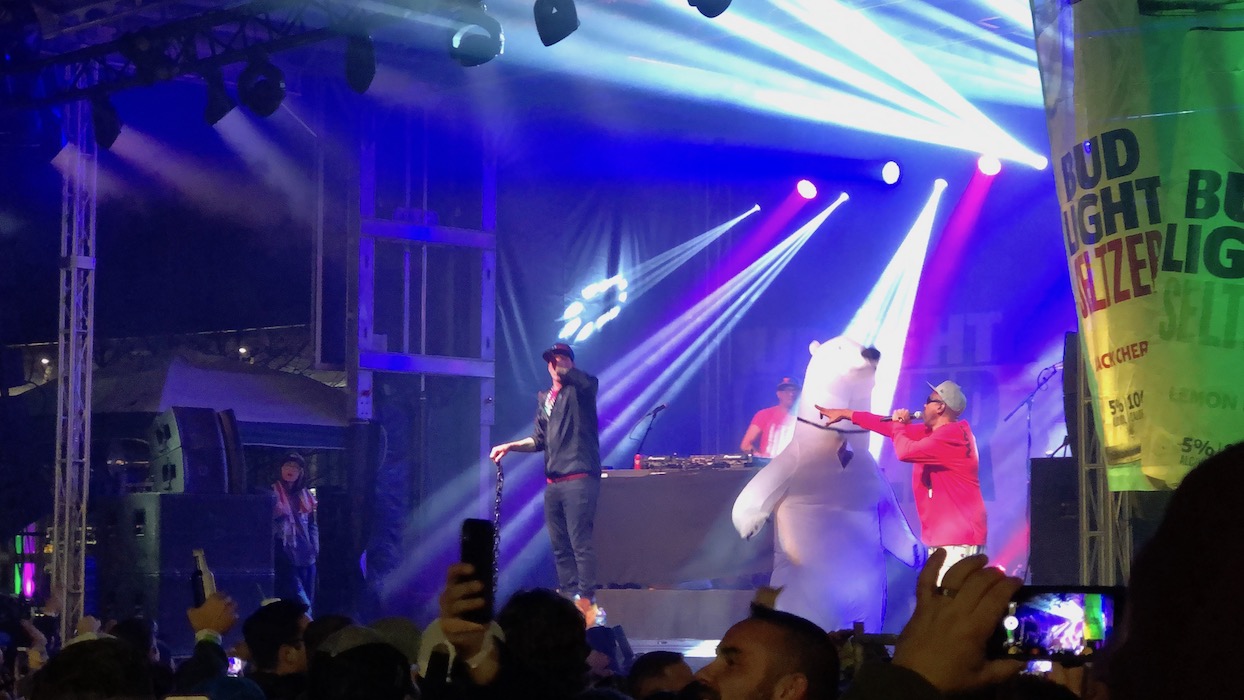 It is standing room only so make sure to wear very comfortable shoes.
There are three music stages with performers from all styles of music to keep the party going all night long.

Fair Food
There is fair food galore at Mardi Gras. The hardest decision you'll have to make is what to eat first. Some of the vendors have long lines so be prepared to wait.
Alligator on a stick, boudin balls, nachos, funnel cakes, and lemonade, to name a few. If you can imagine it they probably have it.
However, this is not the place to go if you're looking for healthy options.
Treat yourself to something though, it is Mardi Gras after all and it only happens once a year.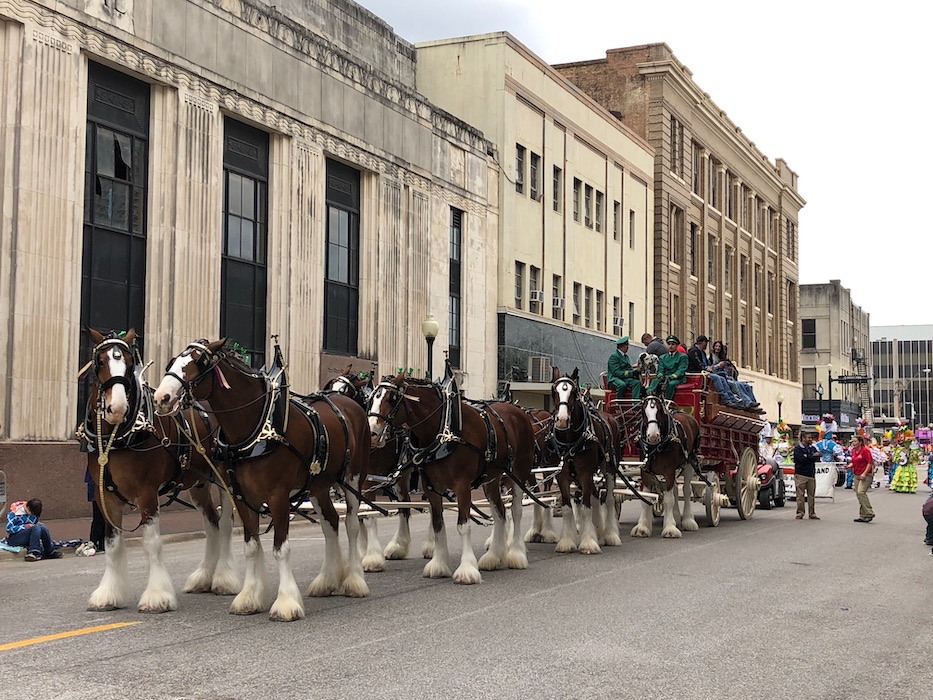 Budweiser Clydesdale Horses
Budweiser has a "barn" set up at the fairground for the horses to rest when they are not performing in a parade. It's a must-visit while you're there.
The horse stalls allow you to visit the horse and get a more up-close look at them. They are simply gorgeous.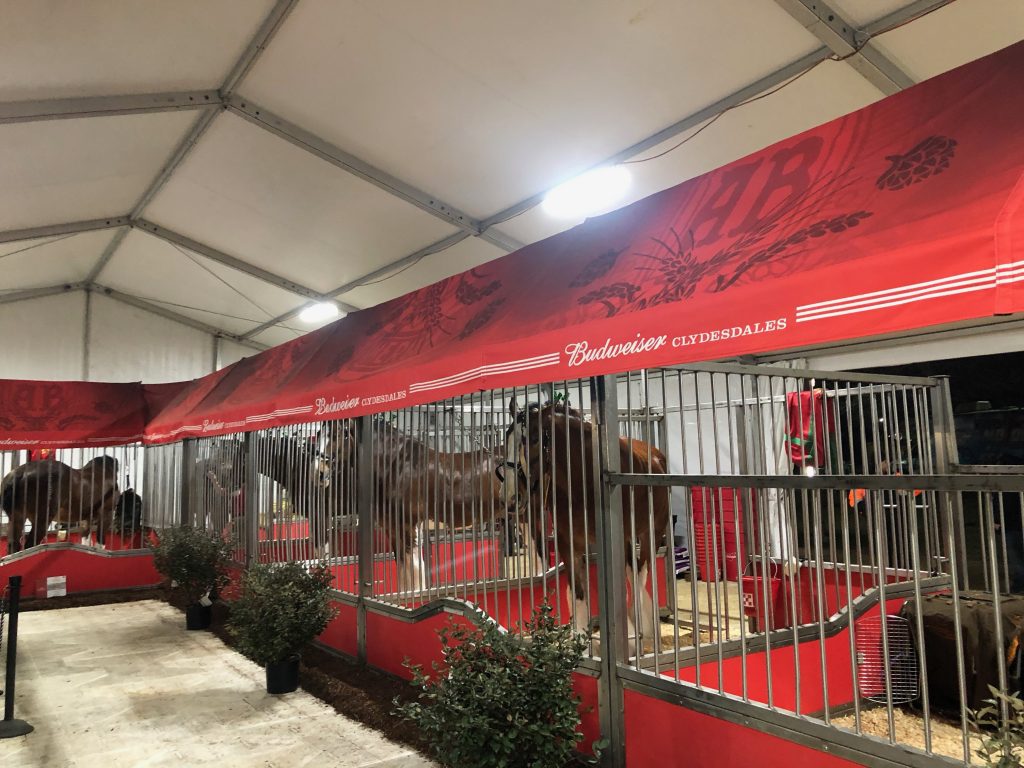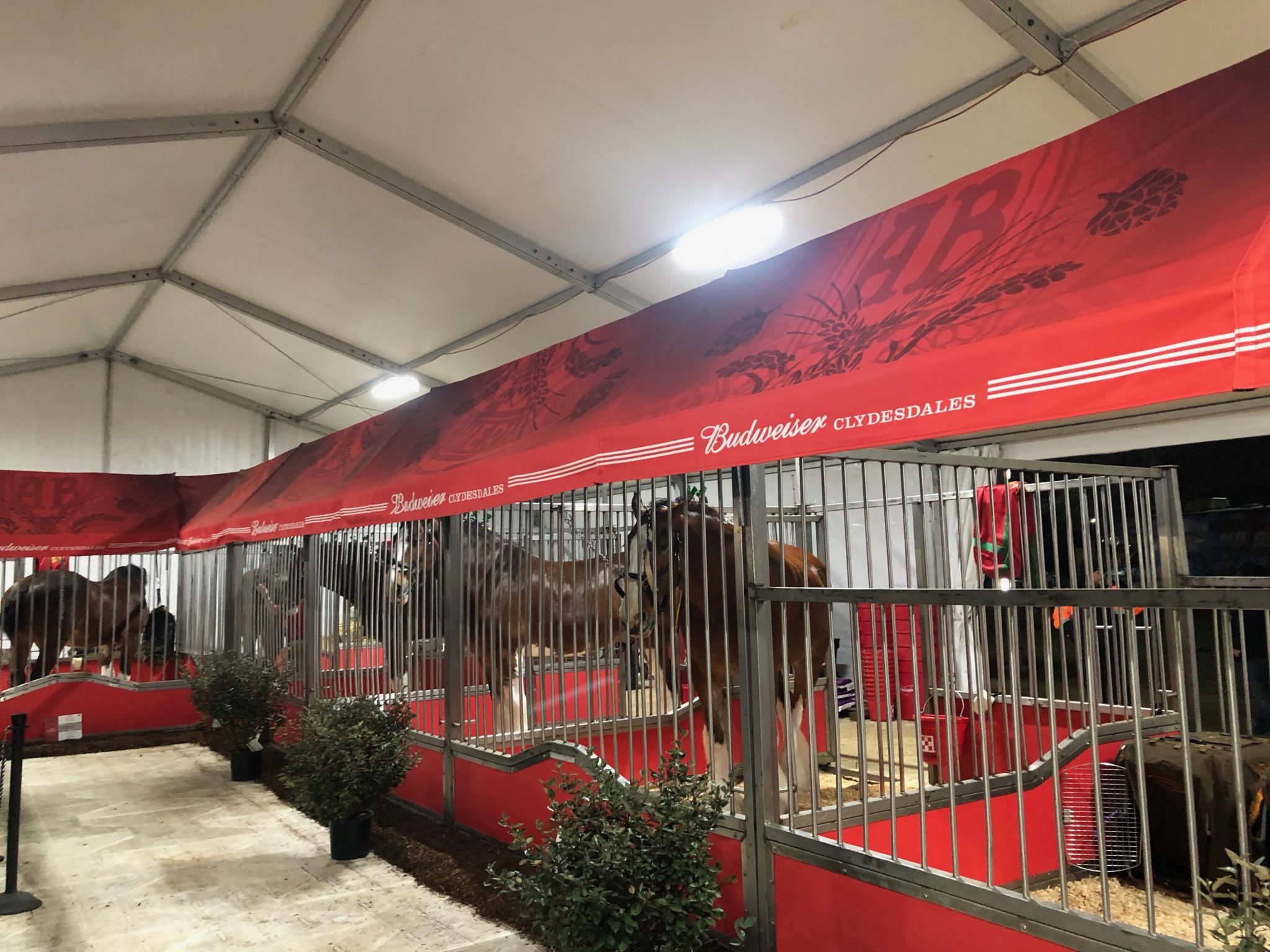 Each of the horses has a name plaque outside their stall so you can learn a bit more about them.
Budweiser goes all out to make sure the horses rest in comfort and it's one of the nicest portable barns I've had the chance to visit.
Everyone's Favorite Mardi Gras Treat — KING CAKE!
You can't have a Mardi Gras celebration without Rao's King Cake. No, seriously, you can't.
Rao's is the oldest bakery in Southeast Texas and they make over 12,000 King Cakes each season. You know they have to be good when they are selling that many.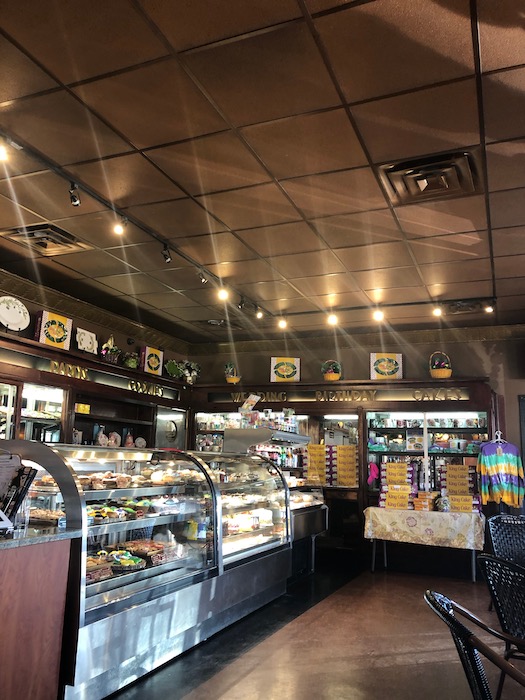 They offer up both full-size and individual-sized cakes plus they have Mardi Gras sugar cookies that you might want to try as well. By the way, Rao's doesn't use preservatives in their cake which we love!!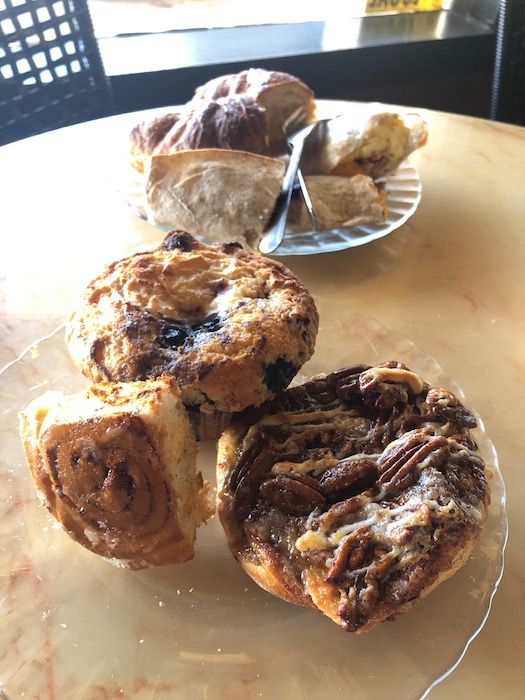 While at Rao's grab a cup of coffee and give the pecan cinnamon roll a try. It's a best seller for good reason.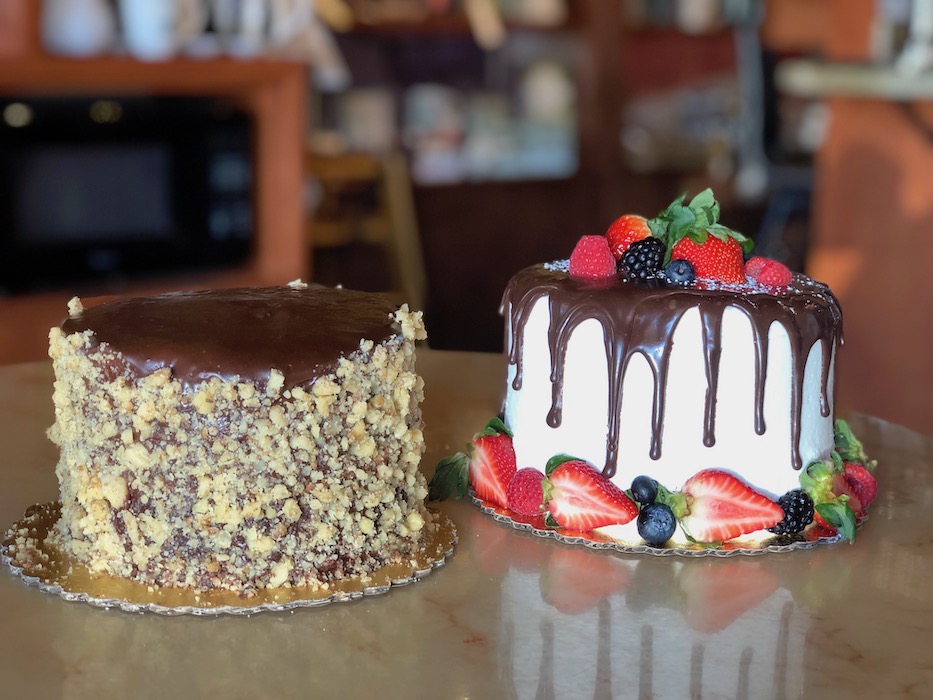 If you find yourself in need of a cake you can't go wrong with the Eclipse or Dobasche cakes.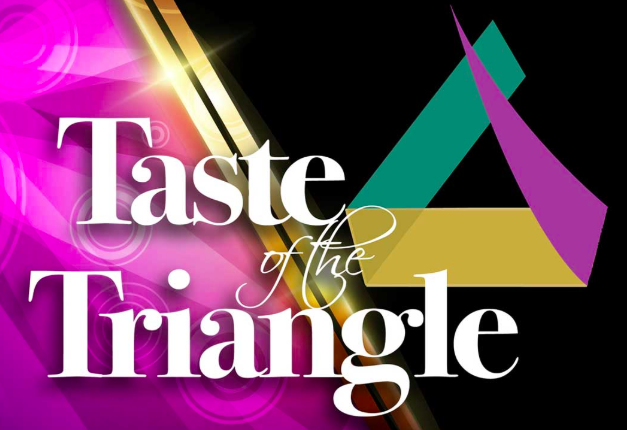 Fat Tuesday Taste of the Triangle
Round out your Mardi Gras celebration with the Taste of the Triangle. This is a ticketed event starting at $30.
Held at the Beaumont Civic Center you can sample small bites from over 40 restaurants and beverage companies from throughout Southeast Texas.
From appetizers to desserts you'll get to taste dishes from all over the area.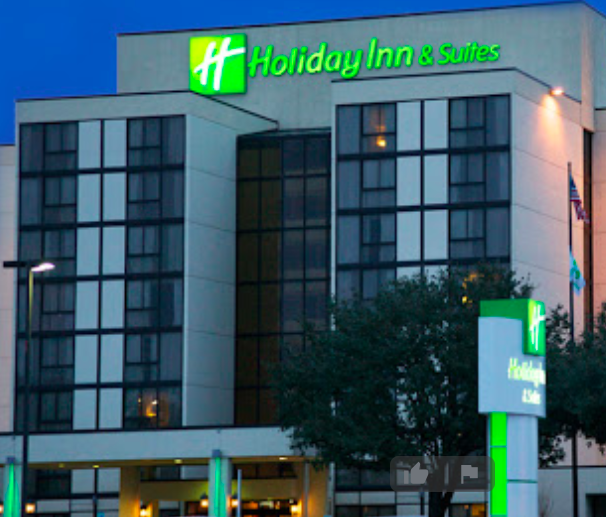 Where To Stay When You Celebrate Mardi Gras in Beaumont
The Holiday Inn and Suites Beaumont Plaza right off of I-10 is a great location for your Mardi Gras stay.
It's a quick 10-minute drive from the hotel to downtown for all the Mardi Gras fun.
If you don't want to drive you can easily grab an Uber or a Lyft from the hotel.
The 8-story hotel offers spacious rooms, a hotel pool and gym, and an on-site restaurant and bar.
Parking is free.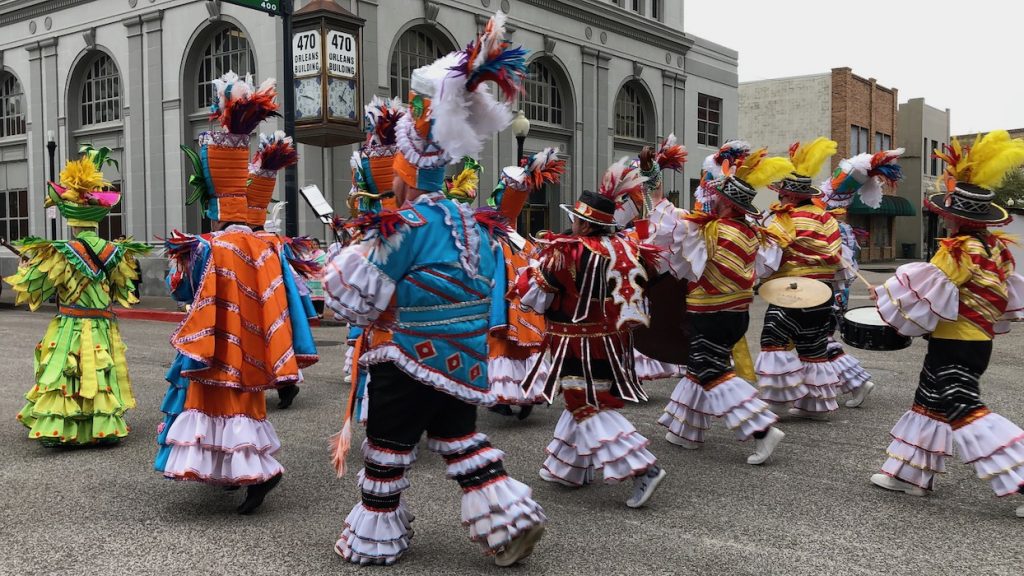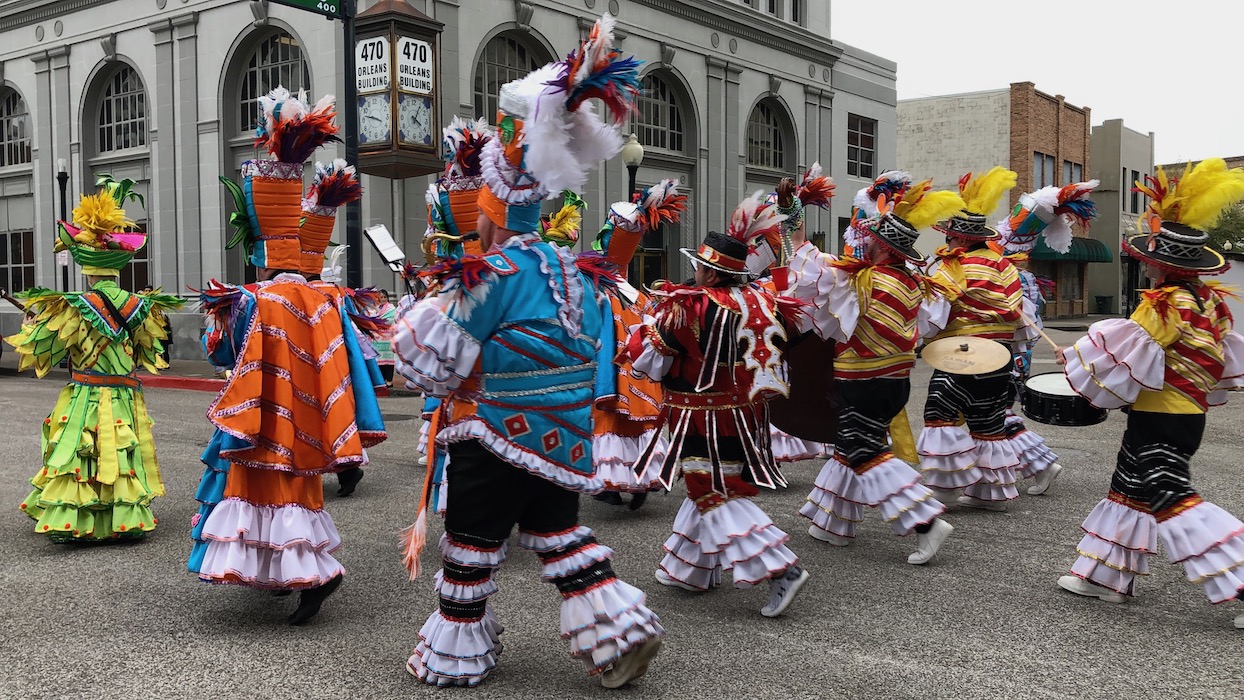 Mark Your Calendar for Mardi Gras 2021
The next time you find yourself in need of a good place to celebrate Mardi Gras be sure to consider Mardi Gras Southeast Texas in Beaumont.
The official dates for Mardi Gras Southeast Texas in Beaumont haven't officially been set, but Fat Tuesday in February 16, 2021 so there is a really good chance it will be February 11-14th.
Pin Celebrate Mardi Gras in Beaumont to Pinterest