Bringing a little international flair to the blog with these traditional Spanish Crumble Cakes Recipe. These are also known as Mantecados.
Mantacados were first mentioned by Juan de la Mata, 1747. Today 'Sierra Casa Salinas' in Tudela (Pamplona) is the oldest known Mantacados bakery run for 6 generations by the Salinas Casado family.
These traditional Spanish crumble cakes or "mantecados" crumble very easily. In fact, they are so soft, they will literally melt in your mouth. Light and with a delicate anise flavor, words will not do them justice.
You'll have to make them to see why they are a Spanish favorite and why no Spanish home is without "mantecados" at Christmas!
Mantecados Recipe – Traditional Spanish Crumble Cakes Ingredients
2 1/4 cups vegetable shortening
1 cup vegetable oil
1 2/3 cup granulated sugar
4 egg yolks
2 shot glasses of anise (see note below for substitute)
1 lemon peel, grated
juice from 1 lemon
1/2 tsp cinnamon
7 1/4 cups unbleached white flour
1/2 tsp baking soda
1 egg white, beaten for glaze
Substitution Note: Anise-flavored liqueur can be purchased at most liquor stores and some gourmet supermarkets. If you cannot find it in your area, substitute 2 shot glasses of vodka and 1 1/2 tsp of anise extract.
Mantecados Recipe – Traditional Spanish Crumble Cakes Directions
In a very large mixing bowl, use a hand mixer to whip the vegetable shortening with the oil. Add the sugar and mix until smooth. Add the egg yolks, anise, lemon peel, juice and cinnamon and mix together.
Add flour and baking soda to mixture, a cup at a time. Be sure to mix well. Dough should be very smooth and soft.
Preheat oven to 325 degrees.
Using a teaspoon, scoop out a dollop of dough. Form balls about the size of walnuts, using your hands. If dough is too sticky to roll into balls, mix in additional flour (from 1/4 to 1/2 cup). Place balls onto ungreased cookie sheet.
Lightly press down on each ball to flatten slightly.
Using the beaten egg white, brush on the top of each cookie.
Bake cookies until they begin to turn light brown on the bottom edges – about 15-20 minutes.
Let the cookies cool 5 minutes before removing from the cookie sheet, as they are very delicate.
For variation top with icing sugar, sprinkle nuts on or glaze with food coloring.
***Pin Spanish Crumble Cakes Recipe To Pinterest***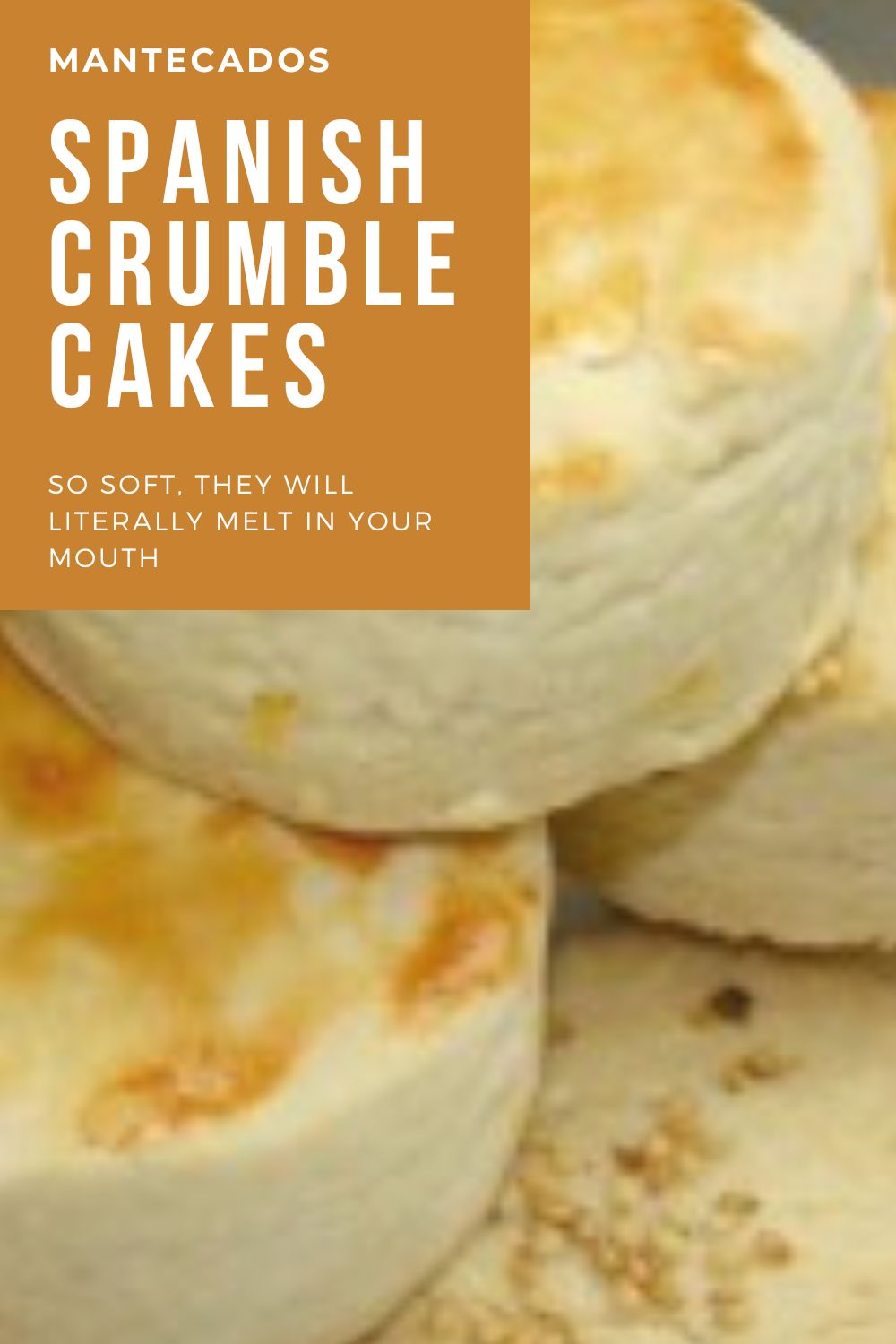 More Cake Recipes: