I was lucky enough to attend a United Dairy Industry of Michigan Event at Ann Arbor Cooks with other Michigan bloggers recently.
We watched a cooking demonstration and then got to work creating a wonderful meal that Ann Arbor Cooks planned. All the bloggers were divided into teams and worked on different parts of the menu.
I was on the pork loin and mashed potato team. Another team made these Pots de Creme, but they were so good I have to share them first. I'll be sharing a few other recipes soon. Don't let the lengthy list of instructions scare you away. These are worth the extra effort.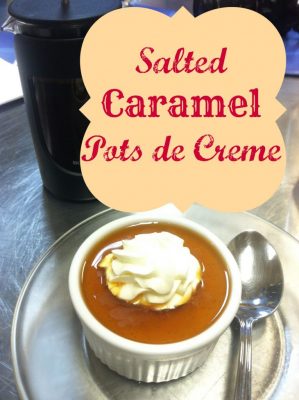 Salted Caramel Pots de Creme Recipe
Serves 10
Pots de Creme Ingredients
1/2 sticks unsalted butter
1 c. dark brown sugar
5 c. heavy cream
1 T. sea salt
1 vanilla bean, seeds scraped
6 large egg yolks
Caramel Sauce Ingredients
1 c. sugar
2 T. water
2/3 c. water
1 t. pure vanilla extract
1 c. whipped cream
2 T. confectioners sugar sea salt
Salted Caramel Pots de Creme Directions
Preheat the oven to 325 degrees;
In a saucepan, melt the butter;
Add the brown sugar and cook over medium-high heat, whisking constantly, until smooth and bubbling, about 5 minutes;
Gradually whisk in the cream BE CAREFUL, the mixture may spit and steam a bit!
Return the mixture to a boil, whisking constantly;
Add the salt and vanilla seeds;
In a large heatproof bowl, whisk the egg yolks;
Very slowly whisk in the hot cream mixture being careful to add it slowly, so you don't scramble the eggs;
Strain the mixture and pour into ramekins;
Place the ramekins into a pan with deep sides and fill it half way up the sides of the ramekins with very hot water;
Cover with foil and bake for 1 hour, until the custards are set, but still slightly wobbly in the center;
Transfer ramekins to a sheet pan and chill;
In the meantime, make the caramel sauce; in a saucepan, mix the sugar with 2 tablespoons of water and cook, undisturbed, over high heat until a deep amber caramel forms about 6 minutes;
Remove from the heat and add 2/3 cup of water and stir until smooth;
Let the caramel sauce cool and then stir in the vanilla;
In the bowl of a mixer, whisk the heavy cream and confectioners sugar until it becomes light and fluffy and holds soft peaks;
To serve, place a dollop of whipped cream on top and sprinkle with sea salt; serve caramel sauce on the side
More Delicious Caramel Recipes