This is a perfect addition to your holiday menu planning. The orange-cranberry chicken breast can be made with either in-bone or boneless chicken breast.
If you are following Weight Watchers you'll want to opt for the skinless chicken breast (either bone-in or boneless) for 2 Weight Watchers points.
You absolutely must make sure it's skinless chicken breast to keep this recipe at 2 Weight Watchers points.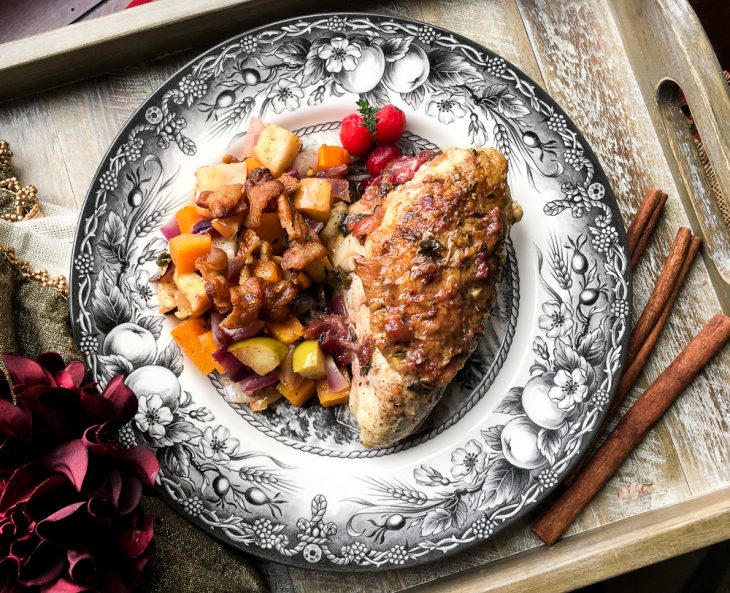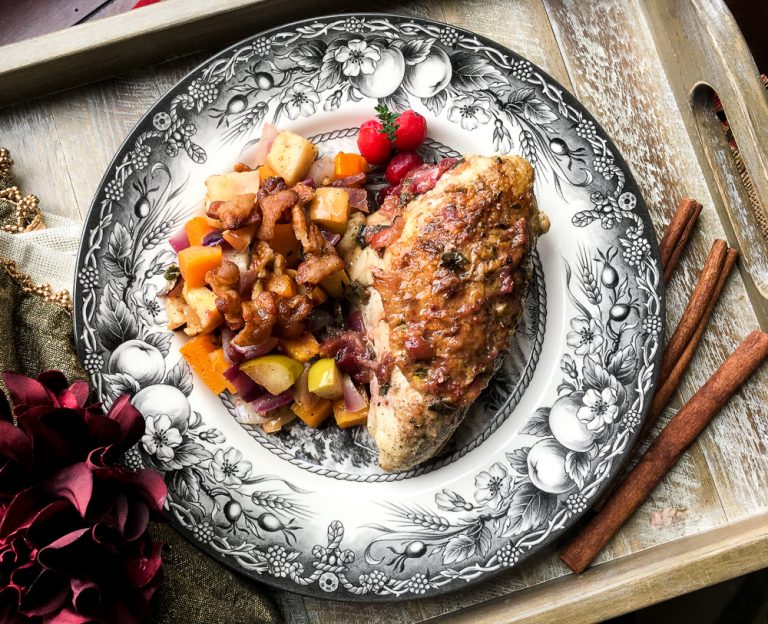 Serve this Orange Cranberry Chicken Breasts Recipe with one of the following side dishes:
Wild Rice Pilaf
Garlic Mashed Cauliflower
Butternut Squash Noodles
Quinoa Salad
Roasted Red Beets and Brussels Sprouts
Prep time: 10 minutes
Cook time: 40 minutes
Serves: 4
Orange Cranberry Chicken Breasts Ingredients
1 T. coconut oil
2 lbs. bone-in or boneless chicken breasts
1½ t. fresh sage, chopped
1½ t. fresh thyme leaves
Sea salt and black pepper, to taste
½ c. fresh (or frozen) cranberries
2 T. freshly squeezed orange juice
2 T. honey, preferably local
¼ t. ground cinnamon
½ t. ground ginger
¼ t. ground cloves
1/8 t. ground nutmeg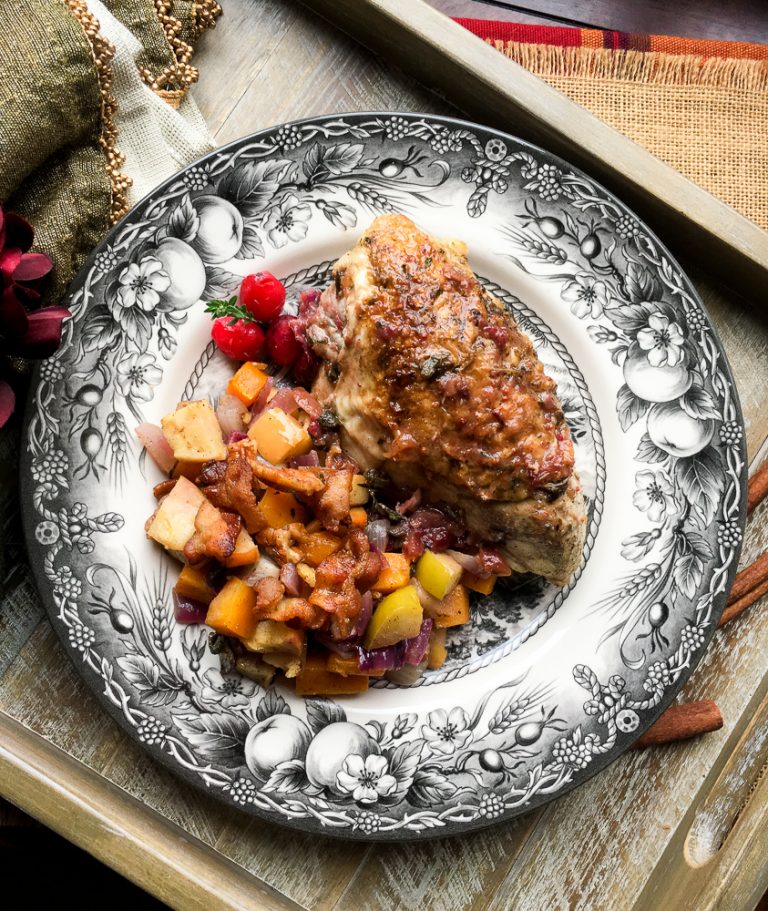 Orange Cranberry Chicken Breasts Directions
Place the top oven rack in the center position and pre-heat oven to 400°F.

Melt the coconut oil in a large, ovenproof skillet over medium heat. Season the chicken with sage, and thyme. Season with salt and black pepper, to taste. Place seasoned chicken in hot skillet skin-side down and cook until browned, approximately 4-5 minutes, or until it releases easily from the bottom of the pan. Turn the chicken and continue cooking another 4-5 minutes on the remaining side.

While the chicken is browning, add the cranberries, orange juice, honey, cinnamon, ginger, cloves, and nutmeg to a small saucepan. Place over medium heat and bring it to a gentle boil. Cook until the cranberries pop open and the sauce becomes slightly thickened around 4-5 minutes.

Pour the orange-cranberry sauce over the browned chicken and transfer the skillet into the preheated oven. Roast until the chicken is fully cooked through and the sauce is bubbly around 25-30 minutes or until chicken is cooked through and reaches an internal temperature of 160°F.*


Remove from oven and transfer chicken to a serving platter. Cover loosely and let rest for 5 minutes before serving topped with the warm orange-cranberry pan sauce and your choice of sides. Enjoy!

*Internal temperature will continue to rise to 165°F as it rests.
Pin This Recipe to Pinterest