It was a quick 3 day, 2-night trip to Ludington, MI packed with so much family fun. I asked my 7yo niece to join me on this quick adventure so we could get a kid's point a view.
Ludington is a premier family destination so taking her with me simply made sense.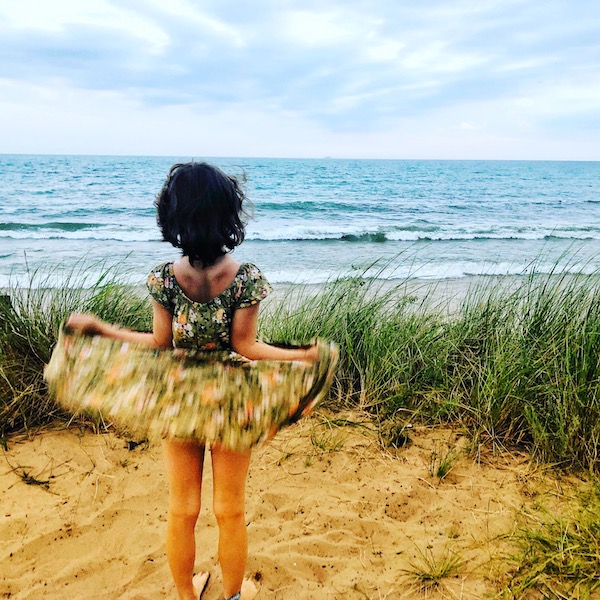 Fortunately, Ludington is a short drive for me. Oddly enough I've never really spent any time there exploring. Things were about to change and S and I were excited to pack the car up and hit the road.
I love that Ludington sits on the shore of my favorite Great Lake. Simply drive West on US 10 and where the highway meets Lake Michigan you'll find Ludington. It's a small town with a whole lot of reasons to visit.
We arrived to pretty blue skies and calm water so I knew the first thing we had to do was make the trek out to the lighthouse.
Need more Michigan fun? I put together an epic list of Michigan Summer Fun!
Lighthouse tours to the North Breakwater Lighthouse are completely dependent on water conditions. If the waves are too high the lighthouse is closed. If you see calm waters and a good forecast take the opportunity to visit while you can.
Things to do in Ludington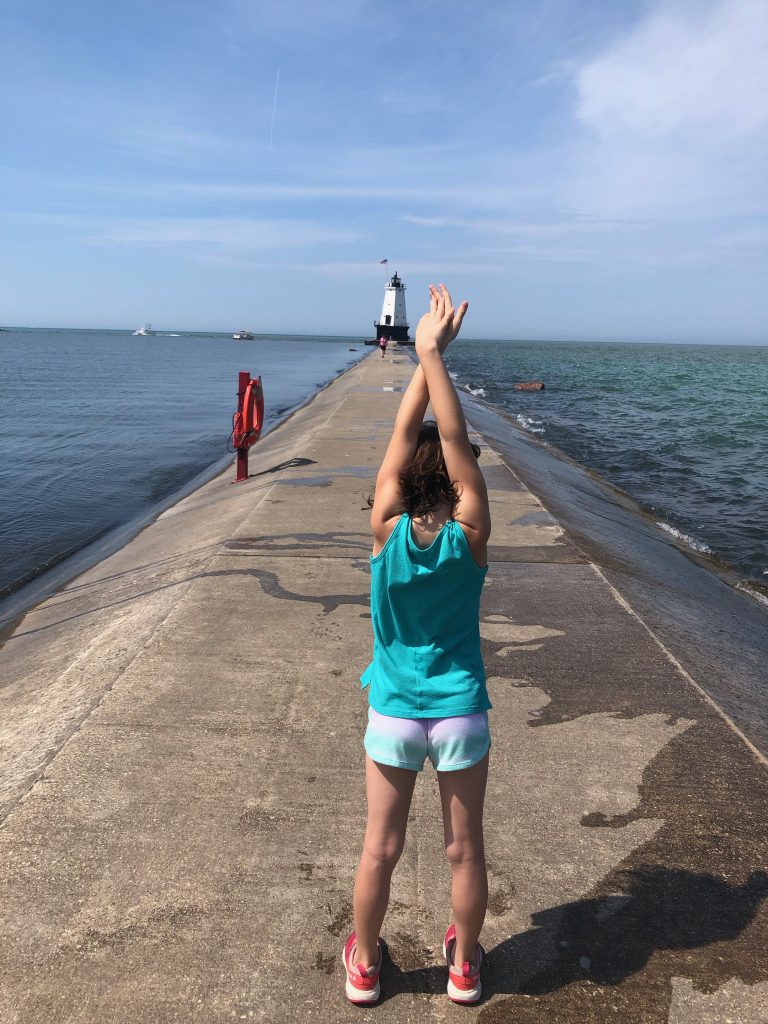 North Breakwater Lighthouse Lighthouse
It's a short walk, about a 1/2 mile along the break wall to the lighthouse. Once there head inside the lighthouse and pay the fee to climb to the top. There are a series of metal ladders, a total of 53 steps, to climb and S handled it like a pro even though she absolutely does not like heights.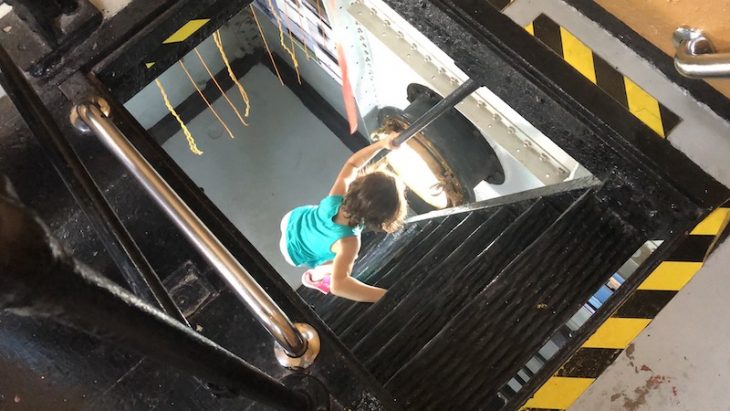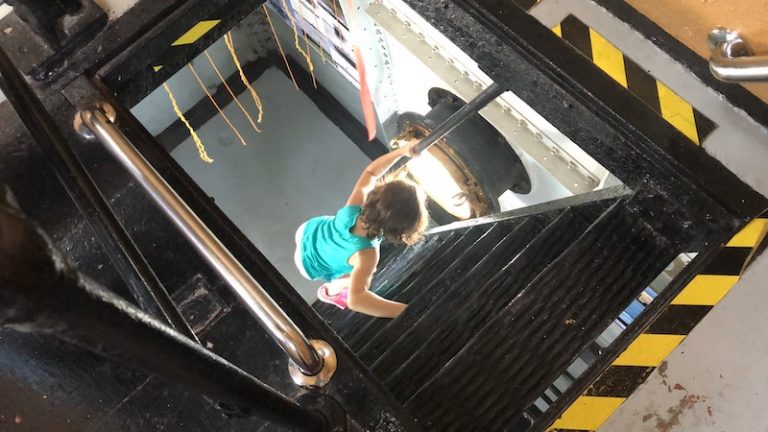 Once at the top take in that view, chat with the docents to learn more about the lighthouse and just enjoy the moment. We didn't spend long at the top. S got up there took one look at how high we were and she was done.
It's all good though, I'm proud of her for trying something that scared her. Before leaving kids are given a lighthouse coloring book to take with them.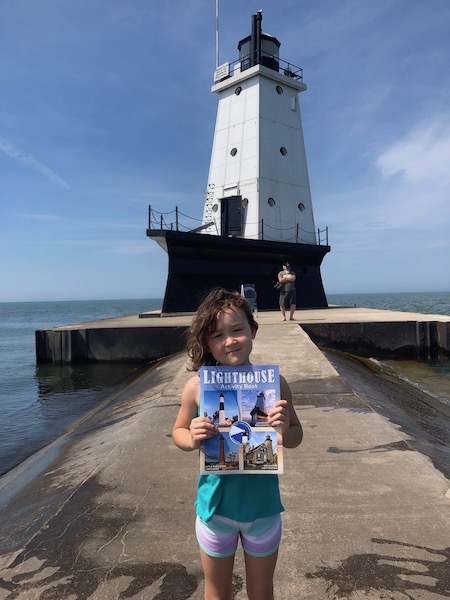 Lighthouse tour hours are available from late May to early September, Tuesdays-Sundays. The Lighthouse is open to the public for tours daily from 10am-5pm. There are 53 steps to climb to the top. Donation of $8/adult and $5/for children 17 and under to climb.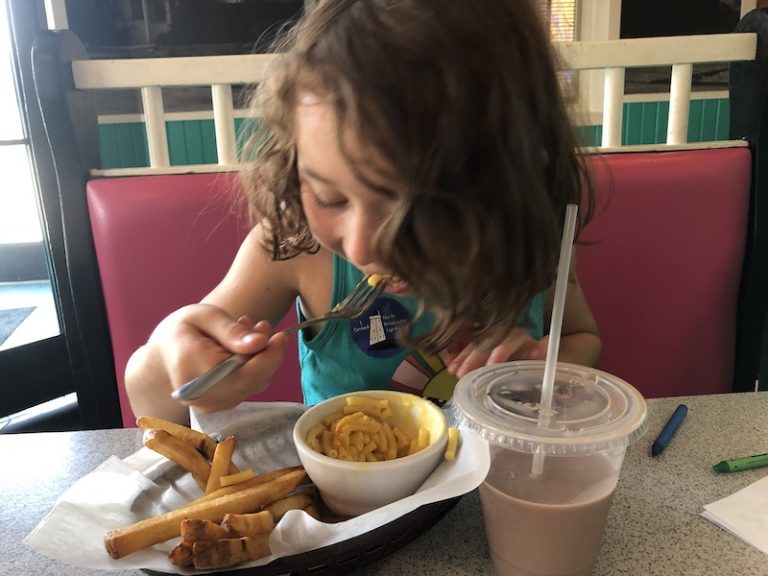 House of Flavors
Back on terra firma its time for lunch and, of course, we have to go to House of Flavors. This famous ice cream shop also serves up some delightful bites.
Be prepared for a wait especially during the summer months. Totally worth it. The kid's meals come with a scoop of ice cream, adults may want to split a This Little Piggy which is two scoops of ice cream served with toppings in a mini trough.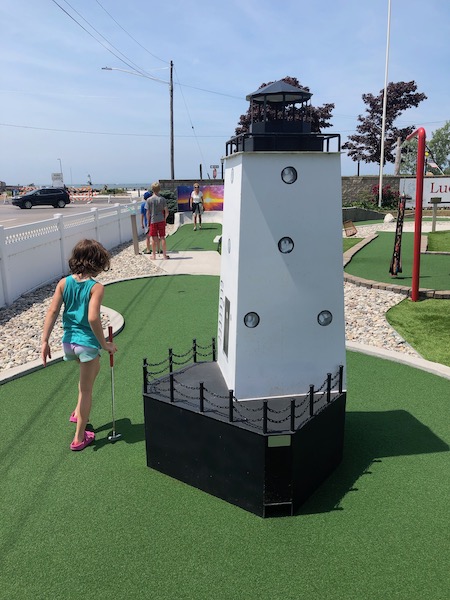 Putt-Putt Golf
Onward to Jaycees Putt-Putt Course, the thing S was most looking forward to. Built by the Jaycees, the course replicates famous landmarks around Ludington. There are plaques at each hole giving the history and facts about the landmark which I really liked.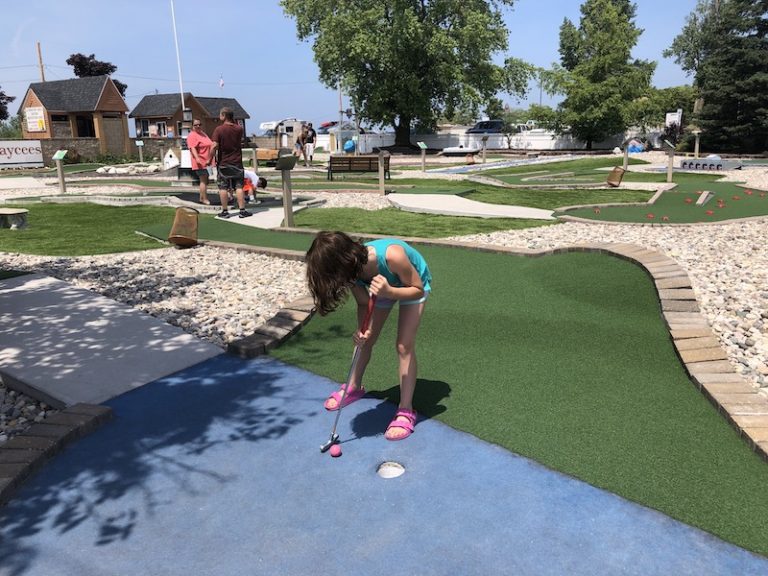 Plus, the 18-hole course is located at the beach which is a great location. There is a port-a-potty on-site if needed (we needed).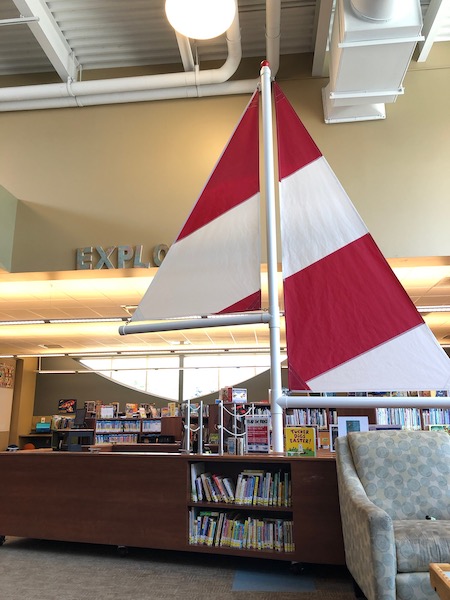 Children's Area at Public Library
Back in the car to explore more we passed the Ludington public library and we decided to pop in and see what was going on. For those that know me you know, I adore bookstores and libraries. Inside is an entire area full of toys for kids to play.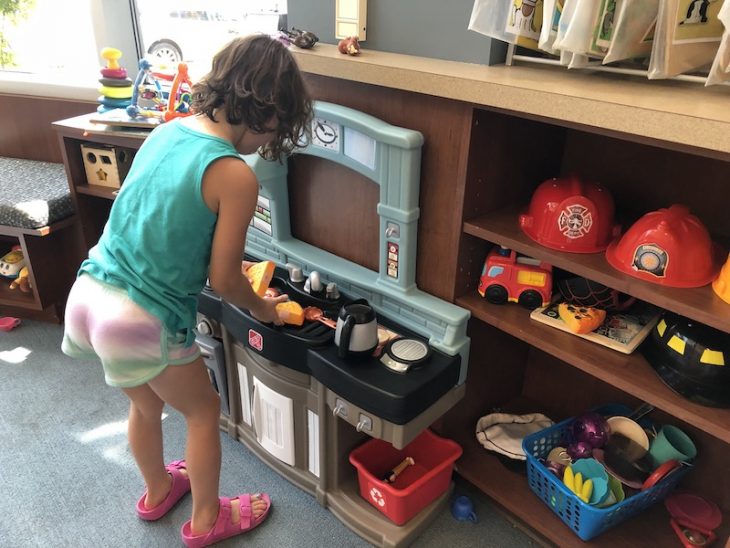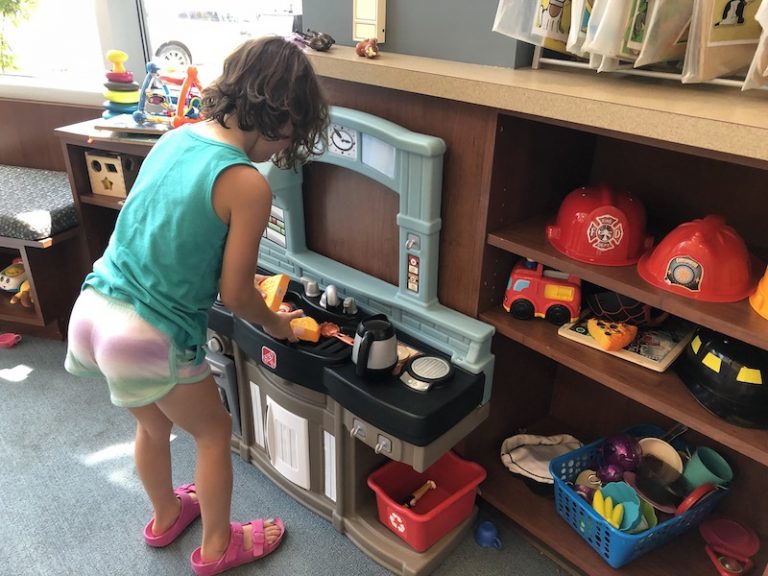 S was sold and we spent the next hour and a half lost in imagination as we had a tea party, sailed a ship and built towers. It was actually quite relaxing and a fun find. This is a perfect rainy day location and I can't recommend it enough.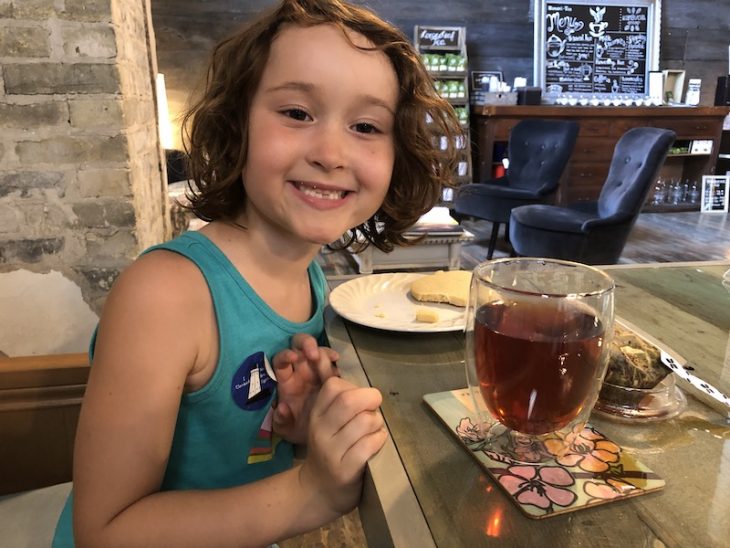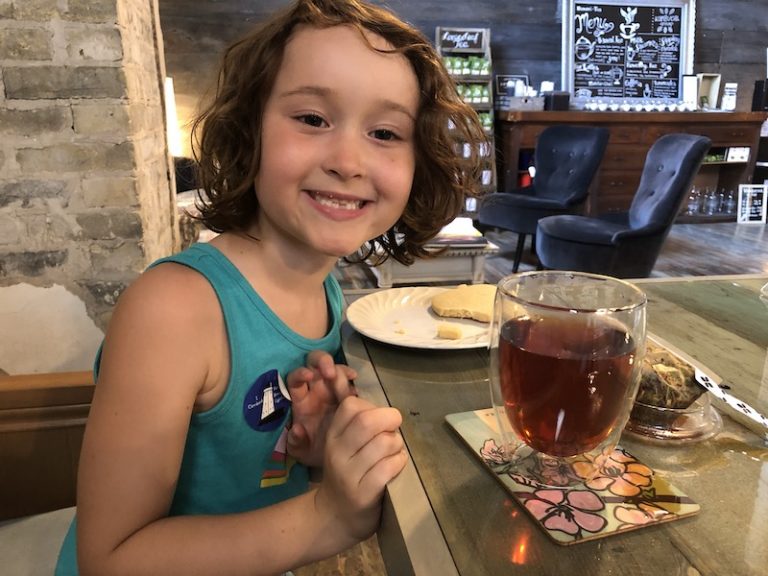 Humani*TEA
By the time we finished at the library, I was in need of a pick me up so we headed over to Humani*Tea. This delightful little tea shop and gift store is a gem! S loves hot tea, I love tea it was a perfect stop for us. Plus, I love their mission:
All of our teas are responsibly sourced, and our hand-crafted gifts are either made by survivors or are from collaboratives that are part of trafficking prevention.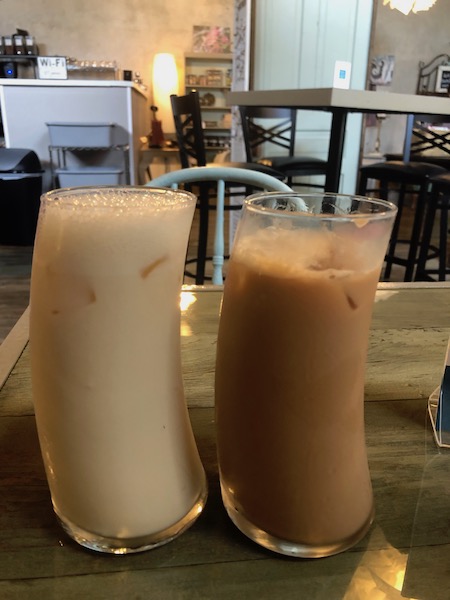 Seriously, if I lived closer to Ludington, this would be a regular visit and those iced tea lattes and I would become BFFs.

Shopping Downtown
Downtown Ludington is a completely walkable area and just a couple block from the beach. It's packed with boutiques for clothes, home, and gifts.
There are a few souvenir style shops tossed in there as well as a number of restaurants. We visited a couple of stores, bought S some activity books and then make our way to our accommodations for our stay.
I'll be back to shop downtown more without the 7yo. Shopping isn't really her thing so I kept it brief but there are so many cute stores that need me to stop in 🙂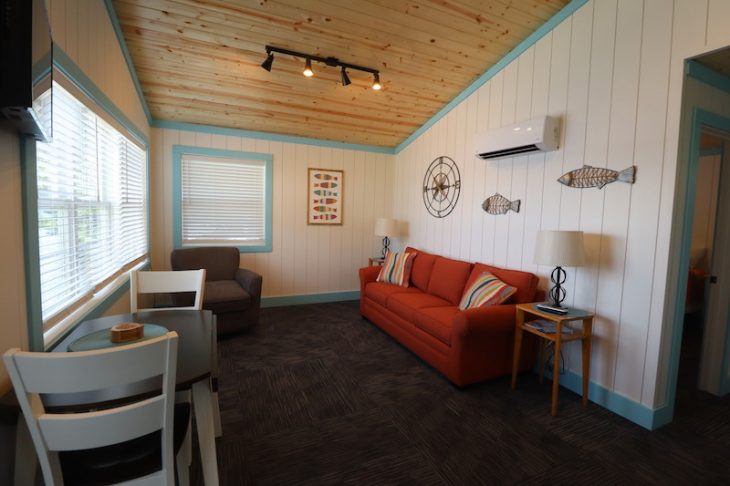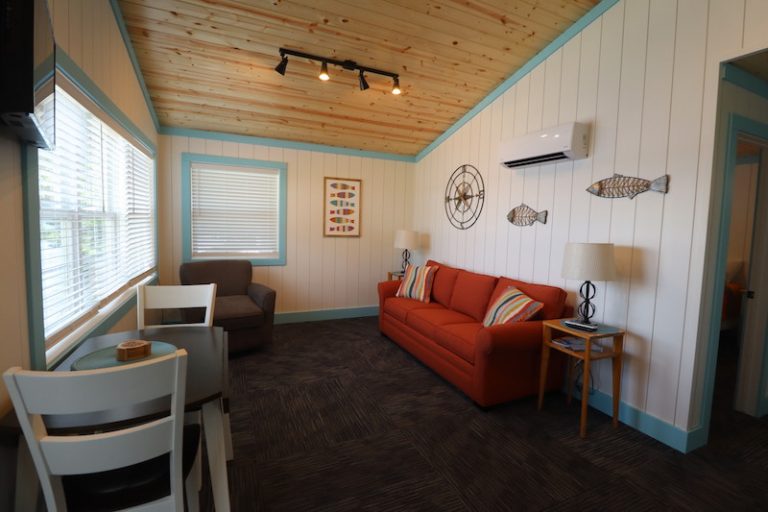 Hobby Crest Resort
Located on Hamlin Lake Hobby Crest Resort is a classic lakeside resort that offers cabin accommodations, plenty of room to run, and a beach area.
The owners bought Hobby Crest a couple of years back and they have been making upgrades, building new cabins and providing guests with a memorable experience.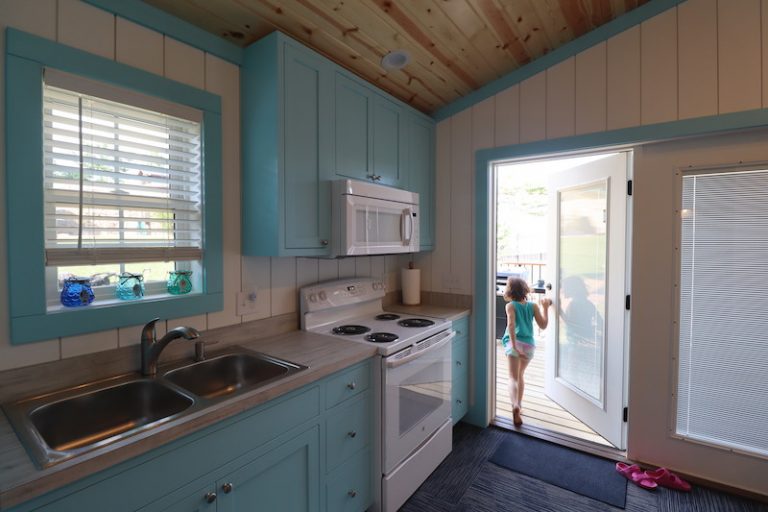 We only stayed 2-nights but on day one we met other vacationers, S had a riot playing with the other kids and I got the feeling that a week-long stay would be like spending time with family you like.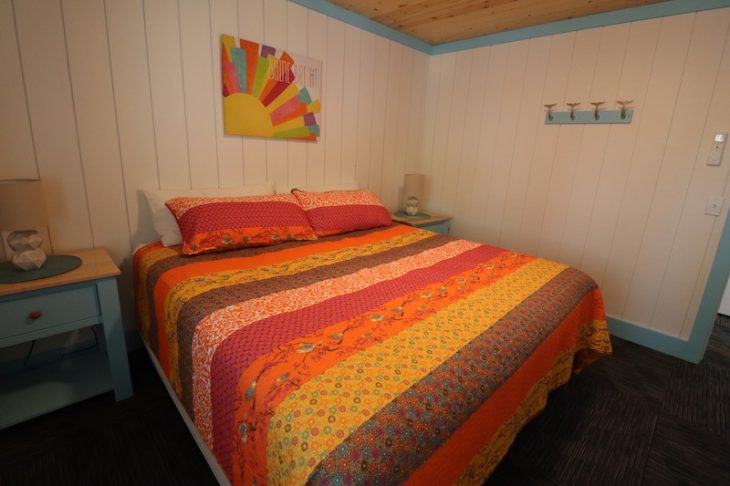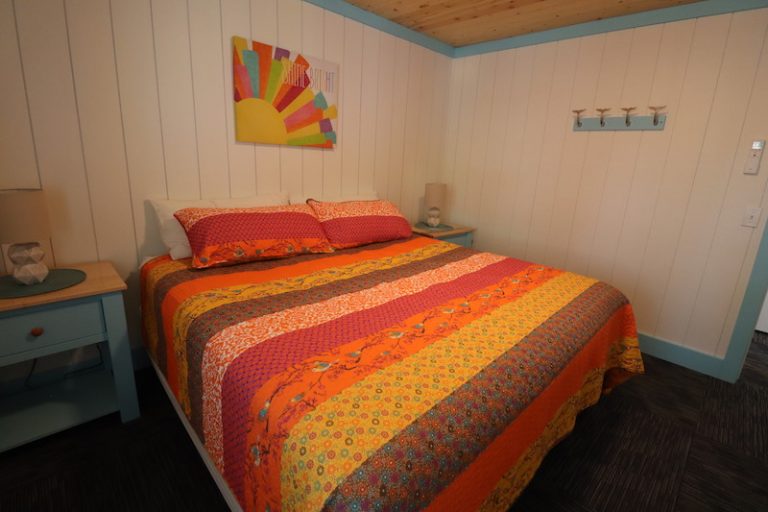 Our cabin is a newer build and it is gorgeous! I really wish I had mad interior design skills but I have to settle for appreciating others.
A large living area with kitchen plus bedroom with kingsize bed and a bathroom (with a walk-in shower that I would LOVE to have in my house).
The couch in the living area pulls out into a bed, but since it was just S and me, we shared the massive king-size and had room to spare.
I love that there is a full kitchen plus outdoor grill. I highly recommend staying at places that offer kitchens if you are visiting for more than 2-nights.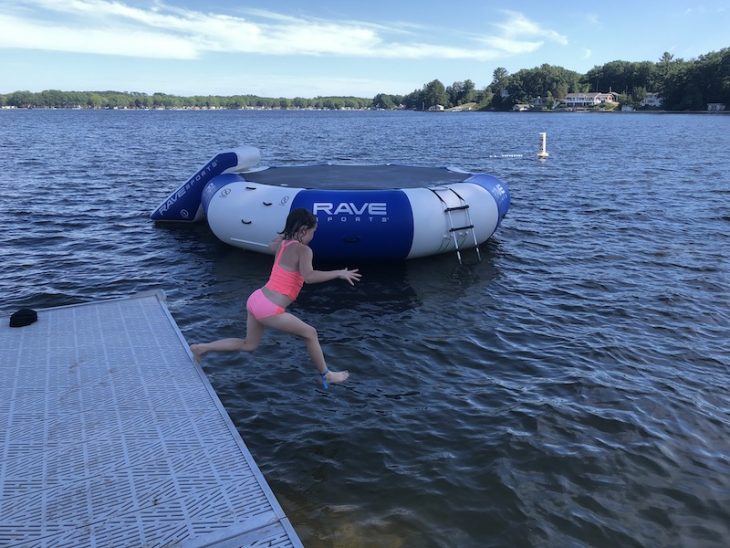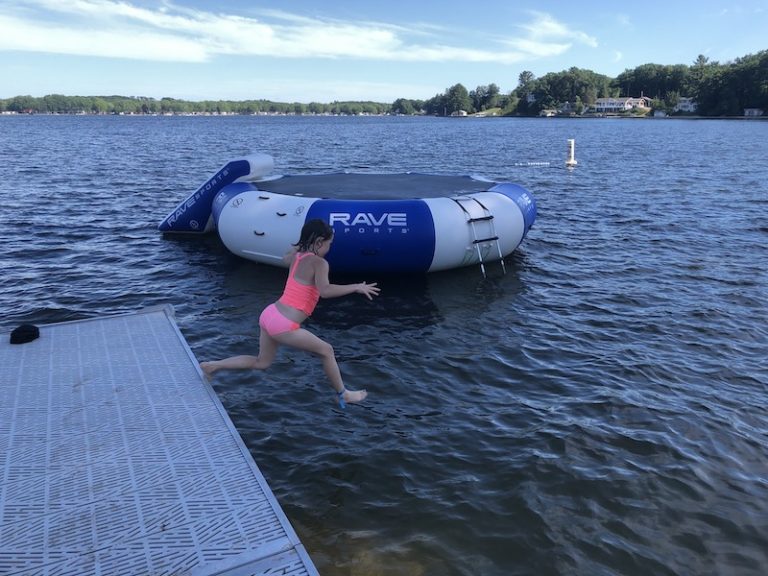 I like saving money by not eating out and I really like saving the calories. Since we only stayed 2-night we brought milk and cereal and left the other meals to the local restaurants.
We spent time in the warm waters of Lake Hamlin. The sandy beach area is perfect for families. S perfected her "jumping in the lake" skills. All I could think, as she would swim quickly back to the big raft in the lake, climb back up and jump in, again and again, is that THIS is what a Michigan summer is all about. This is how memories are made.
A beautiful evening in northern Michigan, the perfect lakeside resort, jumping in the water without a single care in the world and giggling so loud it echos across the lake. It was one of those perfect moments that you know you'll remember forever and I hope she does as well.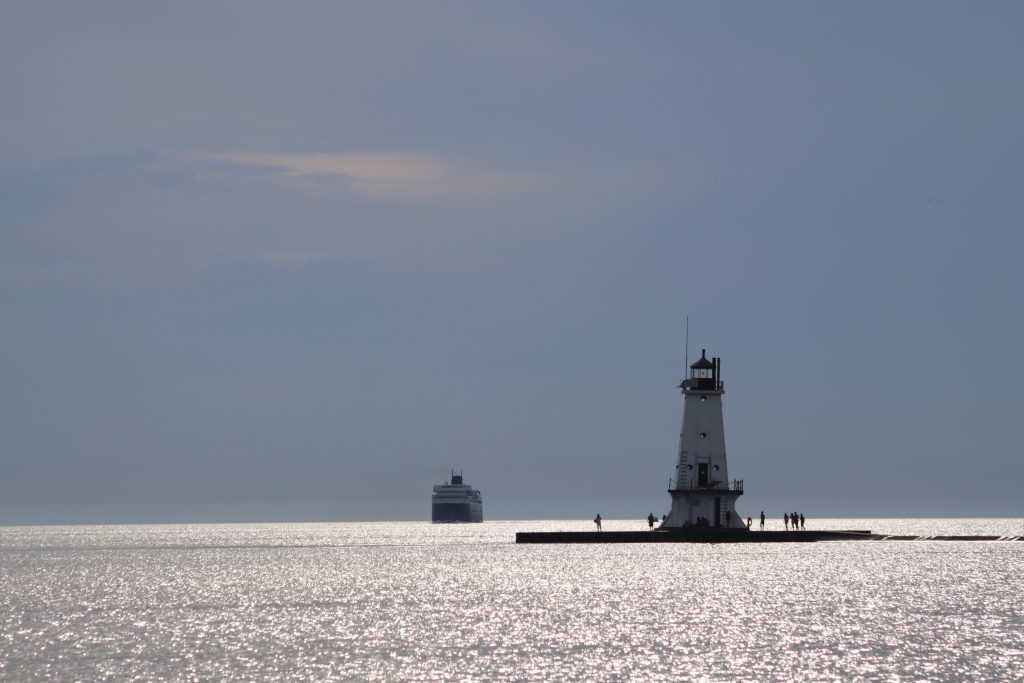 S.S. Badger
When you're in Ludington it's a must to stand along the harbor and watch the S.S. Badger make its way into port. The Badger is a classic car ferry that takes people and cars across Lake Michigan between Wisconsin and Michigan.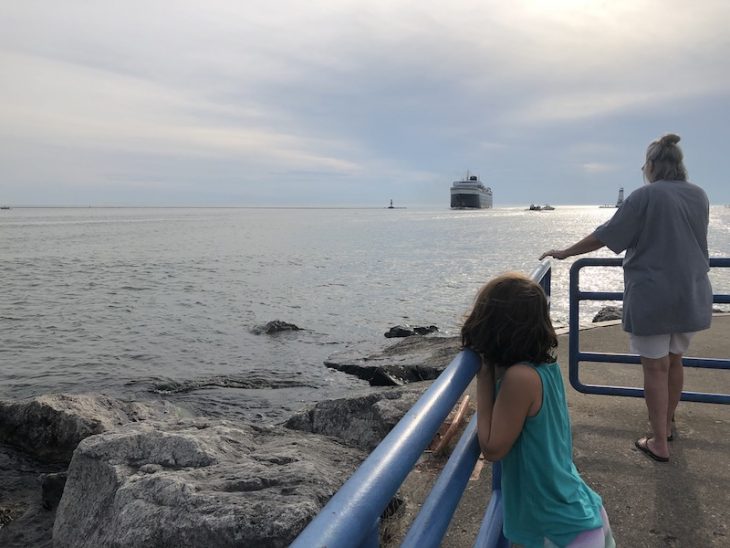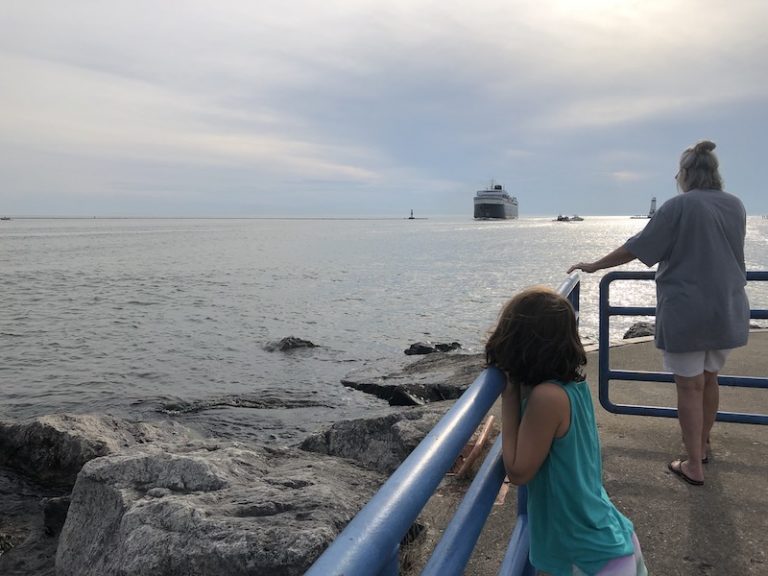 We arrived just as the Badger was beyond the lighthouse and watched it sail towards us. Once it was nearby we could wave to the people and watch as the massive ship passed us by.
Oh, and watch the captain navigate the Badger in a small waterway is quite impressive.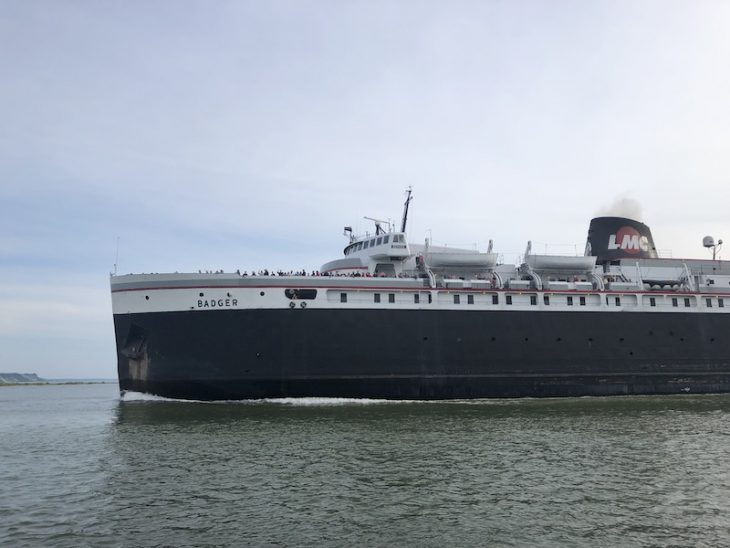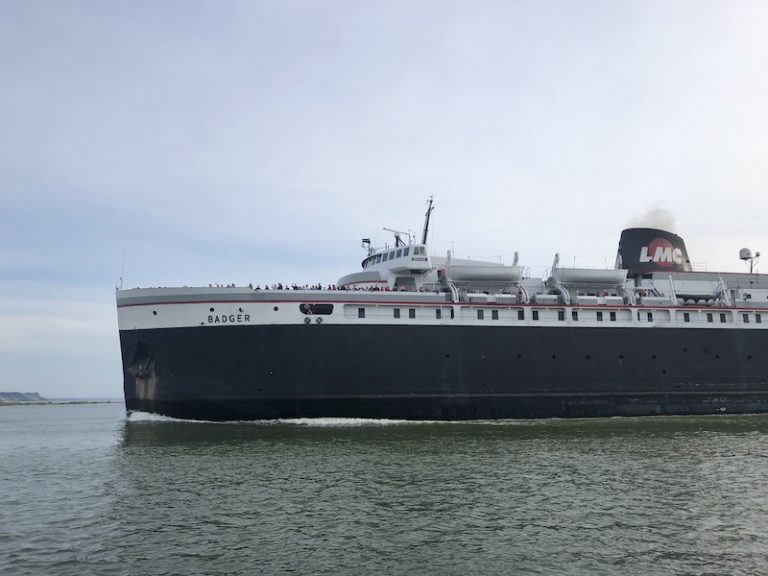 You can have this experience a couple of times a day. The Badger arrives and departs once in the morning and once in the evening. Watch from the lighthouse, the break wall along the harbor or at Waterfront Park.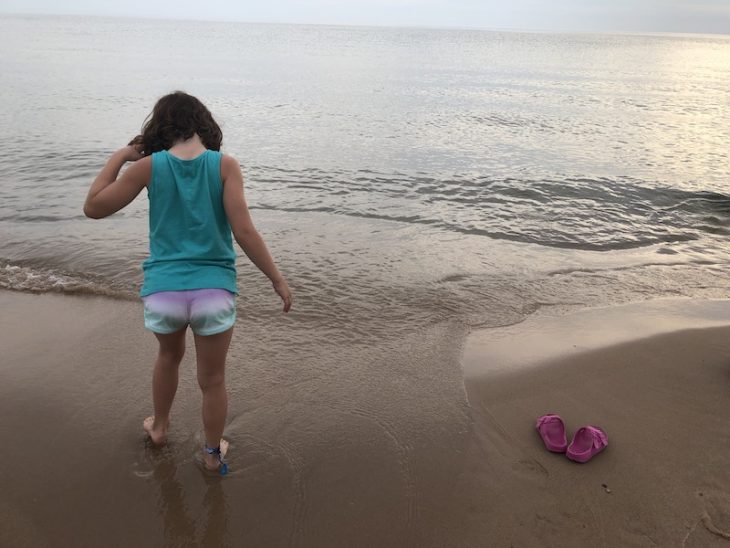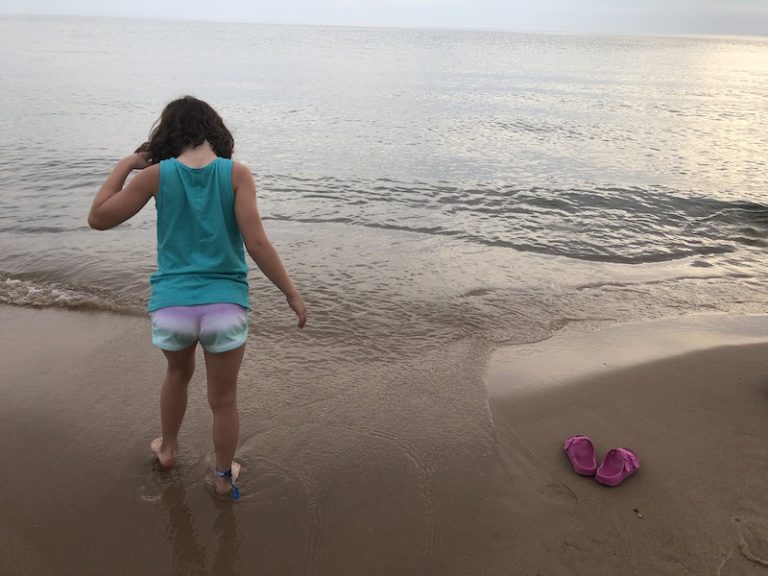 Lake Michigan Beach
We had to dip our toes in Lake Michigan during our visit. Well, S dipped in her entire body, but we stayed pretty close to shore. She had a riot splashing about and we spent time until the sun started to set on our day.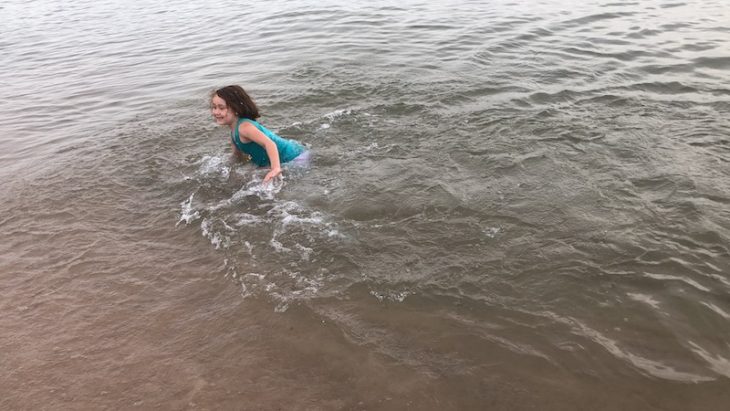 Note: You'll want to check flag warning before going out in the lake. It can be dangerous if you go when the undertow is severe.
Rise and Shine, it's Day 2 in Ludington
We're up and out of the cabin early. We're off to explore Lewis Farms and Country Dairy in New Era about 30 minutes south of Ludington.
The weather isn't looking great but we're just going to go for it. Being a travel writer is much like working for the post office. The weather just doesn't stop us.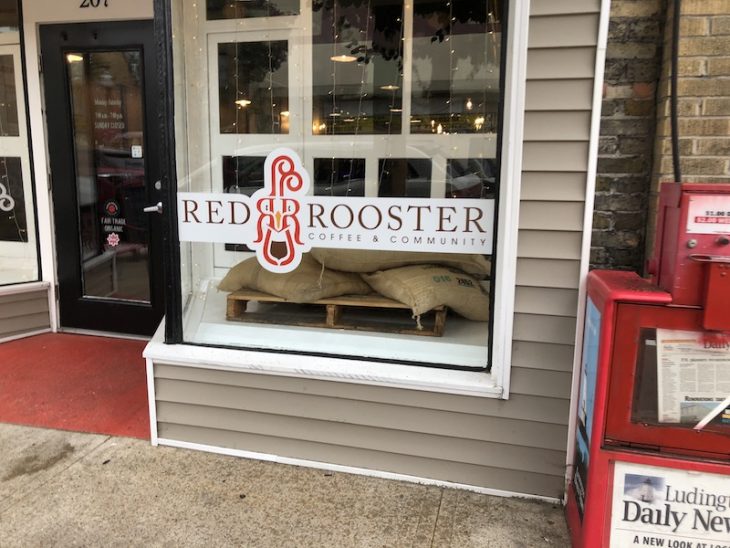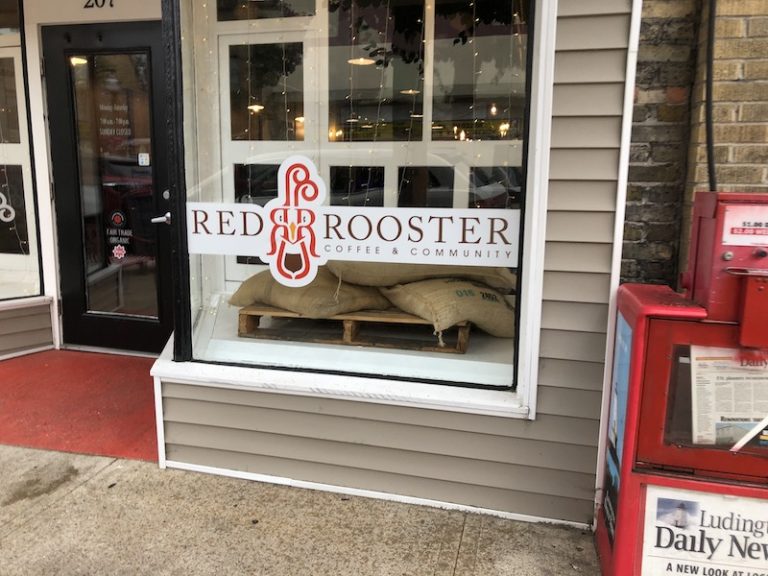 Red Rooster
Before we head out of town we have to stop for java so we head over to Red Rooster. Serving up some of the best coffee and treats.
If you're looking for a place to work while in town you might want to pull up a chair here for a while. It has free wifi and a great ambiance.
I could have spent some time here, but alas, we had to grab my coffee fix to go and hit the road.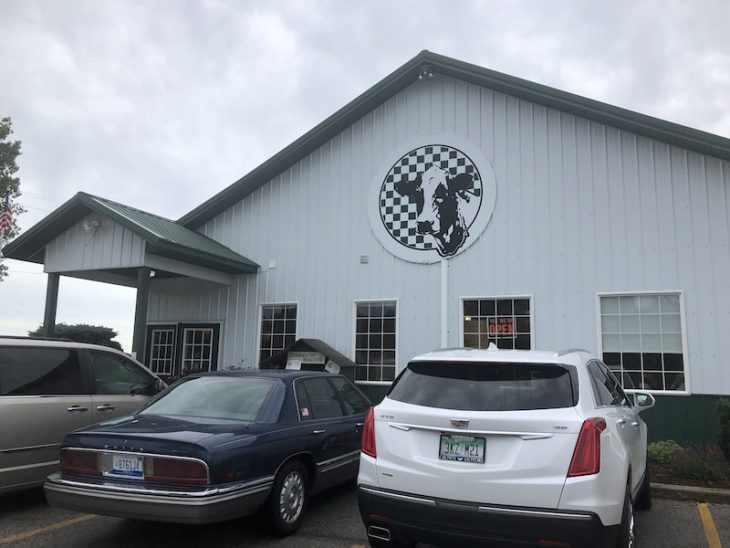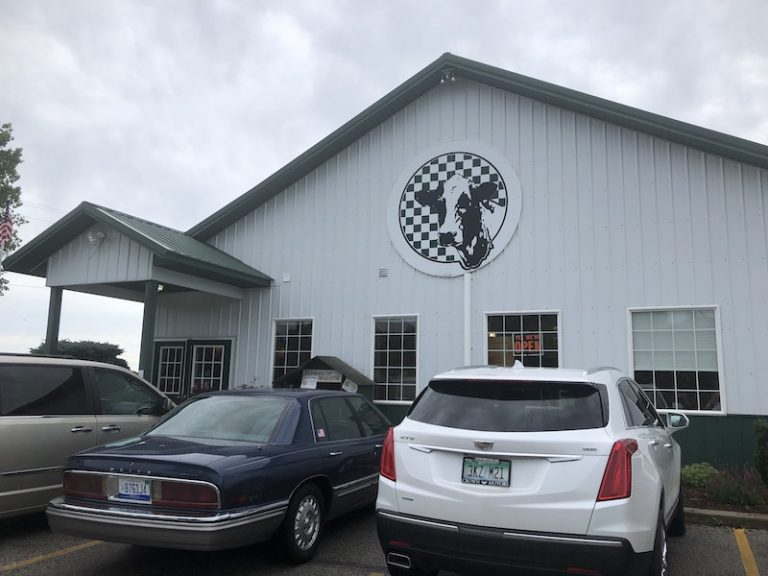 Country Dairy
The weather is not looking good and we drive through some pretty serious rain on our way to New Era, but we only have today to check it out so we're going to see what we can make happen.
Once we arrive at Country Dairy the rain has stopped and it's just the ugly overcast look. That we can work with.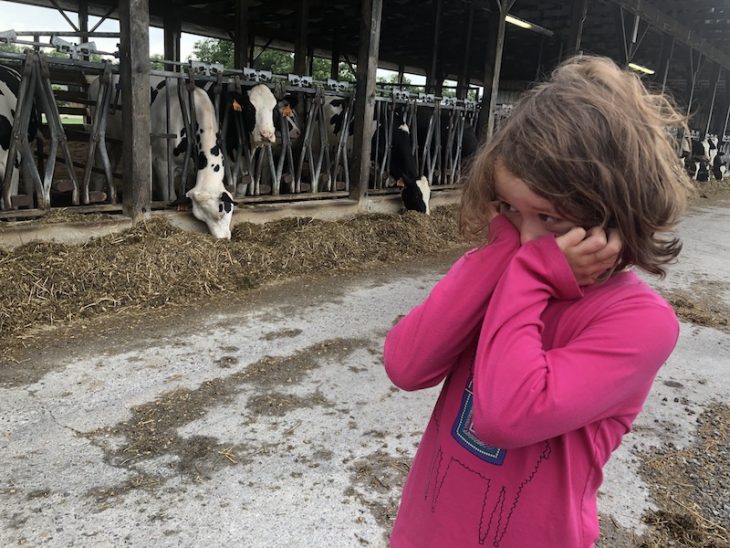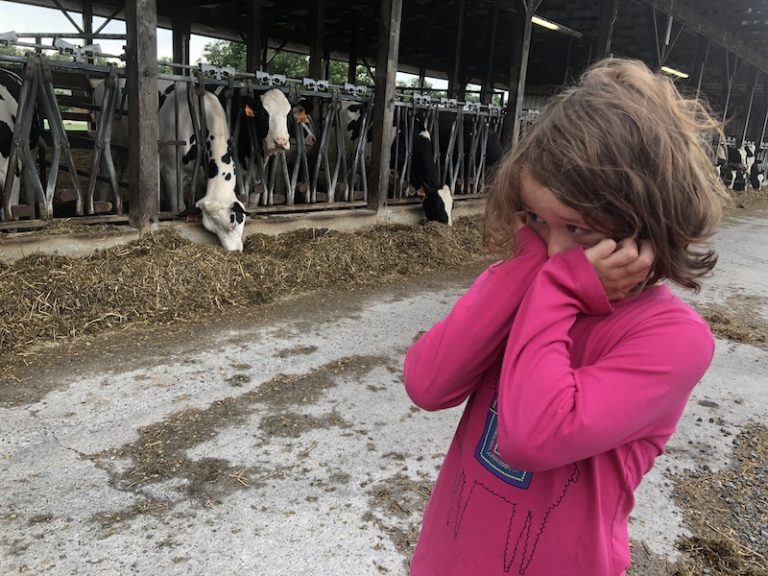 Country Dairy has a great storefront that offers up ice cream, has a walk-up counter to order food and a meat and cheese counter. Buy your tour tickets at the meat and cheese counter and step outside the double doors and over to the smart building next door to start the tour.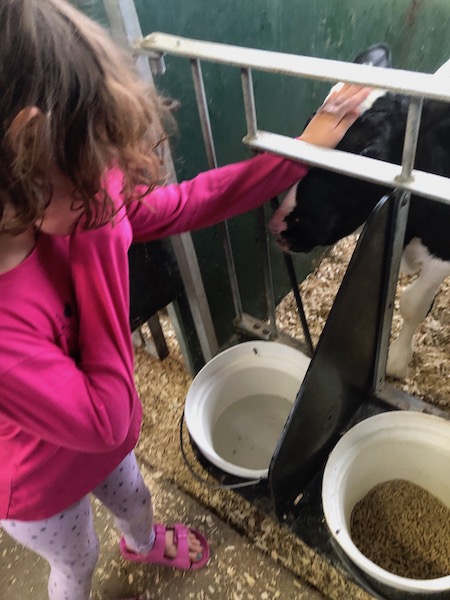 After watching a brief film about the dairy you'll load up on a wagon and head over to the farm. Tour the cheese-making and milk bottling building, pet baby cows, watch cows being milked (all robotic and very cool), and sample cheese and milk at the end of your tour.
S enjoyed everything except the smell of the cows.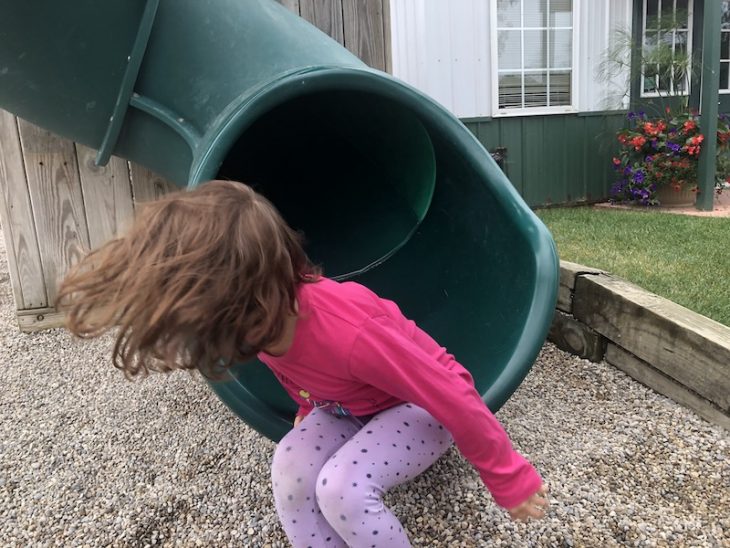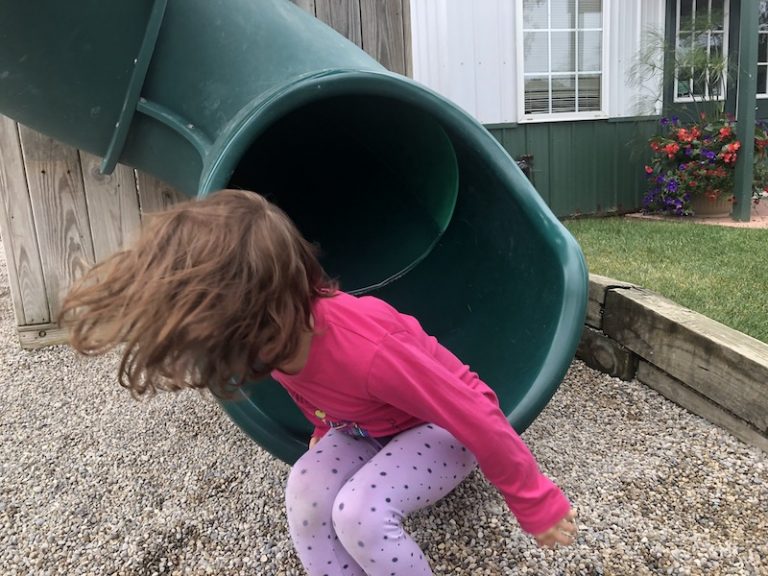 There is a playground that we took advantage of for about an hour and then we headed on over to Lewis Farms.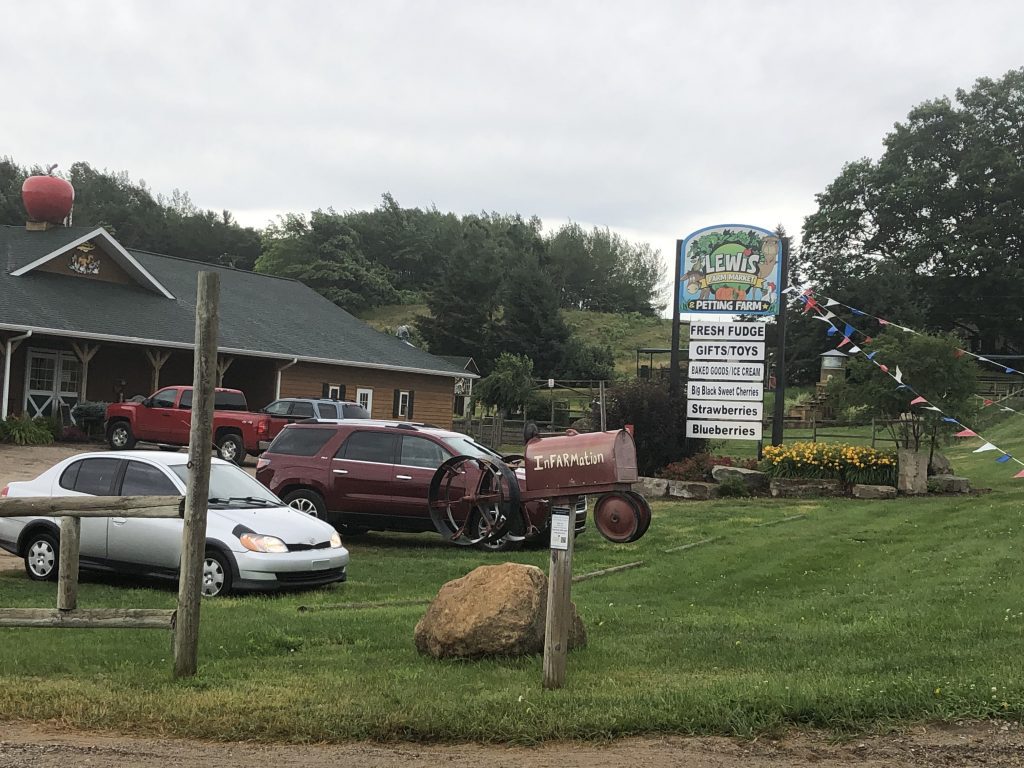 Lewis Farms
Country Dairy was fun, but Lewis Farms is the mecca for family fun and running off energy. Acres and acres of entertainment for the kids. Be sure to buy a $5 cup of animal food when you buy admission tickets.
We spent hours at the farm and only done about 2/3 of the activities. There is just so much to do. It was incredible.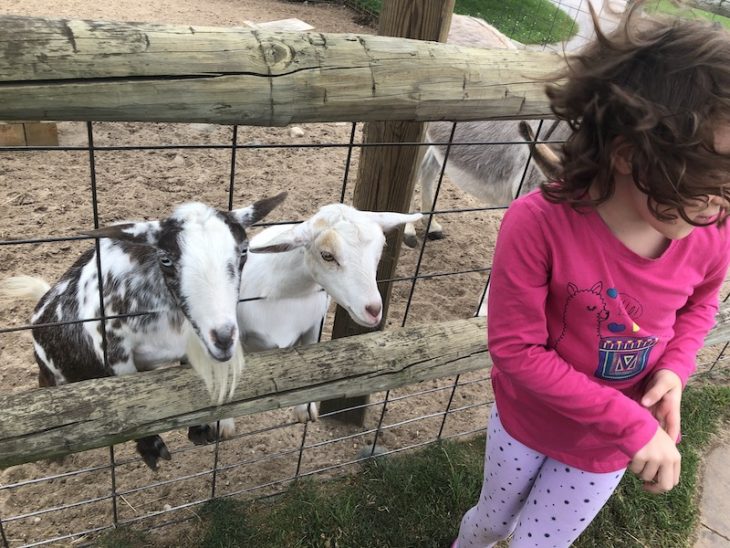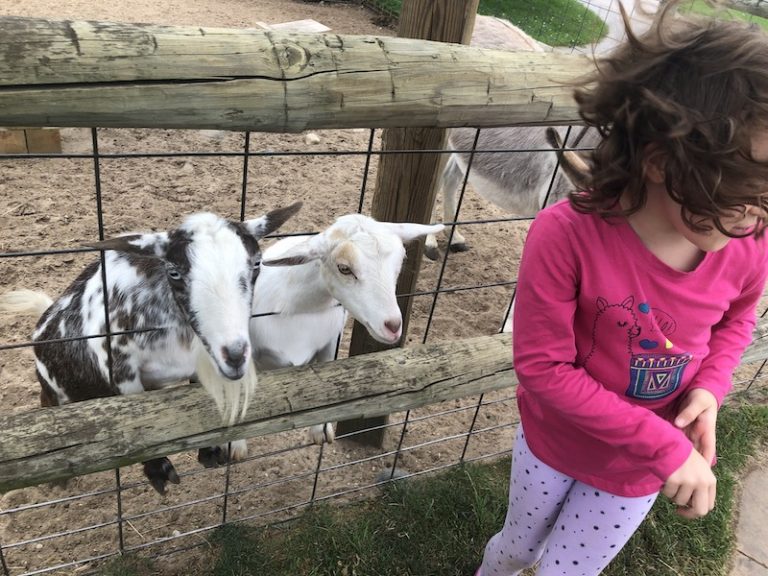 Animals galore: There are goats, mini horses, a donkey, alpaca, kangaroos, deer, camel, rabbits, ring-tailed lemurs, an aviary (buy a $1 feed stick and feed the birds, its epic), and so many more.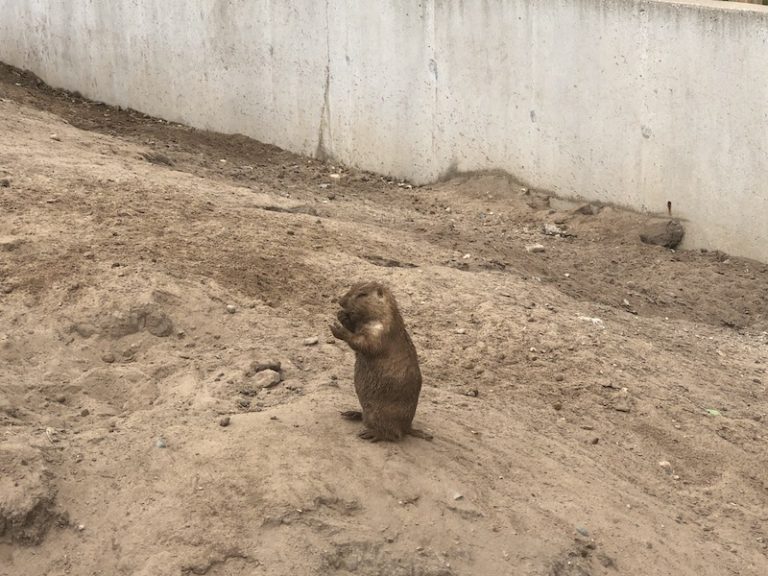 Seriously, so many cool animals the kids can visit. Did I mention they have racing pigs?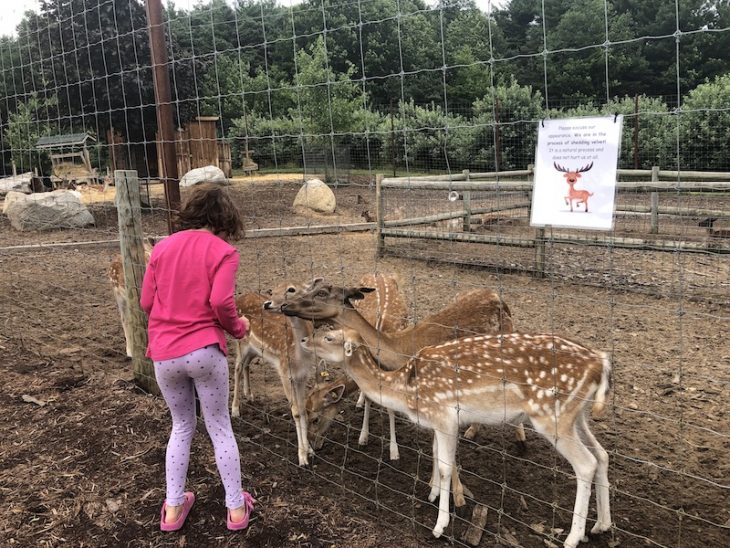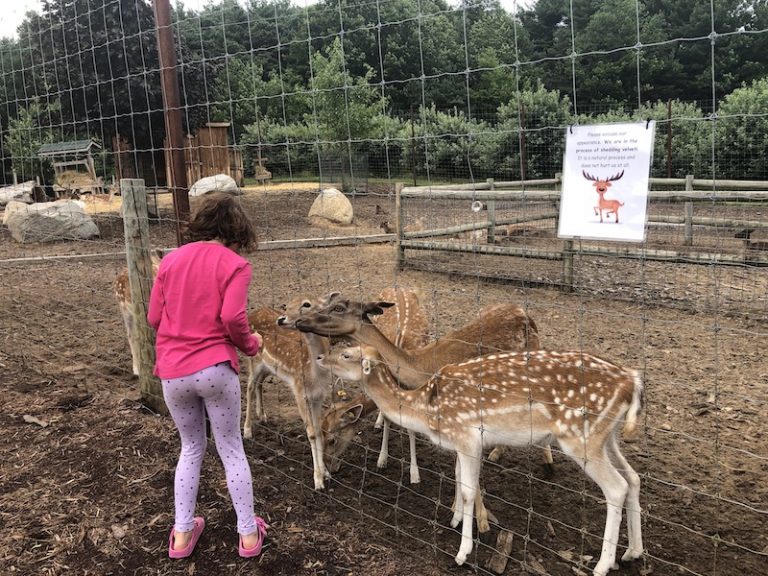 Games: throughout the park are different games the kids can play including Lasso Wild Steers, Race Rubber Ducks, SkeeBall and Bee Popper.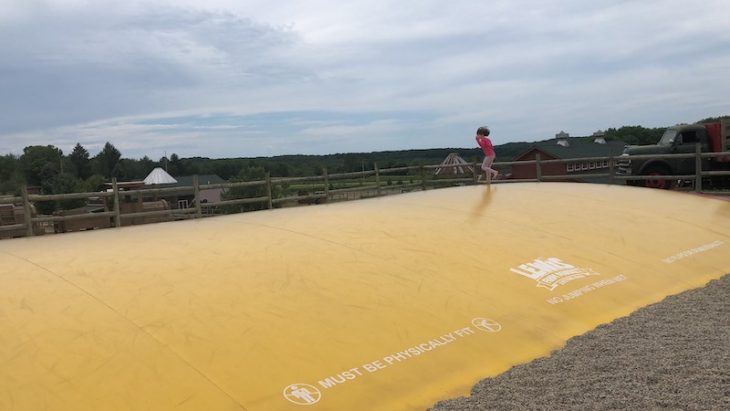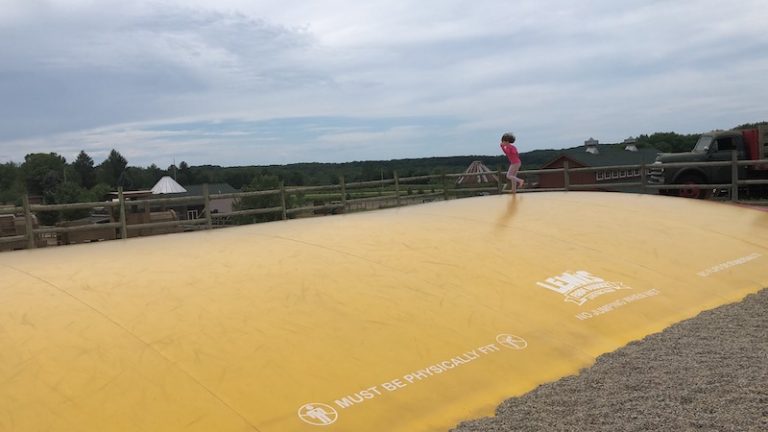 Activities: Let them burn off that energy! Ride Pedal Carts, Giant Jumping Pillows, Black Hole Slides, Crawly Spider Web, Tire Swings and Teeter-Totters to name a few.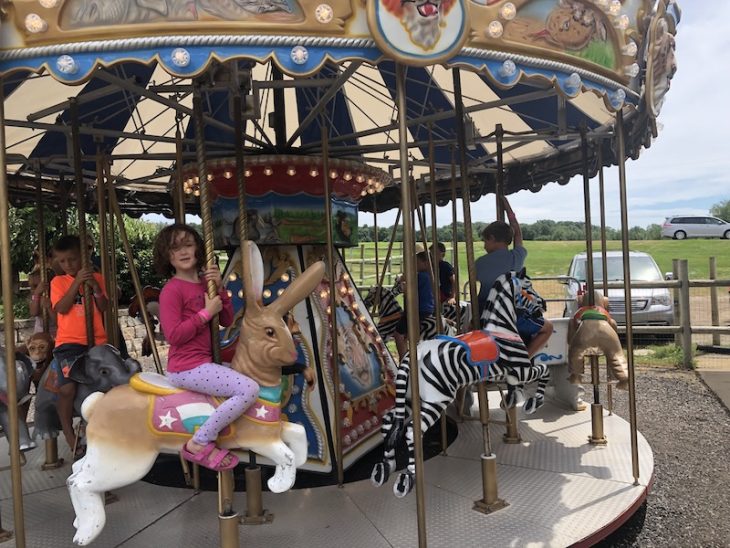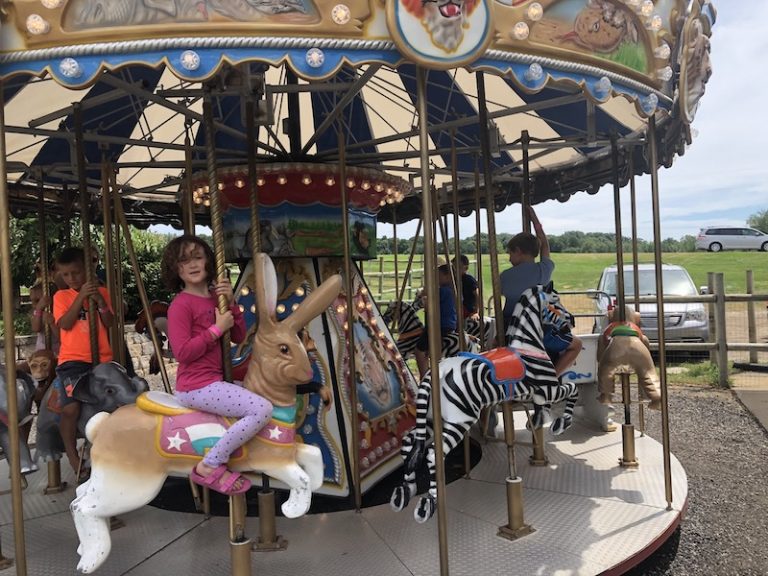 There is a carousel, barrel train, and gem mining. In the fall there is a corn maze and pumpkin picking.
I know I'm missing some things. Let's just say that you could easily fill an entire day at Lewis Farms.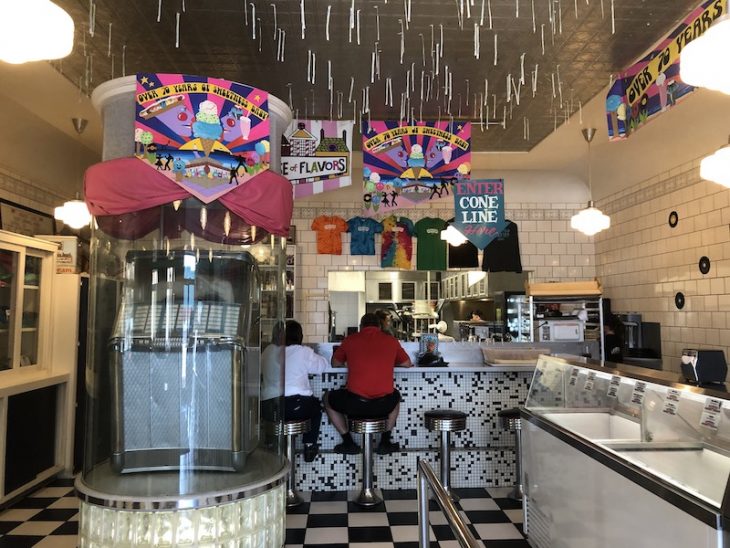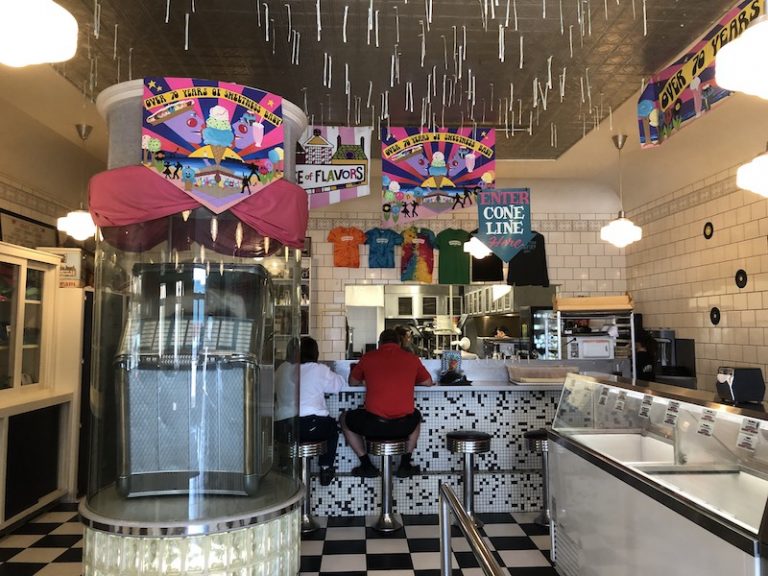 House of Flavors, Again
Back in Ludington, we grab a late lunch/early dinner at none other than House of Flavors. I tried to talk S into someplace else but she LOVES the mac & cheese and fries at House of Flavor and we're on vacation so why not.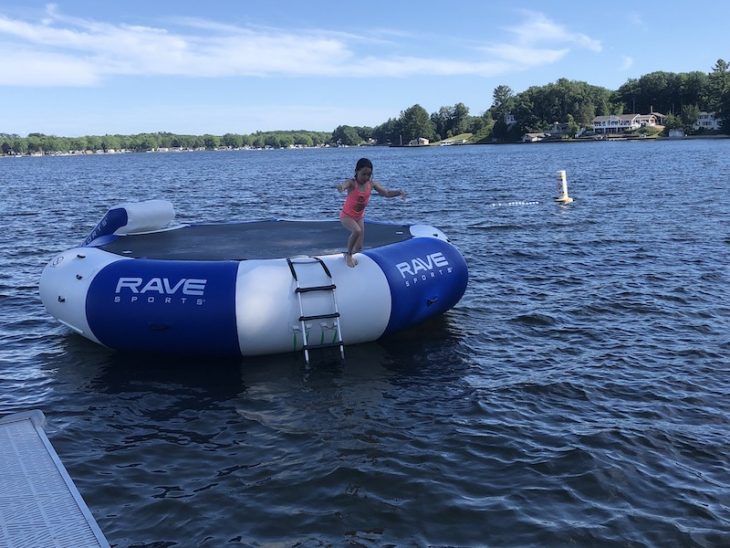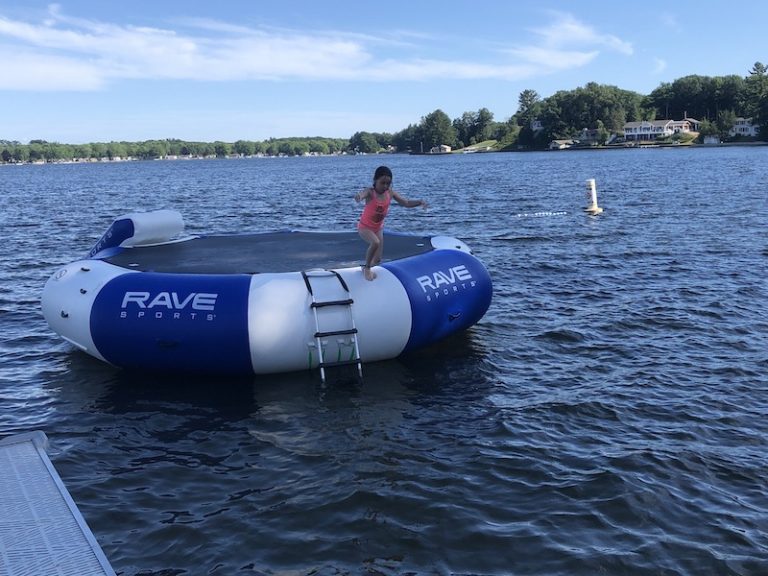 Hobby Crest Beach
Back at the resort, we spend the rest of our evening playing at the beach and on the playground.
It has been an epic day full of fun. The overcast weather didn't slow us down one bit.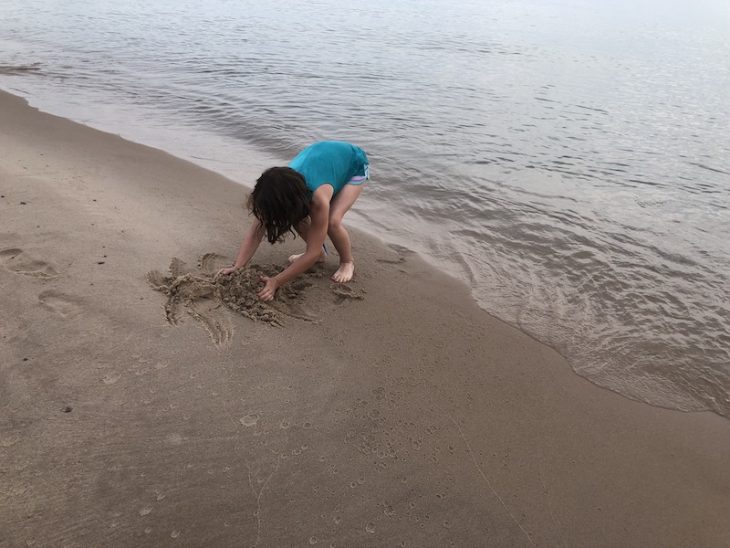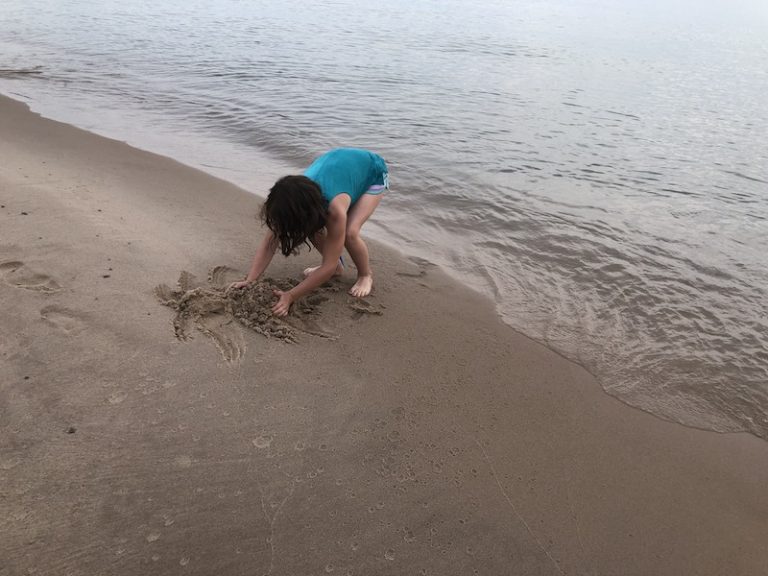 Our Last Day in Ludington
Sadly, all good things must end and our time in Ludington was drawing to a close. We pack up our things and say "until next time" to Hobby Crest.
In town, we stop for breakfast at Cafe 106. A downtown diner that offers up good breakfast food and coffee.
With our bellies full we head over to Amber Elk Ranch.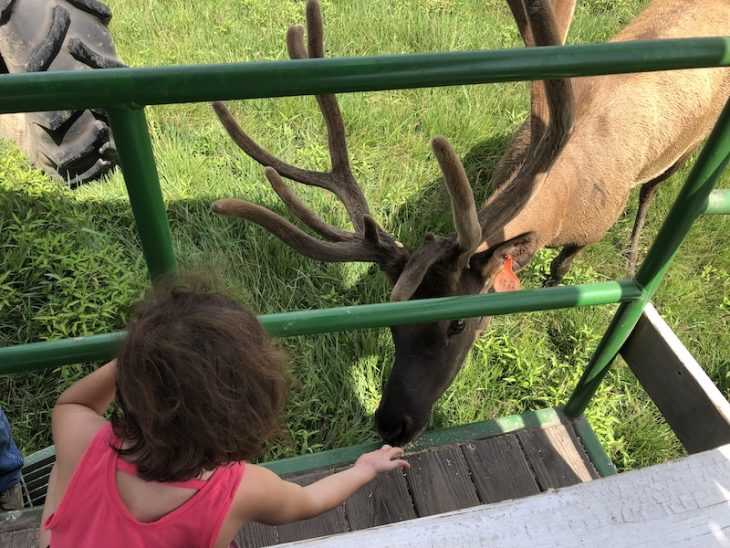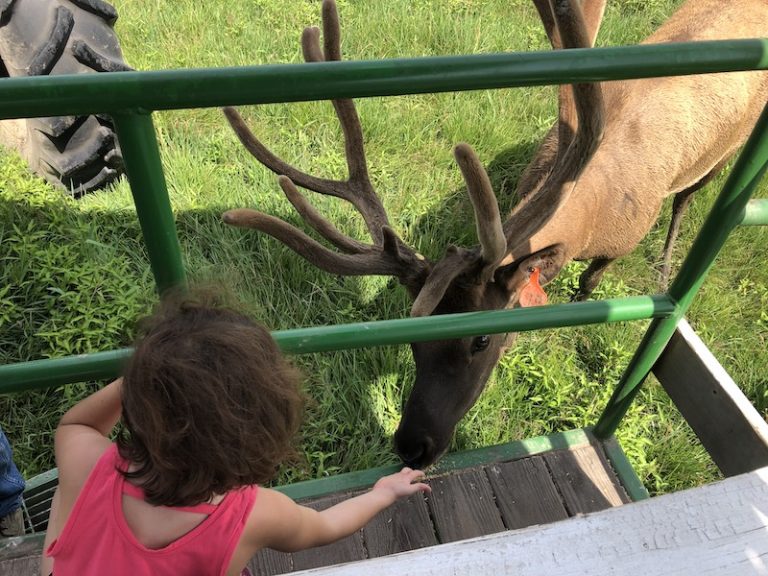 Amber Elk Ranch
We love all things animals so a visit to Amber Elk Ranch was a must. We arrive in time for the 11:30 tour, load up on the wagon and head out to feed the elk. There are a lot of them and we visit three different elk herds.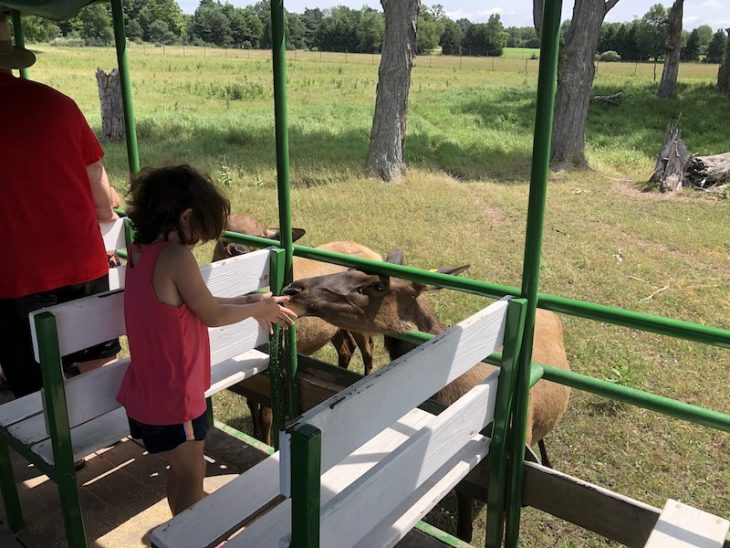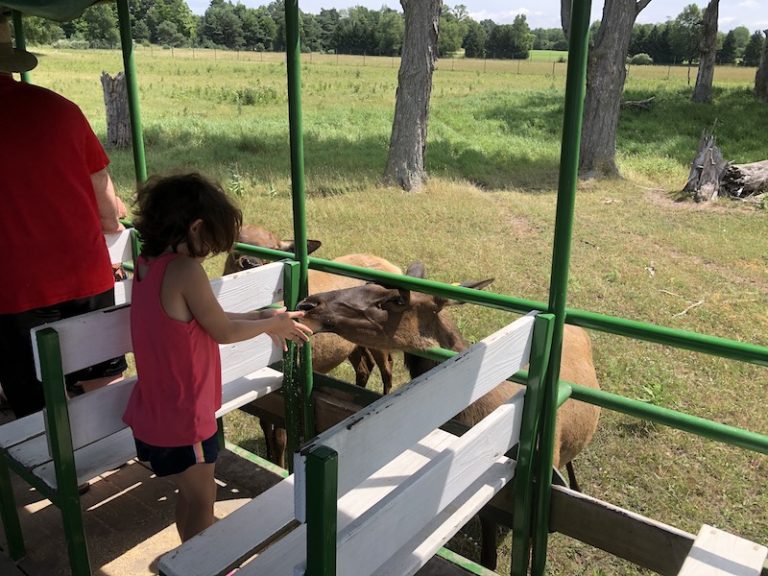 They are incredible. S excitedly grabs handfuls of feed and the elk are more than happy to comply by quickly eating everything she puts their way.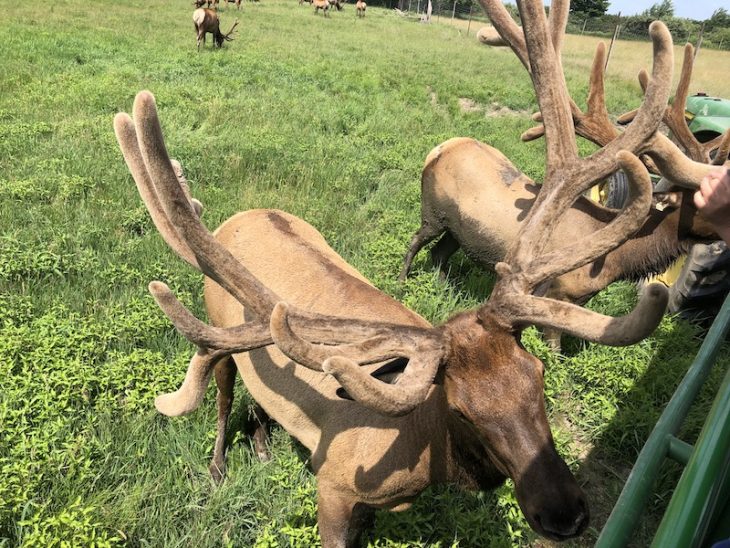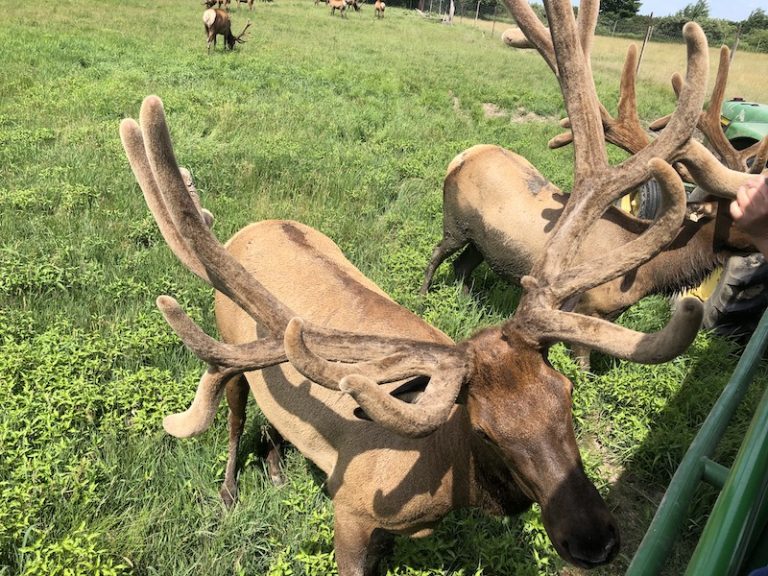 We take the opportunity to pet them and touch their velvety antlers. This is a great experience and S is loving every minute of it. Our tour guide shares stories about the elk and answers all our crazy questions with patience.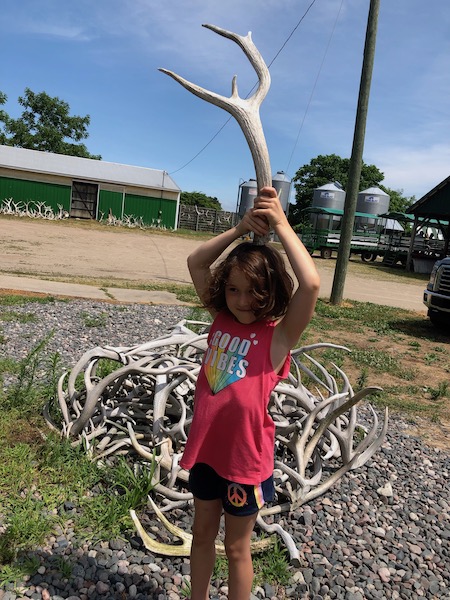 This is definitely a great way to end our visit to Ludington. We didn't see and do everything there is, but we sure made a great attempt.
More Fun Ideas for Things To Do in Ludington
Sandcastles Children's Museum–It comes highly recommended and I'll be sure to take S next time we're in town.
Jump Around Fun Center & VR–We wanted to go here, but the weather was not on our side and the inflatables portion of the park was closed. The virtual reality is open regardless of the weather. We simply didn't have time to squeeze it in.
Waterfront Park–This park is a great green space with a playground for kids. A great sand-free place for a picnic.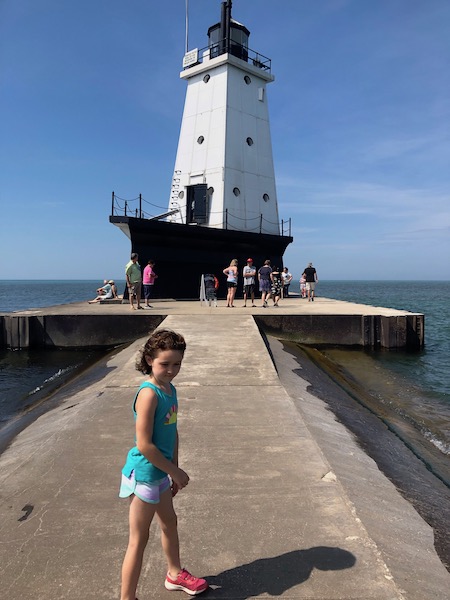 I ended our getaway happy and exhausted, S ended it happy and full of energy. Ludington has so many family activities and we tried as many as I could fit in a day.
We can't wait to go back and explore more.
Thank you to Ludington for hosting us on this epic getaway!
Looking for more fun destinations? Check out these reasons to visit Shenandoah Caverns!
Pin Things To Do in Ludington MI to Pinterest