Go big or go home is a phrase that this Jensen Beach Mansion in Martin County Florida took seriously and go big (and home) they did.
Decking out the front of their property with 700,000+ lights is definitely worth a detour to see. Watch this Jensen Beach Mansion Christmas Lights video to see the display from a couple years ago:
This magical display lights up the front of the gorgeous 50,000 square feet mansion that serves as a backdrop to the lights.

Jensen Beach Mansion Christmas Lights Display
When you turn onto Ocean Blvd from Hwy 732 you'll immediately see the glow of the Jensen Beach Mansion Christmas lights.
The display itself is simply stunning with lights dripping from every available tree and shrub on the beautifully landscaped property.
You can park alongside the road, but please use caution as this is a high traffic road. We parked a bit down the road from the property on a weeknight and made the short walk.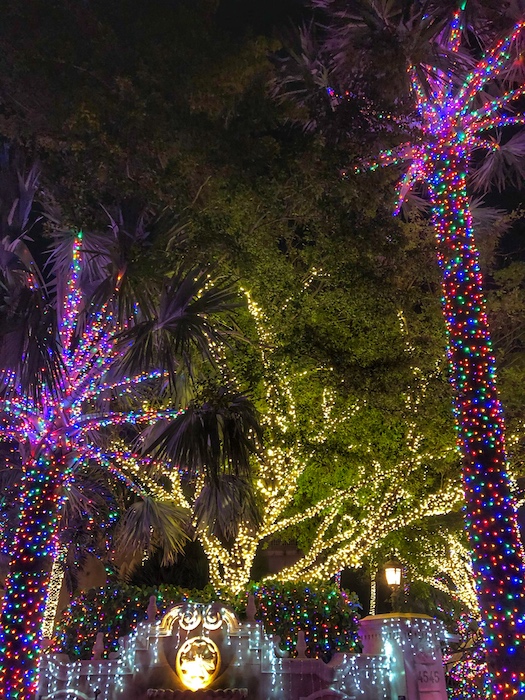 How To See the Jensen Beach Mansion Christmas Lights
There were many others there enjoying the lights as well. Families, couples, and friends all in awe of the way the lights lit up the night sky.
You are welcome to walk among the lights and take many photos. As always be respectful of others' property and leave no trace that you were there.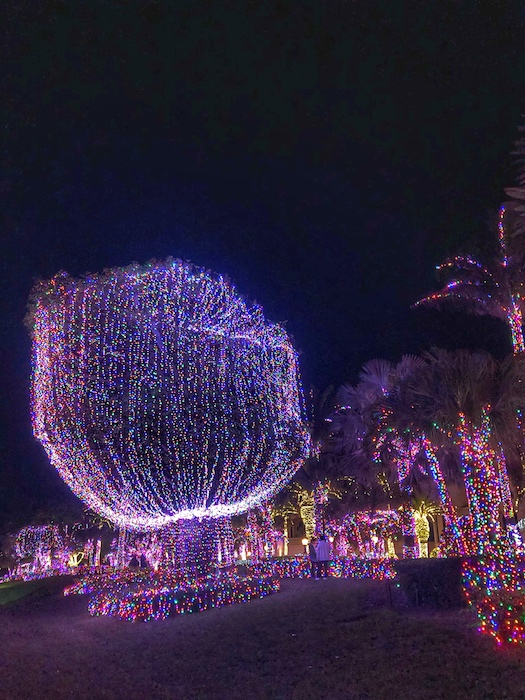 In years past the lights have been turned on around 530p and go off around midnight and are on display, usually, through the first few days of January.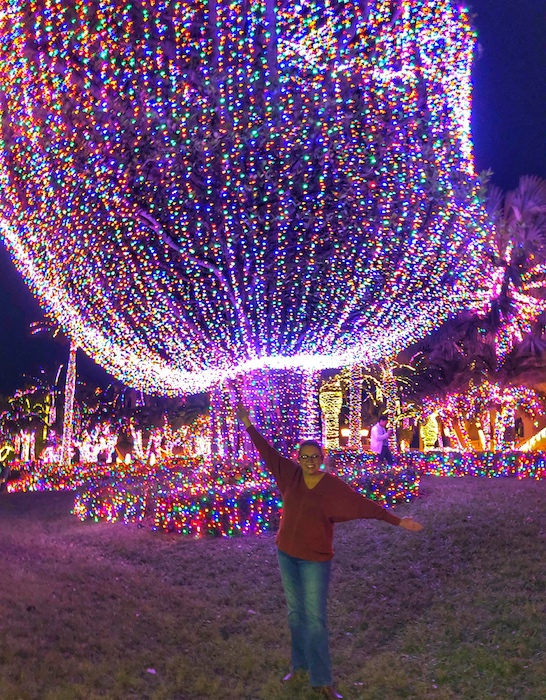 When To Visit Jensen Beach Mansion Christmas Lights
My advice, you'll want to visit sooner rather than later to make sure you see this incredible display.
Of course, weekends are probably going to be busier than weeknights. That being said, my two weeknight visits were pretty busy.
I'd think later would be better than earlier.
I was there both times around 8p. If you can go after 10p there may be fewer people.
If you can only visit one Christmas light display this year make the Jensen Beach mansion the one you see.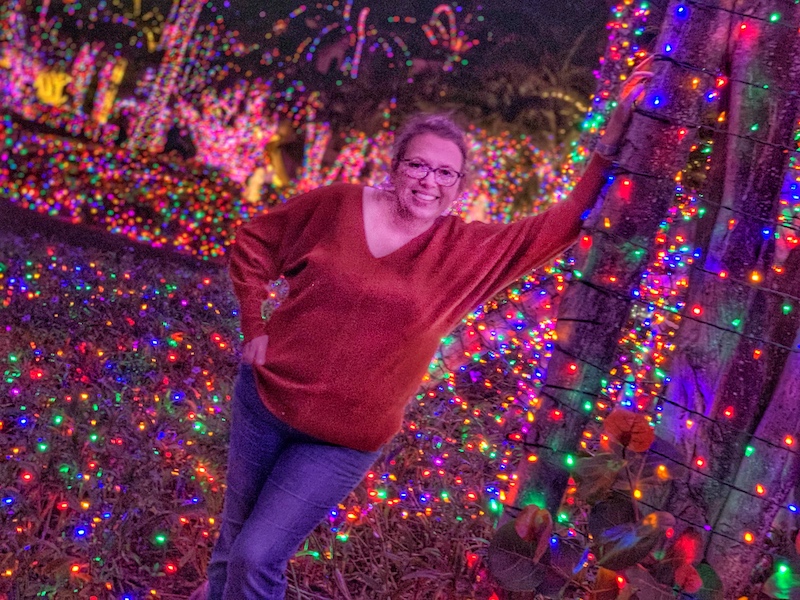 What You Need To Know Before You Go
LOCATION: 4545 N.E. Ocean Blvd, Jensen Beach, FL
DATES AND TIMES: December 9, 2022 – January 8, 2023. Nightly from 530p-11p (subject to change)
COST: Free
PARKING: Free. Along the roadside, please use caution when walking along or crossing this highly trafficked road
MORE TO DO: Visit DiscoverMartin.com
A Couple More Places To See Holiday Lights in Florida
Experience Magic of Lights, a unique and dazzling drive-through of holiday. New displays this year include Barbie™, a Prehistoric Christmas & Big Foot™ Monster Truck. Illuminating Mega Trees.
A holiday themed drive-through event transforming Fred Poppe Park into a virtual winter wonderland. This is a family oriented celebration featuring shimmering lights and animated displays. A journey through the 1.3 mile park will take your breath away as your family experiences the wonders of the holiday season. The climax of your journey will end as you pass through a 200 foot "Light Tunnel" exploding with light. 2785 Leisure Way, Melbourne, FL 32935, USA
This drive through mile-long path of dazzling, festive lights and holiday displays will make lasting memories for the whole family.
During this festival of lights, downtown St. Augustine glows with holiday magic – from the ground to the rooftops. St. Augustine's Nights of Lights features millions of tiny white lights that create a magical atmosphere in the Nation's Oldest City, and it's free of charge.
Pin to Pinterest