Sandy beaches, bonfires, camping, stargazing, and festivals are just a few of the reasons to get outside and enjoy summer in Michigan.
Michiganders may suffer long and horrible winters, but when the weather turns warmer we know how to get outside and embrace our Michigan summer.
Summer is when I fall in love all over again with this state and forget how rough it was during the winter.
If you are wondering what there is to do in Michigan during the summer look no further than this 50 days of Michigan Summer Fun Guide.
50 Things You'll Want To Do This Summer In Michigan

MICHIGAN'S UPPER PENINSULA
1. Visit Mackinac Island: Located between Michigan's upper and lower peninsula Mackinac Island is a throwback to another era. This car-free island is home to many festivals, ghost stories, fudge, horses, gorgeous scenery and, of course, the Grand Hotel. Plan at least a 2-day visit and spend the night on the island. Shepler's Ferry will boat you from the mainland to the Island and back.
2. Climb Castle Rock: One thing that Michigan's Upper Peninsula has in spades is kitschy attractions. One of our favorites is to climb the rock near St. Ignace.
3. Soo Locks: View the locks in action as they allow freighters to pass between Lake Superior and lower Great Lakes. brand-new observation platform situated at the Lock's edge, enjoy an up-close-and-personal glimpse of life aboard freshwater and ocean-going freighters
4. Tahquamenon Falls: Breathtaking waterfalls in the middle of the wilderness. Visit both the upper and lower falls, located 4 miles apart and connected by a hiking trail. Parking areas are also available at both areas if you prefer to drive. The Upper Falls has an impressive 50,000 gallons of water per second spilling over the falls.
5. Pictured Rocks National Lakeshore: Located on the shores of Lake Superior near Munising, MI the Pictured Rocks area offers scenic beauty, hiking, and waterfalls.
6. Marquette: Surfing, whitefish, cliff jumping and more wait for you. Be sure to click the link to read the other crazy reasons to visit Marquette this summer.
7. Porcupine Mountains: Some of the most scenic natural beauty in the state. Miles of beaches, 100's of waterfalls, and home to bears, wolves, moose and deer.
8. Palms Books State Park: Home to the one-of-a-kind attraction, Kitch-iti-kipi, Michigan's largest freshwater spring. Board the hand powered raft and pull yourself across the spring and enjoy views beneath the crystal clear water.
9. Haunted Mission Point Tour: Take a walk on the paranormal side with a ghost tour at the stunning Mission Point Resort on Mackinac Island. The resort was featured on SyFy's Ghost Hunters season 7, episode 6 and is worth a visit.
10. Waterfalls: More than 300 waterfalls dot Michigan's Upper Peninsula. Some are visible from the roadside and others take a bit of a hike. The falls range in height from 5′ to 48+'. Pack a lunch and extra water because you can easily spend an entire day visiting and viewing a handful of the falls.
11. Rockhounding for Agates: Rockhounds flock to the Lake Superior shoreline to hunt for these iron-stained banded stones. If you are new to searching for agates I find it easiest to look in very shallow waters for the stones since the water helps the banding and colors shine through.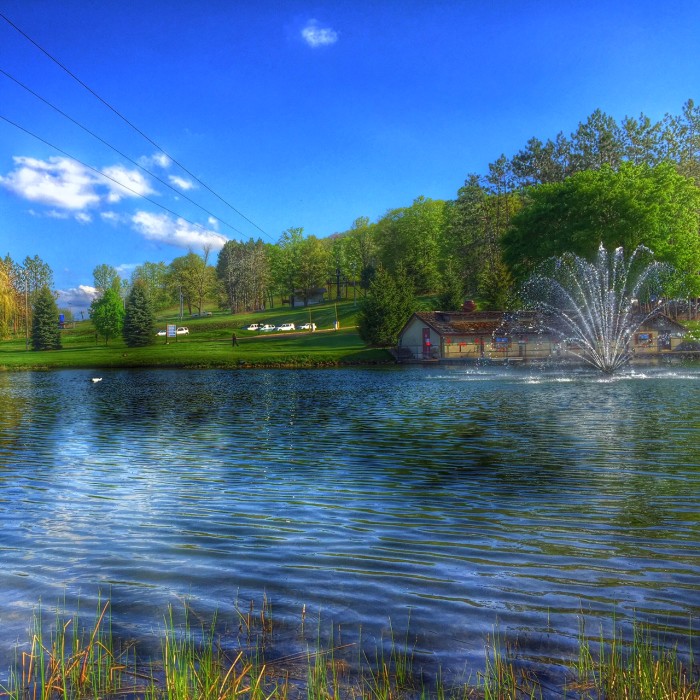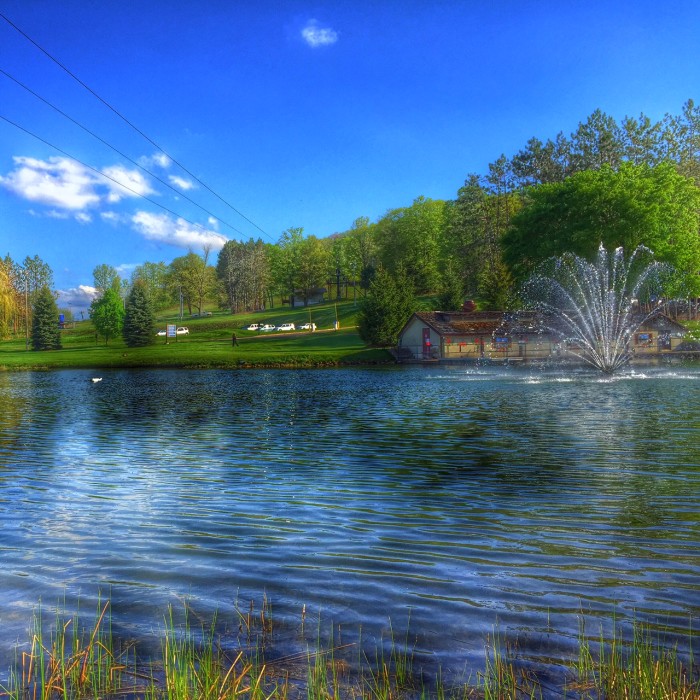 MORE THINGS TO DO IN MICHIGAN: The Ultimate List of Things To Do In Michigan
UPPER LOWER MICHIGAN
12. Stargaze: Visit the Headlands Dark Sky Park just north of Petoskey. It is one of only 15 such parks in the United States. During the summer months, you can see the Milky Way. Check their calendar of events for fun community programs.
13. Climb a sand dune: Named the most beautiful places in America by Good Morning America. Spend the day playing in the sand, climb to the top of the dunes and enjoy views of Lake Michigan. When you are done playing in the sand take a drive along Pierce Stocking Scenic Drive or a paddle down the Platte River.
14. Traverse City Film Festival: One of the best film festivals in the Midwest. It features independent, foreign, and documentary films at several venues. If you are a film lover this is THE film festival to attend.
15. Ludington State Park: Sand dunes, hardwoods, marshlands and 7 miles of unspoiled shoreline. Enjoy 18 miles of hiking trails, canoeing, visiting a lighthouse, fishing and wildlife viewing. Book your campsite in advance as this state park fills up quickly.
16. Swim or boat in Torch Lake: One of the most beautiful lakes in the world according to National Geographic. Rent a vacation home along the shore, sail the pristine crystal waters, or just spend the day having a picnic at the beach.
17. Find a Petoskey stone: Hunt for Michigan's State Stone in the waters around Petoskey. Spotting the speckled design is easiest in shallow waters.
18. Eat a piece of Cherry Pie: Cherries grow abundantly in northern Michigan making Cherry Pie a local specialty.
19. Visit Fish Town: This sleepy little town is located on the western edge of Leelanau Peninsula. Explore the collection of weathered fishing shanties, smokehouses, overhanging docks, fish tugs, and charter boats along the Leland River in Leland, Michigan

Lower Michigan
2o. Sand Rails: Ride the sand dunes in Silver Lake. Take a thrilling ride in a sand rail up and down the dunes along northern Michigan. This is the only place in Michigan that I know of where it is legal to drive on the sand dunes.
21 Dutch Village: In a setting filled with authentic Dutch architecture, flowering gardens, canals and windmills, and wooden shoes, Dutch history and culture are brought to life. This theme park will spark the interest of children and adults alike. Plan on spending 2-3 hours here.
22 Musical Fountain: A synchronized display of water and lights in Grand Haven, Michigan located on Dewey Hill on the north shore of the Grand River. Shows run nightly Memorial Day through Labor Day. Free.
23 Meijer Gardens & Sculpture Park: A 158-acre botanical garden and sculpture park. It's easy to spend the day exploring the grounds and indoor exhibits.
24. Greenfield Village: Entering Greenfield Village is like stepping into an 80-acre time machine. It takes you back to the sights, sounds, and sensations of America's past. There are 83 authentic, historic structures, from Noah Webster's home, where he wrote the first American dictionary, to Thomas Edison's Menlo Park laboratory, to the courthouse where Abraham Lincoln practiced law.
25 Lions, and Tigers, and Bears, oh my: Walkthrough a polar bears playground and watch them tumble and swim around you. Be sure to stop by and say hi to the zebras. Keep an eye out for the new baby foal that was born the first of the year. The zoo has plenty to offer to keep you busy all day.
26. Fox Theater: Opened in 1928 it has survived the Great Depression, wars and economic downturns, but this jewel in the heart of Detroit still stands. A magnificent theater with its gilded interior is a sight to behold.
27. Bronner's: Located in Michigan's Little Bavaria, Frankenmuth, it's Christmas every day of the year at Bronner's in Frankenmuth which is only closed 4 days out of the year. While you are in Frankenmuth, make sure to check out Zehnder's Splash Village for fun in the water!
28. Dow Gardens: Located in Midland the gardens offer 110 acres of walking paths and gardens. There are also a number of educational opportunities and special events.
29. Eastern Market: The largest historic market in the country, a 4.5-acre celebration of the freshest, most wholesome fruits, vegetables, specialty foods, art and music, all undeniably Detroit.
30. Eat a Coney Dog: There are two groups of people in Detroit, those who favor American Coney Island and those that favor Lafayette Coney Island located next to each other on Lafayette Blvd. Try each one and pick your favorite.
31. Gilmore Car Museum: A 90-acre museum with over 300 vintage cars and motorcycles. The vehicles are located in a dozen different buildings.
32. Motown Museum: Detroit is the home of some of America's greatest artists. Groups like the Four Tops, Stevie Wonder, the Supremes, and the Temptations all began in the heart of the city. A visit to the Motown Museum a must.
33.Guardian Building: Detroit This Art Deco building is not too much to get excited about from the outside, but step inside and it's jaw-droppingly beautiful.
34. Silver Beach Carousel: Take a spin on one of the 48 hand carved, hand painted carousel animals at Silver Beach, one of Parent Magazine's top 10 family beaches.
35. Detroit's Jazz Festival: End your summer with a bang at the world's largest FREE Jazz festival.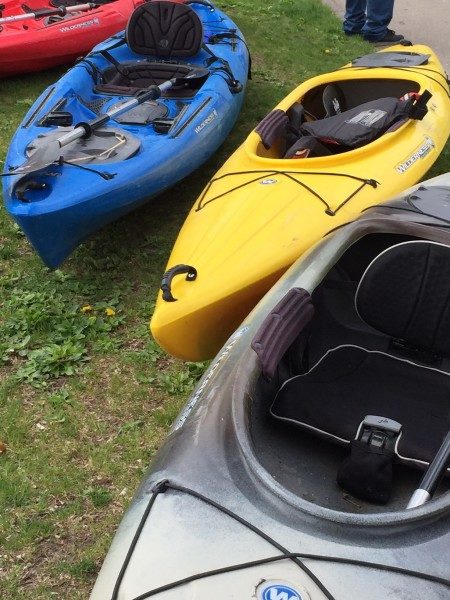 STATEWIDE
36. Kayak: With over tens of thousands of miles of rivers and streams there is always a river nearby to go kayaking.
37. Fly a kite: With so many Great Lakes shoreline miles there is always a place to go fly a kite.
38. Swim in 4 of the 5 great lakes: Erie, Huron, Superior, and Michigan all touch Michigan giving you the opportunity to swim in 4 of the 5 great lakes.
39. Microbreweries, wineries, and distilleries: There are over 100 wineries, over 100 breweries, and 20 distilleries. Both Southwest Michigan and the greater Traverse City region have a large number of brews, wines, and spirits.
40. Drive-in movie: It's a throwback to another era, but there are still a few drive-in movie theaters in the state. My favorite is the Cherry Bowl Drive-In in Honor.
41. Play Ball: Summer is baseball season and there are games happening all across the state. If you prefer to watch instead of play there are great teams here. I prefer watching minor league baseball, it's a lot more family friendly. Minor league teams include Great Lake Loons, Lansing Lugnuts, and West Michigan Whitecaps. Of course, if you want to watch a major league team you can't go wrong with a visit to the Detroit Tigers.
42. Putt-Putt: Michigan is full of championship golf courses, but for those of us who are comfier on the putt-putt courses there are plenty to choose from. In my opinion, putt-putt is a lot more fun and a lot less stressful.
43. Camping: Tents, RV's or camping cabins are all great ways to overnight in the great outdoors. I still do some tent camping, but I'm slowly converting to a cabin. I appreciate the quick set up of cabins, basically, just show up with bedding and enjoy time outdoors. My favorite places to camp are in the Upper Peninsula and Upper Lower Peninsula, but there is plenty of campsite across the entire state.
44. Picnic: Pack a basket and head to a local park to enjoy lunch or dinner outdoors. There is just something very relaxing about getting away from the hustle and bustle of home to enjoy eating outside.
45. Visit Paradise and Hell: It's true, you can go to Hell or Paradise or both during your visit to Michigan.
46. Geocache: Go on a modern day treasure hunt with geocaching. Containers of all shapes and sizes are hidden in the forest, parks, and urban areas just waiting for you to find them and take a treasure from inside. More information at geocaching.com
47. Roast marshmallows over a campfire: We are lucky enough to be able to have a small campfire in our backyard and marshmallow roasting is a regular summer event. Check fire laws for your area and always take safety precautions. If your backyard isn't an option, look for a hotel that offers patio fires and s'more making. Two that come to mind are Boyne Mountain and Harbor Grand.
48. Pick Your Own Fruit: Cherries, blueberries, raspberries, strawberries, apples, and more are available to pick during the summer and fall. My favorite site is PickYourOwn.org which lists the farms and what fruits and veggies are ripe for the picking and when.
49. Shop quaint downtowns: Some of the best shopping is found in quaint downtowns around the state. I, personally, enjoy shopping in Traverse City and Petoskey, but other great areas include St. Joseph, Royal Oak and Grand Rapids.
50. Visit Michigan Lighthouses: There are 129 lighthouses along the shores of Michigan. How many can you see this summer?
***Pin 50 Days of Michigan Summer Fun to Pinterest***