Thanks to Nancy for taking the time to explore Zehnder's Splash Village with her family and sharing her experience with us. Nancy was hosted by Zehnder's Splash Village to give you the scoop on what makes this water park so amazing. She was not asked to state a particular point of view and all opinions are her own!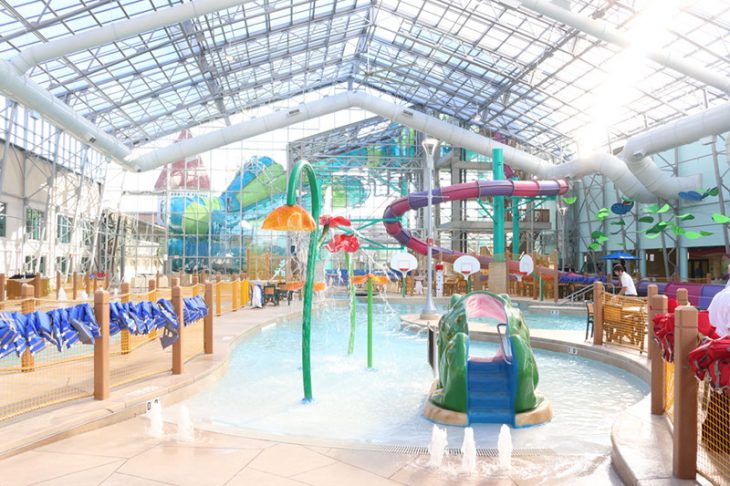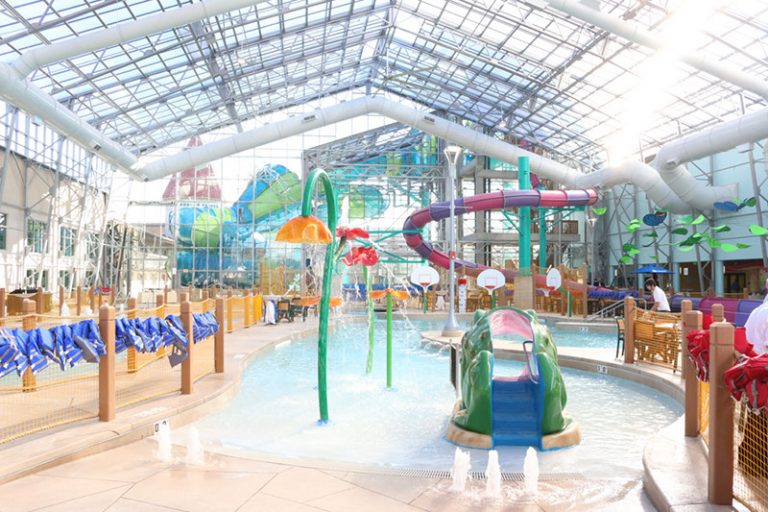 WHAT TO DO AT ZEHNDER'S SPLASH VILLAGE
As my family entered Zehnder's Splash Village's new Atrium Waterpark I felt as though we were walking in slow motion as you might see in the movies.
The sound seemed to dim as my family collectively sighed, "Whoa" at the site of one of the six-story rides. We all just stared in disbelief at the very large opening of the slide. "What is that?" was the first thing we observed.
We witnessed the large four-person raft come tumbling out and were in awe. A bystander explained the ride is kind of like white water rafting without all the work.
I knew we were in! We tried that six-story raft ride over and over and had an absolute blast. I have to be honest that I haven't done that sort of thing in a very long time.
My kids are finally at the age where they are getting into bigger rides and it sure was fun to be able to do this with them.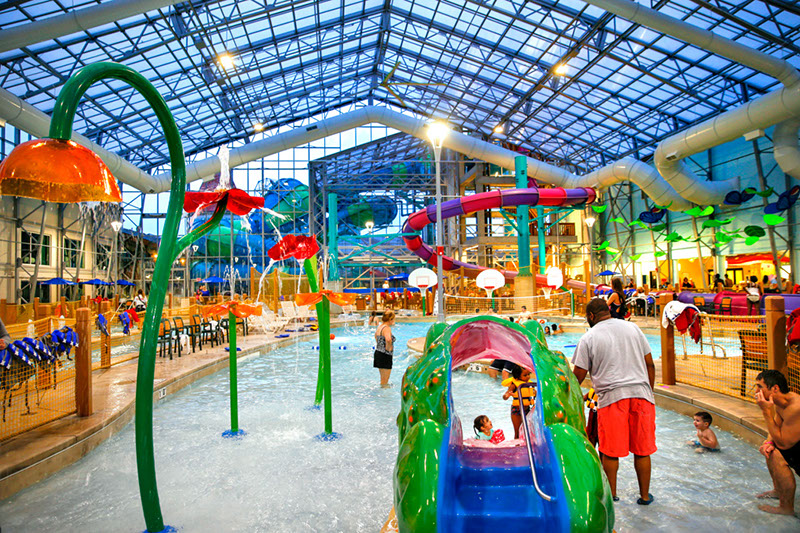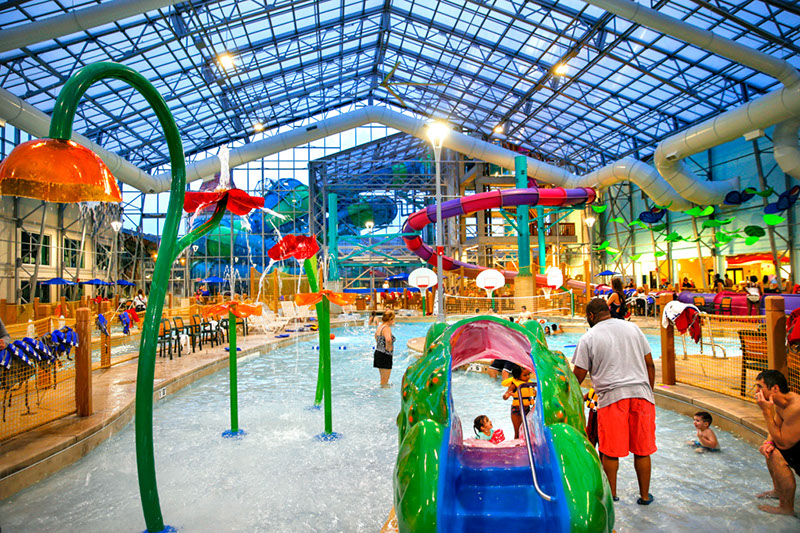 A STAY AT ZEHNDER'S SPLASH VILLAGE HOTEL
As a relatively large family of 6, a new concern in life or ours is whether the room will be spacious enough for all of us. I can say with great confidence that that was not an issue!
We stayed in a Family Suite with two queen beds and a pullout sofa. We also had to set up a pack n play for our youngest.
There was still plenty of room for all of us to move around and not feel like we were on top of one another.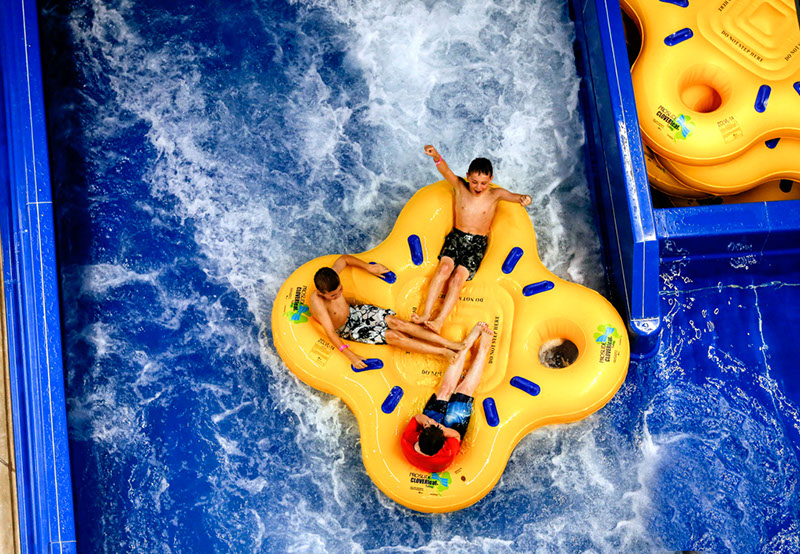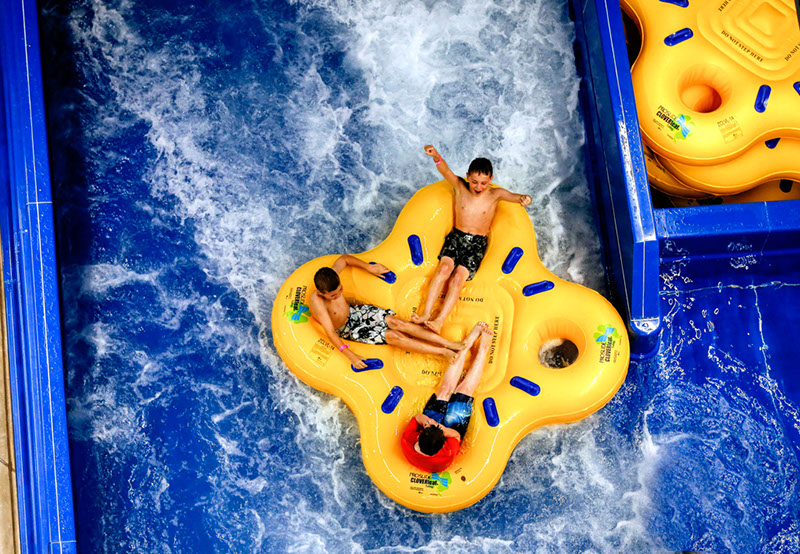 SOMETHING FOR EVERYONE AT SPLASH VILLAGE
Another thing that is of great importance to us as a multi-age family doing travel is will there be enough for everyone to do and be happy?
Again Zehnder's Splash Village definitely fit the bill.
There are things for babies up to big kids. Our entire family spent four hours at the pool our first night. There literally is something for everyone to do.
There are two separate areas including the original waterpark which has a lazy river, dumping bucket, tube slide and more.
The Atrium water park features the six-story raft ride, a six-story super loop body slide, river and so much more. It also features a retractable roof that will open in nicer weather.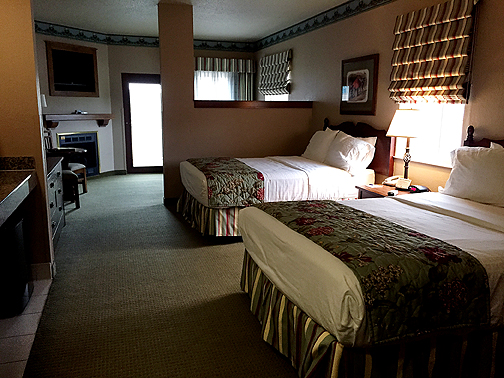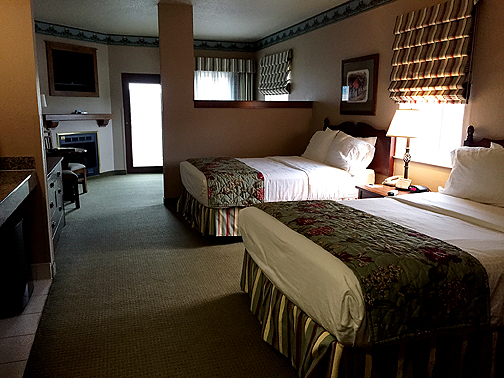 Wintertime visits to Frankenmuth Are Still Fun
Unfortunately, we visited when it was snowing outside but would love to go back someday to see it open. There is so much to do there is just no way your family could ever get bored!
One of the greatest things is there is food available poolside and so we sat and ate down at the pool and just started playing again we were done. I will say our family has visited other
Final thoughts on staying at Splash Village
I will say our family has visited other water park hotels in Michigan and will say that Zehnder's Splash Village was by far the cleanest we have been to.
I was very impressed with the number of employees walking around making sure the facilities were kept clean.
I've always believed that adventure can be found, even close to home. I live in mid-Michigan and have lived here all my life.
I have been to Frankenmuth countless times.
My family has always enjoyed visiting the picturesque town. Zehnder's Splash Village in Frankenmuth is a waterpark hotel with such amazing features it really is a great destination for a family vacation or even staycation. We will definitely be going again!
Pin Splash Village to Pinterest