Inside Out Carrot Cake Muffins are just a fun way to switch up your traditional carrot cake. This recipe is a pretty easy one to make and the end result is absolutely delicious!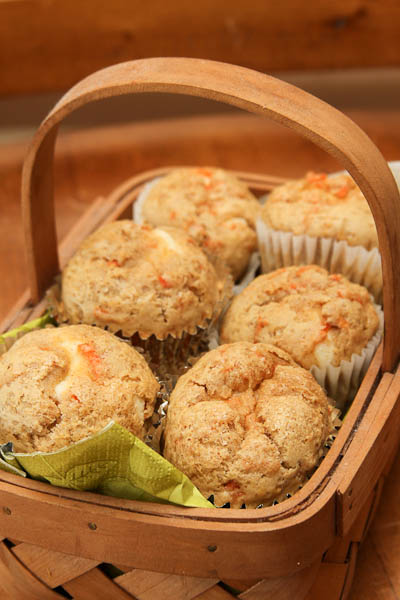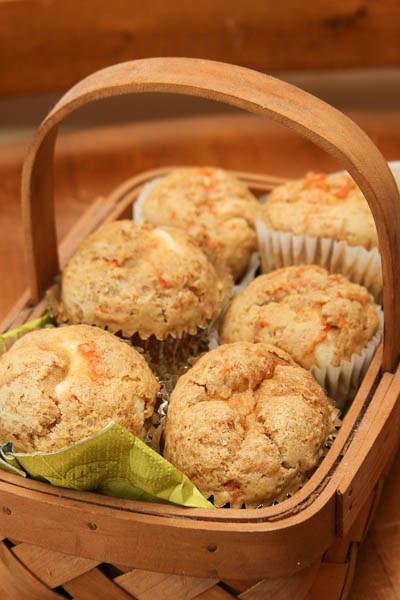 Inside Out Carrot Cake Muffins
Carrot Cake Filling Ingredients
one 8-ounce package cream cheese
1/4 cup sugar
Carrot Cake Muffin Ingredients
2 1/4 cups All-Purpose Flour
1/2 cup sugar
1/4 cup light brown sugar, packed
1 1/2 teaspoons baking powder
1/4 teaspoon baking soda
1 1/2 teaspoons cinnamon
3/4 teaspoon ginger
3/4 teaspoon salt
2 large eggs
3/4 cup water
1/3 cup vegetable oil
1 cup grated carrots, lightly packed; about 2 medium-large carrots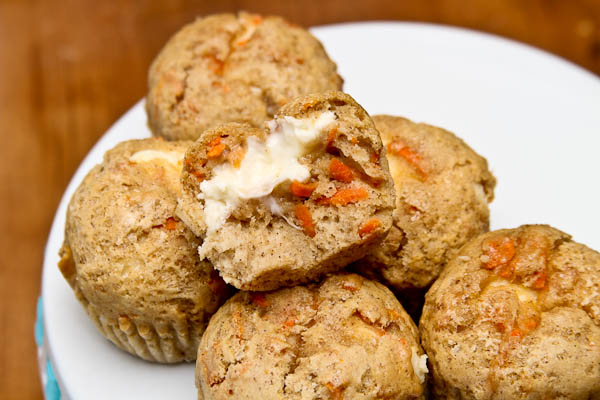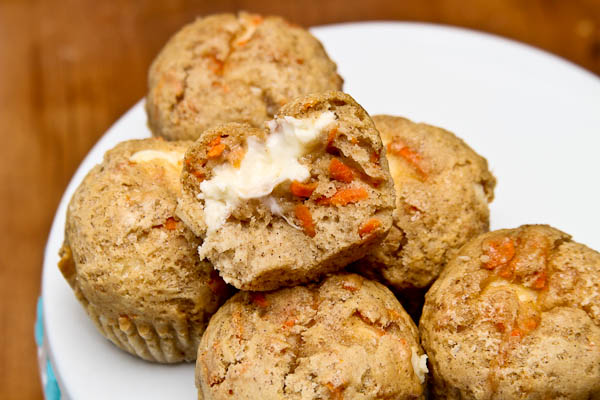 Inside Out Carrot Cake Muffins Directions
Preheat the oven to 400°F.
Lightly grease a muffin pan, 12 count. If you prefer, you can use paper liners instead.
Filling Directions
Toss the cream cheese in a glass bowl and microwave it for about 30-40 seconds to soften. You don't want it to be liquid, just soft enough that you can easily mix in the sugar. Mix that sugar in and then set it aside, we'll need it in a bit.
Muffin Directions
Grab another bowl, medium size would be good and toss in your dry ingredients: flour, sugar, brown sugar, baking soda, baking powder, cinnamon, ginger, and salt.
This time grab a small bowl, and mix up your eggs, water, and oil, whisk it real good.
Now, to make the magic happen dump the wet mixture into the dry mix, mix until things are just incorporated. DO NOT OVERMIX.
Finally, fold in the carrots, mix just enough to combine all the ingredients together.
Using a spoon, drop a hefty spoonful of batter (about 2 tablespoons) into each muffin cup, make sure it covers the bottom. Next, grab your bowl of cream cheese mix and add a good size spoonful (about 1 tablespoon) then top it all off with another scoop of batter.
You're basically layering each muffin tin: batter, cream cheese mix, batter. Repeat until all 12 muffins are layered up and ready to bake.
You may have a bit of batter left over and that's ok.
If you want you can sprinkle the tops of your muffins with coarse sugar.
Toss em in the oven and let them bake until you can stick a toothpick in the cake part only and it comes out clean.Roughly 20 minutes but check at 18 because all stoves bake at different intensities.
Once they are done, remove from the pan and place on cooling rack. Be very careful doing this step because things are gonna be hot!!
Let the muffins cool before eating. Word to the wise, if they are warm the cream cheese filling is probably hot.
Pin Inside Out Carrot Cake Muffins to Pinterest