Check out these easy Halloween cupcakes. A black cat cupcake that is full of candy, and just the perfect amount of sweetness in every bite. A non-spooky Halloween cupcake recipe the kids will have a blast helping design!
If you love Halloween I have a few more ideas for you. Check out these monster balls, easy Halloween cocktails for your bash, or even Halloween Rice Krispies pops.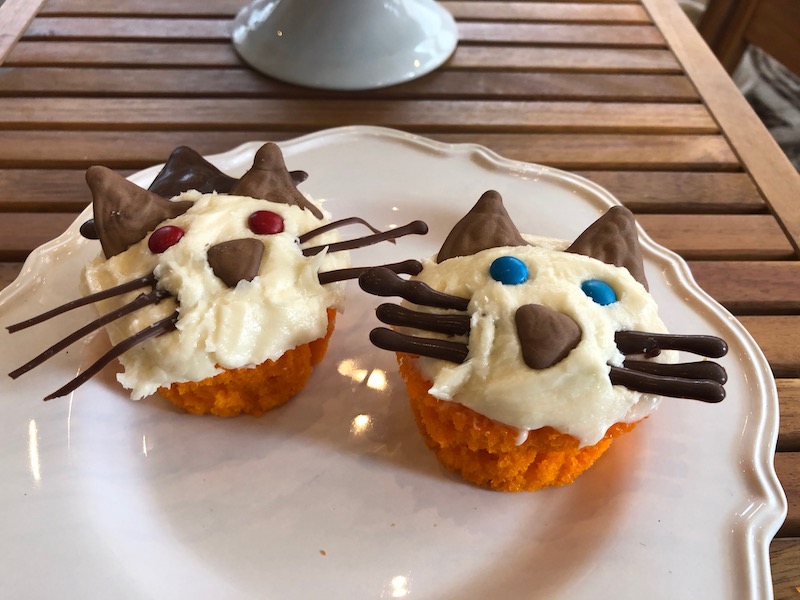 Easy Halloween Cupcakes
Now, this is a super easy recipe to make. I used a boxed cake mix to help speed up and eliminate ingredients. Then canned frosting, candies, chocolate chips for melting down, and more.
These cupcakes are so easy to make.
Cat Cupcakes For Halloween
Cats are known for the Halloween holiday. Here I will walk you through how to decorate your own cupcakes, without needing to have piping master skills.

Can I Make Homemade Chocolate Cupcakes Instead of Box
You are more than welcome to make a homemade cake mix that you make into cupcakes. Or use boxed if you want to cut corners. Feel free to make whatever you would like.
The same goes for the frosting, I bought store-bought but go right ahead and make it homemade if you prefer.
You can even make a gluten-free cupcake if you have the recipe you want to use!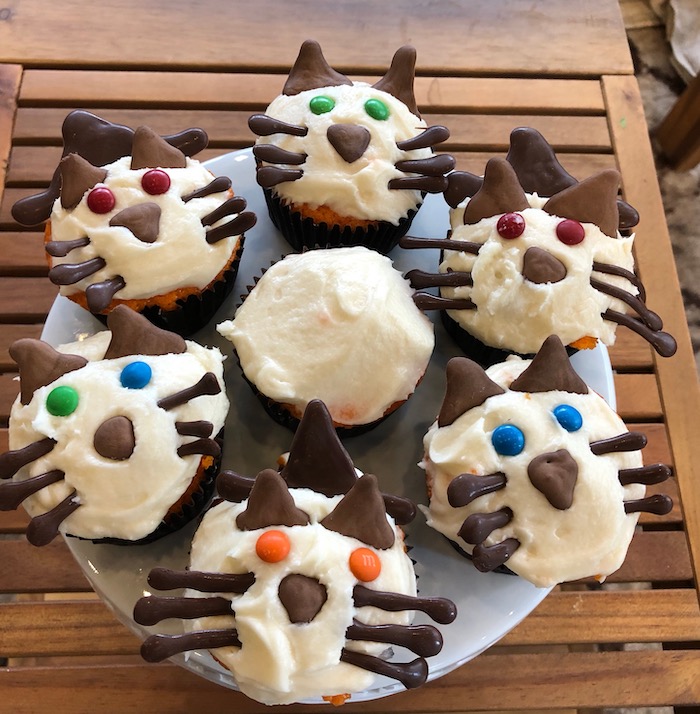 What Do I Need To Decorate Cupcakes
Chocolate chips – you will melt the chips down. You can use milk or semi-sweet, whichever you prefer.
Cinnamon Candies
M&M's
Etc
Feel free to swap out the candy you place inside the cupcakes! I just went for a basic small candy. Any small candy will work going in the cupcakes. Or you could even do a mix of Halloween sprinkles for a colorful surprise as well.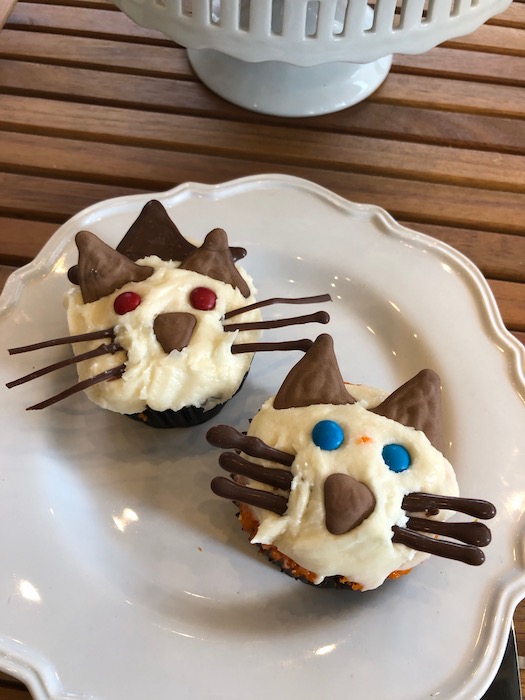 How to Make Cat Whiskers
The whiskers are made from chocolate. Once the chocolate is melted you will cut the tip off a sandwich bag and squeeze out thin strips of chocolate.
Allow the chocolate to harden up then carefully remove it from the paper. Then lay it on top of the frosting to make whiskers for your cat faces.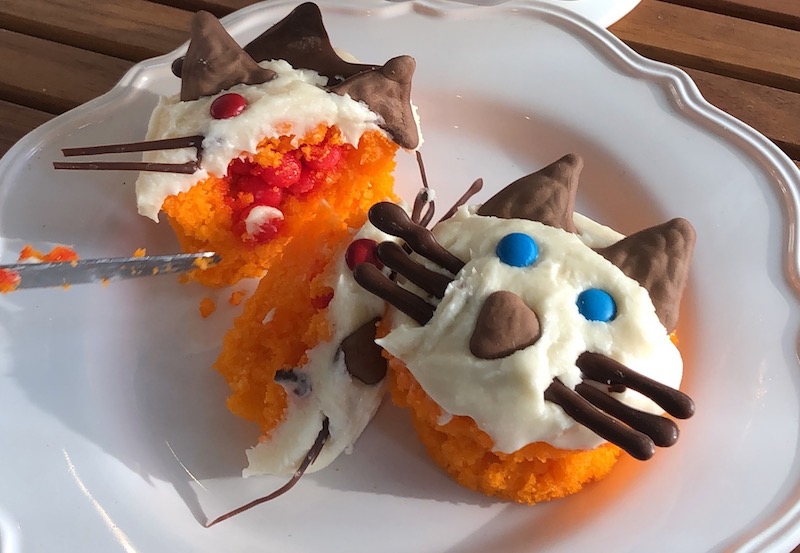 Can I Make These Easy Halloween Cupcakes In Advance
You absolutely can make your cupcakes a day in advance. I wouldn't do anything more than a day in advance as you want your cupcakes to be fresh and not tried out.
Just make sure to store your cupcakes in an airtight container on the counter. Or if you are worried about them melting then place in the fridge in the proper container.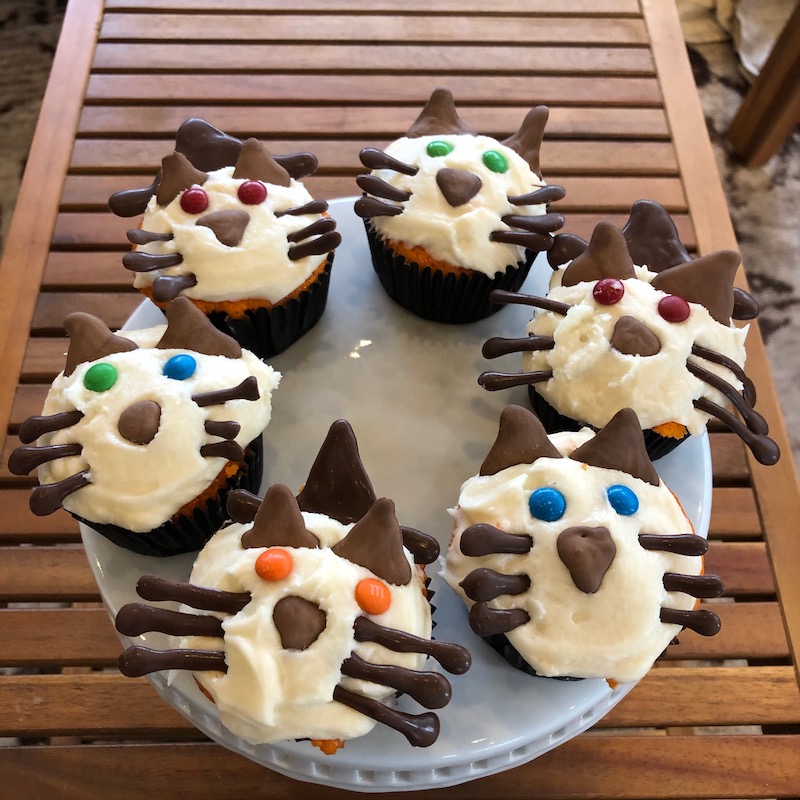 Can You Freeze Leftover Cupcakes
Go right ahead and freeze your cupcakes that you don't plan to eat. Just place in a proper freezer-friendly container and store for up to three months.
Then when you want a cupcake or two, remove and allow them to thaw at room temperature on the counter.
These cupcakes are a fun weekday treat to surprise your kids, to serve up at holiday parties, and activity to pass time on a rainy day. Have fun and create a cute cat cupcake that takes minimal effort to make.
Pin Easy Halloween Cupcakes to Pinterest