Em and I have visited Florida a couple times in the past few months. Each time we come back home a bit bummed out. We love being in Florida during the winter months.
Florida has sun, surf, no snow, and great citrus fruits that just happen to be in harvest during our visits.
Next winter I hope to stay for a month of longer to really enjoy all that Florida has to offer. Until then I'm working on recipes that remind me of Florida.
My first attempt, which turned out fabulous, is a chicken and grapefruit tacos recipe.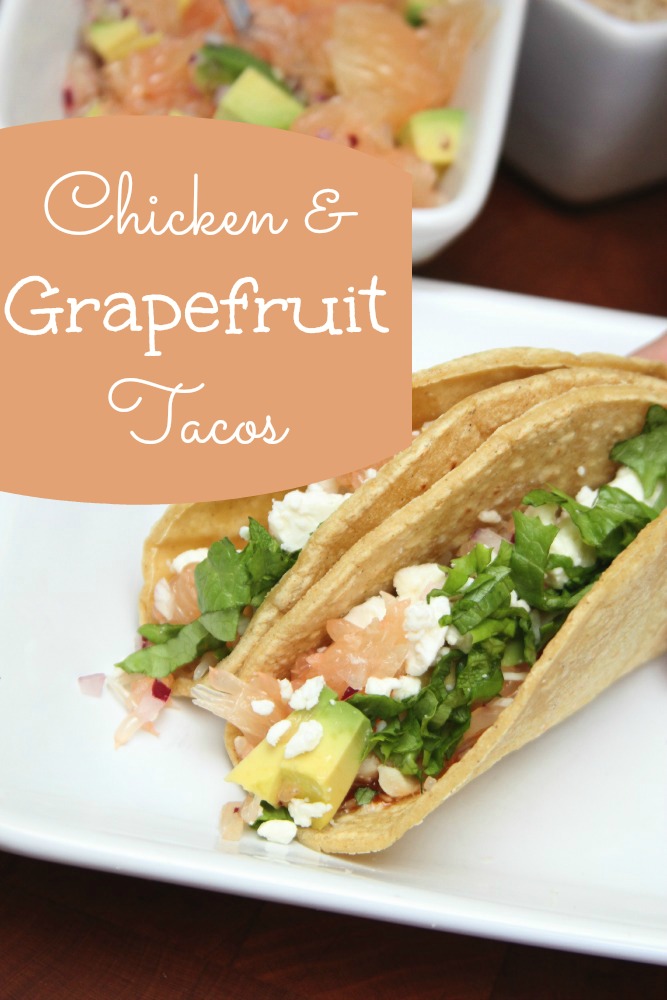 The tacos have a grapefruit bbq glaze on the bottom, topped with shredded chicken, then, my favorite part, the grapefruit and avocado salsa.
A sprinkle of feta and some finely chopped lettuce and I have a delicious taco that helps me forget the piles of snow outside my windows.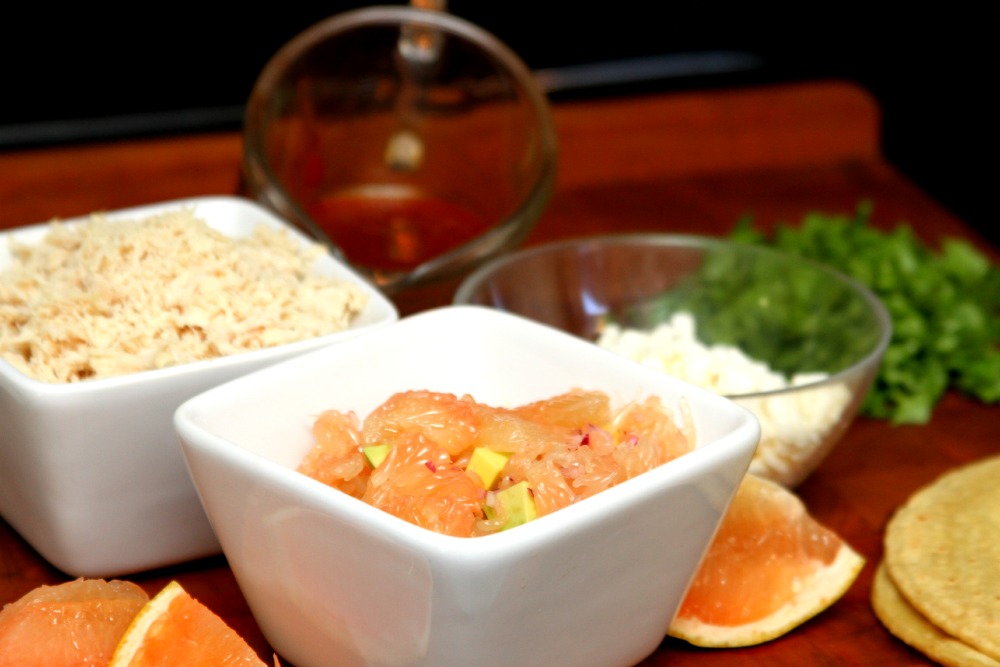 The bbq glaze was my son's idea. I guess it helps that he cooks full-time for a living. I'm going to have to start asking him for more suggestions.
I knew I was going to use the salsa on the taco, but I wanted to take the tacos up a notch. He suggested making the bbq glaze. Easy to do and was exactly what the tacos needed to be perfect!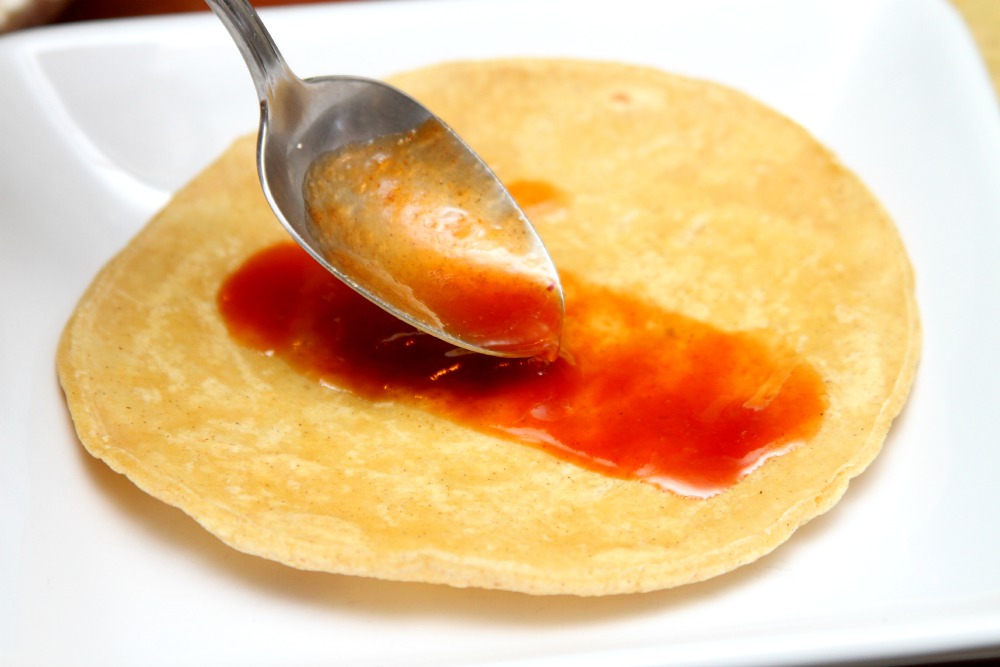 The salsa is really simple to make and only takes 3 ingredients: Florida grapefruit, avocado and red onion. I have found that Florida grapefruit is best from January-March. Which makes this a great month for this recipe.
Grapefruit is at its sweetest during my long, cold winter. It's like a gift from nature rewarding me for trying to endure the cold temps.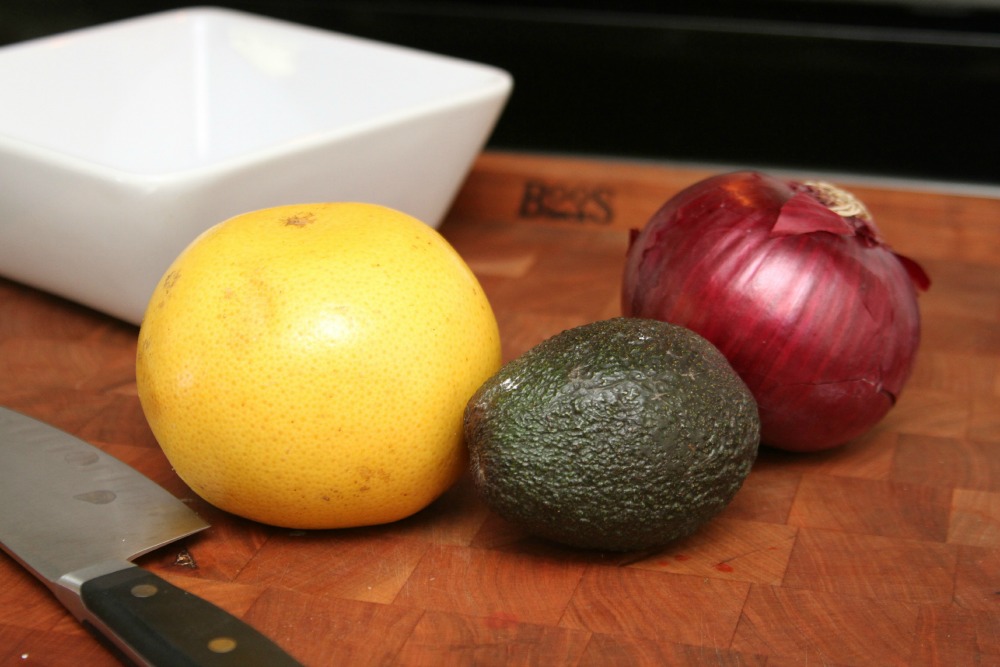 After a bit of research about why Florida grapefruit is so good and I found that it's due to Florida's unique soil and lush subtropical climate. This combination allows them to grow the sweetest and juiciest variety of grapefruit in the world.
Those same things can give the outside of the fruit a rough appearance, but don't let that stop you. It's what is on the inside that counts.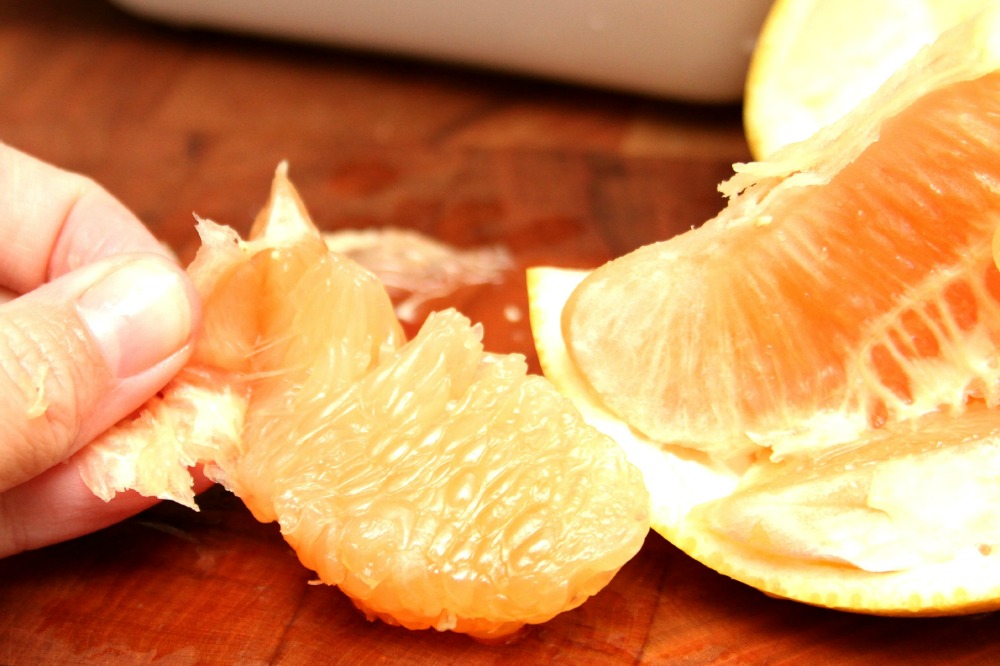 A really nice added benefit of these tacos are the vitamin C gained from eating grapefruit. With all the ick going around right now every little bit of vitamin C helps.
A half of Florida grapefruit contains at least 100 percent of the recommended daily amount of vitamin C. Enough said. Good for you and delicious. It's a winning combination!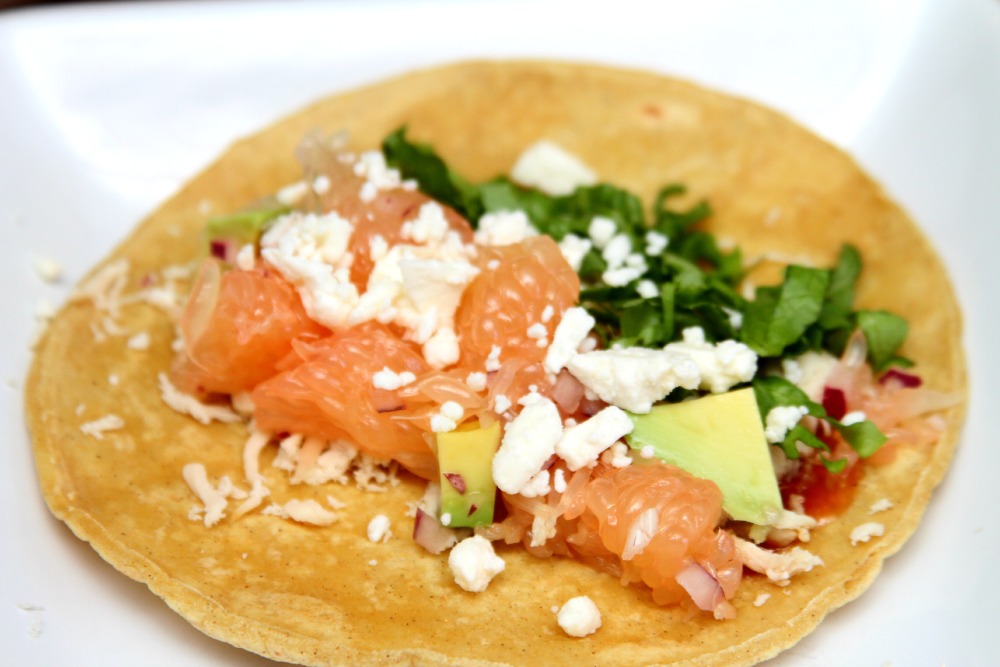 Mmmmmm….doesn't that look delicious?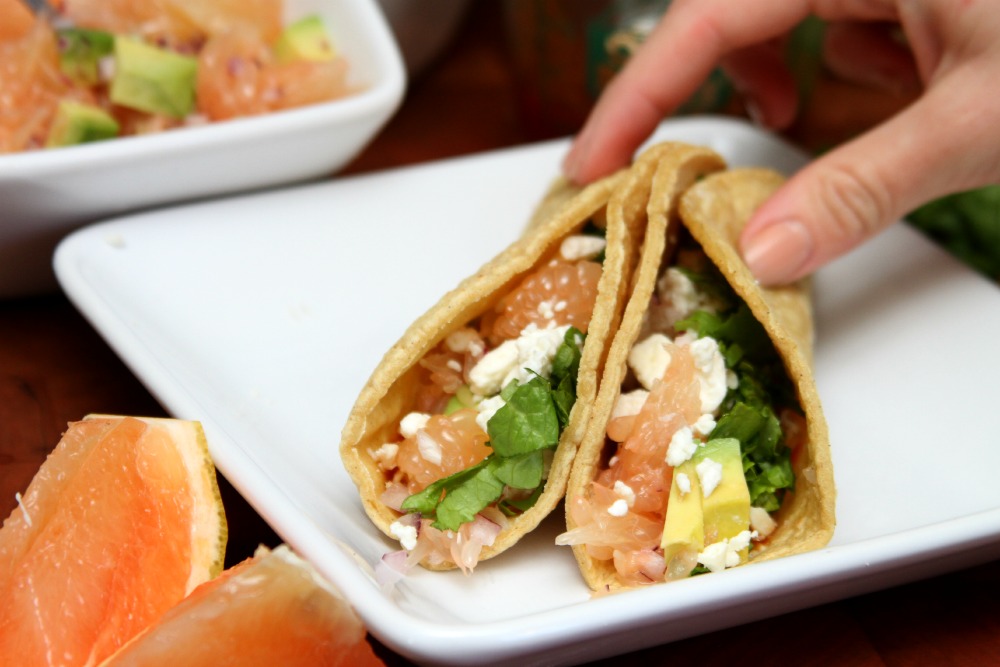 Chicken and Grapefruit Tacos Recipe
GRAPEFRUIT BBQ SAUCE
2 tablespoons + 2 teaspoons sugar
1 1/2 tablespoons water
1/8 teaspoon ground ginger
1/2 teaspoon garlic
2/3 cup freshly squeezed grapefruit juice
2 tablespoons + 2 teaspoons ketchup
1 teaspoon soy sauce
GRAPEFRUIT SALSA
1/2 large grapefruit, peeled, sections removed, chopped
1/2 avocado, chopped
2 tablespoons finely chopped red onion
salt
1/4 pound chicken, cooked & shredded
1 ounces feta
1/4 cup finely shredded lettuce
Tortilla shells
Combine sugar and water in a small pan over medium-low heat and cook, without mixing, until mixture begins to brown. (Be careful not to cook too long or else the mixture will harden).
Add ginger, garlic, grapefruit juice, ketchup and soy sauce. Mix well and simmer over low heat until mixture reduces and thickens.
While sauce is cooking, in a small bowl combine grapefruit, avocado and a pinch of salt. Set aside.
When the sauce is done assemble tacos with the tortilla shell on the bottom, a bit of sauce, then the shredded chicken.
Top chicken with grapefruit salsa, sprinkle with feta and lettuce.
Repeat and enjoy!
OTHER WAYS TO INCLUDE GRAPEFRUIT IN YOUR DIET
Peel and eat. That is the easiest way. They are sweet and delicious right out of natures wrapper.
Add the juice to your morning smoothie.
Include in fruit salad or tossed salad.
Use in place of pineapple on pizza.
Add to yogurt.
Pin Recipe To Pinterest: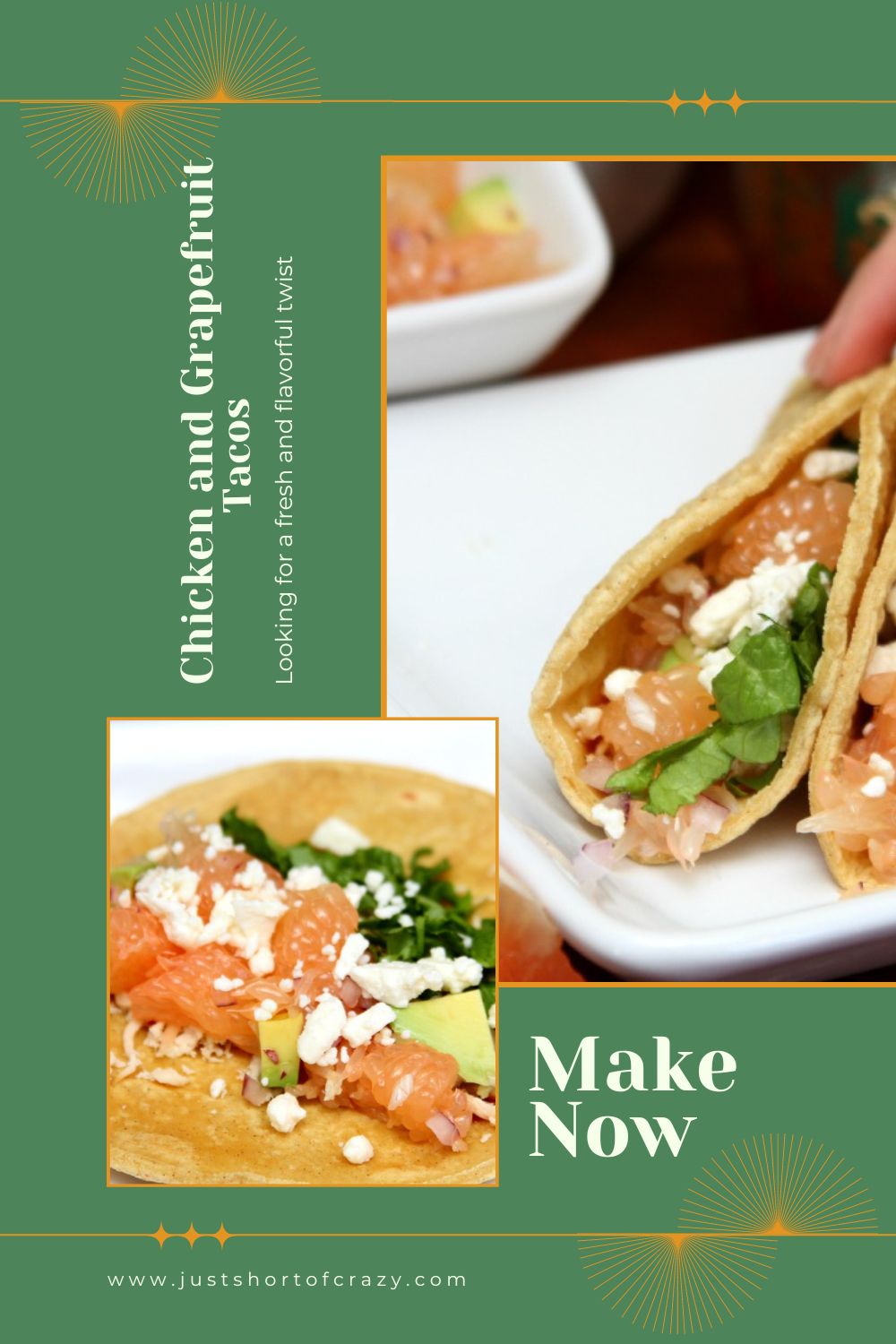 More taco recipes: