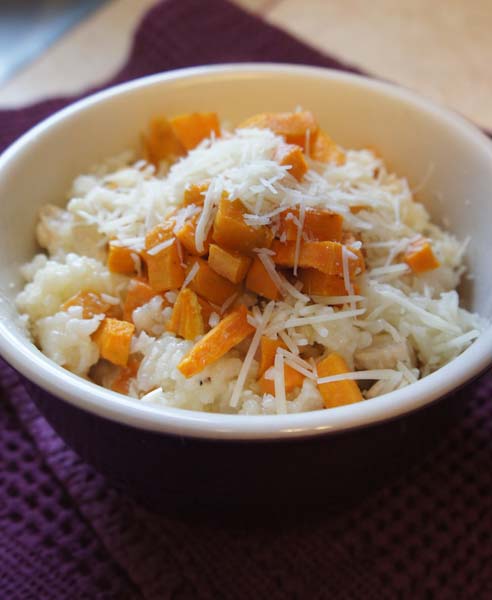 The other day I was reading some foodie blogs and came across a recipe for Baked Butternut Squash Risotto and thought…hmmm, baked risotto, now THAT might be the easy way to make risotto. Add some chicken and this could easily make a meal. After a bit of fiddling around I came up with Baked Sweet Potato & Chicken Risotto.
As much as I love risotto I hate standing over the stove stirring it constantly for a half hour or more. It's time-consuming and requires me to really pay attention to what is happening. Something I struggle with since there are usually numerous things going on at once in our house.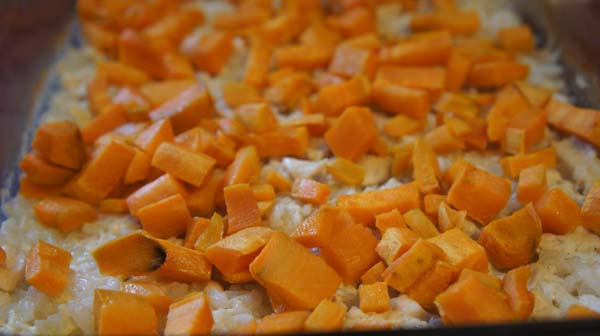 I took the baked squash risotto concept and made it fit the ingredients I happened to have in the house: sweet potatoes and chicken.
Everyone in the family loved this recipe and, needless to say, there were no leftover. Next time I'll make a double batch so that I have some for lunch the next day.
Baked Sweet Potato & Chicken Risotto Recipe
2 medium sweet potatoes, peeled & cubed
4 tablespoons olive oil, divided
salt and pepper
1/3 of a medium yellow onion, finely diced
3 cloves garlic, minced
1 boneless chicken breast, cubed
3/4 cups arborio rice
2 cups chicken broth
1/2 cup milk
fresh parmesan cheese
Heat over to 350 degrees.
Place sweet potatoes in a bowl and toss with 2 tablespoons of olive oil and salt and pepper. Spread potatoes on a greased baking sheet. Bake at 350 until tender, approximately 25 minutes.
While the potatoes are cooking heat 2 tablespoons of olive oil in a skillet. Add onion, garlic, and chicken. Cook until onion is tender and chicken is almost done. Add rice to pan and toast the rice for 2 to 3 minutes.
Pour mixture into a large casserole dish. Mix in chicken broth and milk. Cover and bake for 40 minutes.
Remove from oven and spread sweet potatoes on top. Return to oven and bake an additional 5 minutes without the cover.
Remove from oven and mix together. Top with fresh parmesan cheese.
Enjoy!