Woodstock, GA is the perfect place to stay that's close to Atlanta but with outdoor activities, great dining and plenty to do.
Just thirty-five minutes north of Atlanta on I-75/575, it offers a surprising array of sophisticated and entertaining amenities with a welcoming, small-town feel.
See how Woodstock, Georgia, has established its street creds as a getaway destination.
5 Reasons Why Woodstock, GA Is An Unexpected Must-See City
Basecamp to North Georgia
Easy to get to and easy to get around in, Woodstock is just 10 minutes from Lake Allatoona, 25 minutes to the spectacular Gibbs Gardens and less than an hour to the North Georgia mountains.
Hotel rates are more affordable, yet dining, concerts, theater and shopping are close at hand, along with outdoor activities you'd expect to find much farther from the city.
The historic downtown Woodstock shopping and dining district includes an award-winning mix of new and carefully preserved architecture and energy.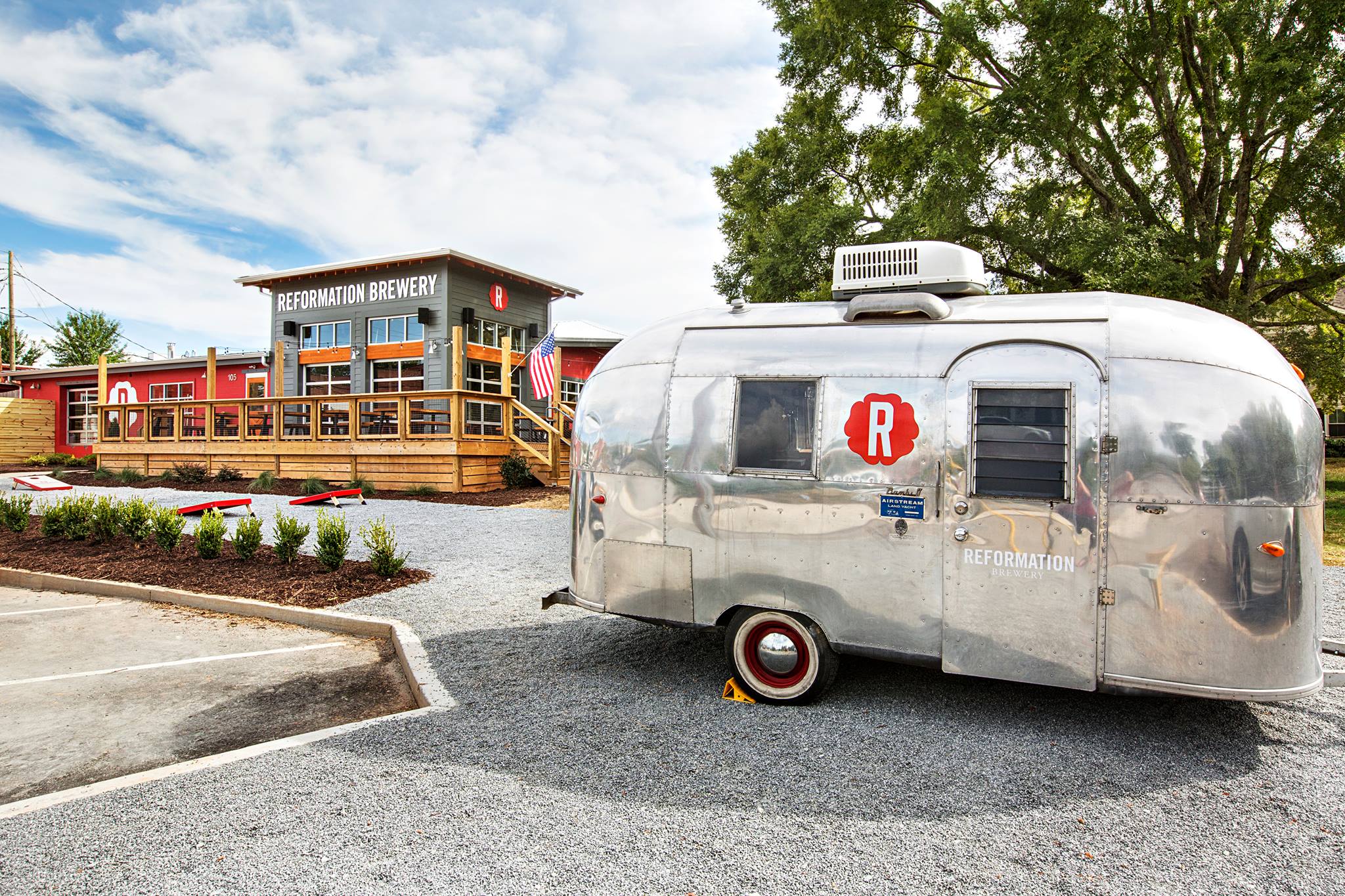 Contributing to the lively creativity of this walkable city center are three magnet destinations: Woodstock Arts, with its visual arts center and café, theater and event green; Reformation Brewery, with its deck and taproom; and MadLife Stage & Studios with state-of-the-art indoor and outdoor stages for bands and daily performances.
Downtown Woodstock is an open container entertainment district where patrons can sip, stroll around and savor the kitchen aromas and music in the air.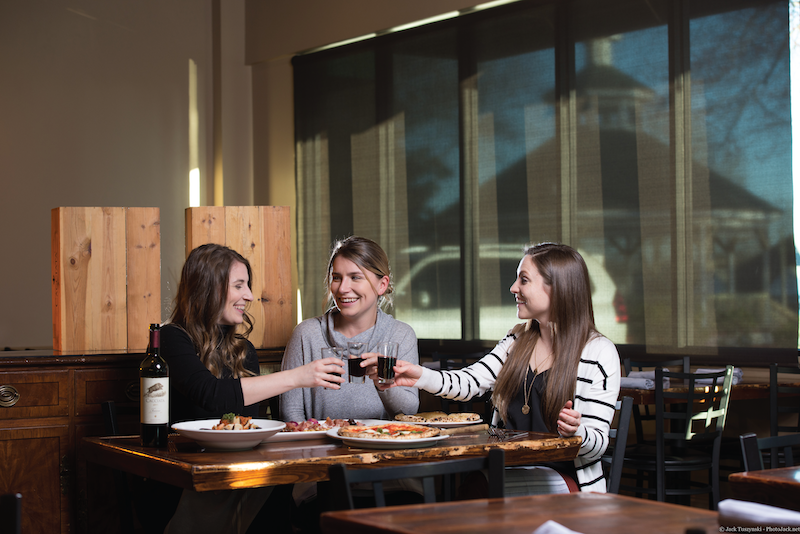 Surprising food scene
A James Beard award-winning chef, a Venezuelan restaurant. Jazz brunch. A wine and bourbon bar. A tequila bar.
Downtown Woodstock surprises visitors with 20 chef-driven restaurants spanning global flavors, spiced with craft breweries, creative food trucks and served with a live music scene.
Ambience options range from fine dining to farm-to-table to fast casual. Not far away are well-loved branded family restaurants and fast-food favorites.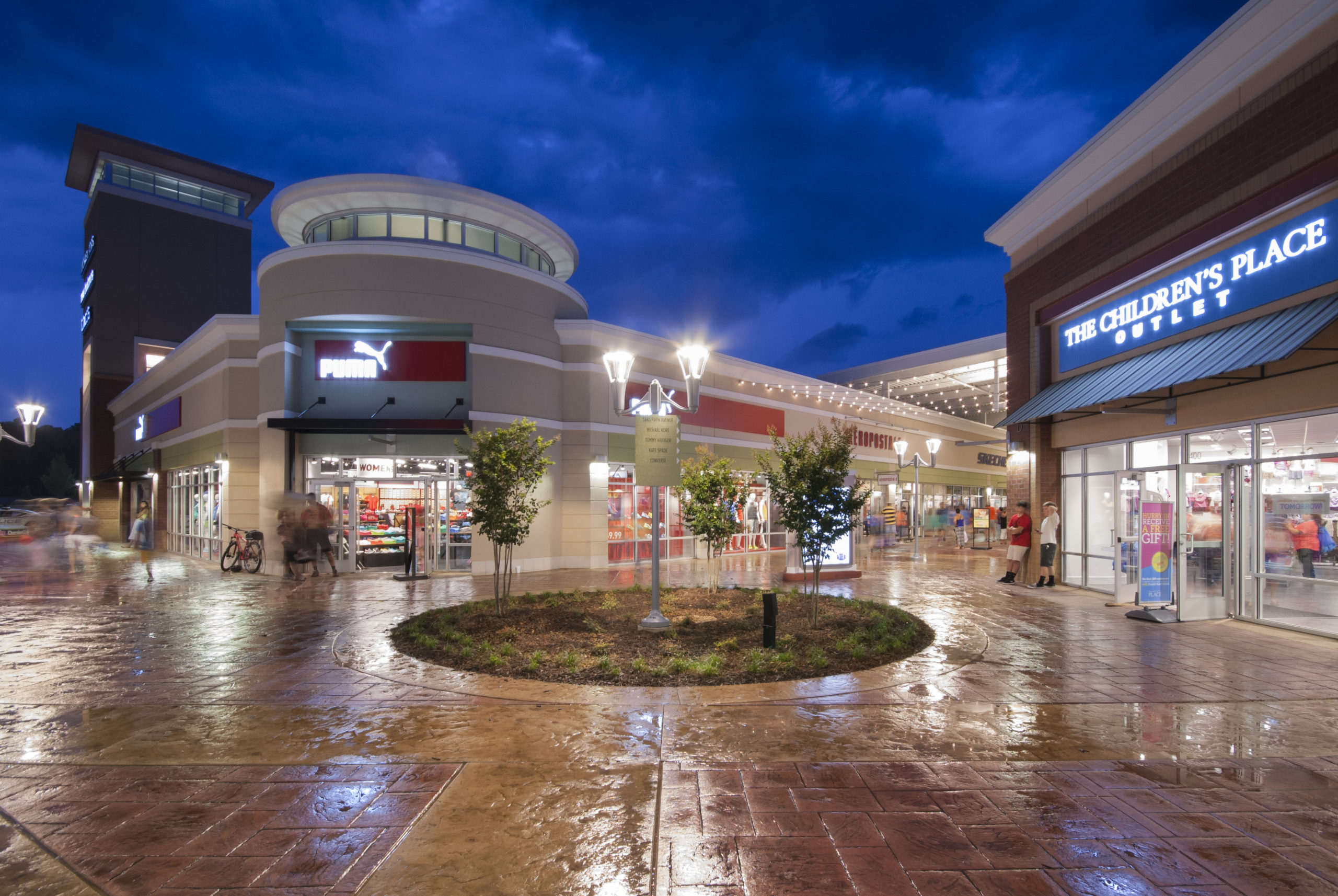 Unexpected shopping
Here one can find every shopping experience in a manageable radius. Within a five-minute drive are downtown's 35 independent retailers as well as 100 nationally known brand name outlet stores.
Downtown, discover antiques, two independent bookstores, Native American art, jewelry, home and garden decor, culinary essentials, clothing and accessories in every style.
Recharge at cafes or over craft beer, wine and cocktails, and relax at welcoming spas and salons.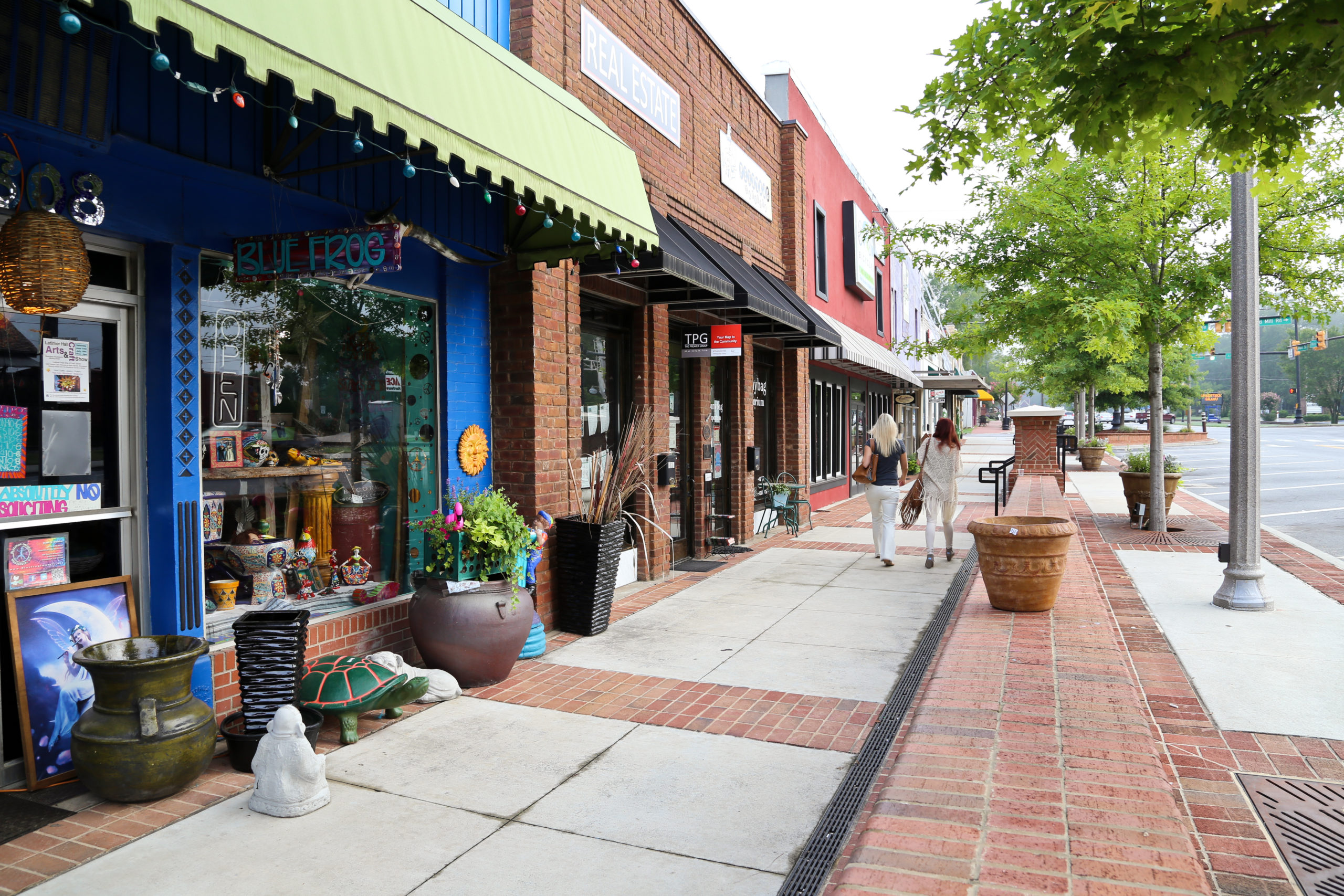 Visitors will see evidence of a thriving makers culture, thanks to Made Mercantile, an incubator with a creative collaboration space for artisans, crafters and small businesses.
Locals and visitors can visit the concept shop and attend classes on candle making, jewelry design, creating spa products and much more, often accompanied by snacks and adult beverages.
Woodstock offers Atlanta's closest and newest outlet shopping, The Outlet Shoppes at Atlanta, in a walkable, attractive landscaped outdoor environment.
Peruse such brands as Coach, Columbia Sportswear, Kate Spade, Michael Kors and Nike, among many others.
A food court and two full-service restaurants add to the convenience, while a sip, shop and stroll policy lets you enjoy a beverage.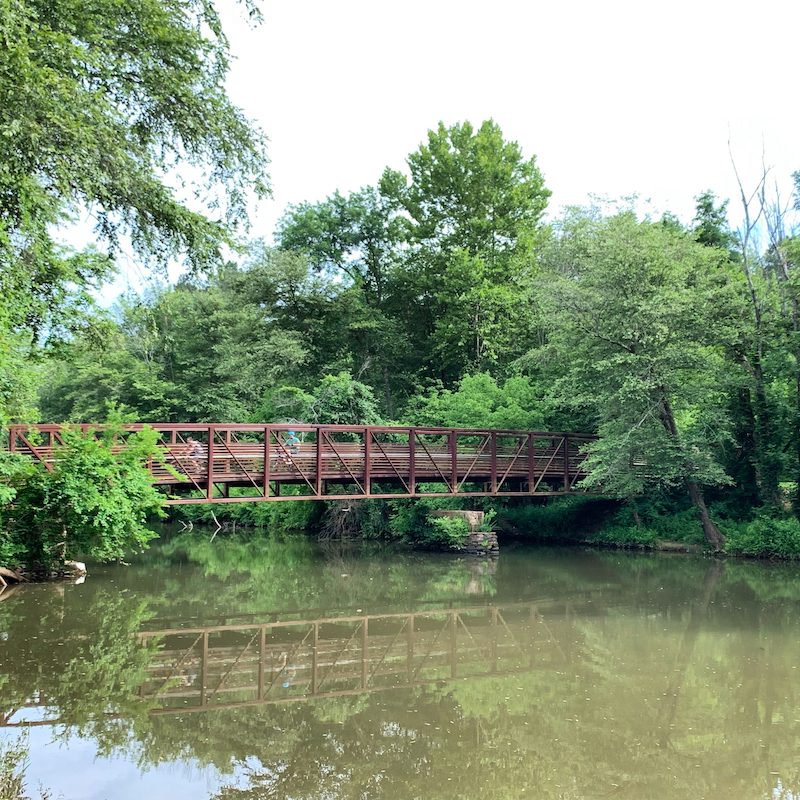 Unexpected outdoor fun
Who knew that an entire range of outdoor adventure could be found just 30 minutes north of the Atlanta perimeter? From golf to fly-fishing to mountain biking, every member of the group can find their bliss.
At Olde Rope Mill Park on the Little River, take the trails around the cotton mill ruins and have a picnic.
Take a lazy 30-minute paddle to the falls on Lake Allatoona or a three-hour trip to the Little River Marina and back via Murph's Surf shuttle.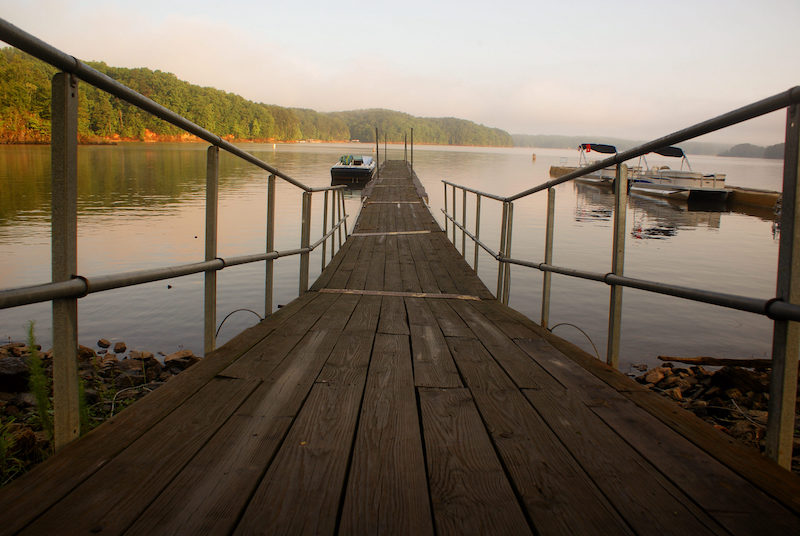 The three serious mountain bike trails at Olde Rope Mill Park are consistently rated in the top 10 trails in Georgia by Singletracks.com.
Nearby, more trails, frequently rated the best in Georgia, can be found south of Blankets Creek. Walk or rent bicycles and ride the 20 miles of Greenprints Trails, past shaded creeks and in and around Woodstock.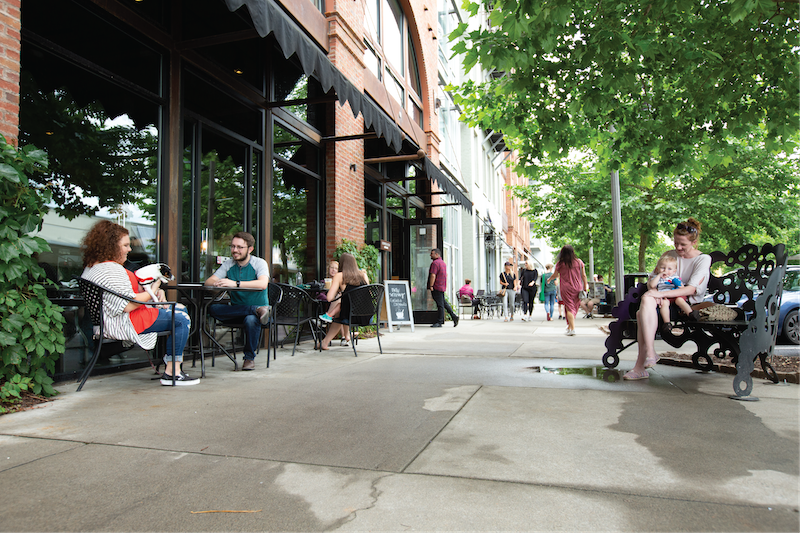 Something's always happening in this town
In addition to live music spilling into downtown streets from bars and restaurants, something's happening every season. A community-developed non-profit, Woodstock Arts, has received national attention for its concerts, performing arts productions, visual arts and more.
The Northside Hospital-Cherokee Amphitheater brings in nationally known performers along with the Woodstock Summer Concert Series.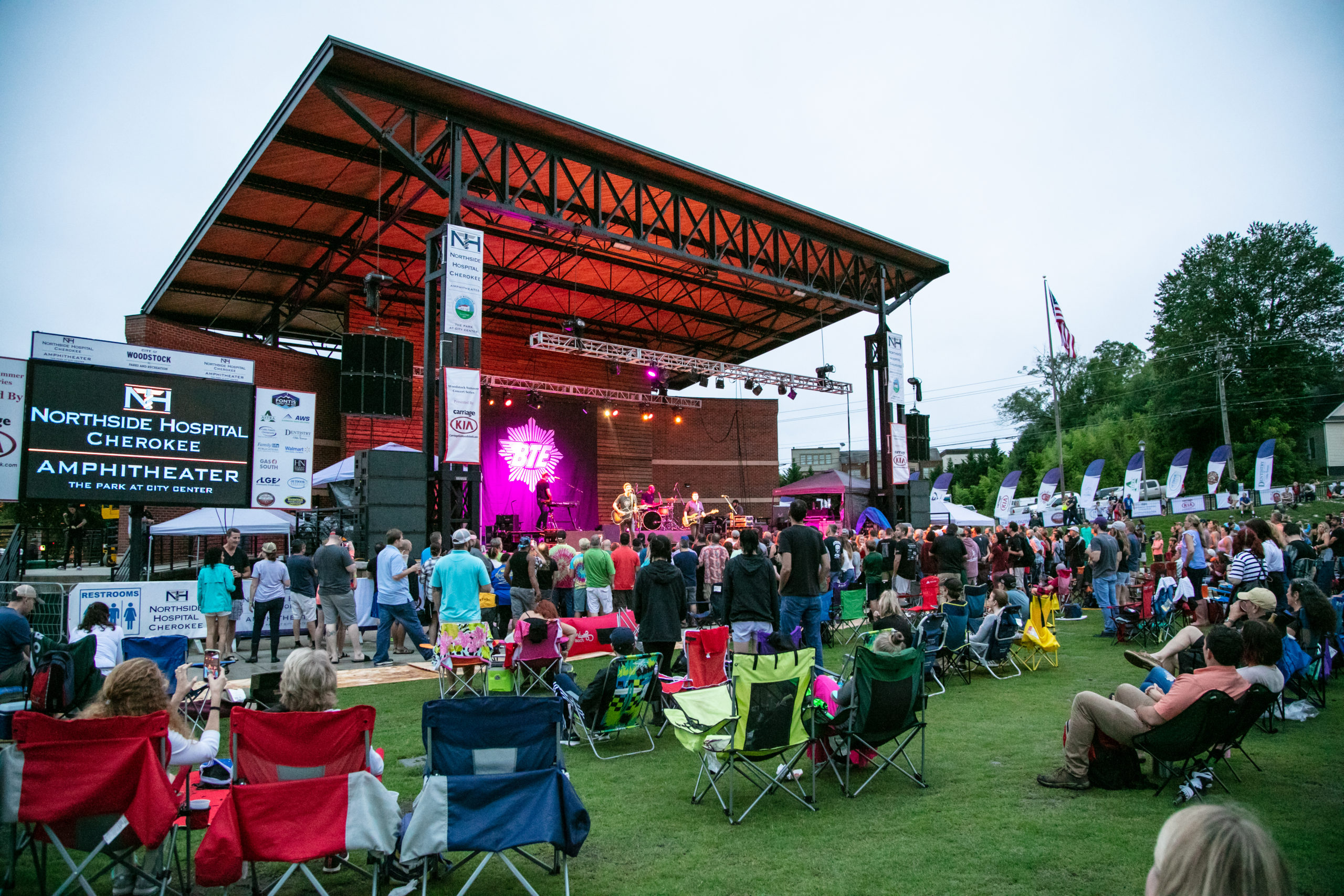 Year-round events, like five-season Pub Crawls, WDSTKtoberfest (September 24-October 2), with Bavarian food, beverage specials and prize drawings, Scarecrow Invasion and the annual lighted Christmas Parade mean it's always a fun time to visit Woodstock.
Pin 5 Reasons To Visit Woodstock, GA