Situated a short two miles from downtown Helen, perched atop a mountaintop, you'll discover an awe-inspiring Renaissance Castle – the Uhuburg Castle.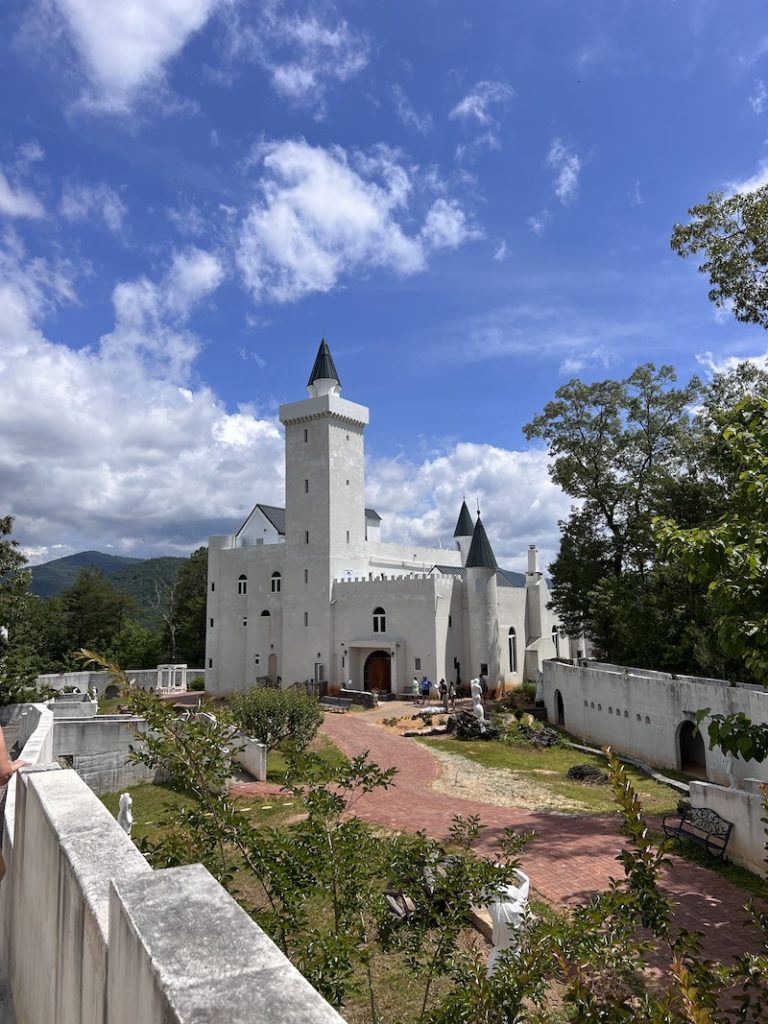 No, you didn't step through a worm hole and end up in England. Your feet are still firmly planted on American soil thanks to the vision and creativity of owner, architect, and builder Bob Marthai.
It's kind of refreshing to be able to explore a castle without having to break out the passport.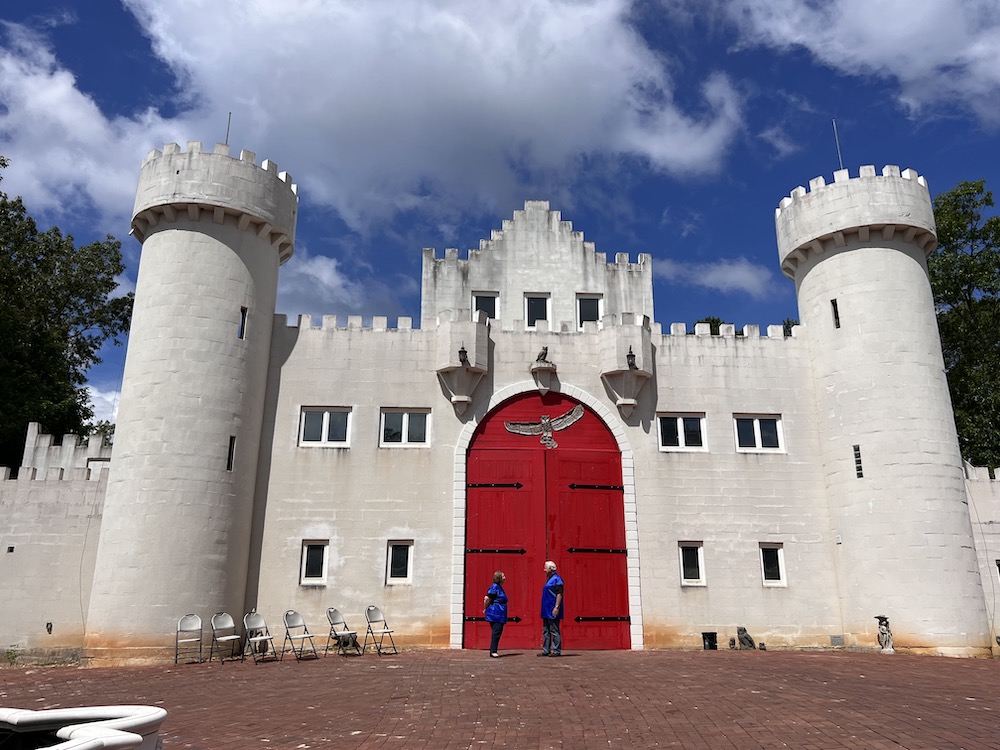 WHAT IS UHUBURG CASTLE?
Architecture, lifestyle, and philosophy come together in an engaging and creative way at Uhuburg.
From the castle gates and walls to the castellation at the top of the towers, to the beautifully landscaped gardens, grounds, and walking trails.
It took more than 14 years to build and the Uhuburg,* the Eagle Owl Castle, is now open for weekend tours on Saturdays and Sundays from 10 a.m.-3 p.m.
*Uhuburg is pronounced much like the call of an owl: Ooo-Hoo-burg and is German for Eagle Owl Castle.
WHAT TO SEE AT UHUBURG CASTLE?
During your self-guided tour, you can explore most of the castle's incredible features which include:
Twelve towers
One turret
Three gatehouses
Eight-story lookout tower
Great Hall
Cloistered walls with rampart and lower walkways
Ten guest chambers
Two apartments
Master chamber
Tropical atrium
Grotto
Murals
Statues
Two acres of courtyard gardens
For a sweeping view of the surrounding mountain terrain, climb the Lookout Tower's eight flights of stairs to the top, where the highest peak in Georgia can be spotted as well as the occasional hawk.
WHAT IS THE SIGNIFICANCE OF THE MURALS?
Don't skip on walking along the open air, lower level of the rampart walls to view a series of larger-than-life murals by local artists.
The murals depict how humankind has tried to understand life throughout the ages. The murals summarize key ideologies, stories, and applications of various philosophies and religions.
Eventually there will be twenty to thirty murals that continue the theme. Future murals may include artist renditions of ​French Polynesian theologies, Christianity, Buddhism and Hinduism.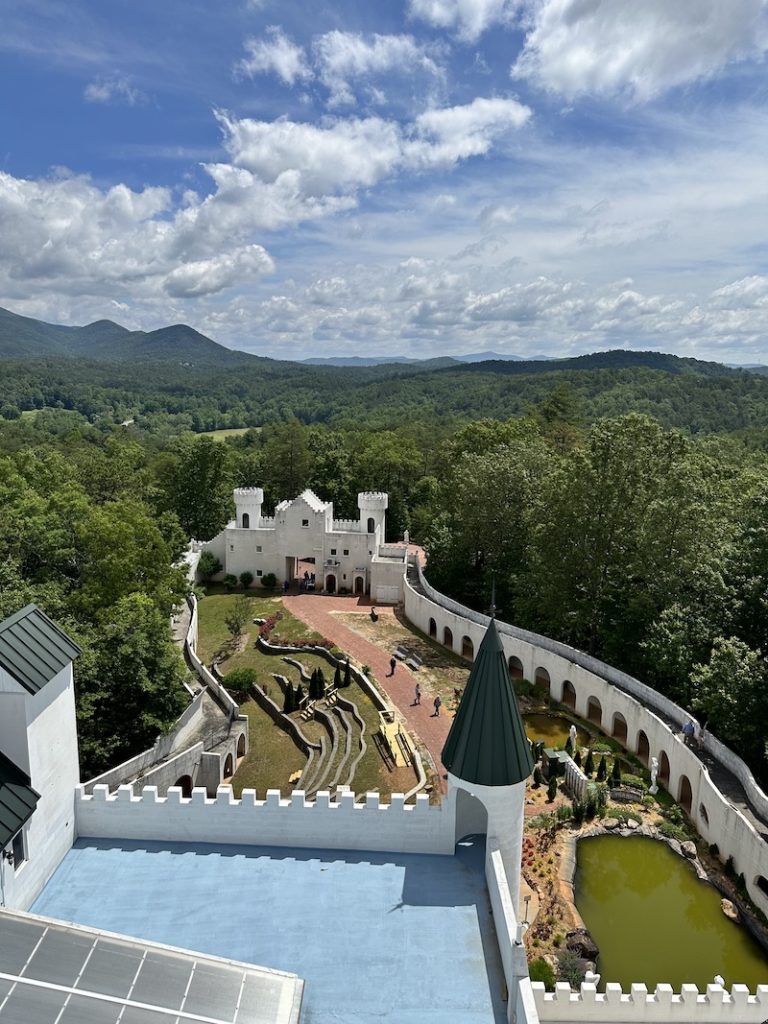 HOW TO VISIT UHUBURG CASTLE?
General admission lets you explore at your own pace. You'll be given a map with a suggested route and to enjoy the grounds.
Docents are also available to answer questions and share information.
General admission tours at the castle, 571 Ridge Road, can be reserved online at www.Uhuburg.com; walk-ups are also accepted.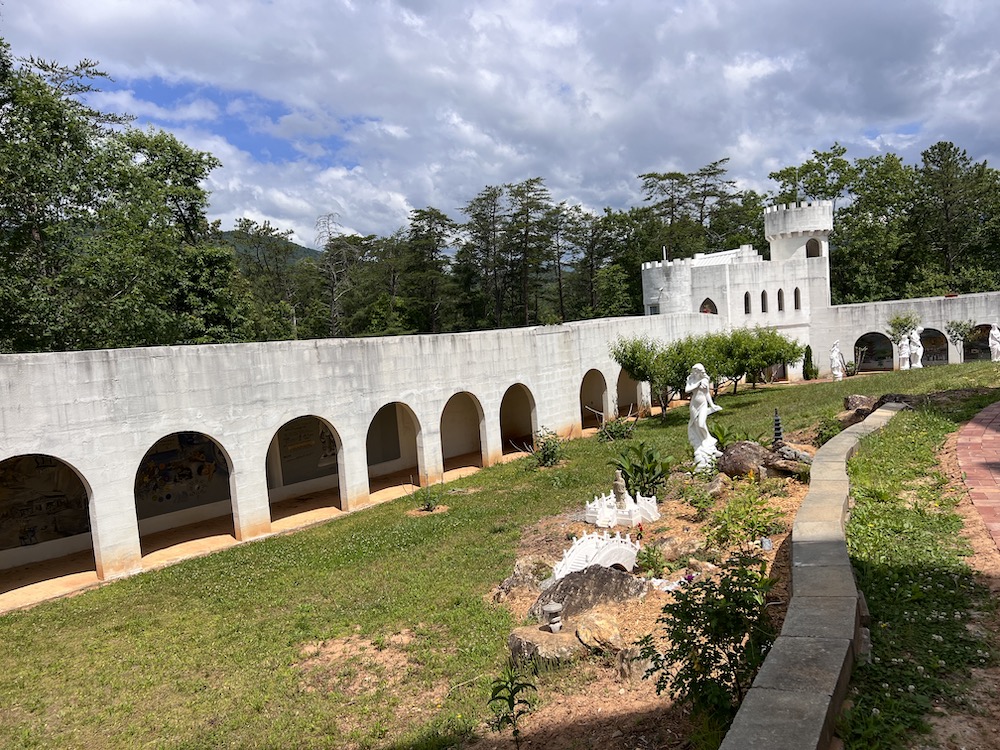 ARE THERE GUIDED TOURS AT THE CASTLE?
Highlights of Uhuburg
Learn about our favorite features and hear some stories with Bob or Naomi. Focused on murals, architectural features, and the gardens. This is a great opportunity to ask questions as well as learn.
Departs from the Red Gates at 10:30, 11:30, 12:30, and 1:30 (2:15 as well if requested).
45 minutes in duration.
​Great Hall & Indoor Tropical Atrium
Experience Uhuburg's indoor celebration spaces with a docent and hear about highlights of the Great Hall and Tropical Atrium.
Departs twice an hour from the back of the Great Hall on the quarter hours (10:15, 10:45, 11:15, 11:45,12:15, etc.).
10-15 minutes in duration.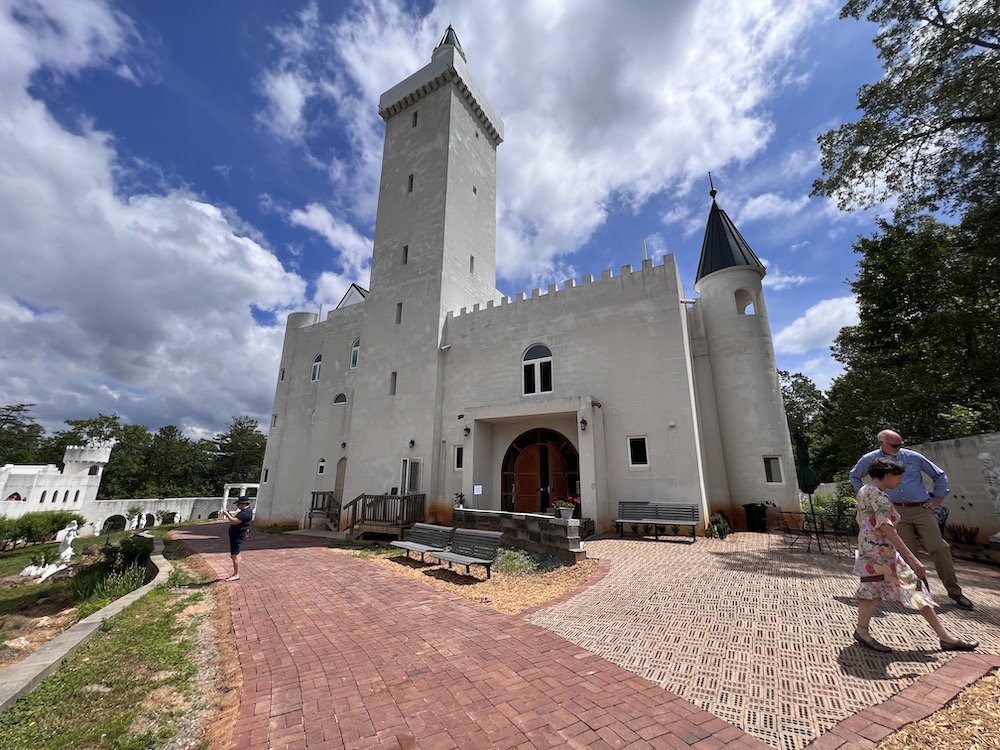 WHY IS THERE A CASTLE IN HELEN?
Owner, architect, and builder Bob Marthai dreamed of a castle in the mountains of North Georgia to share what he has found to be important for the good life.
Bob is a former psychologist, naval architect, and retired tall ship captain. He is supported by his wife Janine, a bookkeeper and avid gardener. Daughter Naomi, a former eighth-grade teacher, is event manager, muralist, web designer, gardener and assistant administrator.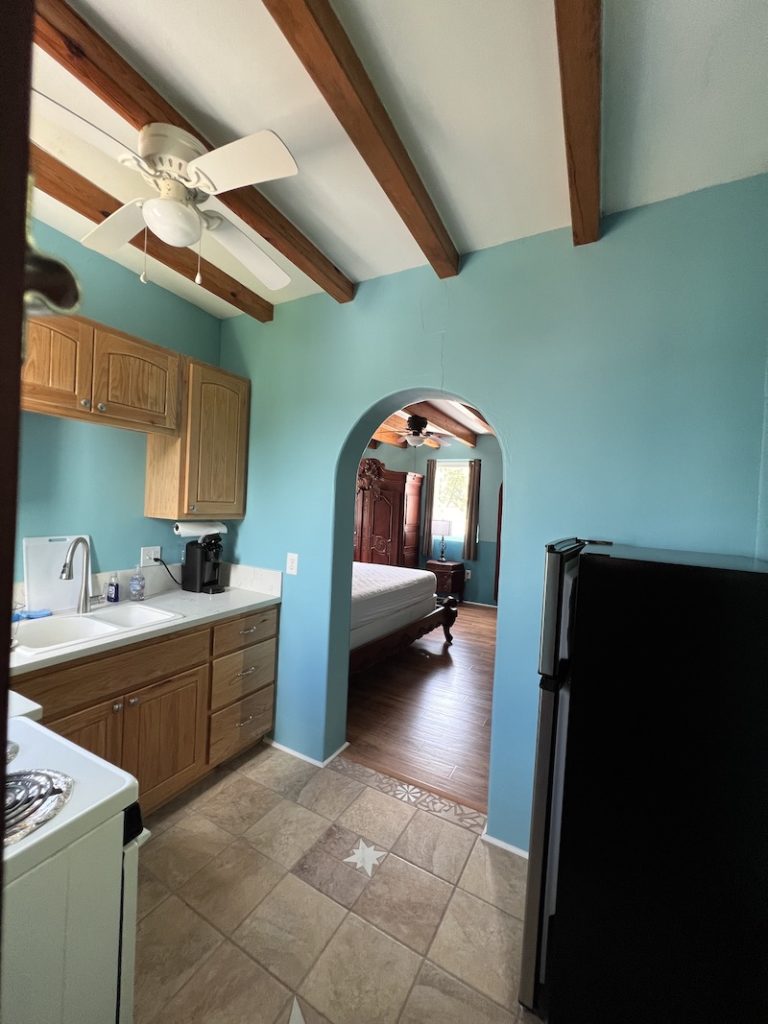 CAN I STAY OVERNIGHT AT THE CASTLE?
Overnight guest rooms will be available soon; check the website for updates.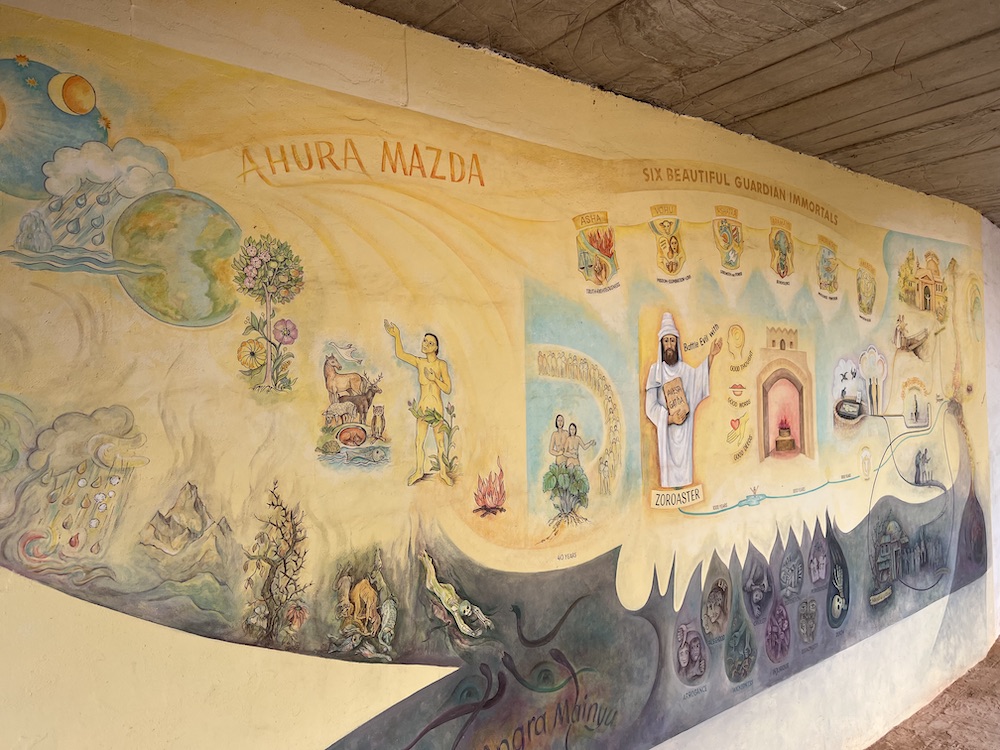 HOW TO GET TO UHUBURG CASTLE?
From Downtown Helen
Head west on N Main St/Unicoi Turnpike.
Drive past Betty's Country Store and take the next Left onto Hambly Street.
Cross the river and take the first right onto Escowee Drive.
After 0.6 miles, take the uphill left fork onto Ridge Road.
After about a half mile, look for the green metal gates on the left.
MORE TO DO IN HELEN
Find fun things to do in Helen, GA and Unique Georgia Attractions You Can Only Experience Around Helen
Pin To Pinterest