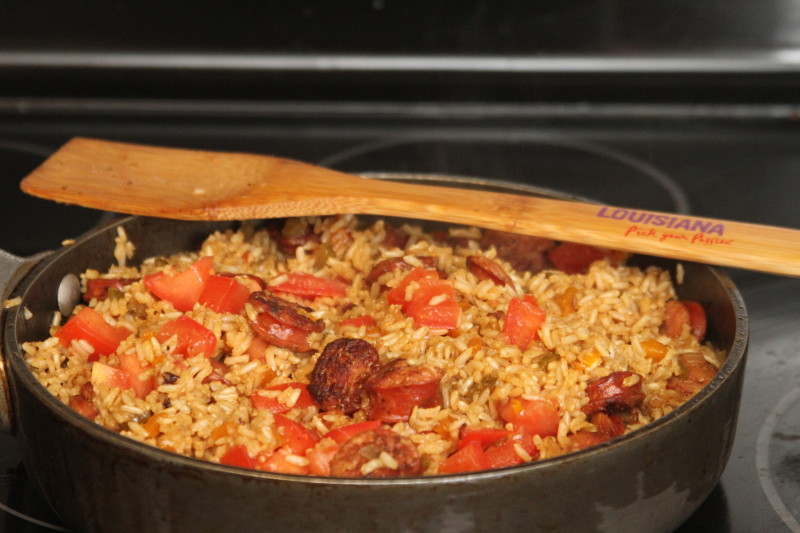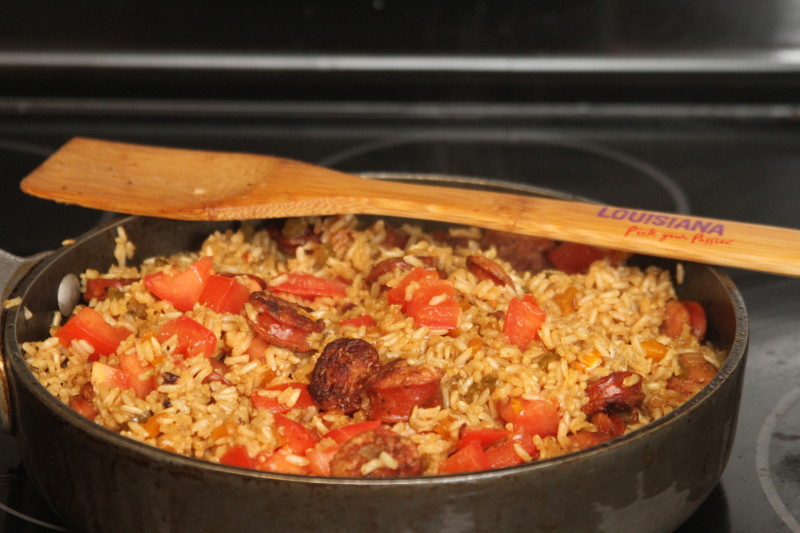 I participated in a Influencer Activation for Guy Fieri Sausage. I received product samples to facilitate my review as well as a promotional item to thank me for my participation.
After years of dreaming of visiting Louisiana I finally made it a reality in August of 2014. I spent 10 days touring the state and falling in love with their food, culture, wildlife and their ability to embrace life and have fun! Shortly after that trip I was invited back to experience Mardi Gras and then again to attend a travel conference. I couldn't believe it, years of dreaming about Louisiana and I had the privilege of visiting 3 times in 8 months. It's been so much fun. Of course, I find the best way to stay connected to an area is through food and one Louisiana dish that I really enjoy is jambalaya. Of course, as with most Louisiana cooking, it is usually much too spicy for me (I'm a spice wimp) so I've created my own Sausage Jambalaya recipe using Guy Fieri (my favorite Food Network host) sausage and less spice, but still brings back great memories every time I serve it.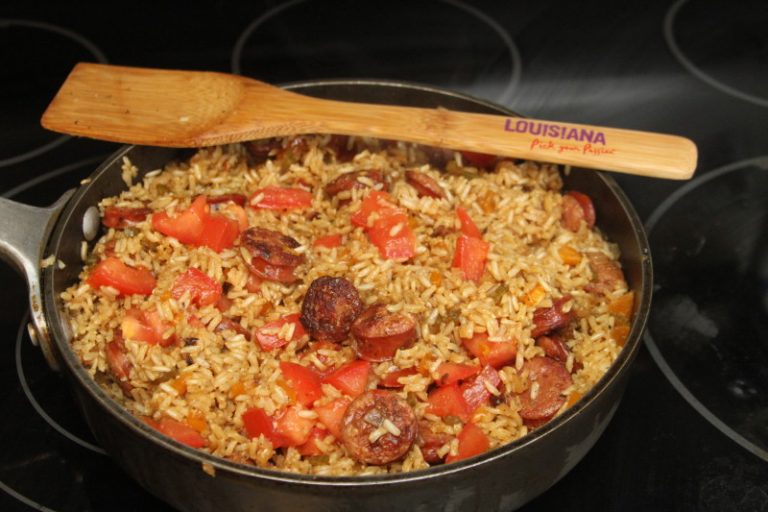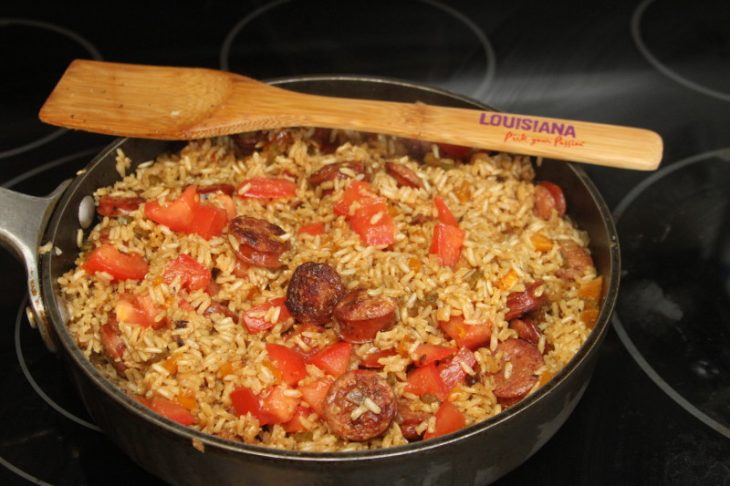 This recipe will easily feed 6 people and I find its best to serve it right out of the skillet. Food is good, yet simple, in Louisiana and fancy chaffing and serving dishes take a back seat. There it's about enjoy the food and the friendship and less about what it's served in. Not to say you can't find fancy, I just prefer that laid back and easy going side of enjoying Louisiana foods.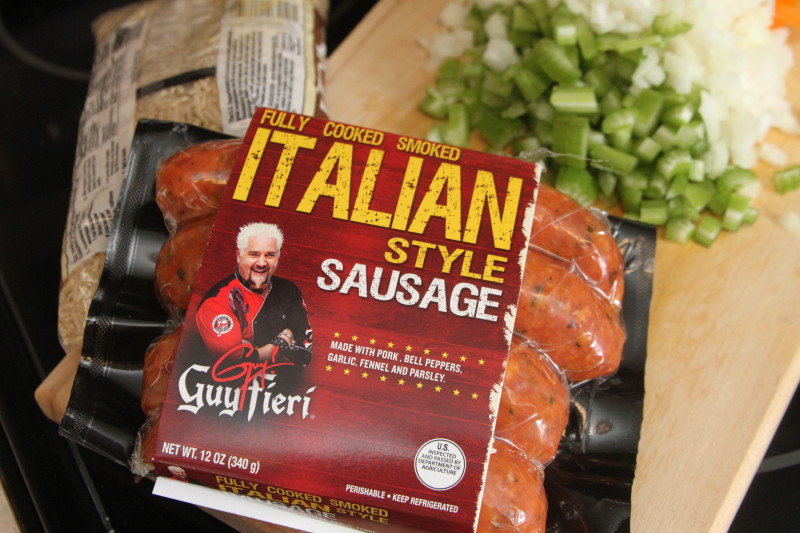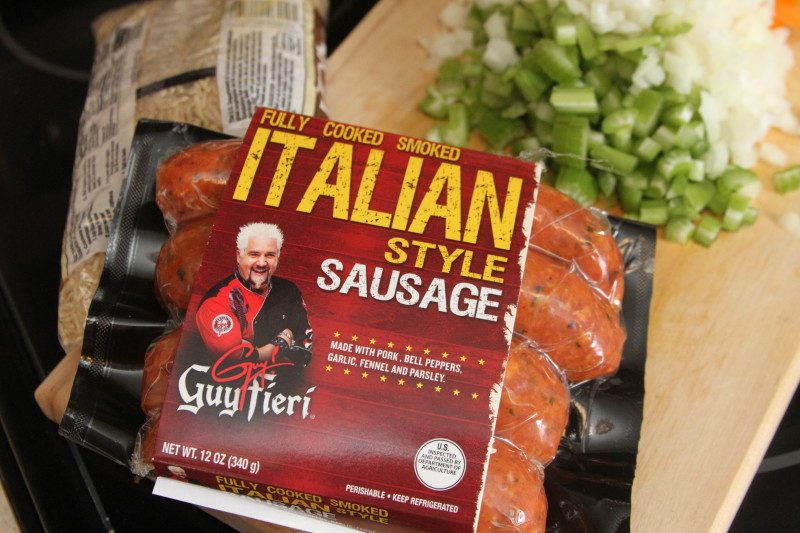 Guy Fieri recently launched these sausages and I knew I would have to try them. I love his sense of humor and his love for food. I figure if anyone can come up with a great sausage recipe it's going to be Guy. Sausages are available in chicken and pork varieties and are naturally smoked with hickory and use fresh ingredients (did you expect any less?). Each package has 4 links in them that weigh in at 3 ounces each. I used one package of sausage for my jambalaya recipe.
Of course, you can throw these on the grill for a quick and easy meal. I plan on taking some camping and cooking over a campfire. I have a package of the Mozzarella and Parmesan Cheese Pork Sausages in the fridge that I can't wait to try on the grill. Sausage, cheese, Italian spices….yep, that will work for me. I also want to grab a package of the Fajita Seasoned Chicken Sausages which have roasted red and green bell peppers, roasted garlic and sauteed onions. Is your mouth watering yet?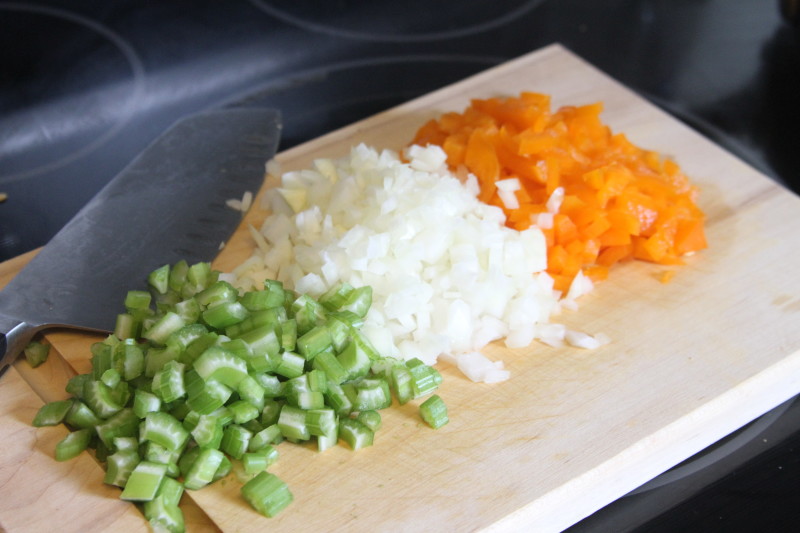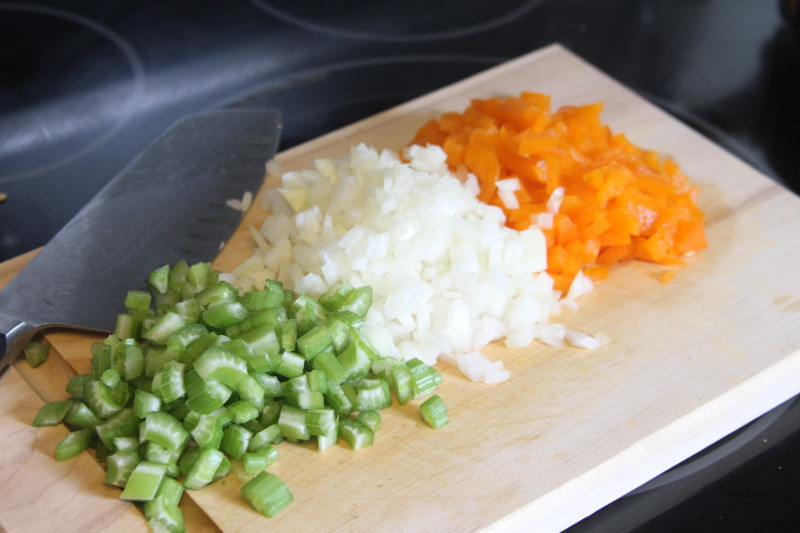 Ok, enough about that. Let me share this tasty, yet not super spicy, Jambalaya recipe. Of course, if you are cooking Louisiana style you better include the holy trinity in your cooking so that is where I began. I diced up an onion, orange pepper (yes, it's suppose to be green pepper, but I only had orange in the house) and a couple stalks of celery.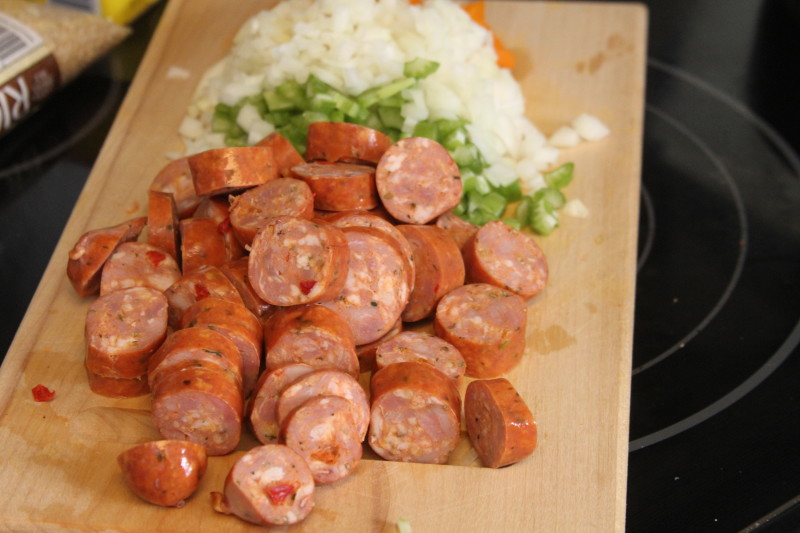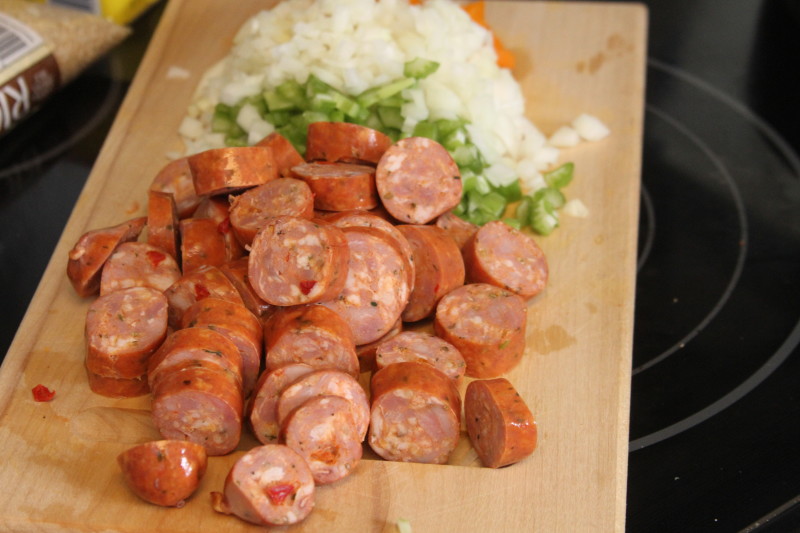 I cut the Guy Fieri sausage into chunks and browned them up in my pan, added the holy trinity, rice, chicken broth & spices and let it cook until the rice absorbed all the broth. The Guy Fieri sausage has a little kick to it so this dish is not without spicy flavor, it's just taken down a notch. This will be our new go-to sausages. I loved the flavor, especially in this recipe.  Served hot it is my idea of the perfect jambalaya.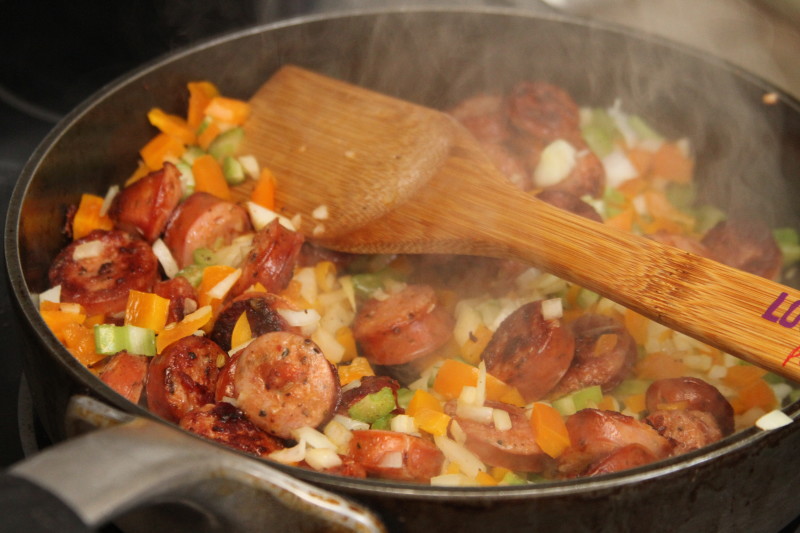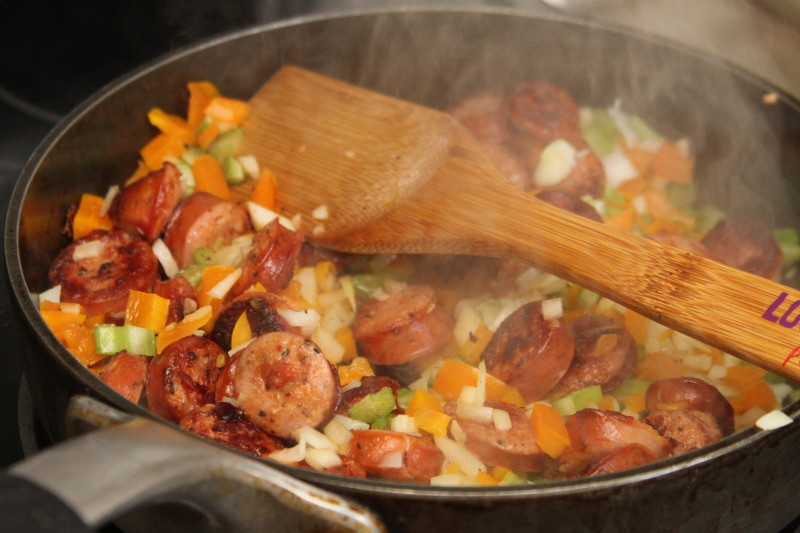 Scratch and sniff option coming soon (ha…don't we wish….)
I don't use a lot of spice in this recipe. The Guy Fieri sausage has great flavor so a bit of Old Bay seasoning, salt and pepper and this dish is perfect!
Sausage Jambalaya Recipe
1 tablespoon olive oil
1 package Guy Fiere Italian Style Sausage, chopped
2 peppers, diced
1 medium onion, diced
4 celery stalks, diced
2 cups rice
4 cups chicken broth
1 tablespoon of Old Bay Seasoning
1 medium tomato, chopped
Salt and pepper to taste
In a large skillet heat the olive oil over medium-high heat. Add the sausage and cook until it starts to brown. Add the pepper, onion and celery. Cook until the onion is translucent and the celery and pepper have softened.
Add the rice, chicken broth and Old Bay seasoning. Continue cooking over medium heat until broth is absorbed and rice is tender, approximately 35 minutes if using brown rice. Stir occasionally to keep rice from sticking to pan.
One rice is done add tomato and cook for another 5-10 minutes. Salt and pepper to taste. Serve immediately.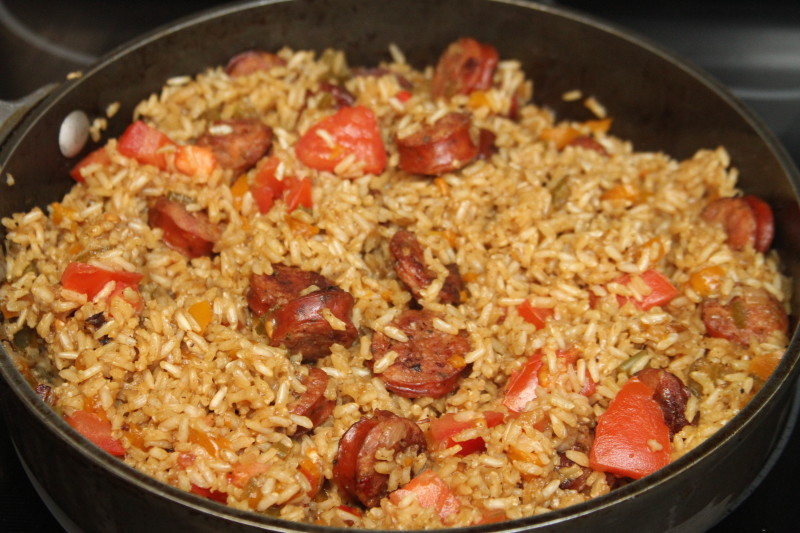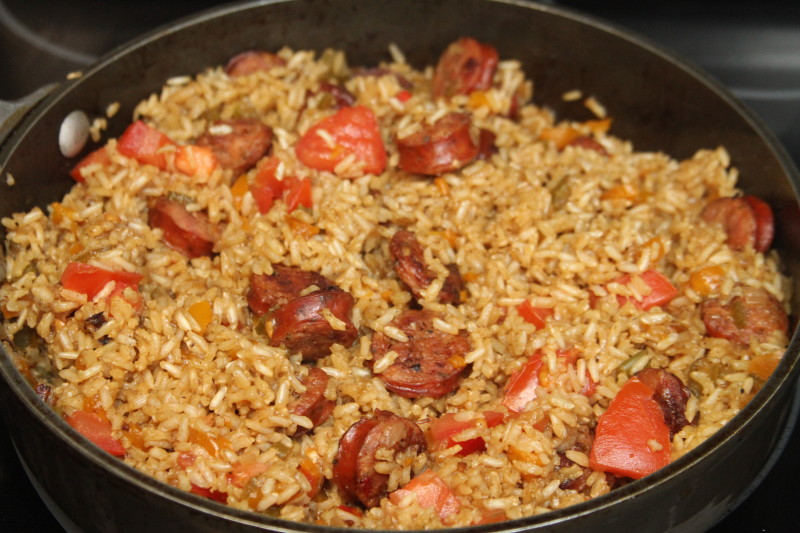 Guy Fieri Sausages are available at Walmart. Be sure to follow Guy's adventures on Facebook and twitter: