The Best Sandals Resort destination is truly anyone you choose.  When you decide to go to an all-inclusive resort destination, Sandals brings you the best there is to find.
I'm sharing tips for what first-time visitors need to know before going to one of the best Sandals resorts for your next all-inclusive vacation, Sandals Ochi Resort in Jamaica.
Planning for my first trip to Sandals Resort had me a bit tied up in knots.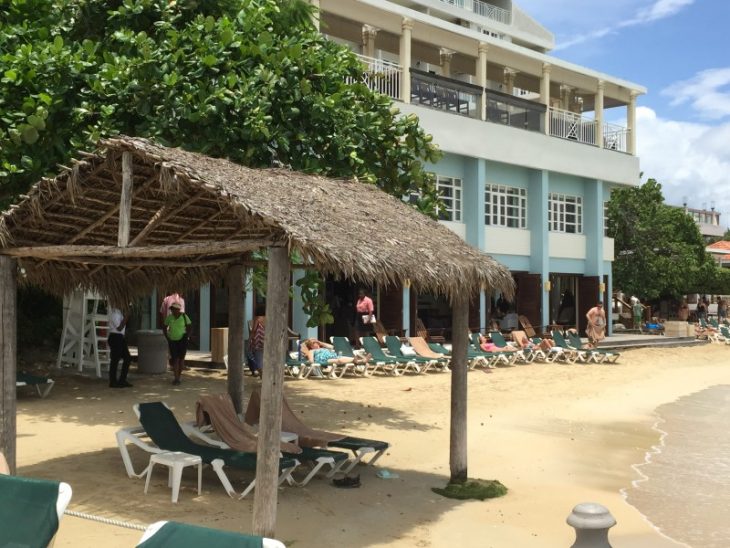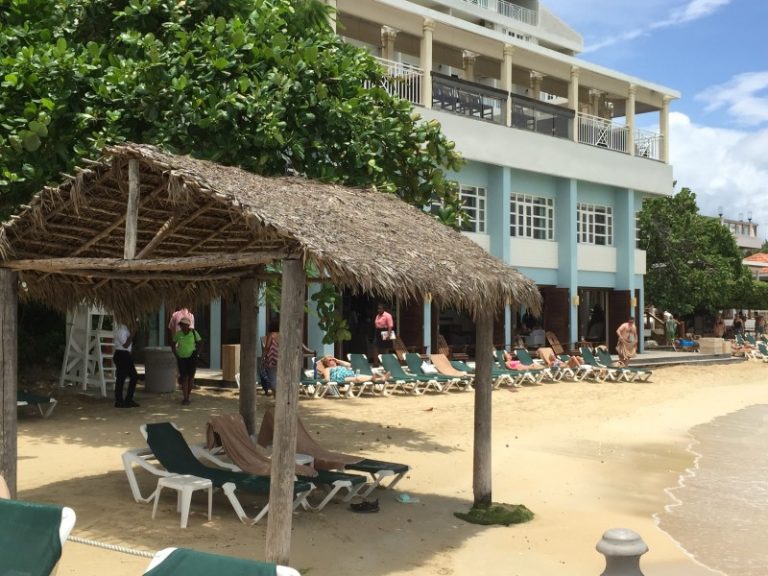 The Best Sandals Resort
I had never visited an all-inclusive resort before and I had absolutely no idea what to expect, what to pack, or what, if anything, I had to plan.
In the end, it turns out I worried over little things for absolutely no reason.
To make your first visit to Sandals OCHI resort in Jamaica stress-free, I'm sharing some tips and tricks to help you have a fantastic getaway.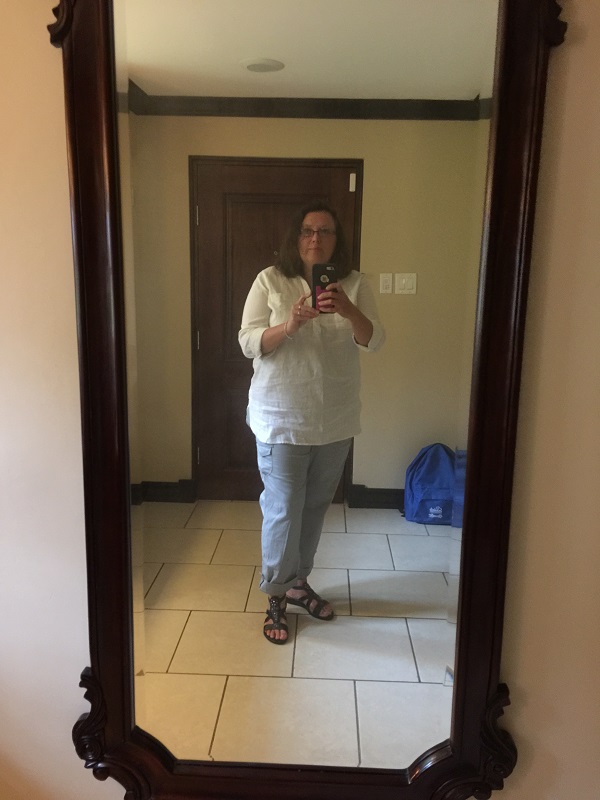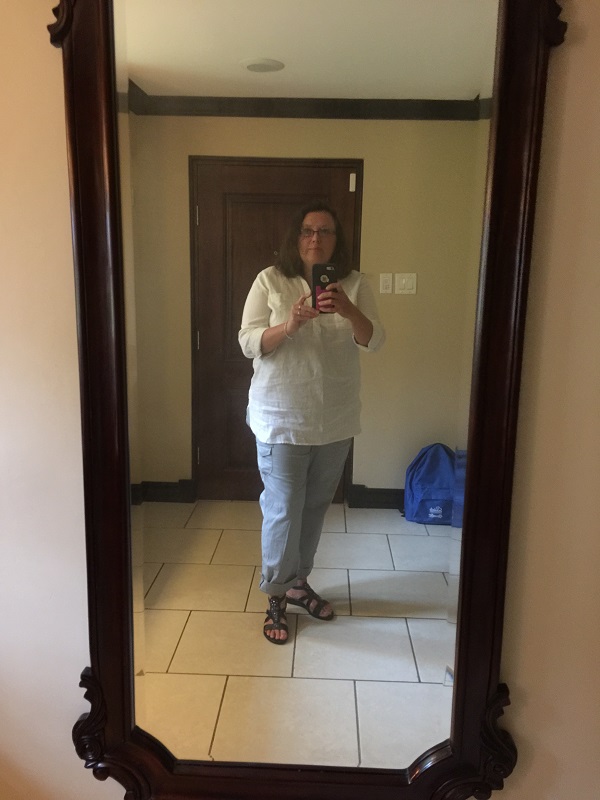 Loving the resort and the casual, laid back atmosphere!
What to Pack for an All Inclusive Sta at the Best Sandals Resort
This was a tough one for me. I live in northern Michigan where summers are short, which means I don't really have a summer wardrobe.
Two pairs of capris and a couple of short-sleeved shirts are enough for our summer, but I figured I might need a little more variety for four nights, five days in Jamaica.
Packing for both Alan and I required a little shopping. Alan owned absolutely nothing that was island worthy.
A quick trip to a couple of stores took care of the problem and we now have island worthy clothes for all future adventures.
My packing list: 
2 pair capris (1-navy, 1-white)
1 pair palazzo pants (fancy, for dress up dinners)
1 pair of lightweight pants
1 summer weight sweater (I love this simple cardigan style)
2 t-shirts
3 casual tops
2 tank tops
1 swimsuit
1 cover up
undergarments/pajamas
4 pairs of shoes (sandals, 2-flip-flops, closed toe)
Ok, I probably over packed, but I like having choices.
Alan's packing list: 
3 pair of shorts
1 pair of lightweight pants
1 pair of jeans
4 t-shirts
3 button down shirts
1 swim trunks
undergarments/sleep shorts
2 pairs of shoes (sandals, closed-toe shoes)
What to Expect at a Sandals Resort
Needless to say, attire at the resort is very laid back and casual. Most people are in swimsuits or shorts and t-shirts all day.
You will need at least one nice outfit for dinner. No shorts/swimwear is allowed for dinner so be sure to pack a nice outfit for you and pants, collared shirt and closed toe shoes for him.
The best Sandals resort experience includes a ton of time on the beach so don't forget to pack and use sunblock.
We also packed hats, sunglasses, and aloe.
The electrical outlets at Sandals OCHI are the same we use in the States so no need to pack a converter box.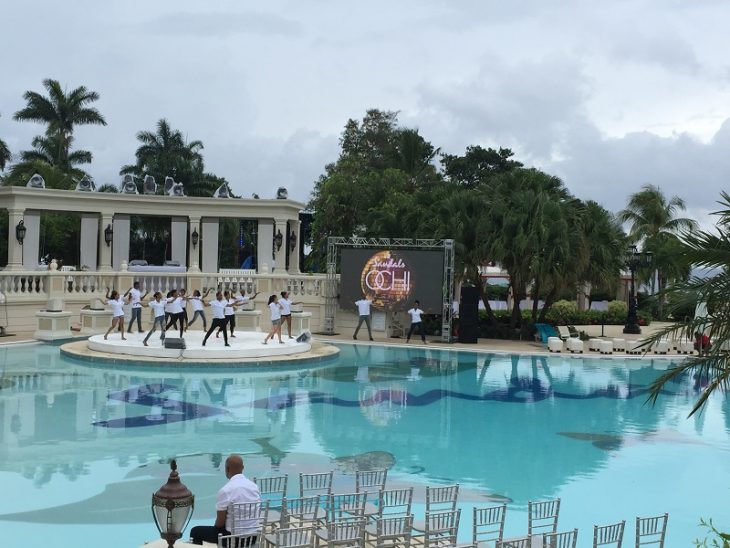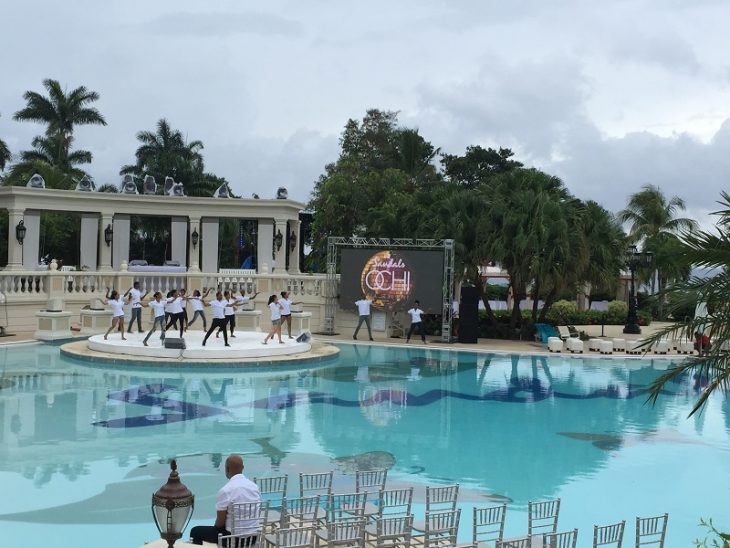 Tips For Planning Your Stay
When Sandals OCHI says all-inclusive they mean it.
Food, top-shelf alcohol, water sports, and entertainment is all included.
The biggest decision you will have to make is what type of room you'll want during your stay. We were on the butler side which is across the street from the beach and a little quieter.
If you want more of a party atmosphere then consider staying on the beach side and closer to the OCHI beach club, which is a lot of fun!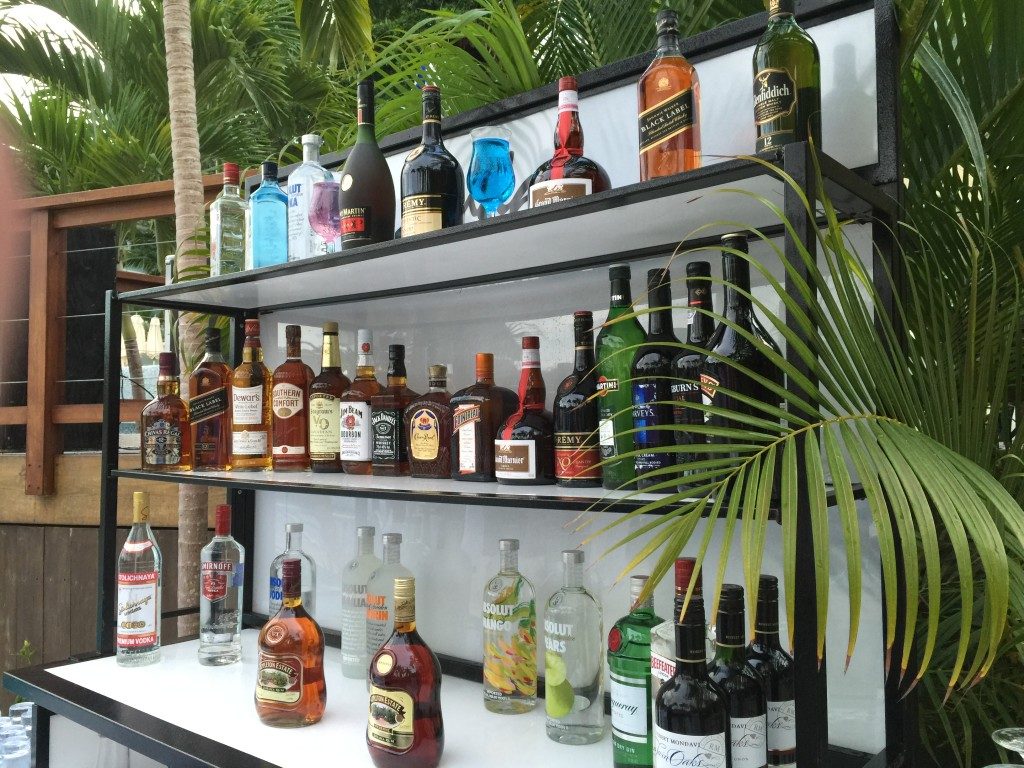 When you make your resort reservation be sure to look over the list of restaurants and decide where you might want to eat dinner.
Three of the restaurants currently require reservations for dinner.
I recommend making those when you book your stay so you aren't disappointed. The three include Kelly's Dockside (available to those with butler-side accommodations), Le Gourmand and Kimonos.
The weather can be unpredictable during May and June. Plan accordingly by packing an umbrella and NOT letting the weather hamper your fun.
I prefer using the Totes Mini Umbrella since it is so convenient to go in my backpack or carryon bag.  We played outside in light rain and only dashed for cover during the occasional downpour that passed along quickly.
Tip for Airport Transportation
Save yourself the hassle of driving to and from the airport and let Blacklane do the driving for you. It's easy enough to schedule a pick up from home to the airport and from the airport back home.
I love not having to deal with parking and dragging my luggage through parking lots. Blacklane will drop you at the departures door and be there when you arrive back home.
I've used Blacklane in the past and like the professional service they provide.
What To Expect At OCHI Sandals Resort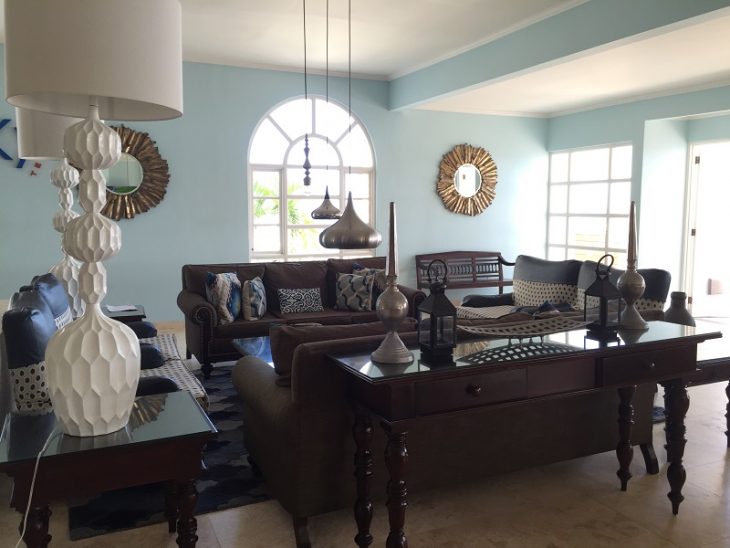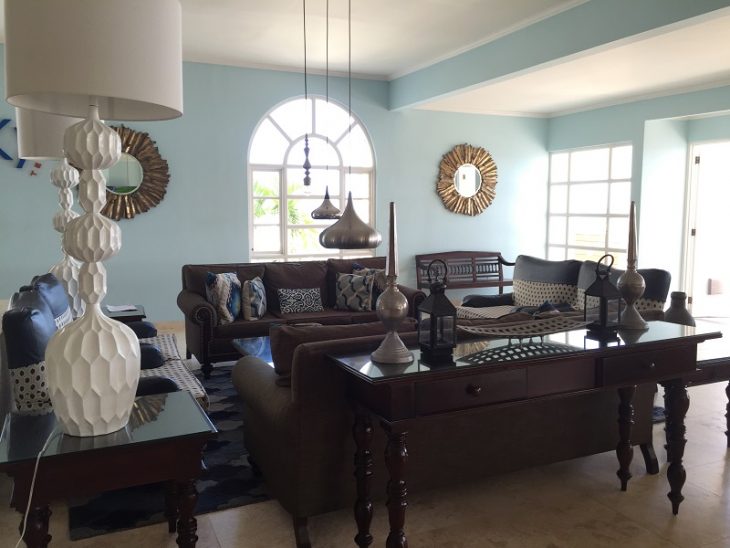 One of the many sitting areas throughout the resort
Sandals OCHI is a large property that offers both a beachfront and hillside setting. Upon arrival at the airport, immediately after you clear customs, you will cross through a set of double doors, turn to your left and you will be at the Sandals Lounge.
Look for Sandals employees standing outside the lounge and check in with them. They will tag your luggage with your resort destination and let you know when your transfer will be ready.
Go inside the lounge and grab a Red Stripe beer or other refreshing drink and relax. You are now on Jamaican time and there are absolutely no worries.
Go prepared to tip those who help with your stay
Be sure to take tip money for the airport red capped porters that take your luggage to the transfer van.
We tip $2/bag, but tip what you feel is appropriate. You will also need to tip on the return trip as well. Once you are on resort property all tips are included with your stay.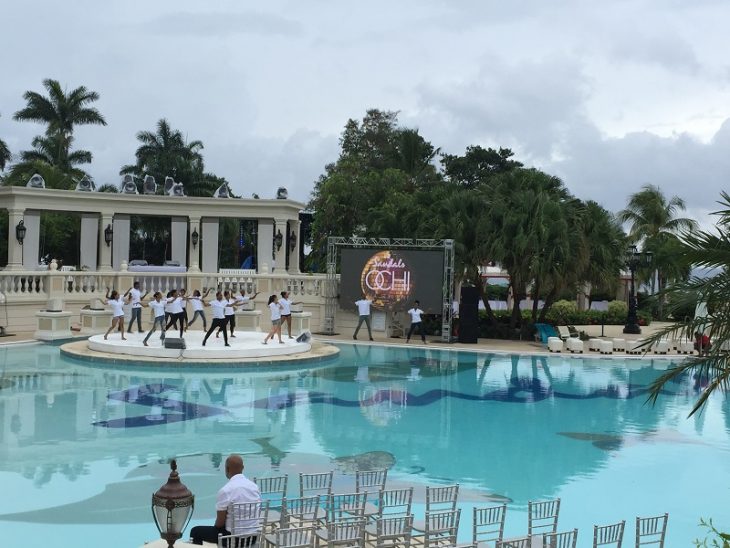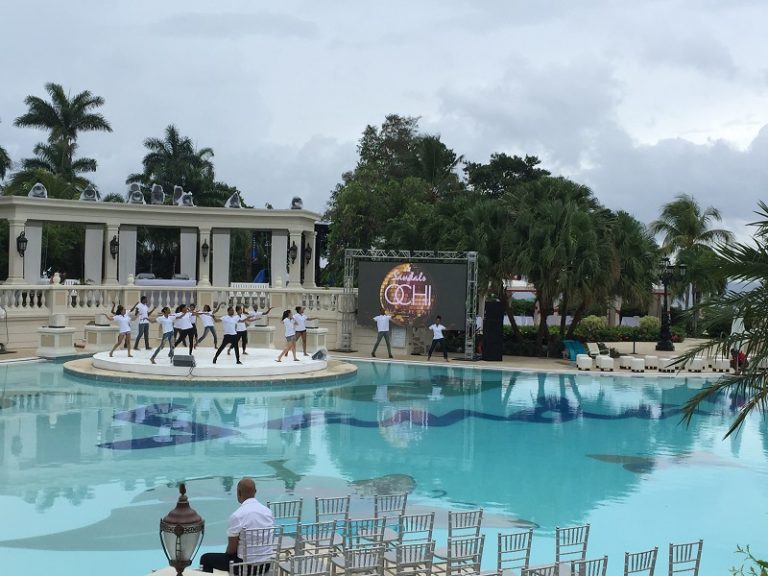 At check-in be sure to ask for a map of the property AND a daily newsletter. These are available at all locations and are part of why the best Sandals resort experience is a given anytime you book with this group.
Both of these will be instrumental in not feeling overwhelmed by the resort experience.
It took me about a day and a half to really feel comfortable about how things worked at the resort.
Tips for Food & Activities at the Resort
Use the daily newsletter as a reference throughout the day. There are 16 restaurants on site, but they are not all open at the same time. The newsletter lists hours of operation and the map shows you where they are located.
TIP: Dino's Pizza and The Grand Cafe are the same area, which took me a day to figure out.
Activities and times are also listed in the newsletter. Some of the water activities require sign up in advance so just be aware so you can plan accordingly.
Pick up a newsletter each morning from the front desk and tuck in your tote bag for the day. It makes things much easier.
WIFI is available at the resort and the connection is fantastic. I participated in a twitter party during my visit and shared photos across multiple social media platforms without any issues.
All about the alcohol
TIP: On your return home if you shop at Duty-Free absolutely, positively ask that the liquor be placed in a clear, tamper-proof bag and NOT any other type of packaging.
In Jamaica, they placed ours in a small brown box and used packaging tape to secure. This is not acceptable with TSA and they made me check the box once I landed stateside.
Let's just say not all my alcohol made it home because I was not able to package it properly before having to check it.
Busted bottles of liquor at your home airport is very depressing. I suggest buying liquor at the resort so you can properly package it and store in your luggage.
I wrap bottles in a number of plastic bags and place between layers of clothes and have never had a problem.
Don't miss out on the ultimate best Sandals resort experience!  Book your stay with OCHI Sandals resort for an all-inclusive vacation your family will love!
***Pin Best Sandals Resort Tips To Pinterest***