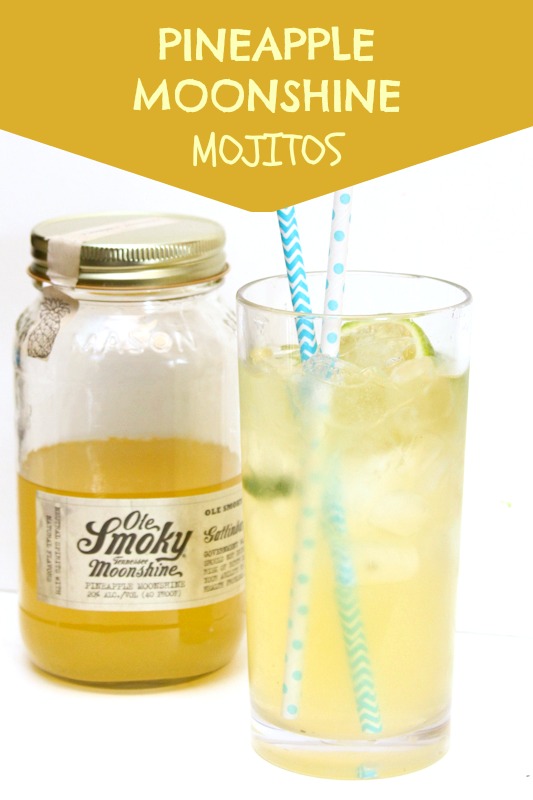 Some days I have the best job on the planet. Ok, scratch that MOST days I have the best job on the planet. Writing from home, being my own boss, sitting in jammies all day if I want, AND taste testing moonshine. It's a pretty good gig I have going on and fortunately, I can let you know if something is good, bad, or just ok before you spend hard earned dollars on it. Recently, Ole Smoky Tennessee Moonshine sent me their new Pineapple Moonshine to try and share with you.
I decided to make Pineapple Mojitos for a party I was hosting and let my friends give their input as well. Of course, I tried the Pineapple Moonshine straight first to truly know what it tasted like before adding mixers. I will tell you this. I. Love. It. A little pineapple sweetness with just a bit of a bite let me know this could easily become my new favorite "on the rocks" drink.
I mixed up a big batch of Pineapple Mojitos and served it at my party and it was a huge success! Everyone that tried it really liked it and went back for seconds. Sadly, we quickly ran out of mojitos, but we enjoyed every drop of it while it lasted.
The recipe I used, and am sharing below, calls for sugar. I made the first batch according to the recipe without any adjustments. I made the second batch without any sugar. The no sugar added mojitos were the group favorite. The sugar created too much sweetness for us, but taste vary so you may want to try it both ways and decide for yourself.
Ole Smoky Tennessee Moonshine is born on Tennessee soil and is made from a recipe that has been handed down through the generations. It's a company with an interesting history and is the first federally licensed distillery in the history of East Tennessee.
Oh, check out the awesome Mason jar the moonshine is packaged in. That alone is enough to make me want to buy it. I'm a sucker for awesome packaging.
Fingers crossed that Ole Smoky will send more flavored moonshine to share. I'm pretty sure I need to try each flavor to see if the quality is consistent across the brand (hey, someone has to do it). I do believe a visit to The Holler, America's most visited distillery, is in my very near future.
Pineapple Mojitos Recipe
1 cup Ole Smoky Pineapple Moonshine
1 bunch fresh mint (stems discarded)
2 limes (each cut into 8 wedges)
½ cup sugar
1 cup club soda
Muddle the sugar, mint, and lime in the bottom of a glass.
Pour pineapple moonshine and club soda and serve.
Garnish with limes and pineapple wedges.
Makes 4 servings.
Find more delicious moonshine recipes on the Ole Smoky site.