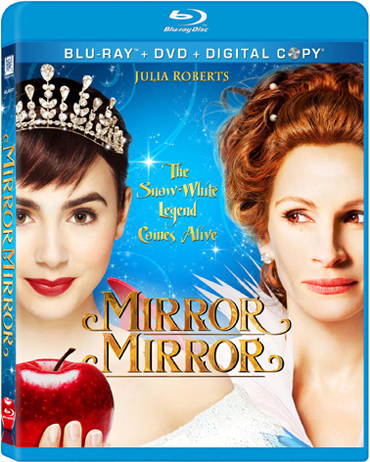 SYNOPSIS: "MIRROR MIRROR tells the story of Snow White (Collins), a princess in exile and the evil Queen (Roberts) who ruthlessly rules her captured kingdom. Seven courageous rebel dwarfs join forces with Snow White as she fights to reclaim her birthright and win her Prince in this magical comedy filled with jealousy, romance, and betrayal that will capture the hearts and imaginations of audiences the world over. The film is produced by Bernie Goldmann (300), Relativity's Ryan Kavanaugh (The Fighter) and Brett Ratner (Rush Hour franchise). MIRROR MIRROR'S screen story was written by Melisa Wallack, and the screenplay was written by Marc Klein and Jason Keller."
Want a fun girls night? Pick up a copy of Mirror Mirror, buy some snacks, chill the wine or cocktails and invite your girlfriends over. It doesn't have to be fancy so don't stress about having everything perfect. We actually went out to dinner before the movie so I didn't have to cook anything. When we returned to the house I just made up a few cocktails and served them during the movie. My guests also received a little gift pack from Mirror Mirror.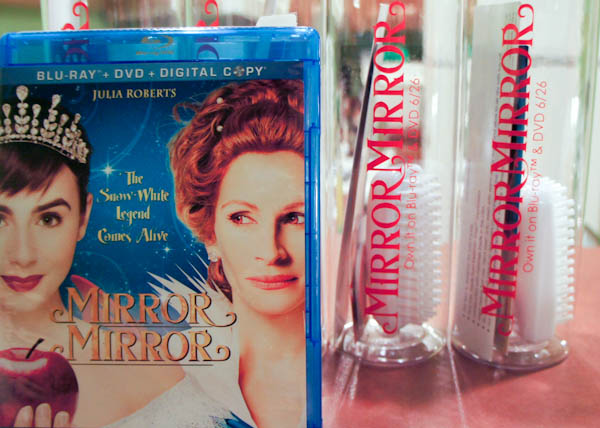 Even though Mirror Mirror didn't really bring any new twists to the Snow White fairy tale it still had some great one liners that made me laugh and, as always, Julia Roberts done an outstanding job. Overall, it was a fun and inexpensive evening with my friends.
A big thank you to ThinkJam for providing me with a copy of Mirror Mirror and gift sets to share.