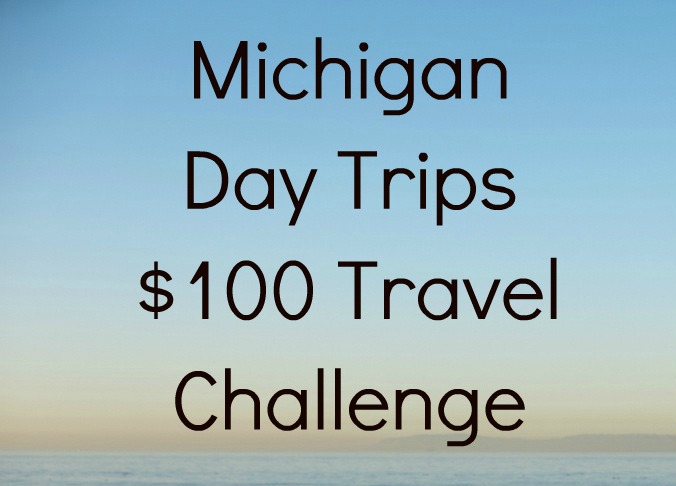 I love a good travel challenge so when Money SuperMarket contacted me and asked if I would be interested in participating in the $100 travel challenge I jumped at the chance.
Here's the challenge: How many day trips, that include the family, can I come up with that don't cost more than $100?
I'm not including any gas cost in the challenge. If I included gas we would just run up to the video store, rent some movies and stay home. Since we live in the middle of nowhere our gas cost is usually quite significant so I'm not including it.
I've come up with 4 day trips from Cadillac, MI. Without further ado here they are:
TRIP 1: Visit Grand Rapids, MI
Travel Time: approximately 90 minutes each way
Morning: John Ball Park Zoo Cost: $8.50/pp*3=$11.50
Lunch: Picnic at John Ball Park
Afternoon: Craig's Cruisers for go-karts, putt-putt, and arcade games; includes Pizza Buffet for dinner. $20/pp*3=$60
Total Cost: $71.50
TRIP 2: Canoeing & Exploring Sleeping Bear Sand Dunes
Travel Time: 65 minutes each way
Early Afternoon: Tube the Platte River from Riverside Canoes $16/pp*3=$48
Lunch: Picnic at Lake Michigan & enjoy some beach time
Late Afternoon: Tour around the Sleeping Bear Sand Dunes $10 car pass
Evening: Cherry Bowl Drive In Movie Theater $8/pp*3=$24 + $15 popcorn/drinks
Total Cost: $97
TRIP 3: Silver Lake Sand Dunes
Travel Time: 2 hours each way
Morning: On way to Mears stop at Country Fresh Dairy in New Era Tour $6/adult*2=$12 + $3/child=$15
Lunch: Picnic lunch
Afternoon: Silver Lake Sand Dunes Dune Rides $17/pp*3=$51
Drive home: Stop for dinner at place of choice $30
Total Cost: $96
TRIP 4: Around Town
Travel Time: N/A
Morning: Bike ride the Cadillac Pathways (free)
Lunch: Pick up sandwiches and deli salads at Hermann's Cafe. Eat lunch at the lake. $20
Afternoon: Geocache–over 100 caches within a 10 mile radius (free)
Evening: Dinner + Movie $30 Dinner/$20 Movie=$50
Total Cost: $70
What are your favorite things to do for day trips?
disclaimer: Moneysupermarket covered the cost of the challenge by providing the $100.
Happy Travels,