Long, cold winters in northern Michigan just scream for heated clothing. Between snowshoeing, winter rafting, winter hiking and, MAYBE some winter camping this year, we'll take all the extra warmth we can get. Enter Fieldsheer Mobile Warming Technology.
Fieldsheer heated clothing offers an entire range of mobile warming clothes from gloves and socks to coats.
Needless to say when the offer to try some product came in we were an immediate yes.
I waited until it cooled down a bit in Michigan to put the gear through some paces. We took some night time walks in October to try out the gear so I could at least report my first impression to you.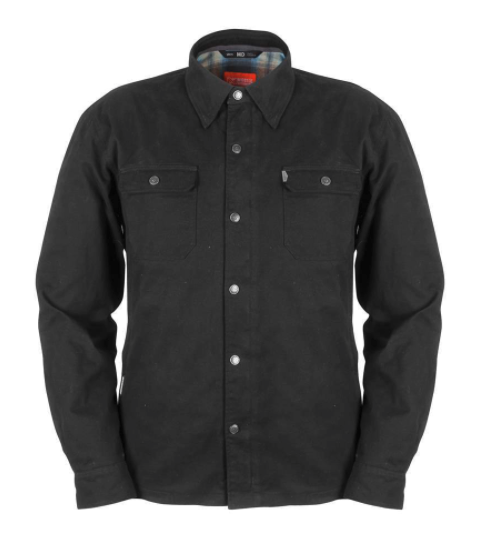 So our walks were in weather in the low 30's. Alan is trying out the jacket and I'm trying out the socks. My feet are always cold so this is a great item for me to try.
The socks and jackets come with battery packs that you charge up with a standard USB cord (included), you then simply tuck the battery pack into the pocket of the coat or socks and turn them on.
You can download an app to your smartphone to control the temp level or just press the power button to indicate the level you want. We used both the app and the manual method and both worked great.
I prefer the app since it gives you battery life available so you can plan accordingly.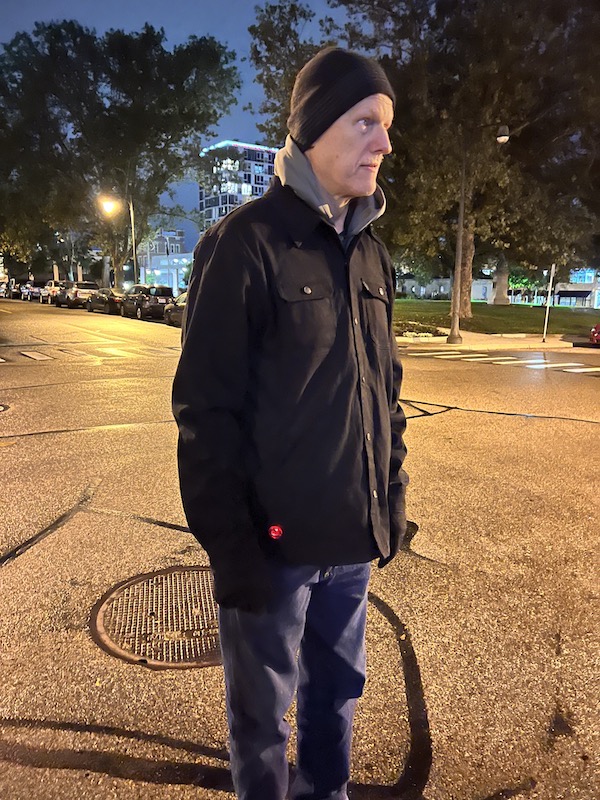 This jacket is meant for fall but with the warming option on this we think it will be a great layering piece for the winter. Plus, let's be honest, it's just a really sharp looking jacket.
Alan is 6'2″ and usually wears a large t-shirt and has a 34″-35″ waist. We ordered an XL for him which is a bit roomy, but in the colder months will fit perfectly because he'll be able to put layers underneath.
We love the little details like the buttons and stitching on the jacket. The flannel lining is very soft and the colors perfect.
The biggest win, in Alan's opinion, is that the sleeves were long enough. If you have tall people in your family you know that short sleeves is a common complaint.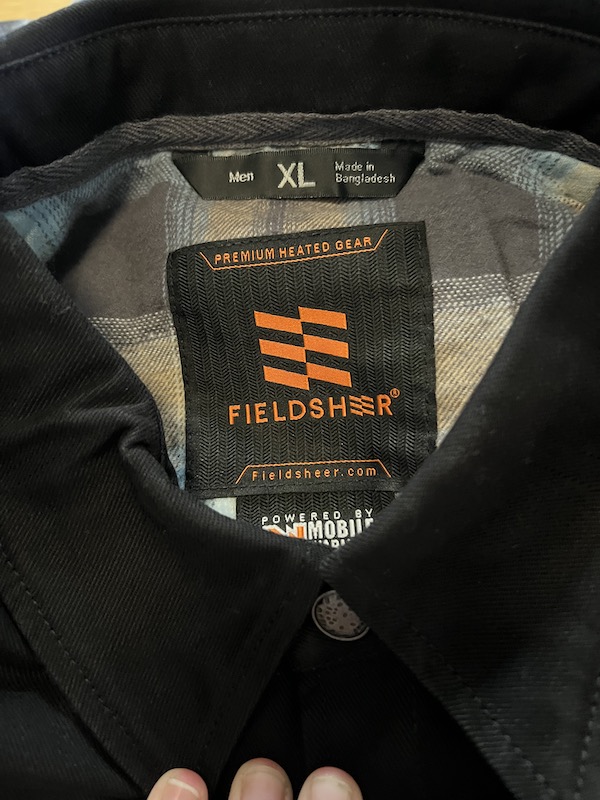 We charged up the batteries and headed out for our ghost walk. The wind was cutting a bit that night, but Alan stayed toasty warm the entire 2 hours we were out.
The battery stayed charged and I think we used about 1/2 the battery life running the packs at 75% capacity for two hours. I may be off a bit on those numbers but we are very happy with the battery life on this product.
From the manufacturer:
The Fieldsheer® Bluetooth®-enabled 7.4-volt Frontier Heated Jacket blends function with fall fashion.
It's a button-up with a multidimensional design blending a black denim cotton shell with a soft and stylish flannel interior. The Frontier features 2 button-secured chest pockets and 2 hand pockets on the waist.
To keep you warm in those cold conditions, the Frontier Heated Jacket is heated with our tried-and-true 7.4-volt heating system powered by our Mobile Warming® rechargeable 7.4-volt Lithium-Ion battery.
Through the free MW Connect™ app, you can quickly toggle through all connected Fieldsheer® powered by Mobile Warming® technology garments and adjust individual heat levels to your liking. MW Connect™ app allows you to get real-time updates on battery levels and update your garments when new firmware becomes available.
Battery Features:
Powersheer™ Rechargeable Lithium-Ion Battery (7.4V 2200mAh)
Up to 10 Hours of Power Per Charge
UL/CE certified
USB Cable included
Charge Time 3-4 hours*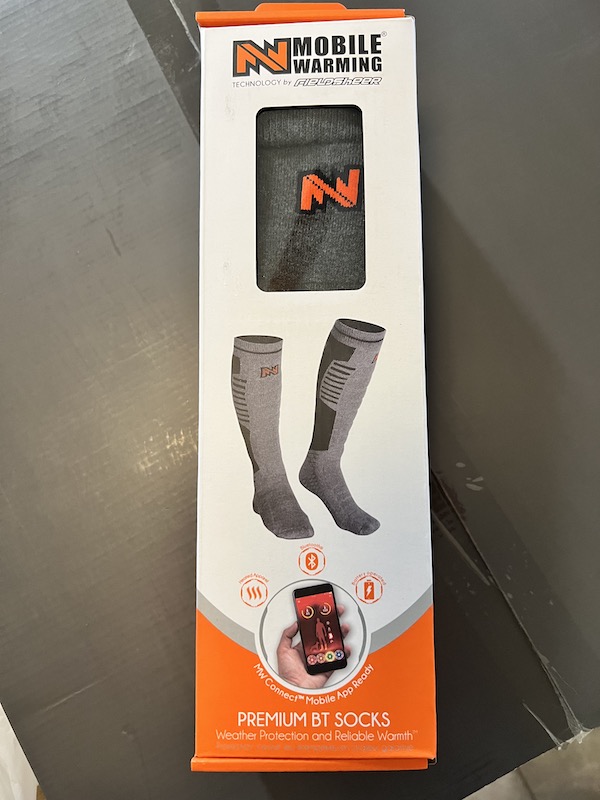 I've already taken these socks on a couple of adventures. A couple evening ghost walks and then a dusk hike in the wood which turned into being lost in the woods, in the pitch dark, for an hour (long story…). I wore these socks each time and my feet never got cold.
My biggest complaint about winter is that my feet are always bitter cold. I think these might just solve that problem. They kept my feet nice and warm on cool nights (yes, when you live in the north low to mid 30's is cool–lol, cold is when we dip below 20 degrees).
I wear a women's size 10 shoe and I would say my calves fall in the average range. The socks fit snuggly but not too snug and are extremely comfy to wear.
The battery pack goes into a little pocket at the top of the sock, but it didn't bother me in the least when I was out walking.
I'm definitely keeping these socks and I'm really looking forward to trying them out when it's really cold. Having warm feet in the winter sounds like a dream come true.
From the manufacturer:
Utilizing our new Powersheer® Micro 3.7-Volt Lithium-Ion battery, our new Thermal Heated Socks provide long-lasting warmth for up to 10 hours on a single charge. Our Thermal Heated Socks are a thoughtful blend of comfort, cost, and Fieldsheer's® Mobile Warming® Technology.
Since 1978 Fieldsheer has been designing and manufacturing rugged, performance-driven gear for avid outdoor enthusiasts, motorcyclists, workers, and more. Our Thermal Heated Socks take all-day comfort to the next level.
Whether you're in deep backcountry powder or an early morning job site, keep your feet warm and improve circulation to avoid stiffness, muscle fatigue, and soreness.
With heavy cushioning in key areas and heating elements under the front of the foot, you can avoid the discomfort and numbness that come with being outside in cold conditions.
The cotton/poly blend is breathable, and the calf length provides full coverage.
Battery Features:
Powersheer™ Mini Rechargeable Lithium-Ion Battery (3.7V 2200mAh)
Up to 11 Hours of Power Per Charge
UL/CE certified
Battery size: 8in x 1.1in x 0.8in2.8in x 1.1in x 0.8in
AC wall charger included
Charge Time 3-4 hours*
Now, what everyone is probably wondering, how expensive is this gear? The jacket is priced at $200 and the socks are $80. Break that down into the number of times you'll wear the items and stay warm and it become quite affordable and totally worth it.
My guess is that I'll get years of wear out of both the jacket and the socks. We may have to replace the batteries at some point, but the apparel construction feels solid and that it will go the distance.
Be sure to watch my Instagram feed and stories for gear updates over the winter!