There are many places I visit that have me falling a bit in love. Places like Hatteras Island and Yellowstone. Places so incredibly gorgeous that you can't help but simply crush so hard on them. Seldom, however, do I stumbled across a place that I actually wanted to move. In fact, as much as I love the places I visit the only a couple have truly captured my interest as a potential new address. Oddly enough, one of those places is Columbus, OH.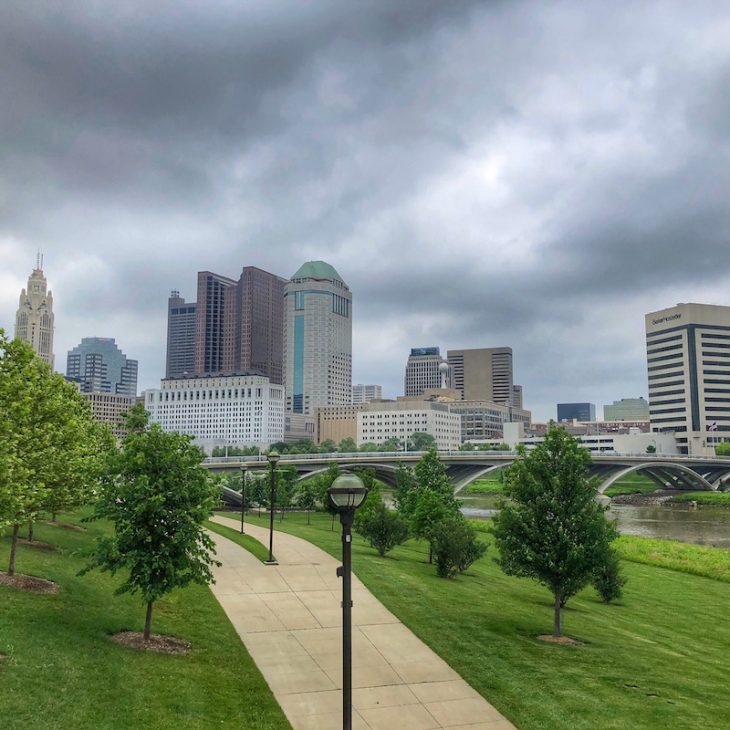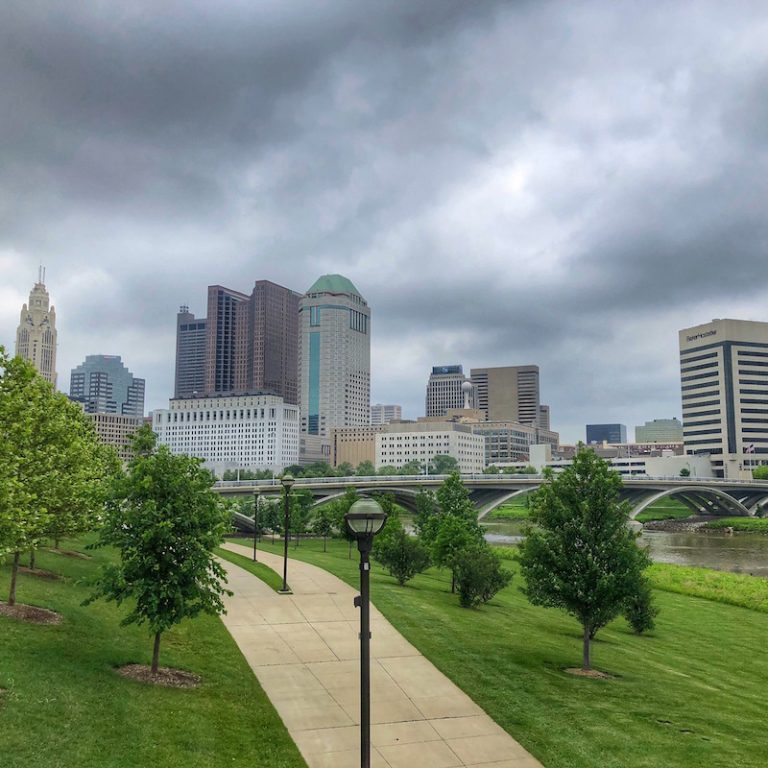 I always thought I'd fall for a place in the south where the weather is warm year round, but that's not what happened. I spent a few days in Columbus and thought "Yep, I could see myself living here."
I can't pinpoint an exact reason for my interest in Ohio State University's hometown. It has this really cool vibe where you just know great things are happening all the time. There is art and culture. Great food. Incredible people. Has growing employment opportunities. In my hunt for my next city, I knew it would be someplace that had a university or college because it brings so much diversity and energy to the community.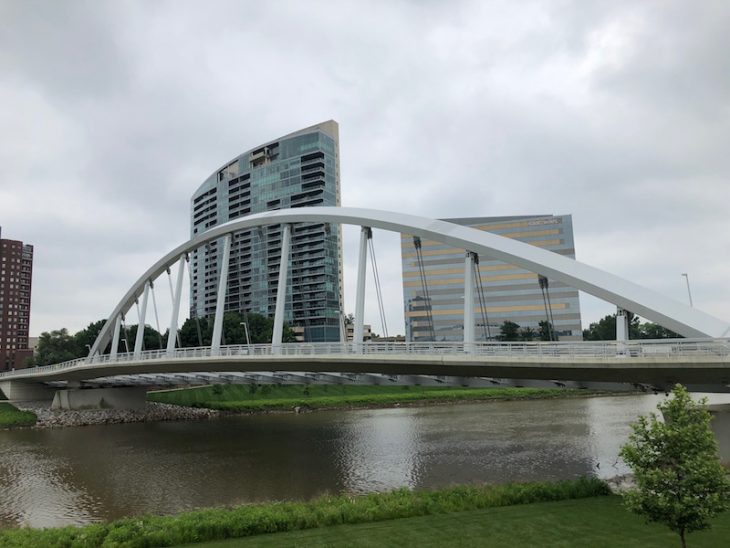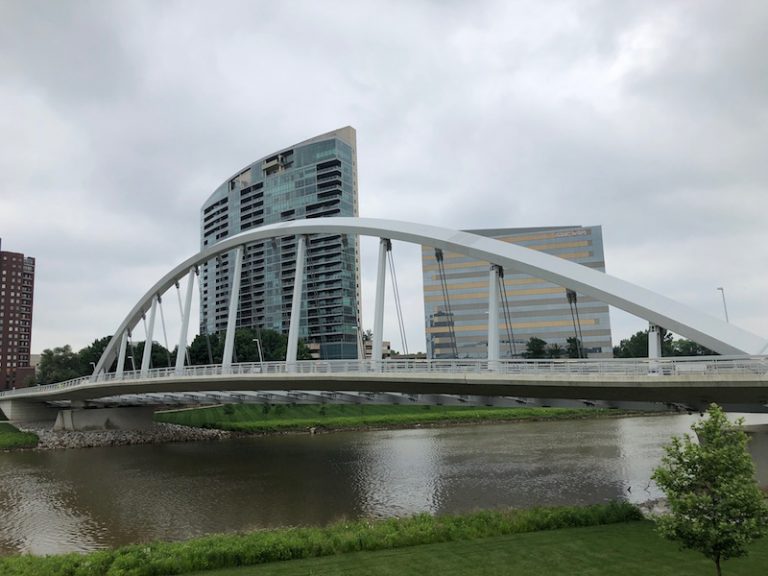 All the ways to fall in love with Columbus:
Art, Literature & Things To Do In Columbus, OH
Columbus City Adventures Tour
If you've never been to Columbus before this tour is a great place to start. This covers the cities history and highlights and is a great place for finding more places to explore. There is time for photo opps and conversation which often leads to great food recommendations and festivals you absolutely MUST attend.
Our tour included drives by and information about places like the Ohio Statehouse, German Village, Columbus Museum of Art, Kelton House, Thurber House, The Short North, and the new National Veterans Memorial and Museum.
There were so many more locations included that the 2.15-hour tour turned into 3 and felt like it only lasted 5 hot seconds. It's my number one recommendation for learning more about things to do in Columbus and what will have you falling in love with this Midwestern city.
Other tours are available. Tour is $33/adult, tours offered weekdays. Learn more: https://www.columbuscityadventures.com/tours/central-city-tour/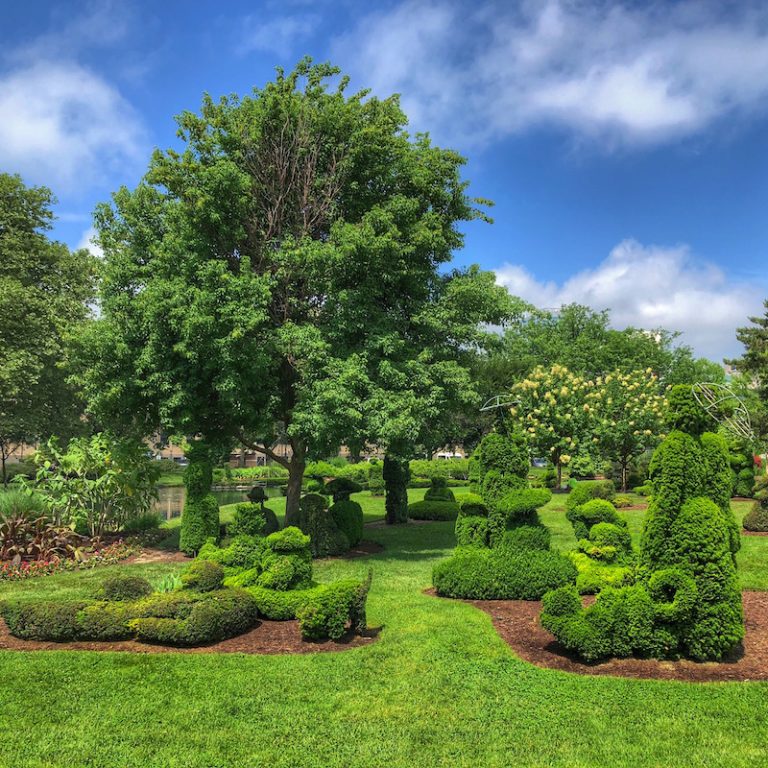 Topiary Park of Columbus
A living sculptural interpretation of George Seurat's A Sunday Afternoon on the Isle of La Grand Jatte. This is a wonderful park to take a stroll or sit on a bench with a really great book. The park is open dawn to dusk. It's a great way to get your nature fix while visiting the city.  (480 E. Town St, Columbus, OH)
Learn more: http://www.topiarypark.org/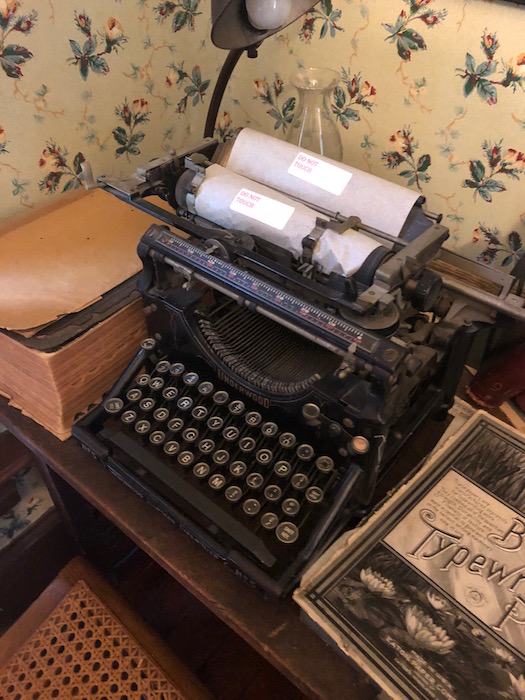 Thurber House
Home of the famous author of The Night The Ghost Got In and The Night The Bed Fell. The home was opened as a gathering place for readers, writers, and Thurber enthusiasts of all ages in 1984. Walk the same halls that Thurber walked, see the stairway where the ghost appeared and the room where the bed fell. Artifacts and memorabilia are on display to showcase more of Thurber's life.
In addition to the museum, Thurber House offers writing camps, a writer in residence program, evenings with the author series, summer author picnics and in 2019 they'll be celebrating Thurber's 120th birthday. Self-guided tours are free and available every day from 1-4p. If you'd like a guided tour there is a small fee of $4/per person.  Learn more: http://www.thurberhouse.org/ (77 Jefferson Ave, Columbus, OH)
Haunted Note: For my friends interested in ghosts. Stories about the house being visited by previous tenants are plentiful. Sadly, nothing odd/paranormal occurred during my visit. If you take a guided tour be sure to ask about recent unexplainable happenings.
Billy Ireland Cartoon Library & Museum
For those interested in comics and cartoons, a stop at the Billy Ireland Museum is an absolute MUST! Home to the world's largest collection of materials related to cartoons and comics, including original art, books, magazines, journals, comic books, archival materials, and newspaper comic strip pages and clippings.
The gallery is open Tuesday through Sunday:  1:00 – 5:00 pm and has rotating exhibits in addition to a permanent exhibit. The museum also hosts a number of events that are worth attending if you happen to be in town! Learn more: https://cartoons.osu.edu/ (Sullivant Hall at OSU, 1813 N. High St. Columbus, OH)
Wexner Center for the Arts
Located directly across from the Billy Ireland Cartoon Museum the Wexner Center for the Arts, commonly referred to as the Wex, is a contemporary art gallery. They are a multidisciplinary center illuminating the art of our time for everyone to enjoy.
A docent-led tour is the best way to experience the Wex as they bring the art alive with stories and discussions. Located on the campus of Ohio State University the galleries are open Tuesday-Sunday. Learn more: https://wexarts.org/  (1871 North High Street, Columbus, OH)
Center of Science and Industry aka COSI
THE premiere science museum in the midwest, in my opinion. The museum is packed with hands-on exhibits for kids and adults alike. A recent partnership with the American Museum of Natural History resulted in the opening of a new gallery dedicated to dinosaurs and traveling exhibits.
Rainy day, sunny day, cold day, too hot to move day, regardless of the weather outside it's always a perfect day at COSI. Learn more: https://cosi.org/ (333 W. Broad St., Columbus, OH)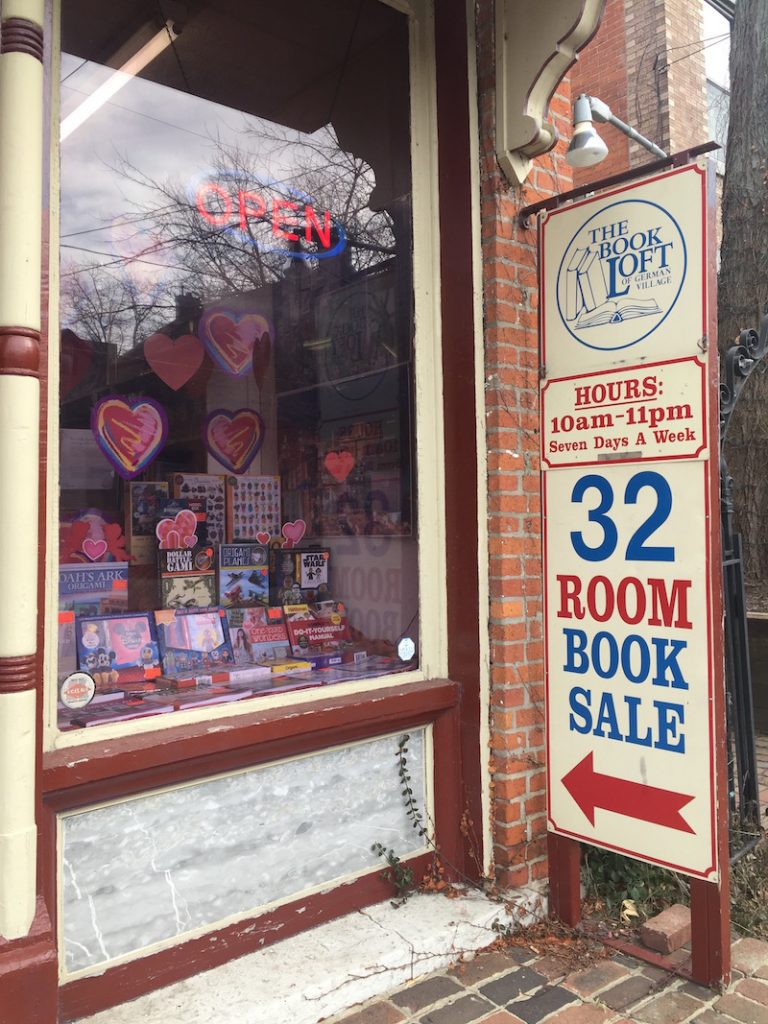 German Village
Settled in the mid-19th century by German immigrants this historic neighborhood, located just south of the city (588 S. 3rd St., Columbus,OH), is the perfect place to shop, eat and play. Unique boutique and art galleries can be found throughout the village as well as a number of dining establishments including
Pistacia Vera (541 S 3rd St, Columbus, OH)  which was recommended by the Columbus City Adventures tour guide.
German Village is also home to one of the best independent bookstore, the Book Loft. This 32 room bookstore has everything you could ever want or need. From bestsellers to children's books and everything in between. Plus, they don't keep traditional business hours. You will often find them open until 11p.m. making it a perfect stop for a Columbus date night.
Learn more: https://germanvillage.com and  http://bookloft.com/ and http://www.pistaciavera.com/
National Veterans Memorial and Museum
"The National Veterans Memorial and Museum will be the only place where the stories of our veterans, their families and the Fallen – across all branches of service and all eras of conflict – will be told together. NVMM will bridge historical events to current concerns and strengthen understanding and respect between veterans and civilians. This cultural institution will stand as a place of inspiration for all visitors to come together as one people with a common bond and a shared pride in our veterans." 
The Museum is slated to open in November. Learn more: http://www.nationalvmm.org/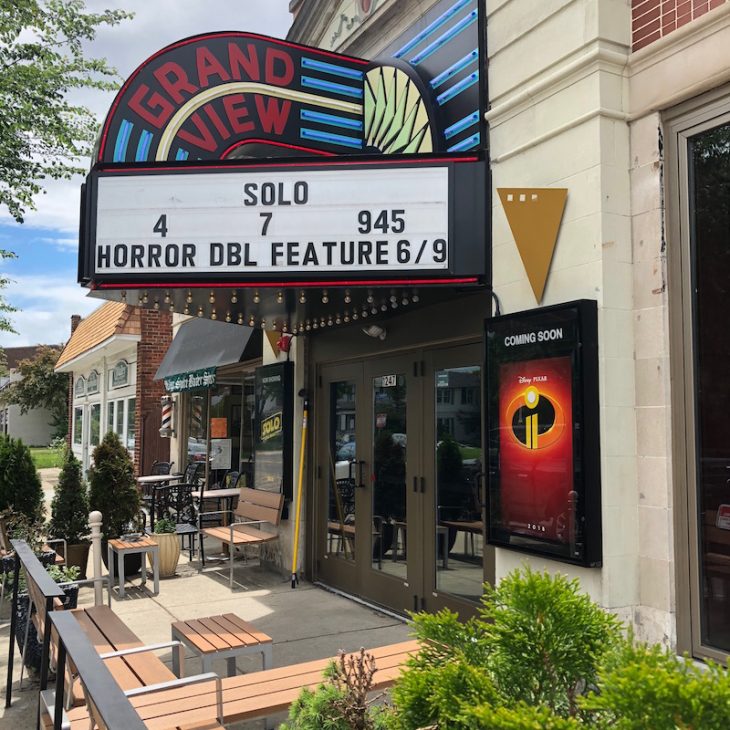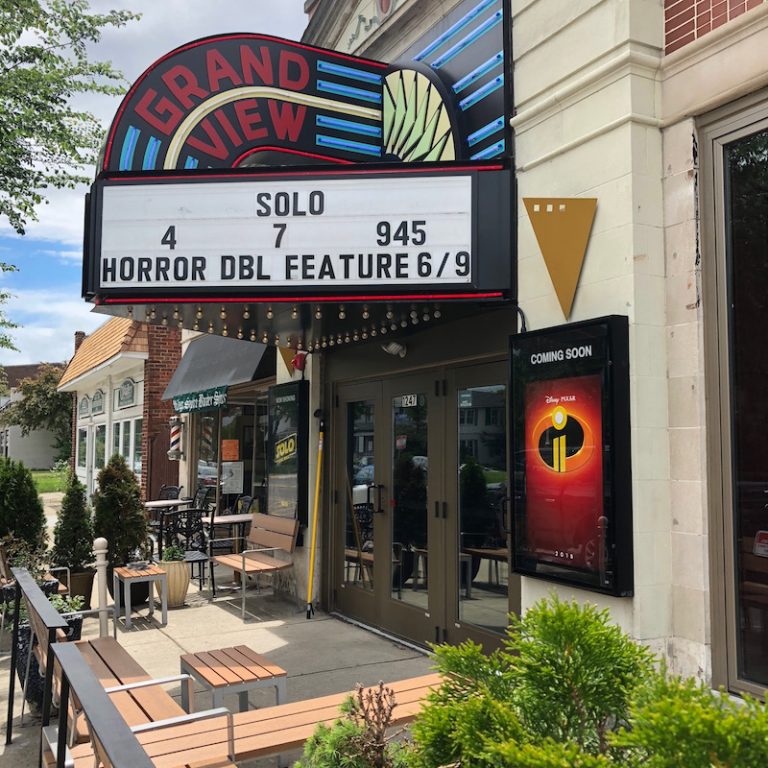 Boutique Shopping You're Going To Love
The Grandview neighborhood is packed with adorable boutique shops where you'll find everything from clothes to home decor. Grandview also has many stops on the Made in CBUS trail a MUST for finding locally made products. You'll want to plan at least 3-4 hours to browse the Grandview area. There are great eats, a brewery, coffee shops, an antique store you could easily spend an hour in, and all varieties of shopping.
These are some of my favorite stops, but this list is in no way all-inclusive. However, if you have limited time these are the ones I highly recommend stopping in to visit.
DeMar's Vintage Antiques & Handmade
Let's just say I could spend all my time browsing this store. If you need a unique, one-of-a-kind piece for your home this is the place to find it. Lighting, furniture, accessories, wall art, decor they have it all. Some of the pieces even reduce in price as time goes one. Their inventory is curated from estate sales, auctions, and flea markets around the country. They bring the best they find back to the store and I must say they do a great job.
Seriously, I loved wandering around this store. It took incredible control to not burn up the credit card, but I resisted. Currently on a strict budget to finish off some home projects before I can decorate. However, that gives me a great reason to go back when the house is ready for finishing touches!
Learn more https://www.demarsvintage.com/
Thread
Boutique clothing shop where you'll find your next fabulous outfit. This is the place to shop to find clothes that are stylish and will be the perfect addition to your wardrobe. I love it because it doesn't have the same as everyone else. Outfits should reflect your personality and Thread has great choices that can help make that happen. The staff is charming and willing to help you find everything you need from top to bottom.
You can even shop online making it the perfect store, in my opinion.
Learn more: https://shopthreadonline.com/
The Candle Lab
Pick the scents and your container and make your own candle. The Candle Lab will even deliver your candle to your restaurant while you dine. This is a great pre-dinner date option. Plan about 30 minutes for candle making and pick the candle up after dinner (it needs time to cool) or have it delivered.
This is also a great way to take a bit of Columbus back to family and friends. Think birthdays, holidays, and gift giving opportunities. I love finding gifts when I travel and I think people love that I bring them back a bit of my travels.
Learn more: http://thecandlelab.com/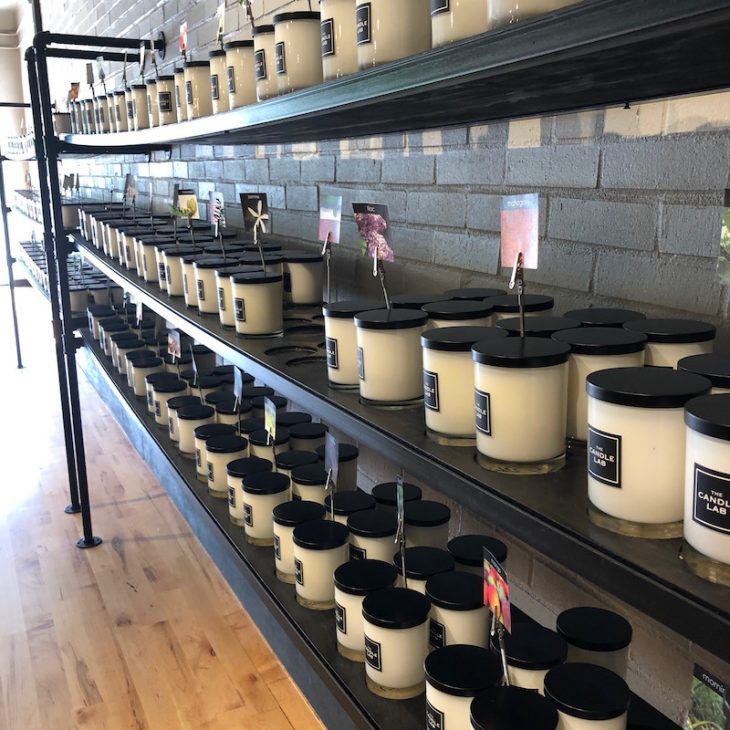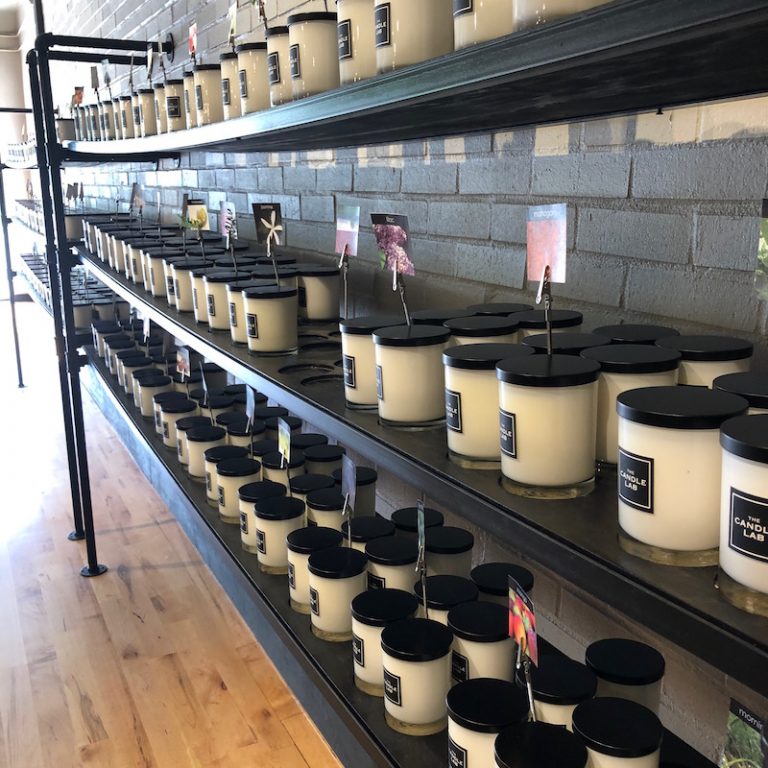 Vernacular Home
I love, love looking at home decor shops. I'm always finding fun and unique things that add a bit of charm to my small house and the Vernacular Home didn't disappoint. Vernacular Home carries vintage + new furniture, textiles, kitchen wares, home decor + much more. If you love shopping for your home as much as I do be prepared to have a few swoon-worthy moments.  Stop in for great home decor ideas. (1310 Grandview Ave) Learn more: https://shopvernacular.com/
The Smithery
"The Shop features the work of resident metalsmiths Anne Holman and Jen Townsend, artist-made jewelry from around the world, and a curated collection of fine handmade goods." Shop from more than 90 merchants and take home a memorable token for you from your travels to Columbus. The great thing about jewelry as a souvenier is that its easy to pack and takes up no room at all.  (1306 Grandview Ave ) Learn more: https://shopthesmithery.com/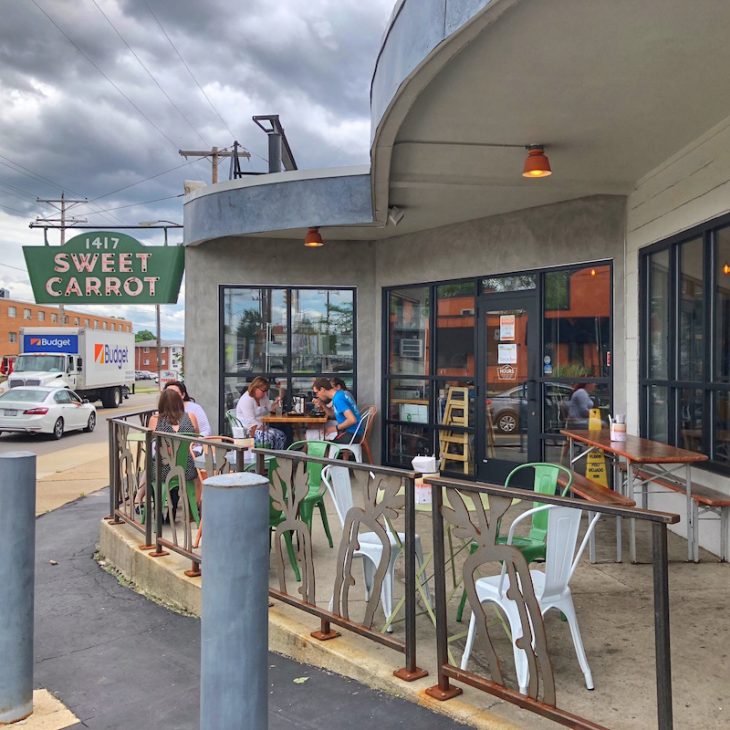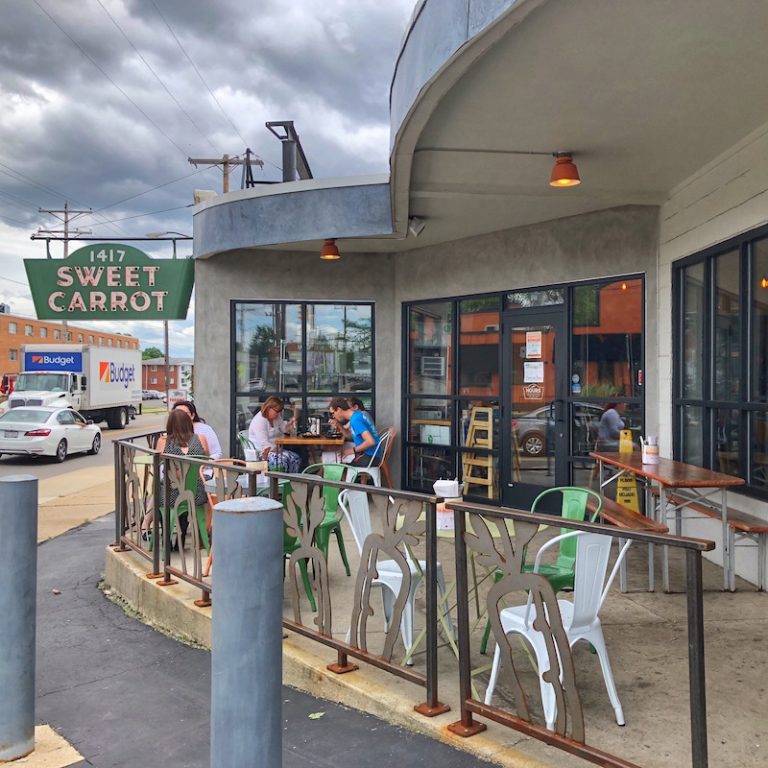 So Many Good Eats, So Little Time
Sweet Carrot
Great eats with al fresco dining. This place is jumping during lunch. Try to arrive at open or after 1p if you don't like long lines. Even if its busy the line moves quickly and trust me when I say the wait is completely worth it. One of the really cool things about Sweet Carrot is that its nut free. This is HUGE for people that have severe nut allergies. Eat at the Sweet Carrot without fear of nut contamination. Plus the food is AhMAZing. Learn more: https://www.sweetcarrot.com/
The Guild House
Located in the Short North Neighborhood with a rustic-modern dining room. They serve up American cuisine from breakfast through dinner. Their culinary team is top notch and create seasonal offerings that are inspired by the region and the world. Plus, the bar is shaking up cocktails made from local distillers, which I love to find. Be sure to make dinner reservations to ensure you don't have a long wait.
Learn more: https://theguildhousecolumbus.com/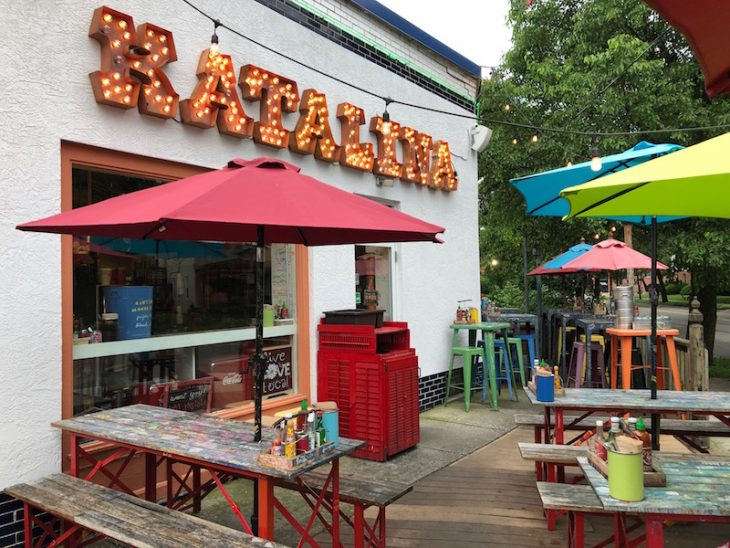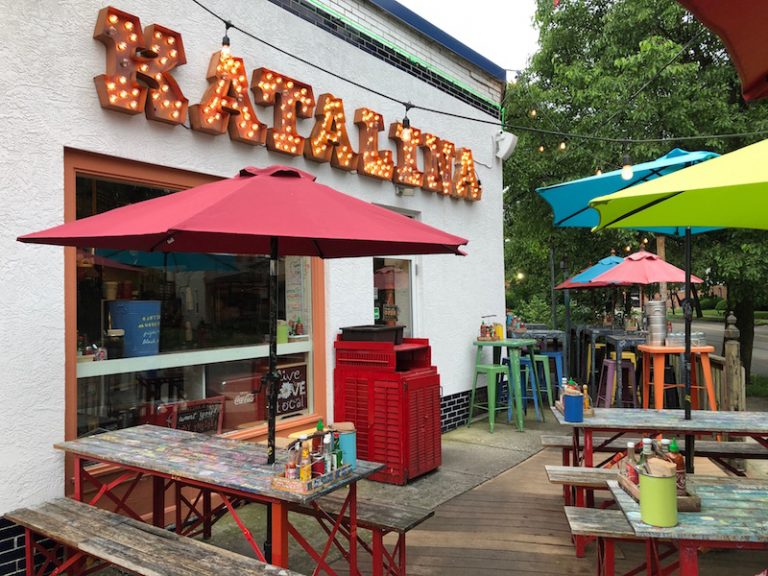 Katalina's Cafe
MUST try the pancake balls. Go early otherwise you'll be waiting in a line that goes out the door and around the corner. Order at the counter then find a seat, food will be brought to your table. There is very limited indoor seating with more picnic tables outside for those gorgeous Columbus' days.
Learn more: https://www.katalinascafe.com/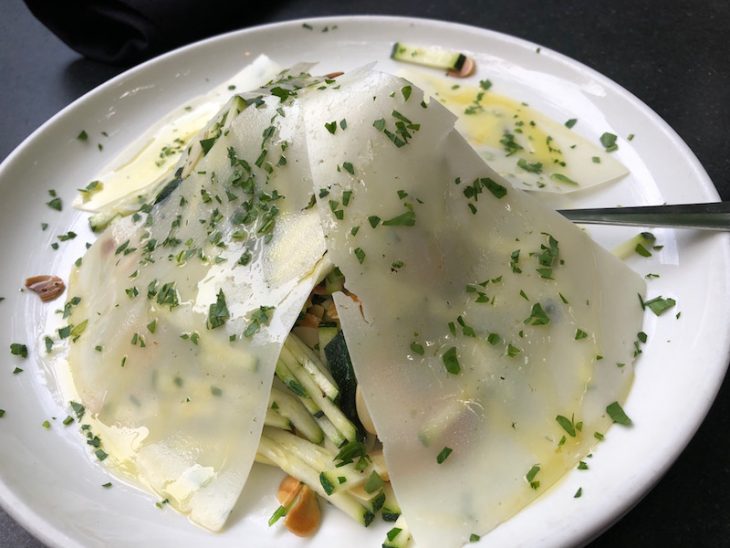 Basi Italia
Tucked on a small side street in the heart of the Victorian Village neighborhood Basi Italia feature incredible Italian food. There is indoor dining, but the gem of the restaurant is dining on the terrace. There is just something about dining outside on warm summer nights that invokes memories to carry you through the cold winter.
Valet parking is available for a very reasonable fee. I think I paid $5 and it was worth every penny. There is only street parking in the area so if you drive using valet is the way to go. It would always be a very easy taxi or uber ride from your hotel.
Their menu changes seasonally, but with any luck, you'll be there when zucchini pronto is in season. Learn more: http://www.basi-italia.com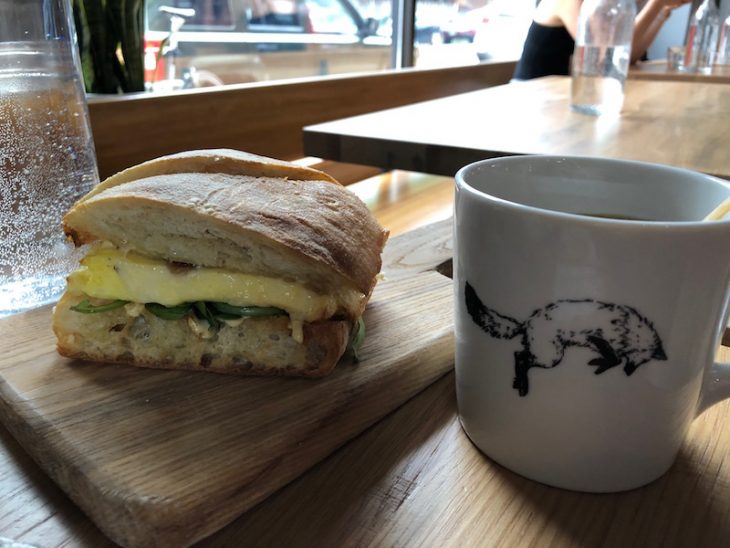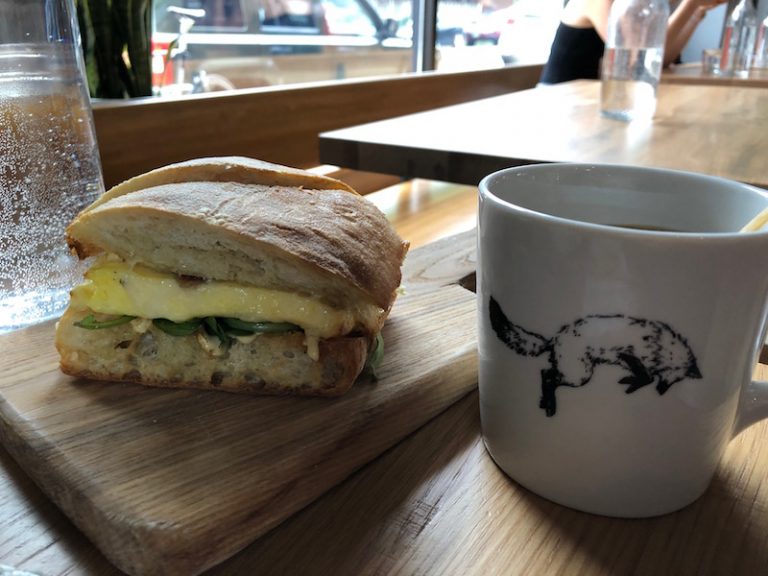 Fox in the Snow
This place is so cool it doesn't even need a sign on the door! Located in a brick facade building at the corner of Thurman and Jeager Sts in the German Village. This bright and airy coffee shop with scratch-made baked goods is a delight. If you need to catch up on emails while you're in town this is the place to make that happen. I recommend starting at least one of your mornings at Fox in the Snow.
Learn more: https://www.foxinthesnow.com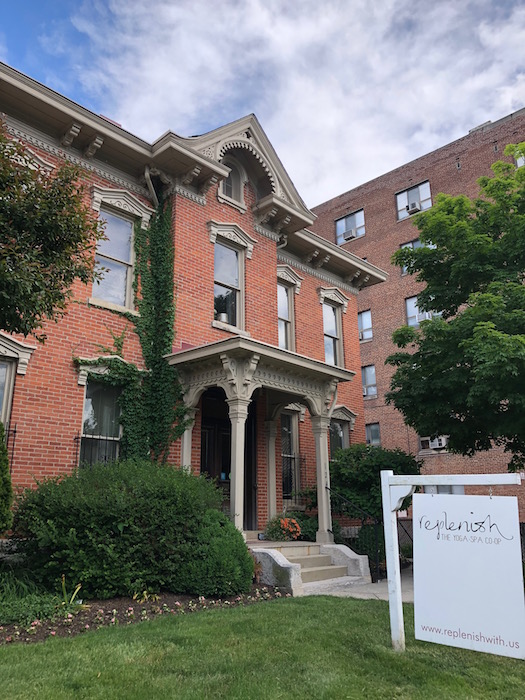 Take Some R&R At Replenish Spa
Replenish Spa is located directly across the street from Topiary Park. Walk in and be greeted by peace and serenity. The Replenish Spa gives you a little time out during a hectic travel schedule. Replenish is an environmentally friendly spa with warm compress pedicures instead of water foot baths. They also use environmentally friendly polishes and body treatments.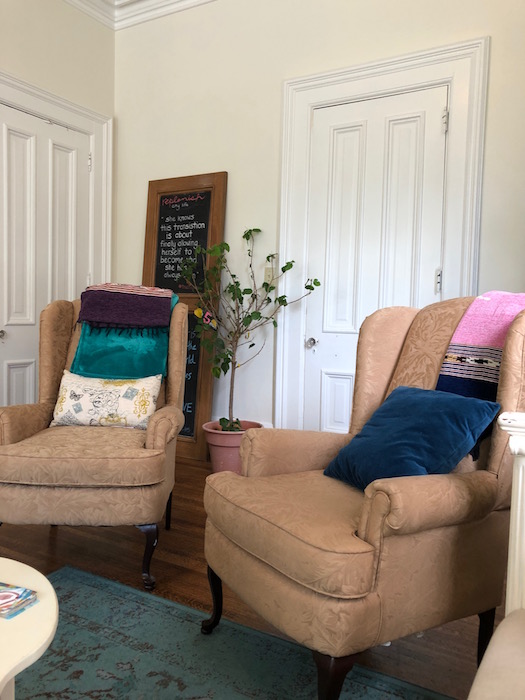 For those that want to stretch it out and find their zen, the spa offers yoga classes. Classes are donation based only so there's no excuse not to go. Simply show up, grab a yoga mat and replenish your mind, body, and soul.
My time at Replenish Spa was incredibly relaxing and I walked away feeling ready to take on the city while looking great!
Where to Stay
Marriott Columbus University Area Hotel–This is where I stayed during my visit. I love that its just outside of downtown, it provides free and easy parking and is simply divine throughout. I wrote more about the Marriott here, click over to see why I loved it so much.
PIN THINGS TO DO IN COLUMBUS, OH TO PINTEREST