Oh yes I did. I'm taking a chocolate peanut butter smoothie recipe to another level with Cocoa Pebbles. This is a great recipe to use when you're out of chocolate in the house, but still have a chocolate craving,
If there happens to be a box of cereal and creamy peanut butter in the pantry and frozen bananas in the freezer you are going to love making this delicious recipe.
This recipe is a great reason to not toss those too ripe bananas out, instead toss them in the freezer.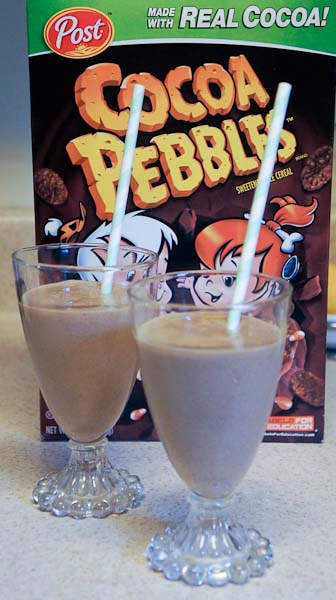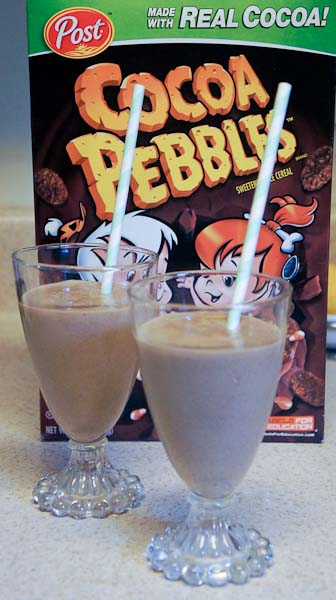 Serve this chocolate smoothie recipe for breakfast or a n afternoon snack.
It's quick and easy to make and can be enjoyed on the way to school or can be ready for the kids when they arrive home after a full day.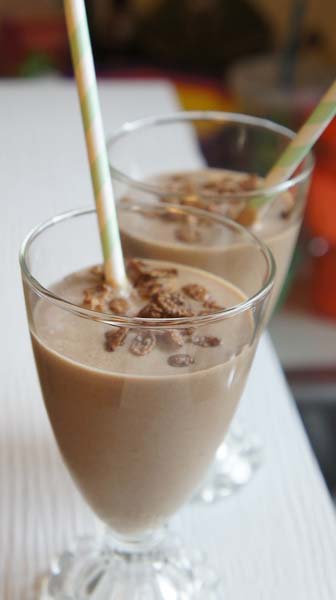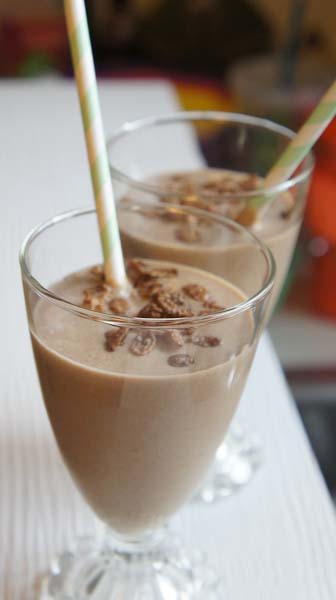 When I was asked to create a new and unique recipe using Cocoa Pebbles I first tried rolling a banana in peanut butter and then rolling the banana in Cocoa Pebbles.
While the end result is delicious it just didn't photograph very pretty.
So I improvised. I grab the blender and I dumped the Cocoa Pebble covered bananas in with greek yogurt, milk, more cocoa pebbles and ice.
You can adjust the ingredient amounts listed below based on how thin or thick you like your smoothies.
I'll share a basic recipe with you but all ingredients are flexible. Smoothies are about one of the most forgiving recipes you'll find.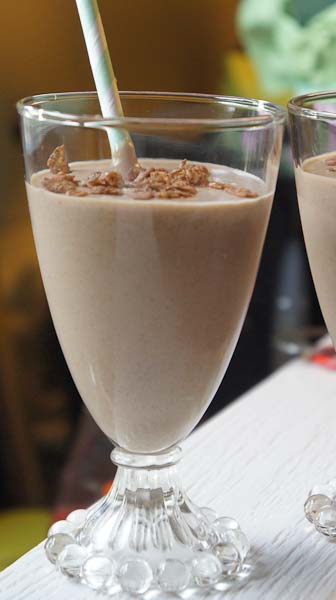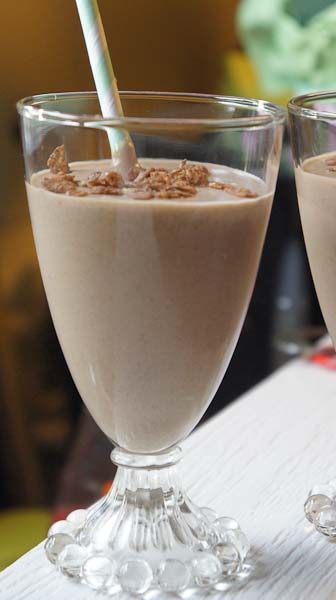 Surprisingly, this smoothie isn't very sweet so if you like things a bit sweeter you can add a drizzle of honey or maple syrup in it while it's blending.
Of course, the riper the banana the sweeter the smoothie.
You'll want to give it a taste test before adding any additional sweetener to the mix.
CHOCOLATE PEANUT BUTTER SMOOTHIE RECIPE

Chocolate Peanut Butter Smoothie Ingredients
1/2 cup Cocoa Pebbles
1/3 cup Plain Greek Yogurt
1/4 cup milk
1 frozen or fresh banana
1 tablespoon peanut butter (personally, we love natural peanut butter in our smoothies)
Handful of crushed ice
Chocolate Peanut Butter Smoothie Directions
Place first 5 ingredients in the blender and blend until smooth.
Slowly add ice to get the consistency of smoothie you like.
Enjoy immediately.
Alternative Ingredients
No Cocoa Pebbles, substitute with unsweetened cocoa powder
No ice cubes or crushed ice, try ice cream
No peanut butter, use almond butter or cashew butter
No plain greek yogurt, use vanilla yogurt
Additional Chocolate Peanut Butter Smoothie Add-Ins
If you want to make your smoothie a little extra try adding some flax seeds, hemp seeds, or chia seeds
PIN THIS CHOCOLATE SMOOTHIE RECIPE TO PINTEREST