Ring in the year with these delicious Weight Watchers New Year Dinner Ideas.
Eleven low point recipes that will help offset the indulgence that may have happened during the holidays.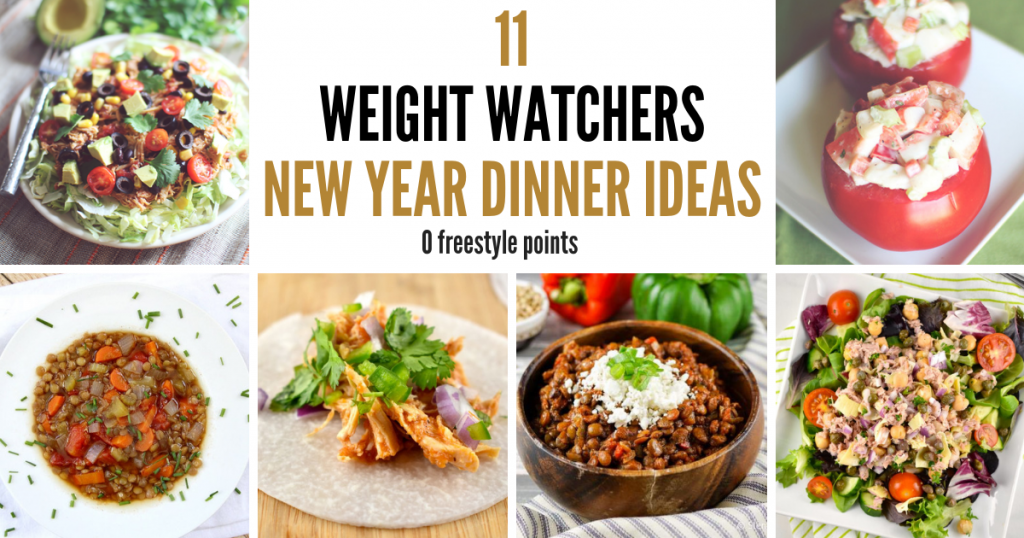 I love that these recipes all look simply delicious AND they are ZERO points each!!! That's right ZERO Weight Watchers Freestyle Points for each of the following recipes.
I mean, when you've been eating a few too many bites it's easy to get back on track with zero-point meals that taste great!
1. Chicken Skillet from Slap Dash Mom – chicken and mushrooms is always delicious, serve with a side of cauliflower rice and steamed broccoli and you have a hearty meal that is zero points!
2. Clean Eating Crockpot Chicken Taco Salad from Dashing Dish–Whats not to love about TACOS??? Make this into a taco and serve on an Ole wrap and it's only one point. Say WHAT? This is awesome.
3. Easy Lentil Soup from Recipe Girl–I'm a fan of soups in the winter and zero point soups are the best.
4. Grilled Swordfish with Mango Salsa from Recipe Girl–This looks like I should eat it while sitting at a beach instead of in the frigid north. I guess if I have to be in the cold I can pretend with this colorful dish.
5. Grilled Turkey Lula Kebabs from Slender Kitchen–Kebabs with a side of all the vegetables you love keeps this at zero points!
6. Jicama Tortilla Chicken Tacos from LaaLoosh–Remember Ole Wraps only add one point to the meal. I'd serve with a side of black beans for some extra protein.
7. Quick and Easy Crab Salad from Dashing Dish–What more can be said? Perfect dinner idea.
8. Slow Cooker Tuscan Lentil Sloppy Joes from Slender Kitchen–This is moving to the top of my "must try" list. First…slow cooker is always winning words and lentil sloppy joes just sound intriguing.
9. Tuna and Garbanzo Bean Salad from LaaLoosh–I'd personally replace the tuna with chicken breast but I'd totally throw down on this every day.
10. Zero Point Soup from Slap Dash Mom–Again a warm, comforting, vegetable soup is never a bad thing.
11. Zero Points Weight Watchers Chili from DIY Candy–Chili is one of our favorite winter meals!
Want more great ideas for Weight Watchers? Check out these Weight Watchers Snacks!
Pin 11 Weight Watchers Zero Point Dinner Ideas to Pinterest