It's still freezing cold in Michigan and there is nothing better to help fight the cold then a big bowl of pipping hot chili. I like my chili sprinkled with a bit of cheese and sour cream. Alan and Emma like theirs with saltine crackers and a bit of heat.
Regardless of how you like to eat this cold weather dish this Bohemia Big City Chili recipe is one to try.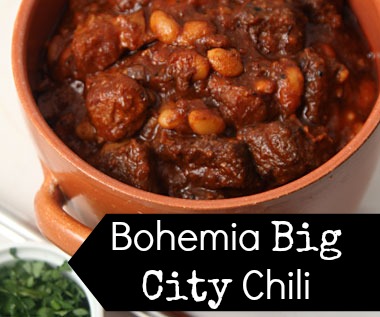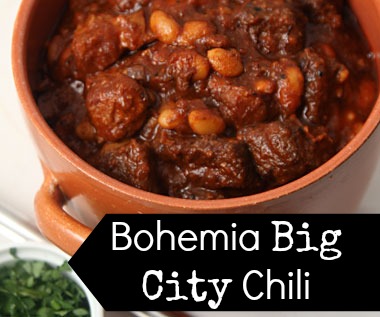 Bohemia Big City Chili Recipe
Chili Recipe Ingredients
2 tablespoons vegetable oil
Big City Chili2 pounds boneless pork shoulder, cut into 1-inch pieces
1 ¾ pounds boneless beef short ribs, cut into 1-inch pieces
Salt
1 large red onion, diced
4 cloves garlic, finely chopped
1 bottle (12 ounces) Bohemia beer
3 jars (16 ounces each) Frontera Guajillo Salsa or Frontera Roasted Tomato Salsa
1 tablespoon chili powder
1 teaspoon dried Mexican oregano, crumbled
½ teaspoon ground cumin
2 tablespoons masa harina (corn flour for tortillas) dissolved in 1/4 cup water
2 cans (15 ounces each) white beans, drained
Chili Recipe Garnishes
Crumbled queso añejo or crumbled queso fresco
Sour cream
Chopped onion and fresh cilantro
Crumbled Frontera Tortilla Chips
Chili Recipe Directions
Heat oil in a large Dutch oven over medium heat. Pat meats dry with paper toweling. Season well with salt. Add meat to hot oil in a single, uncrowded layer. Cook, turning until brown on all sides. Remove to a large plate. Repeat to brown all meat.
Add onion to drippings in pan and cook until golden, about 5 minutes. Stir in garlic and cook 1 minute.
Stir in beer and scrape up all the browned bits from the bottom of the pan. Boil to reduce slightly, about 3 minutes.
Stir in salsa, chili powder, oregano, and cumin. Return meat to pan. Simmer, partially covered and stirring often, until meats are tender and falling apart about 2 to 2 ½ hours.
Stir in dissolved masa and cook and stir until mixture thickens about 10 minutes. Stir in beans and season to taste with salt, usually about 1 teaspoon. Simmer a few minutes.
Serve with garnishes.
Pin this Chili Recipe to Pinterest