I participated in an Influencer Activation on behalf of Influence Central for the U.S. Highbush Blueberry Council. I received a stipend to facilitate my purchase for my review as well as a promotional item to thank me for my participation.
The New Year brings on so many changes. Resolutions, determinations, adventures and more. One thing that is usually a constant in my life is trying to eat healthier. Of course, the holidays roll around and you promptly forget about that plan/resolution/promise you made back in January. That's ok though, the holidays are meant to be fun and a new January is right around the corner to help you get back on track. To kick off my healthier eating year I made a Blueberry Balsamic Glazed Chicken recipe and pulled out my favorite blueberry recipes for quick reference.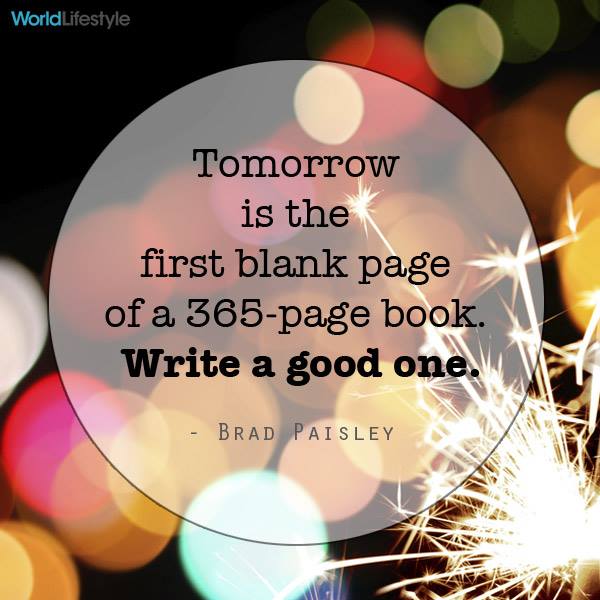 I don't, as a rule, make New Years Resolutions. They are usually made with good intentions, but quickly forgotten as life gets busy and keeping the resolutions becomes more difficult. However, this year I'm determined to make little changes that, collectively, will make a big difference in my life.
My first little change is to start incorporating more fruit and vegetables in all my meals and snacks. Another little change that I'm making is to get up and move every hour. Even if it's just 5 jumping jacks or sit ups. I start working and get lost in my writing. Before I know it 4 hours have flown by. My joints just can't take all that sitting without moving anymore. I've set the "move" time in my calendar so that an alarm reminds me to get moving.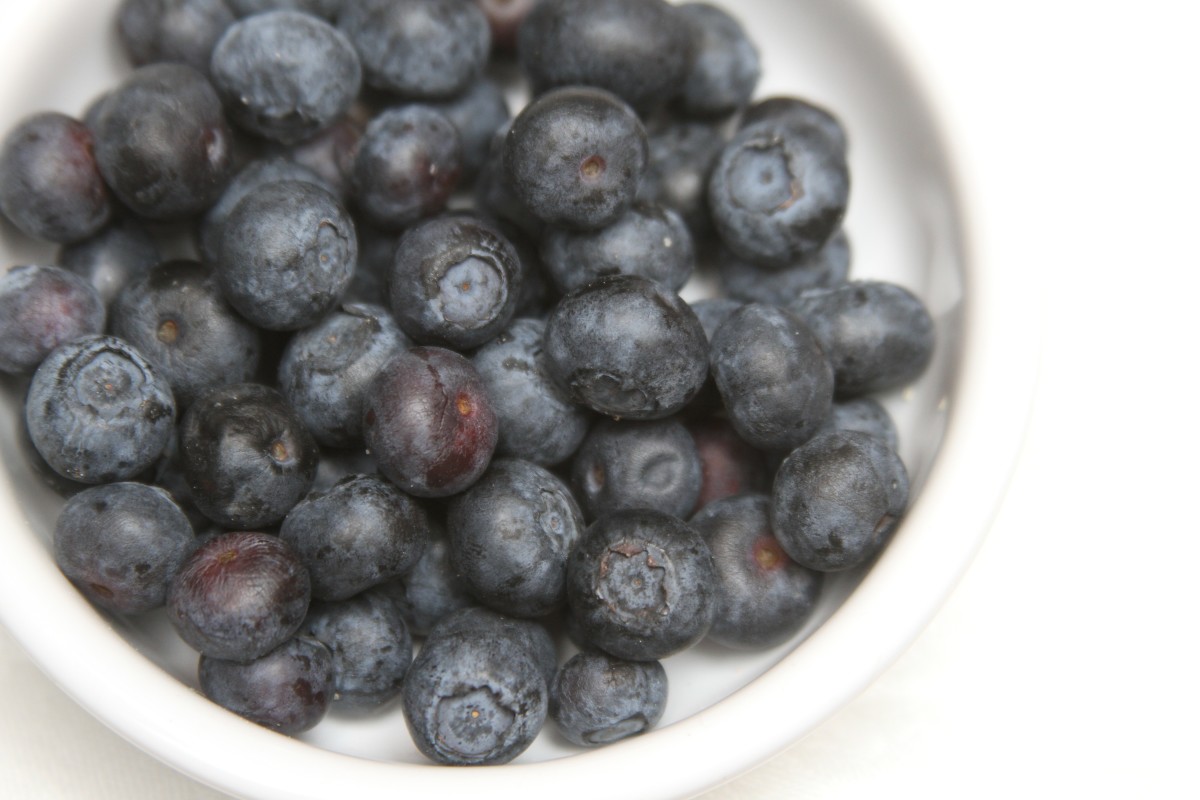 Since I'm adding more fruits to my diet I'm starting with adding more blueberries.Thankfully, they are available year round and are delicious. I love that I can easily add them to a daily menu plan. Plus, they taste great in both savory and sweet recipes. (Money Saving Tip: Blueberries freeze well. I buy extra when they are on sale and toss in the freezer until I'm ready to use them)
5 EASY WAYS TO ADD BLUEBERRIES TO YOUR DIET
Add a handful to yogurt. My favorite is yogurt, granola and blueberries.
Make blueberry pancakes by adding a handful or two of blueberries to the pancake batter.
Add to a tossed salad.
Make a blueberry smoothie. Smoothies are our go-to snack and/or lunch. So easy to make and packed full of nutrients.
Eat fresh as a snack. I snack on a cup of blueberries while I'm working. They have just 80 calories per one cup serving AND 3.6 grams of fiber.
FAVORITE BLUEBERRY RECIPES
Need more ideas on how to add blueberries into recipes. Here are a few of my favorite blueberry recipes I have on the blog or you can click over to the Little Blue Dynamos blueberry website.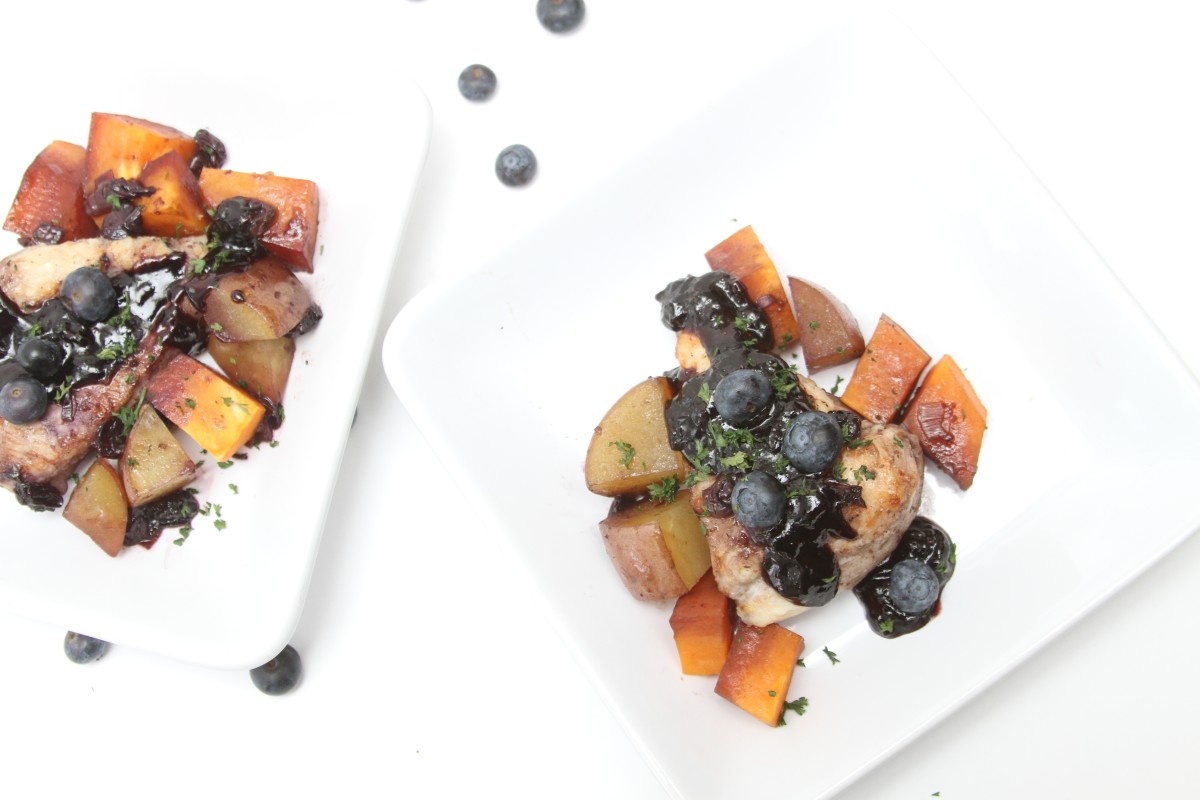 I made this Blueberry Balsamic Glazed Chicken the other day and fell in love with it. The glaze is simple to make AND lets me use blueberries in a savory main dish. The real test came when Alan tried it. Thankfully he liked it as much as I did so I'm adding it to our meal plan rotation.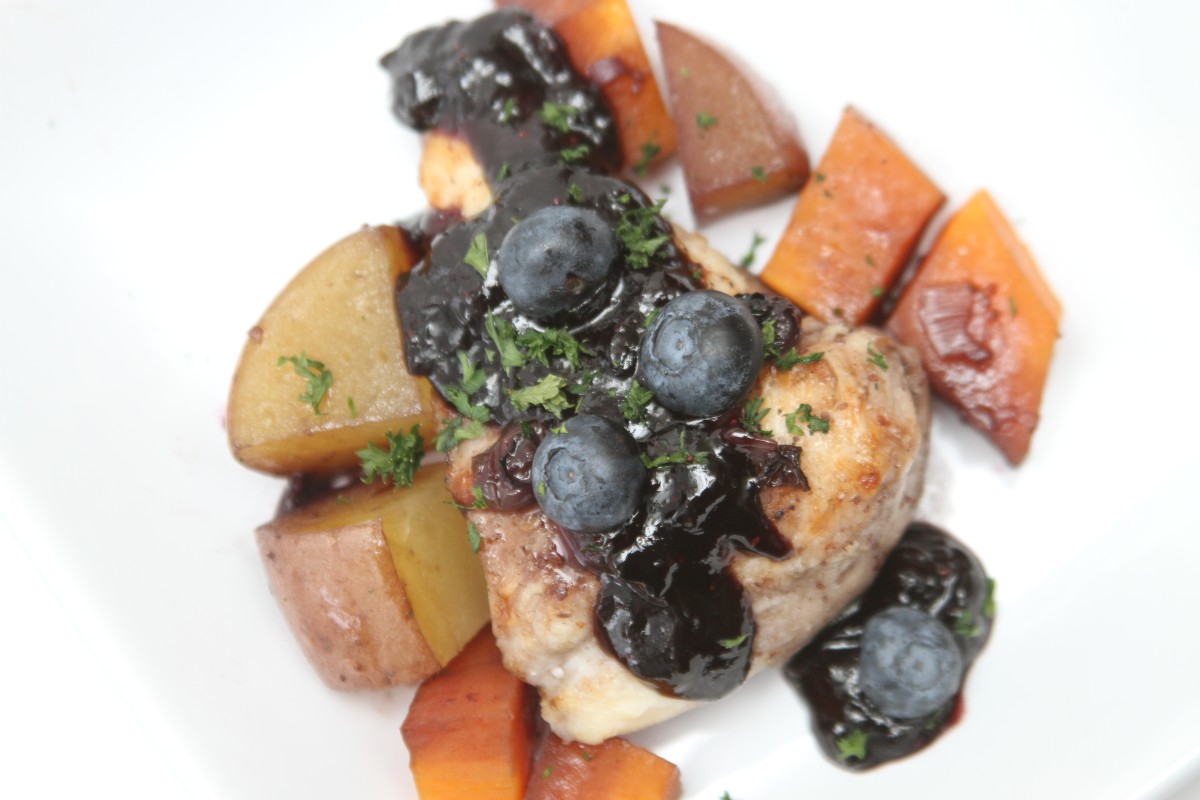 Blueberry Balsamic Glazed Chicken Recipe
1 tablespoon butter
2 chicken breasts
salt & pepper
3 green onion, white only sliced
1/4 cup balsamic vinegar
1/8 cup maple syrup
Pinch cinnamon
1 cup blueberries
Preheat oven to 350.
In a heavy, large skillet melt butter over medium heat. Season the chicken breast with salt and pepper. When the butter is hot add chicken to the pan and sear chicken on each side. Remove from pan and place in oven safe baking dish.
Add green onion, balsamic vinegar, maple syrup, cinnamon and blueberries to pan. Cook for 10 minutes, or until blueberries are soft, over medium heat.
Pour sauce over chicken.
Cover baking dish with foil and bake for 15 minutes, remove foil and bake for another 15 minutes.
**If desired, chop a small sweet potato and red potato and add to baking dish. Serve with chicken.
***PIN TO PINTEREST***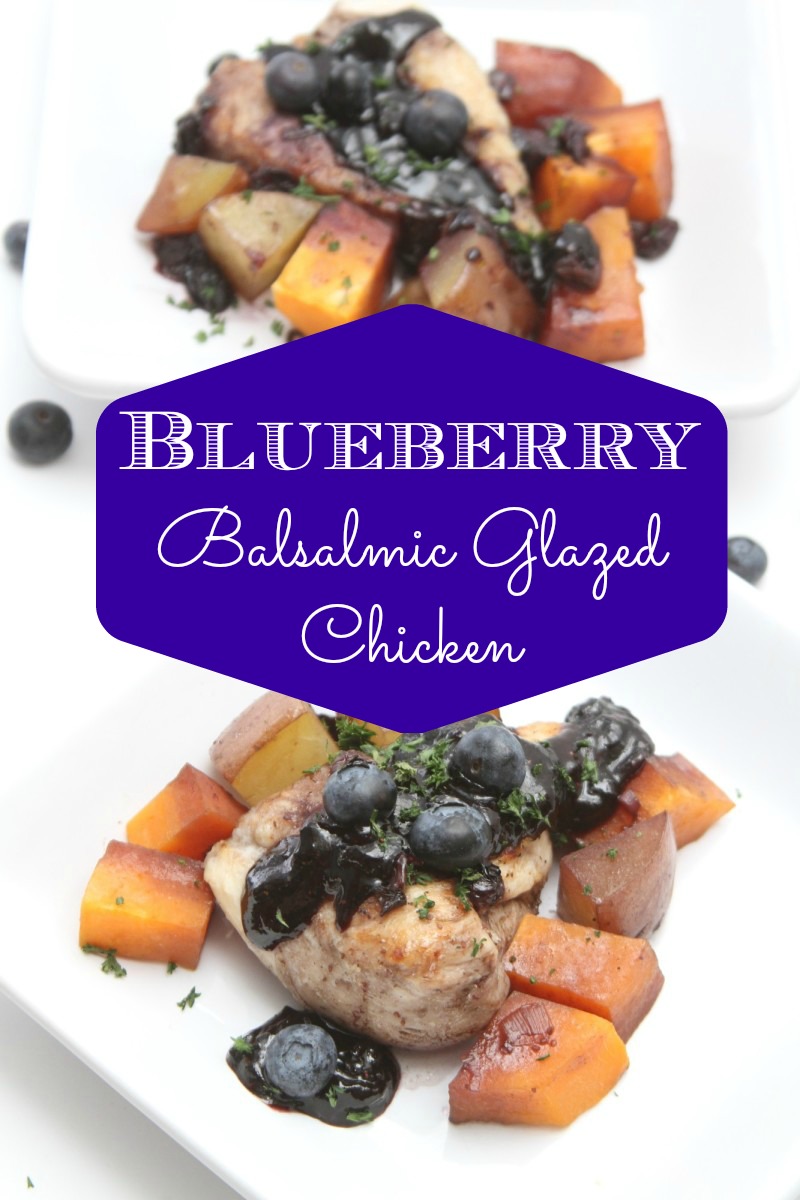 Learn more about the U.S. Highbush Blueberry Council
Website: www.littlebluedynamos.com
Facebook page: https://www.facebook.com/LittleBlueDynamos
Twitter page: @Blueberry411
Instagram account: @LittleBlueDynamos
Pinterest page: http://www.pinterest.com/BlueberryLife/