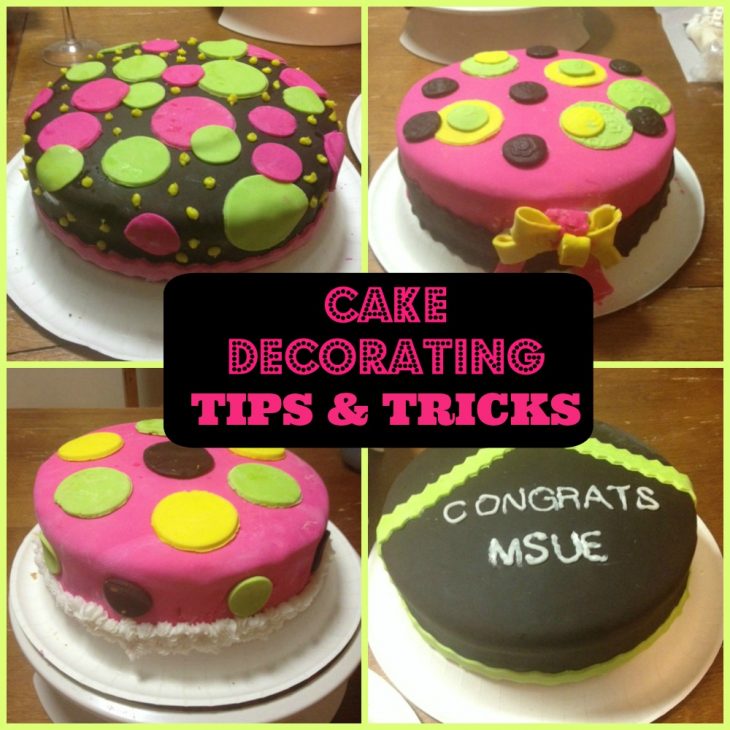 I participated in an Influencer Activation on behalf of Influence Central for Cake Boss. I received product samples and a promotional item to thank me for participating.
I've been so busy with travel that I haven't had time to catch up with my girlfriends. I thought hosting a cake decorating party would be the perfect opportunity to catch up with everyone while we tried out all of the fun gadgets that the Cake Boss sent for us to use. I sent out a text (the new invite) inviting my friends to a Cake Boss Party and a few days later 4 of my friends are sitting around my dining room chatting, drinking wine (of course, there is wine, there is always wine at my parties), and catching up with one another. Collectively, we have little to no experience cake decorating, but we are all game to give cake decorating a try.
Thankfully, prior to the party, I had printed out photos of decorated cakes that looked like something we could all complete and I spent about 5 hot seconds of research on how to use fondant. I figured the 5 of us together were smart enough to figure it out. It's not rocket science after all. The goal was to have fun and have fun we did.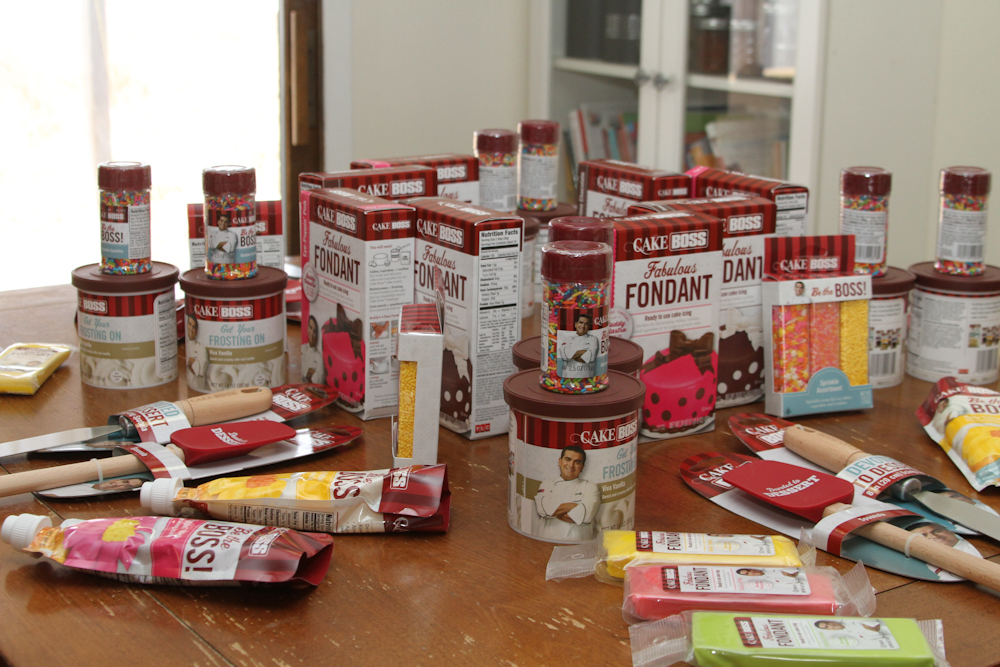 The Cake Boss was VERY generous and sent me a lot of items. I was thrilled because that meant each friend would take home a very nice gift bag filled with the following:
2 boxes fondant: chocolate and hot pink
2 tubs of vanilla frosting
2 tubes of rainbow sprinkles
1 box of pink and orange sprinkles
3 packages of fondant: yellow, pink, green
2 tubes of icing: yellow and pink
1 icing spatula
1 spoonula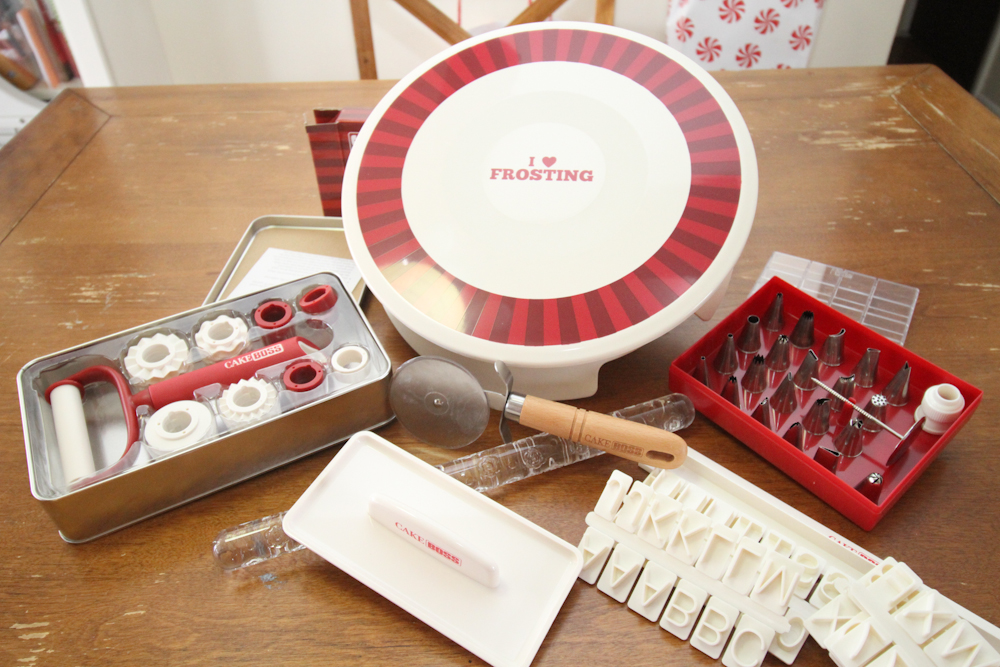 I was also sent an assortment of cake decorating supplies to use during my party. Fondant smoother, cake decorating turntable (with rubber bottom which keeps the stand in one place & has an "I Love Frosting" logo), ribbon cutter, letter embosser, fondant cutter, icing tips and a floral embossing rolling pin.
The one thing that wasn't included and would have been a big help was a cake decorating book, but it all worked out. However, if you are hosting a cake decorating parting with non-cake decorators I recommend grabbing a book from the library for reference (Wish I would have thought of that BEFORE the party).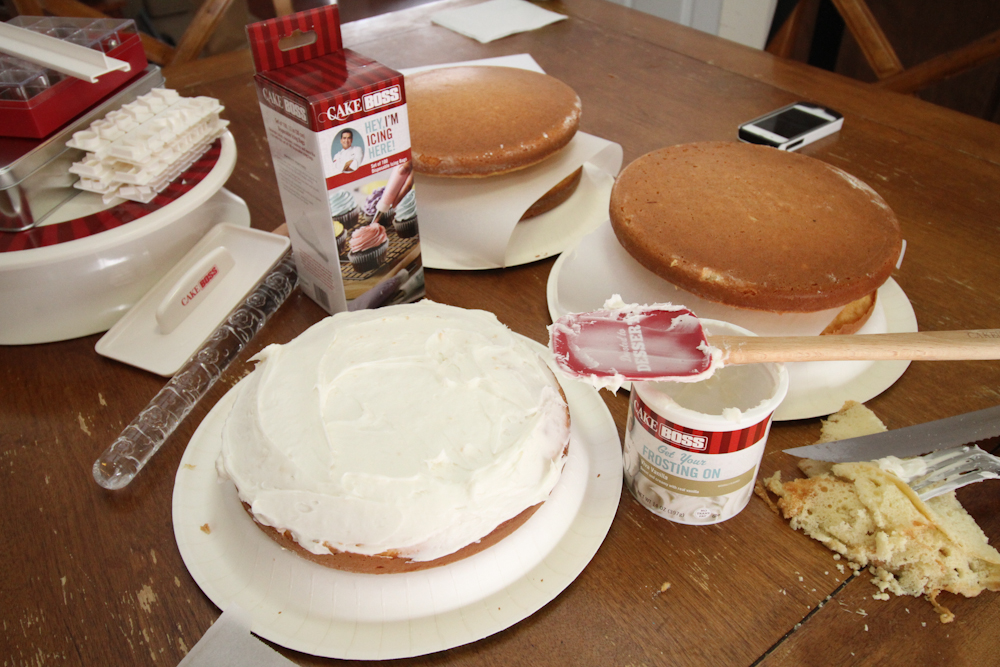 Before everyone showed up I baked the cakes and prepped them for the party. I used the 9″ Cake Boss cake pans and the cakes turned out perfect! I inverted the top cake when I layered it so that there would be a flat top surface to work with.
TIP: Use strips of parchment paper under the edges of the cake to keep the frosting from getting on the cake tray (or in this case the inverted paper plate, which actually works very well).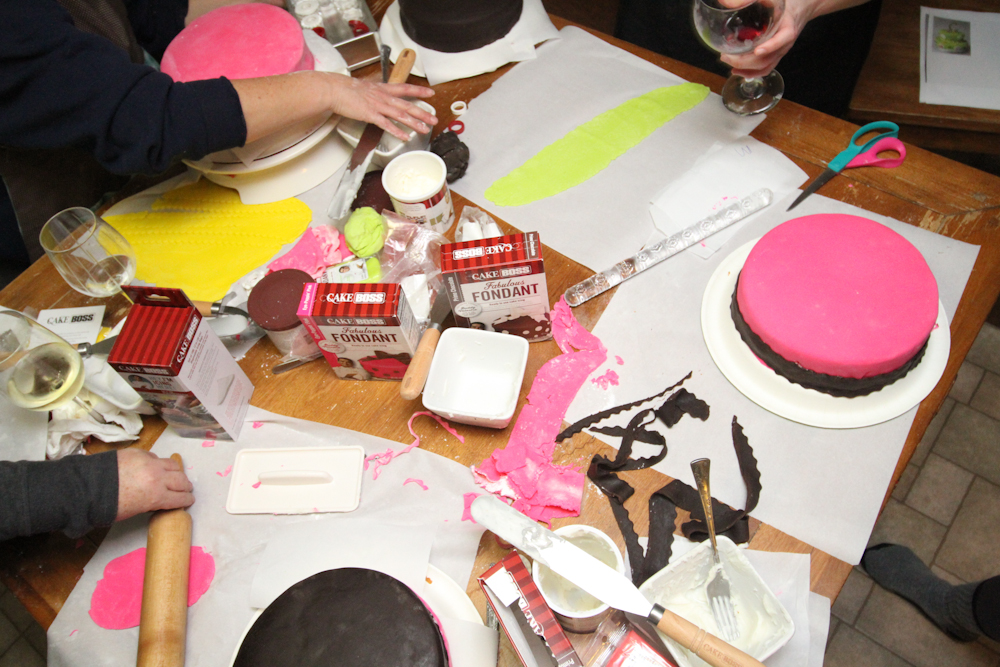 Once the Cake Boss Party cake decorating begins its an explosion of fondant and frosting. There is much rolling and cutting and laughter and I remember why I love being with my friends. We just have a LOT of fun together.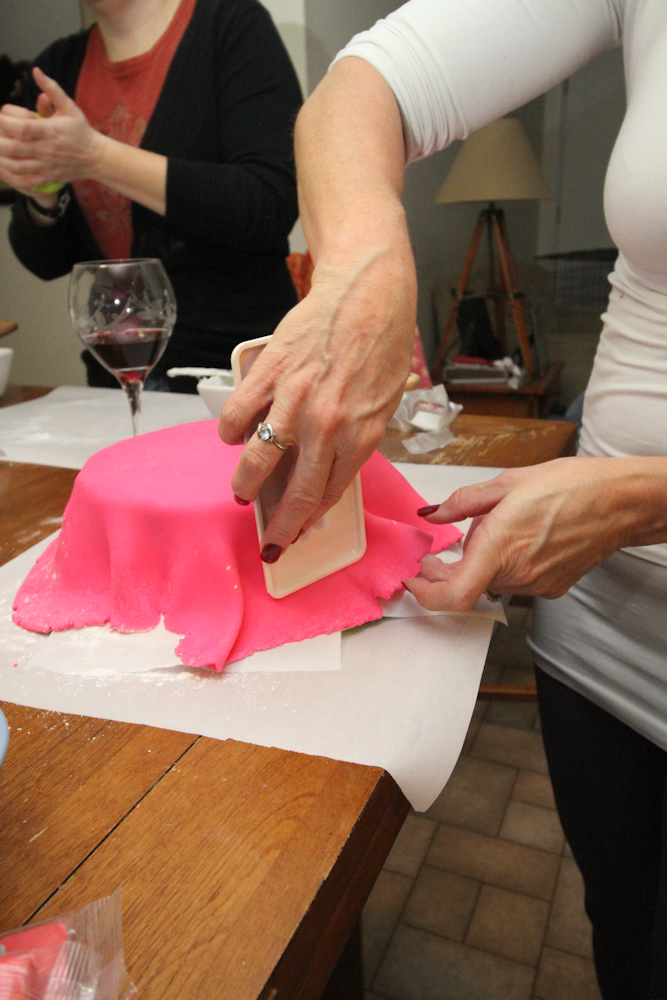 The fondant smoother was everyone's favorite tool to use. It worked really well to smooth the fondant nice and flat around the cake. The rounded edges of the smoother create even results without leaving line marks in the fondant. The size of the smoother also provides maximum coverage so you can smooth the fondant quickly and accurately.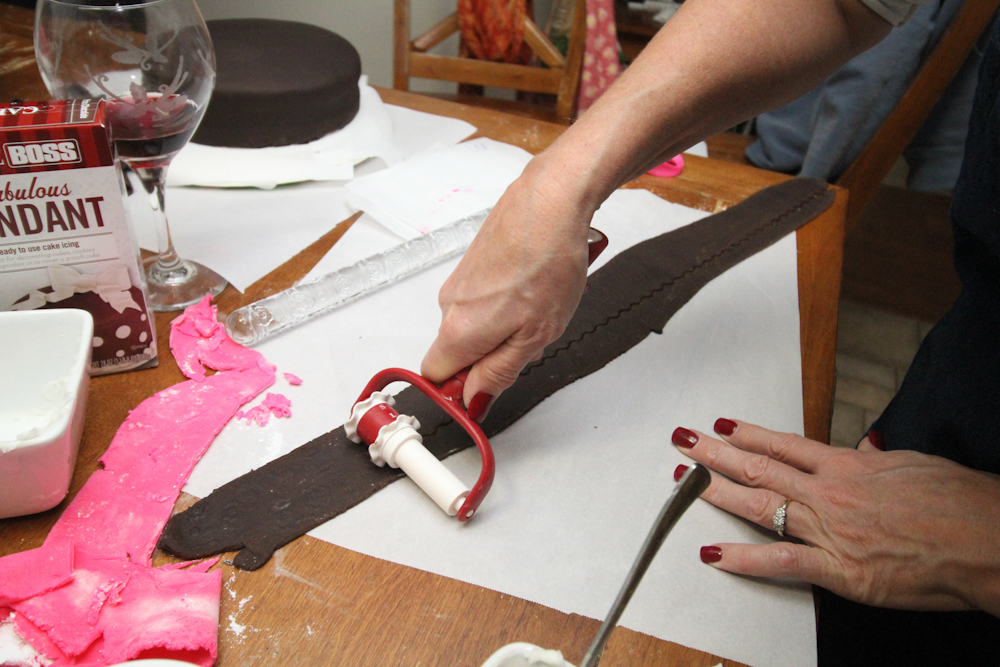 The ribbon cutter was fun to play with and we ended up trying a variety of ribbons, but only kept a couple of the designs.
TIP: Fondant does dry out so be sure to keep it wrapped in plastic or covered in a bowl when you aren't using it.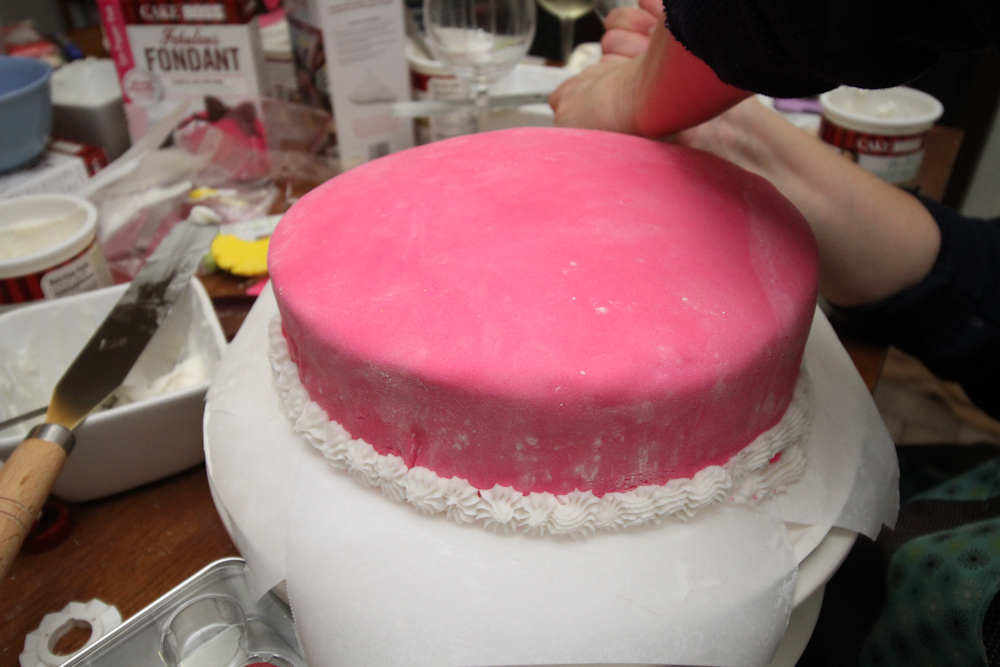 Thank goodness there was one of us that knew how to use the cake decorating tips. She showed off some mad flower making skills and then educated the rest of us on how to make flowers.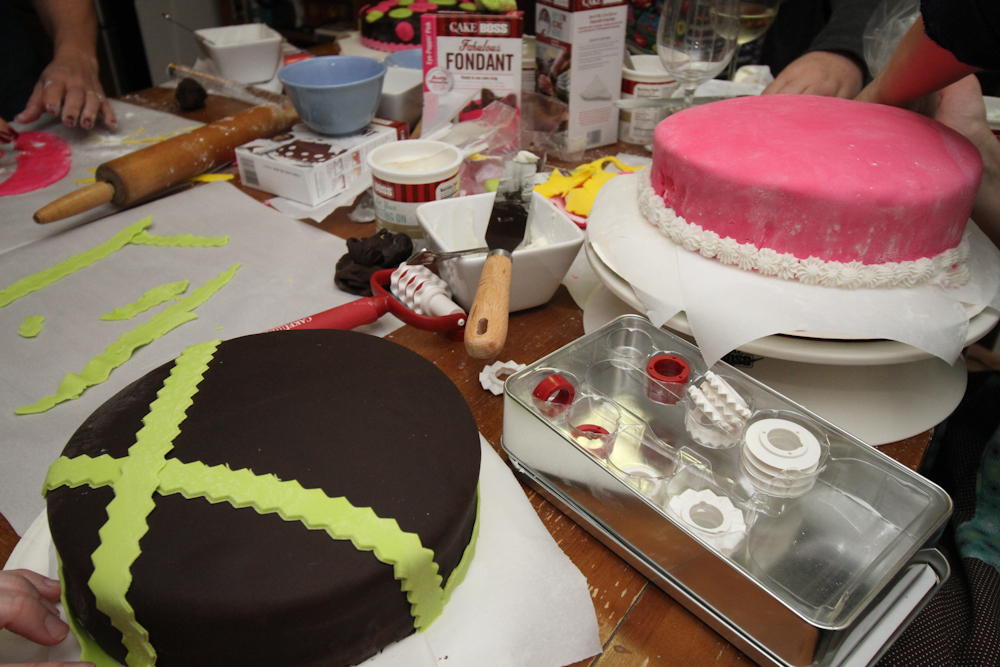 Pretty green ribbons adorn the chocolate fondant.
TIP: To adhere fondant decoration to a cake use frosting or water as the glue. The water worked well. We just dipped our finger in water and dabbed on the back of the fondant and placed on the cake.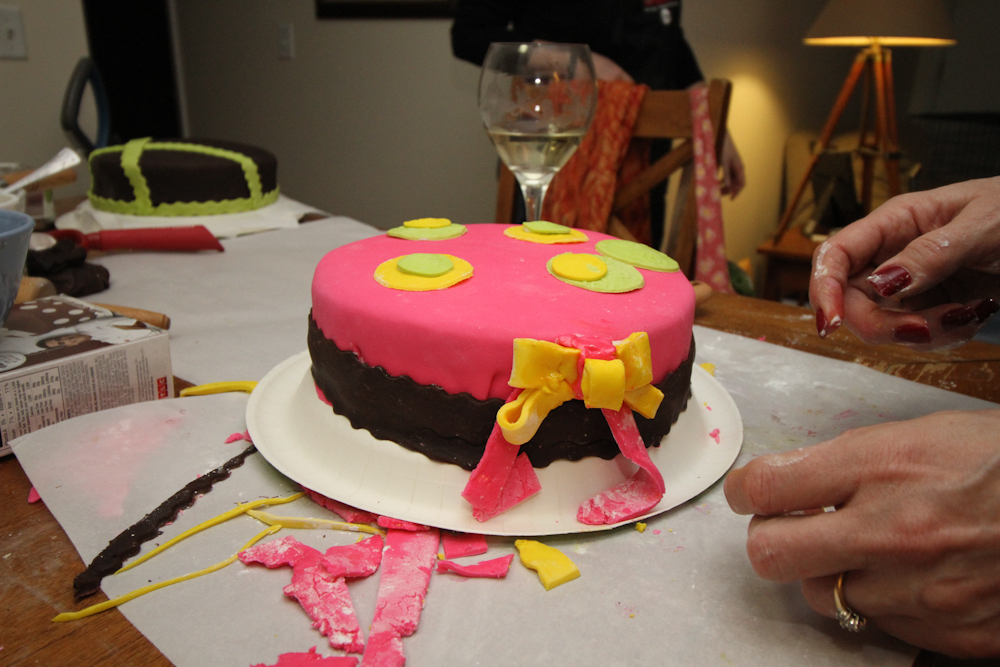 We used the ribbon cutter to attempt to make 'ribbon' to create a bow for the cake. A few failures, but we kept trying until we got it right.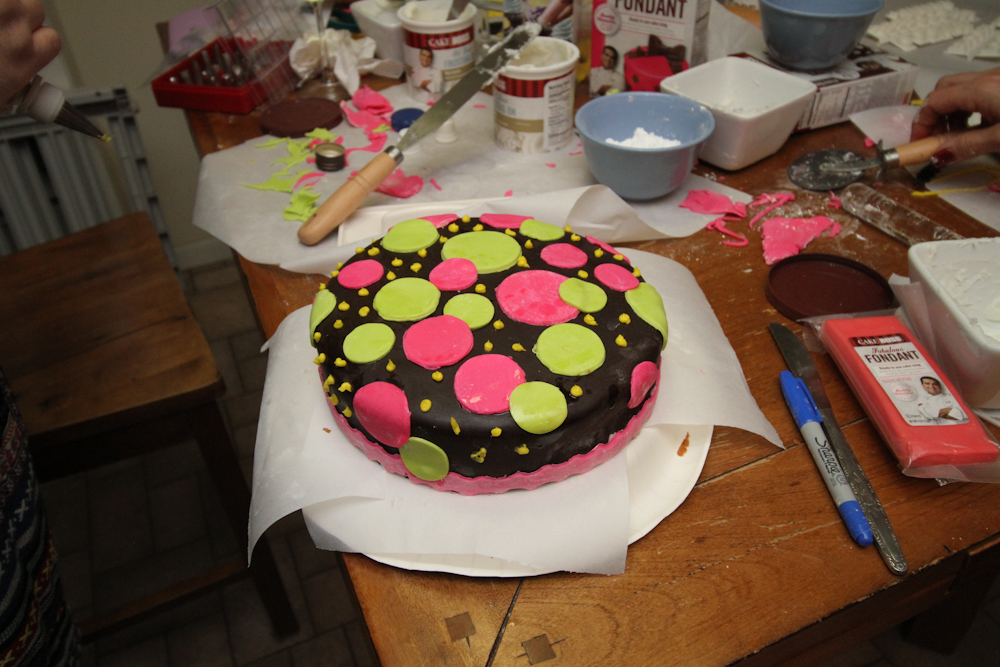 TIP: Dots were the decoration of choice for most of the cakes. We used the following items to create circles:
1. Milk cap
2. Screw top from a wine bottle
3. Shot glass
Be creative and look around the kitchen for different shapes. Cookie cutters work as well. I couldn't find my star shape cutters, but those would have looked great as well.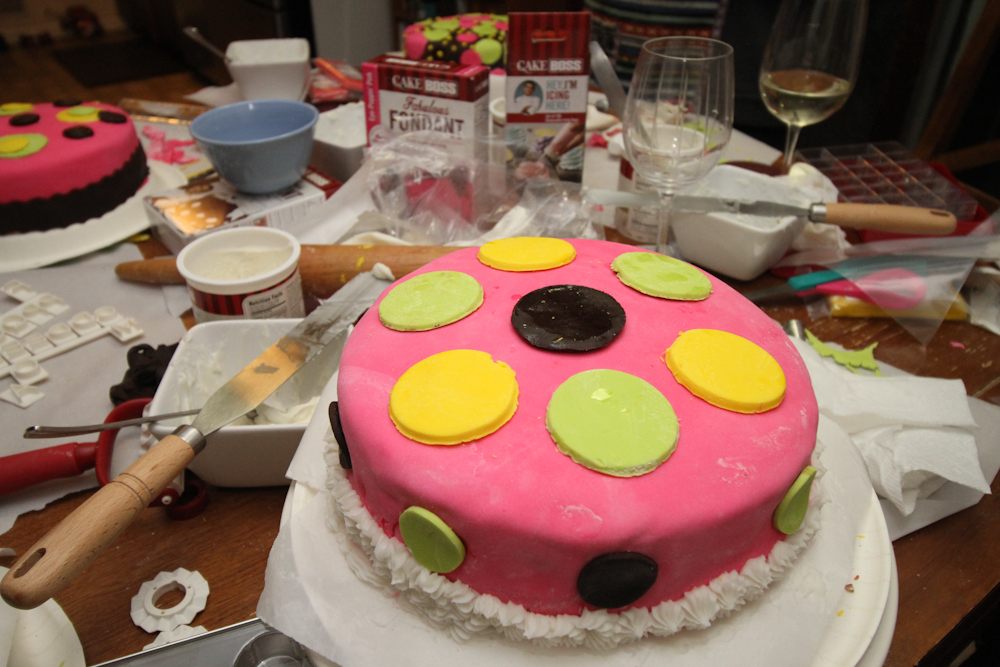 Circles, and icing, and fondant oh my.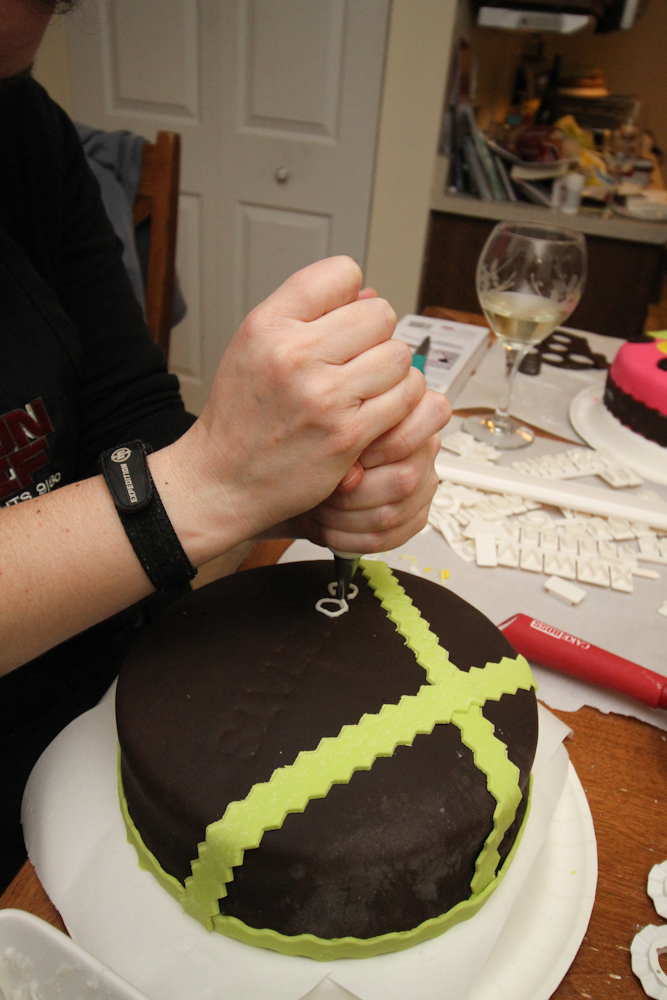 Trying out the letter stamps (which worked great!!) and filling the impressions with frosting.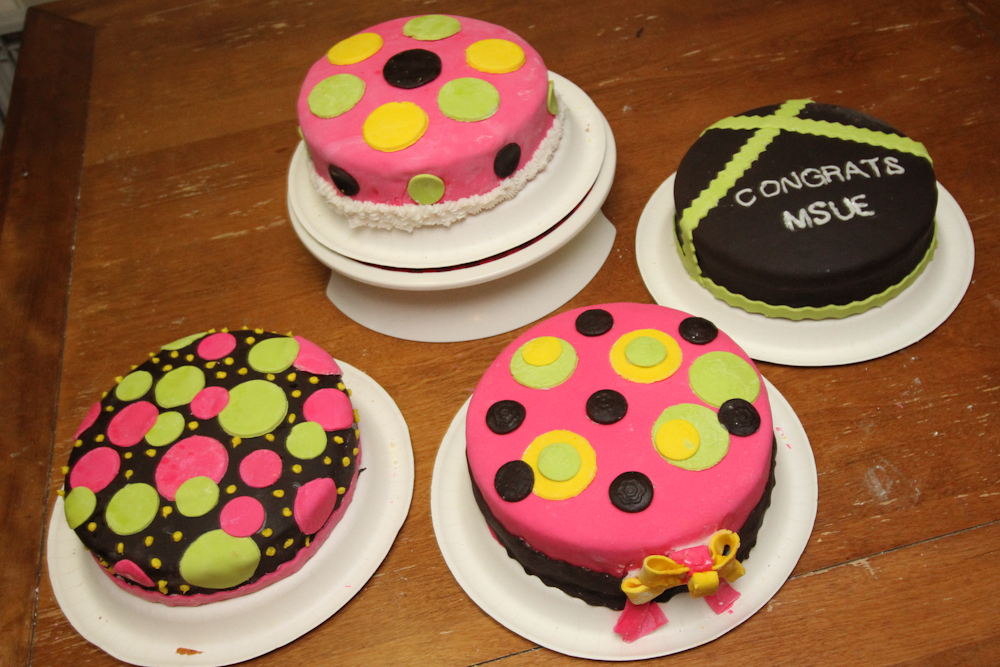 We had a great time decorating cakes, chatting and catching up. The cakes ended up lovely and I was really impressed since this was from a non-cake decorating group. If we can decorate cakes that look this good anyone can make it happen. Of course, it helped that we had great products from the Cake Boss.
Here's what a couple friends had to say about the party–names blacked out to protect the not so innocent plus I didn't want to post names without asking, that's just not right: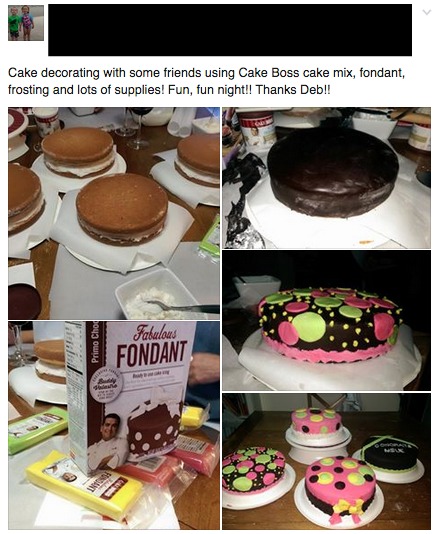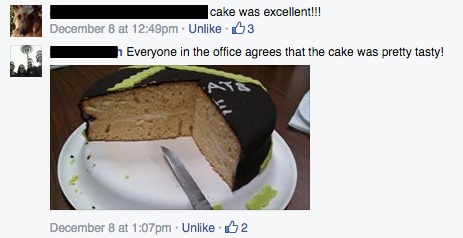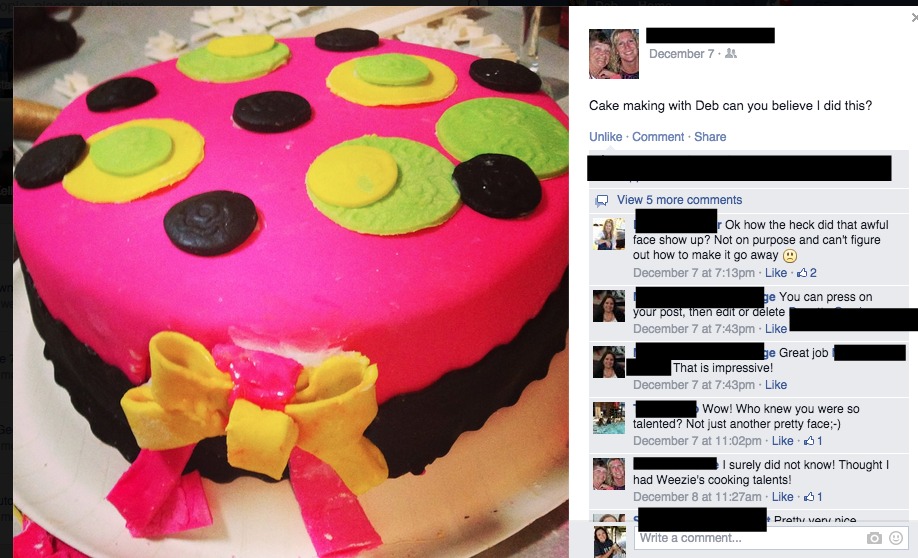 It was a fabulous party and we loved playing with the Cake Boss products. In addition to the cake making supplies the Cake Boss really spoiled me by sending me a few plates, bowls and mugs that I fell in love with.
I'm a nice Mom though and I'll be giving these to Em for her apartment, but I am snagging the Cake Boss cake carrier for myself (I'm not THAT nice!). The carrier holds a standard 9″ 2-layer cake and the lid latches tightly on the sides. Very important for transporting cake to the next get together.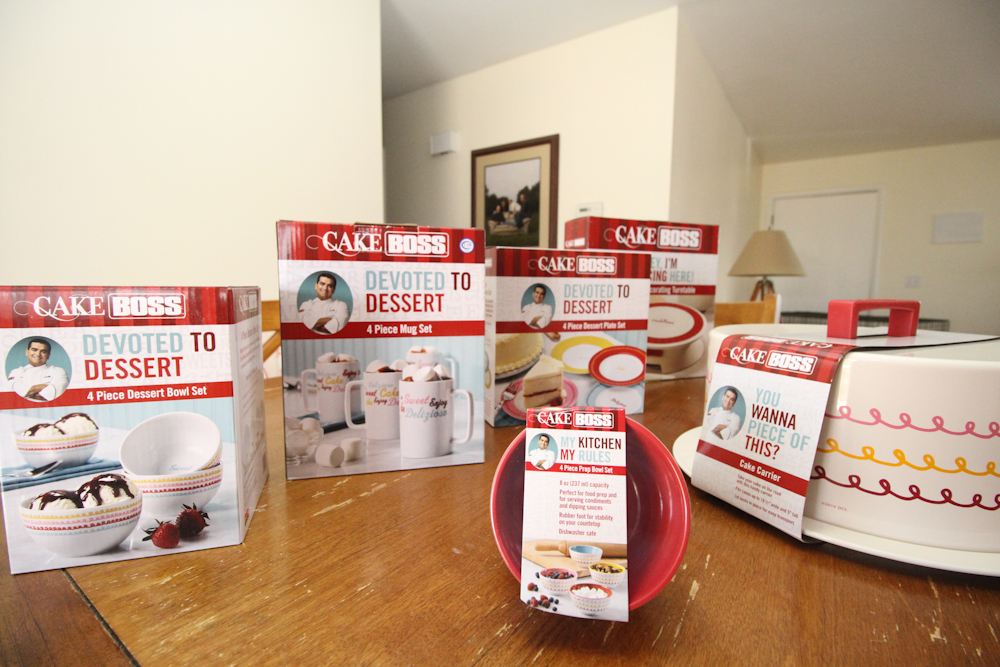 If you decide to host a cake decorating party be sure to check out the cake decorating supplies from the Cake Boss, available at Michaels.