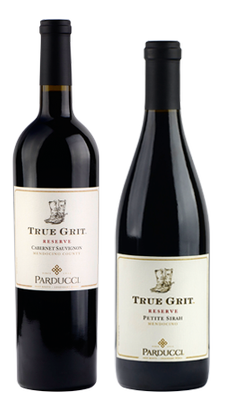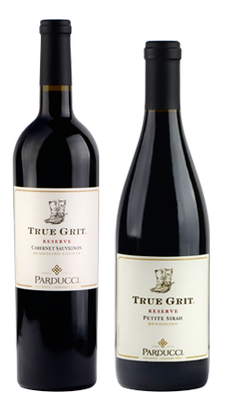 I was offered the opportunity to try Parducci True Grit wine. Of course, I'm not going to pass up the opportunity to taste a new wine from the comfort of my own home. Parducci sent me 2 bottles of True Grit wine to try, a 2012 Reserve Petite Sirah and a 2012 Reserve Cabernet Sauvignon.
I love that Parducci wine is based on a "vision of the future that involves respect for the land, and produces healthy vineyards, superior fruit, and wines that strut, will save the day."~Parducci wines I respect a wine company that is invested in the land and has deep roots in creating wines that are bold, fearless, and charismatic.
ABOUT TRUE GRIT: Boldly expressive of varietal character, True Grit Reserve wines are the product of very selective fruit sourcing and hands-on winemaking. Each vintage gives the full range of expression for a fearlessly distinct wine.

TASTING NOTES: Parducci Reserve True Grit Petite Sirah has heady aromas of ripe fruit, white pepper and vanilla, followed by an intense rush of fresh blackberry, dark chocolate, pepper and caramel flavors.
VARIETALS: 91% Petite Sirah 8% Syrah 1% Grenache
AGING: 43% New American Oak, 57% Seasoned American & French Oak
ALCOHOL: 14%
BOTTLED: JUNE 2014
COST: $29
TASTING NOTES: True Grit Cabernet Sauvignon offers rich flavors of dark carob and cassis with a meaty cherry and vanilla finish framed by a substantial yet velvety bed of tannins.
This is so smooth. After opening I let it breath for about 15 minutes before pouring it. I shared with my friends and we all agreed it was one of the smoothest Cabernet Sauvignons that we've tried. This definitely goes on my list of wine to buy again.
VARIETALS: 100% Cabernet Sauvignon
AGING: French oak & neutral redwood tank
ALCOHOL: 13.5
BOTTLED: JULY 2013
COST: $30
WINE BOOK RECOMMENDATION
If you want to learn more about wine tasting and how to make it fun check out the book The Wine Club by Maureen Christian Petrosky. I bought a copy of this book years ago when my friends and I wanted to start trying a variety of wines but didn't know where to begin. The Wine Club helped us figure out some of the finer points of wine tasting. We still keep it pretty laid back and low key (no high brow, hoity toity, wine slang for us), but we now know a nice glass of wine when we taste one. The Wine Club is available used through Amazon.com