Feeding yourself and your family wholesome, nutritious food when prepackaged convenience foods are everywhere is often a struggle. I want to share with you the one thing that has made it easier to feed healthy food to myself and my kids.
When I was pregnant with my daughter, I started to think about the food I was feeding myself and what I'd feed her when she was born.
I couldn't stand the idea of mystery ingredients on my unborn baby's plate, so I started searching for alternatives.
My mom and grandma canned homemade applesauce, pears, jam, salsa, and more when I was growing up and during my first pregnancy, I dove into re-learning what I had practiced as a kid, but made some major improvements in the process to fit my busy life.
Out with the marathon canning sessions; In with the easy, fast, and healthy recipes.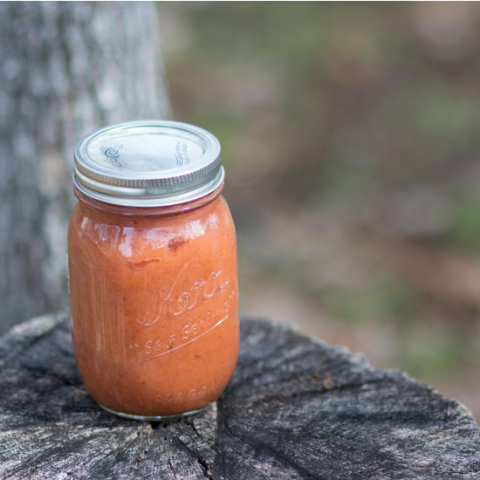 I canned apples into healthy, wholesome applesauce and I learned how to preserve healthy produce with little or no sugar and only the most wholesome ingredients that I was comfortable with inside.
Now, I can applesauce in wide-mouth half-pint jars for my kids and me to share alike, and for babies and toddlers, I preserve it in these 4-ounce canning jars. Both are perfect serving sizes, free from BPA, reusable, and so much easier than dishing up separate bowls.
Having homemade applesauce on the shelf gives my kids an easy go-to that they love (mine are big fans of the cinnamon and maple syrup flavors) and we can take them in the car, in their lunch boxes to take to Grandma's house, and on trips.
The following recipe will share not only the recipe for delicious applesauce (and optional add-ins for mom's lunch on the go!) but explain exactly how to preserve it in glass jars so you can enjoy it up to a year later.

How to Make Homemade Applesauce
If you plan to preserve your applesauce in jars, here's what you need:
Note: Many pediatricians recommend abstaining from home-canned foods until a baby is one year of age because of the very small risk of botulism, similar to recommendations to abstain from raw honey. While apples are naturally high in acid, and thus negate this risk, confer with your doctor first.
Homemade Applesauce Ingredients
3 Weight Watchers blue points per 4 ounces
8 cups apples, washed and chopped, stems, cores, and seeds may remain
water to cover- at least 8 cups
1 cup sugar
2 tablespoons real maple syrup
2 teaspoons vanilla
1 teaspoon cinnamon
**for baby food, omit all but apples and water, and use 4-ounce jelly jars.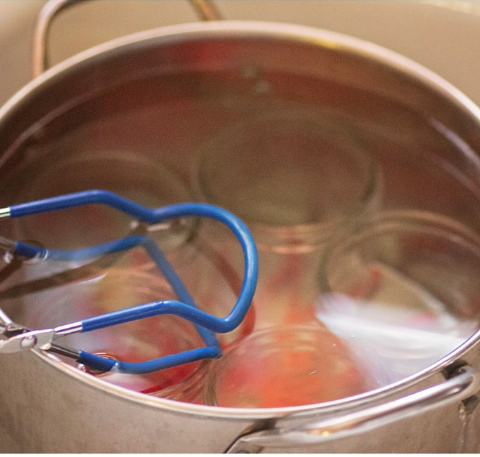 Homemade Applesauce Directions
1. Prepare your water bath canning pot or your steam canner. Fill the water bath canning pot with water, add 8 half-pints (1 measuring cup total) jars, and bring to a boil OR fill the steam canner to fill line and turn on low with 10-11 half-pint jars nearby on a towel-covered countertop.
2. Combine apples and water and simmer together in a preserving pan (a heavy-bottomed, wide pan) and stir occasionally for 30 minutes or until apples are very soft.
3. Puree: Remove from heat and ladle into a food mill. OR apples could be peeled and cored prior, and mashed with a potato masher. OR apples could be pureed in a blender if cores were removed prior.
4.Return apples to a boil, add sugar, maple syrup, vanilla, and cinnamon. Omit sugar, syrup, and spice if preferred. Applesauce is safe and delicious without those ingredients.
Cook for 5 minutes.
Applesauce is ready to be enjoyed. If you'd like to skip preserving, enjoy and refrigerate.
5. Ladle into jars one at a time, filling up to ½ inch from the top of the jar, apply lids and rings, and either submerge into the boiling water of the boiling water bath with a jar lifter OR set gently on the rack of the steam canner.
6. Process for 10 minutes PLUS 5 minutes for every 1000 ft above sea level. Remove from heat, rest jars carefully on towel covered countertop. Label cooled jars and store for up to 1 year.
Yields about 10 cups of applesauce. This means you'll need 10 half-pint jars or 20 4-ounce jars.
More Preserving Ideas
Once you've made applesauce, there is no limit in terms of preserving possibilities. My kids love my tomato sauce on their spaghetti noodles and have no idea there's nothing in it but vegetables.
Fruit butter frosts my muffins and whole fruit like cherries and peaches are sweet, wholesome, and natural alternatives to "fruit" snacks on my shelf.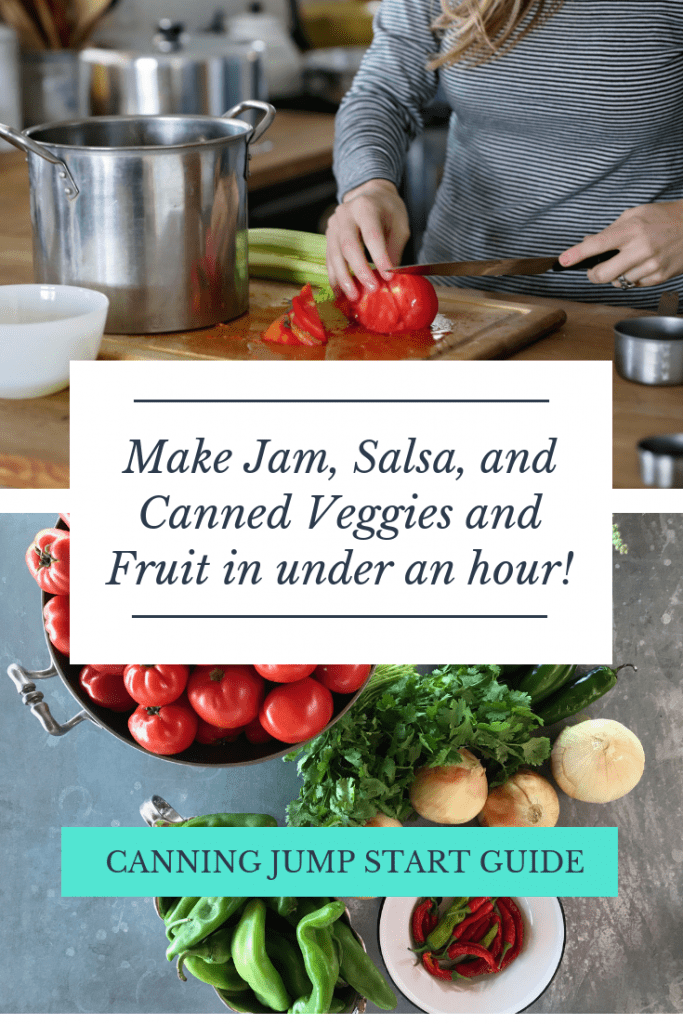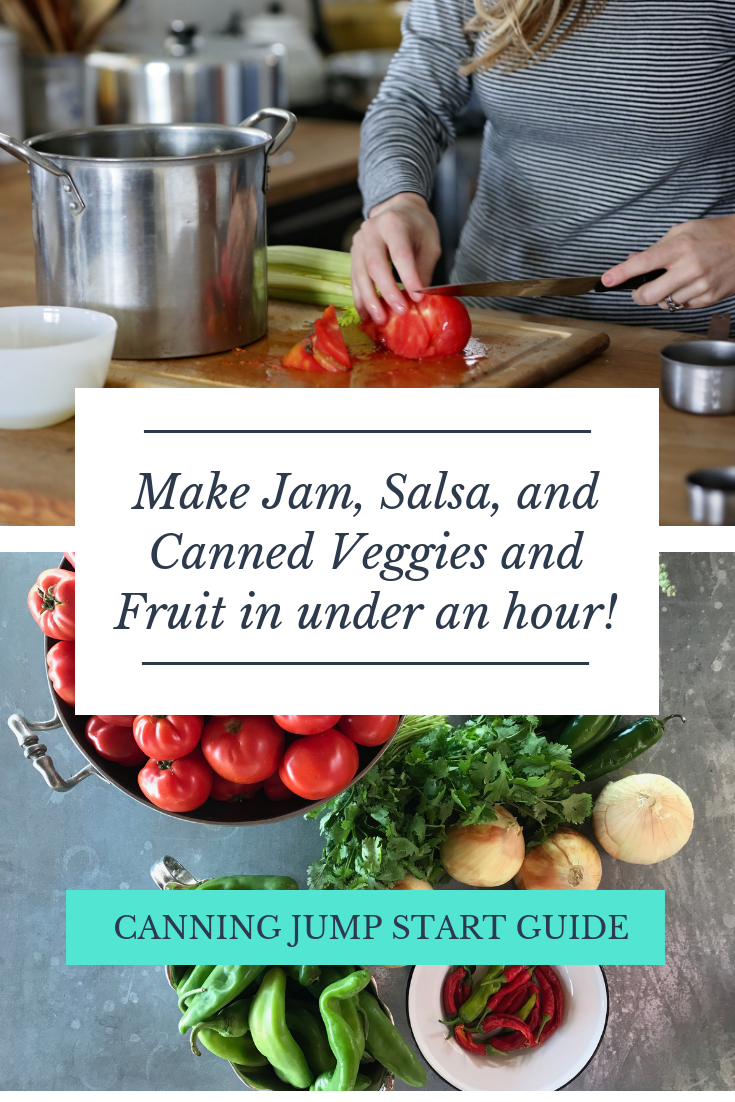 Ready to learn more?
It's a visual guide with recipes, step by step tutorials, a seasoned planner, and equipment checklists.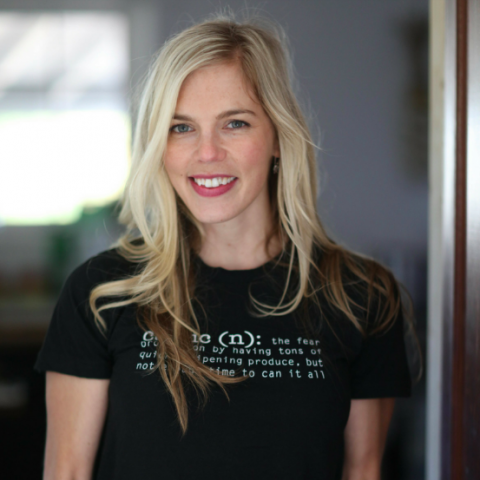 About The Author
Jenny blogs about homemade food & craft at www.thedomesticwildflower.com and her two small children's favorite things to eat are spaghetti with NO MUSHROOMS and raspberry jam…with a little toast underneath.
If she had to can one thing the rest of her life it would be tomato sauce and it is her favorite thing to help beginners learn how easy canning is.
You can enroll in her Free Canning Basics Course at www.startcanning.com
Pin Homemade Applesauce to Pinterest