Visit North Alabama is jam packed with hidden gems and unique attractions. I'm always finding really cool reasons to put the area back on my "must visit" list.
You could easily spend a long weekend in the area, but I'd recommend trying to stay at least 5-day, a full week is probably best.
It you love playing outside, discovery the quirky side of a destination, and want to know all the cool places to visit in North Alabama this article is for you.
7 One-Of-A-Kind Reasons To Visit North Alabama

Private Waterfall Camping
This ranks right at the top of my "must experience for myself" list. I love camping and I love waterfalls and Dismal Canyon is offering a unique, one-of-a-kind experience the puts both things together. The Sleeping Water campsite features a grotto AND a private waterfall!!!
I have to give a big shout out to Outdoor Boys YouTube channel for sharing this gem. You can see the video here, fast forward to 25:48 for the Dismal Canyon portion.
Dismal Canyon is a National Natural Landmark offering up rugged wilderness, secluded campsites, hiking, kayaking/boating, gorgeous wildflowers and more.
If that isn't enough to make you want to visit here's what they have to say about the canyon:
A 1.5 mile hiking trail on the canyon floor follows the stream through sky-reaching boulders, past thundering waterfalls, into a secret world of mossy-green and pearl gray filled with ferns and giant trees. Its waterfalls, natural bridges, cliffs and boulders give this place a magnificent splendor.
Totally swoon worthy.
I'm sure this campsite books quickly so be sure to call and make a reservation far in advance of your travels so you're not disappointed.
Camping available 7 days a week from Memorial Day to second week of August. Camping available WEEKENDS ONLY March to Memorial Day and second week of August through last weekend of October.
Also, if you love waterfalls be sure to check out our guide to the best waterfalls in North Alabama
Hunt for Glow Worms When You Visit North Alabama
Since you're already camping at Dismal Canyon stay up late and search for glow worms (aka Dismalites). This is the only place in the world you can see them!
These "glowworms" can only survive in very specific habitats and are unique to only a few places on Earth. They are "close cousins" of the rare glowworms found in Australia and New Zealand.
What Are Dismalites (aka glow worms)
According to Dismal Canyon:
They are the larvae stage of a unique, native, and endemic species of insect (North American Orfelia fultoni) that emits a bright blue-green light to attract food, in the form of other flying insects.
What habitat to Dismalites/Glow Worms need to survive?
Humidity to prevent them from drying out

Hanging surfaces to allow them to build sticky webs to trap their food

An adequate food supply of insects

A still atmosphere to prevent webs from tangling

Darkness to allow their light to show
And lucky for us, Dismals Canyon provides the perfect habitat for these unique insects to survive.
As an added bonus the Dismalites share their cavern with bioluminescent Firefly larvae that live in the creek beds giving visitors a one-of-a-kind experience.
How To See the Dismalites/Glow Worms?
You'll need to sign up for a guided night tour to see these critters for yourself. They only offer four tours a night with a max of 15 people per tour. Much like the campsite mentioned above, the sooner you call the better!
Learn more about the tour here.
Go to "Church" at Cathedral Caverns State Park
The stalagmite forest and frozen waterfall are the classic views at Cathedral Caverns State Park. The cave, which maintains a 60-degree temperature all year long, has a huge opening that measures 126 feet wide and 25 feet high. Cathedral Caverns is definitely a spiritual experience if you take a few moments to appreciate the beauty that surrounds you. It really is simply stunning.
Human habitation can be traced back 8,000 years in the cave. It is home to one of the largest stalagmites in the world measuring 45 feet tall and 243 feet in circumference.
Outside the cave the park offers gemstone mining, an activity for any age, but especially popular with younger visitors. Beyond that, the park encompasses 493 acres with hiking trails and improved campsites along with primitive tent camping areas.
Want more outdoor fun? Be sure to read 7 memorable spots to get outside in North Alabama
Enjoy Music and Dinner In A Cave
At Rattlesnake Saloon the swinging doors lead to a cave in what is referred to as "a watering hole under a rock." The chow time menu consists of burgers and sandwiches, usually accompanied by local live music.
Located near Tuscubmia, the dining area is situated under a bluff. Interestingly enough, when you arrive at the Saloon, after you park, you hop in a flatbed truck for a ride into the cavern.
Important things to know about your visit:
Open Thursday-Sunday, the seasons affect open hours, check website for complete details
Wait in the parking area for the saloon taxi to take you to the saloon as table are available.
Live music most nights after 5p. That is also when alcohol (beer, cider, wine only) is available.
Kitchen closes at 9pm
Most importantly, horses can be tied to the hitching posts outside…it's a real saloon
Have a BLAST in Huntsville
The U.S. Space & Rocket Center has long been a favorite attraction. The Smithsonian Affiliate is the Visitor Center for NASA's Marshall Space Flight Center and has one of the largest collections of rockets and space memorabilia on display anywhere in the world.
This is where rockets were originally developed to launch the Apollo spacecraft that first took mankind to the moon (or did it?????lol)
The scope of what they do here is amazing. The Marshall Space Flight Center is home to development of the Space Launch System, the most powerful rocket ever designed to carry human explorers, their equipment and science payloads deeper into space than ever before, to an asteroid and to Mars.
There is so much to do here from flight simulators and a multi-axis trainer to a g-force accelerator and a moon shot.
You could seriously spend the entire day visiting especially if you love all things space exploration related.
See why Mentone, near-ish Huntsville, is one of our favorite places to visit and stay.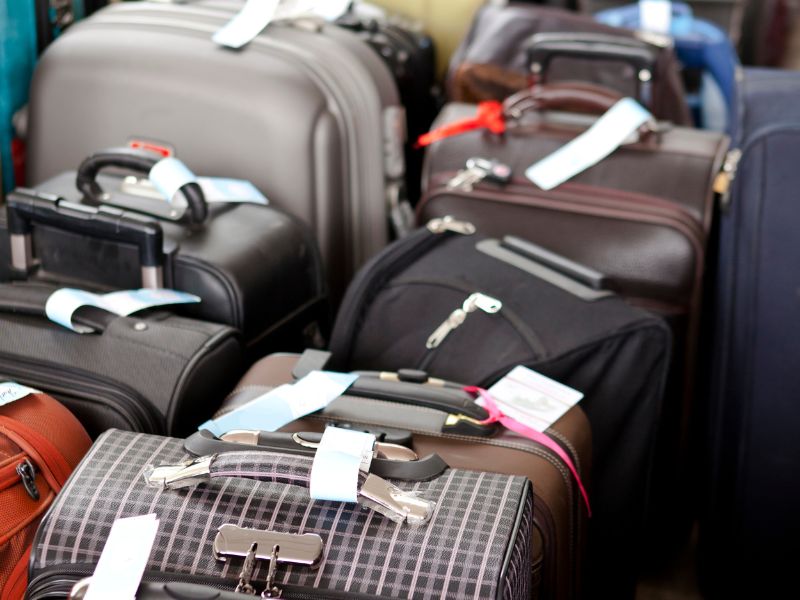 Dig For Treasure at Unclaimed Baggage Center
The Unclaimed Baggage Center is where all "lost" luggage goes to die or be rehomed. It's the only lost luggage retailer in the United States.
I always wondered how they could have so much luggage all the time and now I know. Even though the airlines use sophisticated tracking technology and reunite almost ALL the luggage (over 99.5% of bags) with their owners if a bag is truly lost, airlines pay out a claim to the passenger.
It's only after an extensive three-month search that an unclaimed bag is deemed "lost." Thankfully, this only happens to less than 0.03% of all checked luggage….whew.
Now this means that there is a slim percentage of luggage available to be bought by Unclaimed Baggage, sorted and the good stuff put up for sale.
You'll never know what you'll find there but if you're in the area it probably worth a visit. Note, they are closed on Sunday. Always check the website or call for current hours of operation.
Pay Your Respects at the Coon Dog Cemetery
More than 300 coon dogs have been laid to rest in the scenic "Freedom Hills."
Here you'll see unique headstones and epitaphs that pay tribute to man's best friend. Coon dogs have been laid to rest here since 1937.
Open year-round during daylight hours. Admission is free.
Pin To Pinterest: