It all began when President Theodore Roosevelt arrived in Mississippi to go on a bear hunt. The exact location of the hunt is lost to time, although history agrees that it was around Rolling Fork, MS.
However, what is known is that President Roosevelt's hunt resulted in the birth of one of America's most of beloved childhood toys, the Teddy Bear and Rolling Fork is the area where is all began.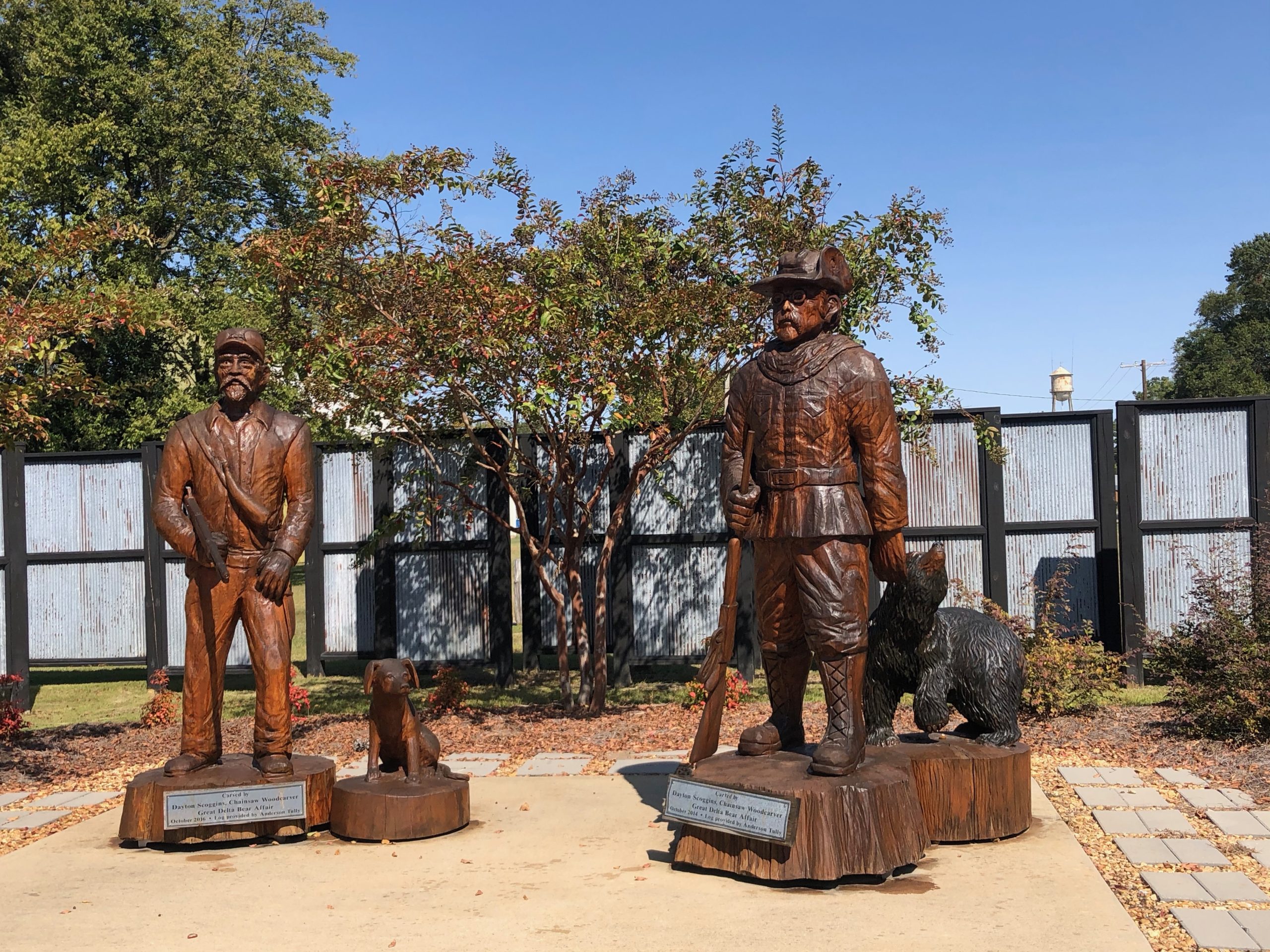 The Story of the Teddy Bear in Rolling Fork
(this is a condensed story of the teddy bear….)
President Roosevelt was guided to an area to wait, gun in hand, for Holt Collier, hunting guide extraordinaire, to drive a black bear to him.
However, it was taking a bit longer than the President expected and, tired of waiting, he went in search of lunch. Shortly afterwards, Mr. Collier drove a bear to the President's location only to find him not there.
To ensure the President had an opportunity to get a bear, Mr. Collier stunned the bear and tied it to a tree and brought the President to the bear.
President Roosevelt declined stating it would be unsportsmanlike like to kill a bear tied to a tree.
The story of the President not taking the shot made its way to NYC and a toy store owner started calling stuffed bears, Teddy's Bear in honor of President Roosevelt's famous hunt.
Go On A Bear "Hunt" in Rolling Fork, MS
When you visit Rolling Fork on your tour of the Mississippi Delta you can go on a fun bear hunt around town and enjoy the creative works of a local wood carvers.
There are at least 15 hand carved bears that you can "hunt" in Rolling Fork. They are found along M-61 and in historic downtown.
On your bear hunt find the following bears and statues:
Tourist Bear
Journalist Bear
Police Bear
Library Bear
Lineman Bear
Lumberjack Bear
Smokey Bear
Presidential Bear
Mechanic Bear
Fireman Bear
Bear cubs
Doctor Bear
Blues Bear
Farmer Bear
President Roosevelt with black bear
Holt Collier with hunting dog
Download the Rolling Forks Bear brochure prior to your visit to know the location of each of the bears.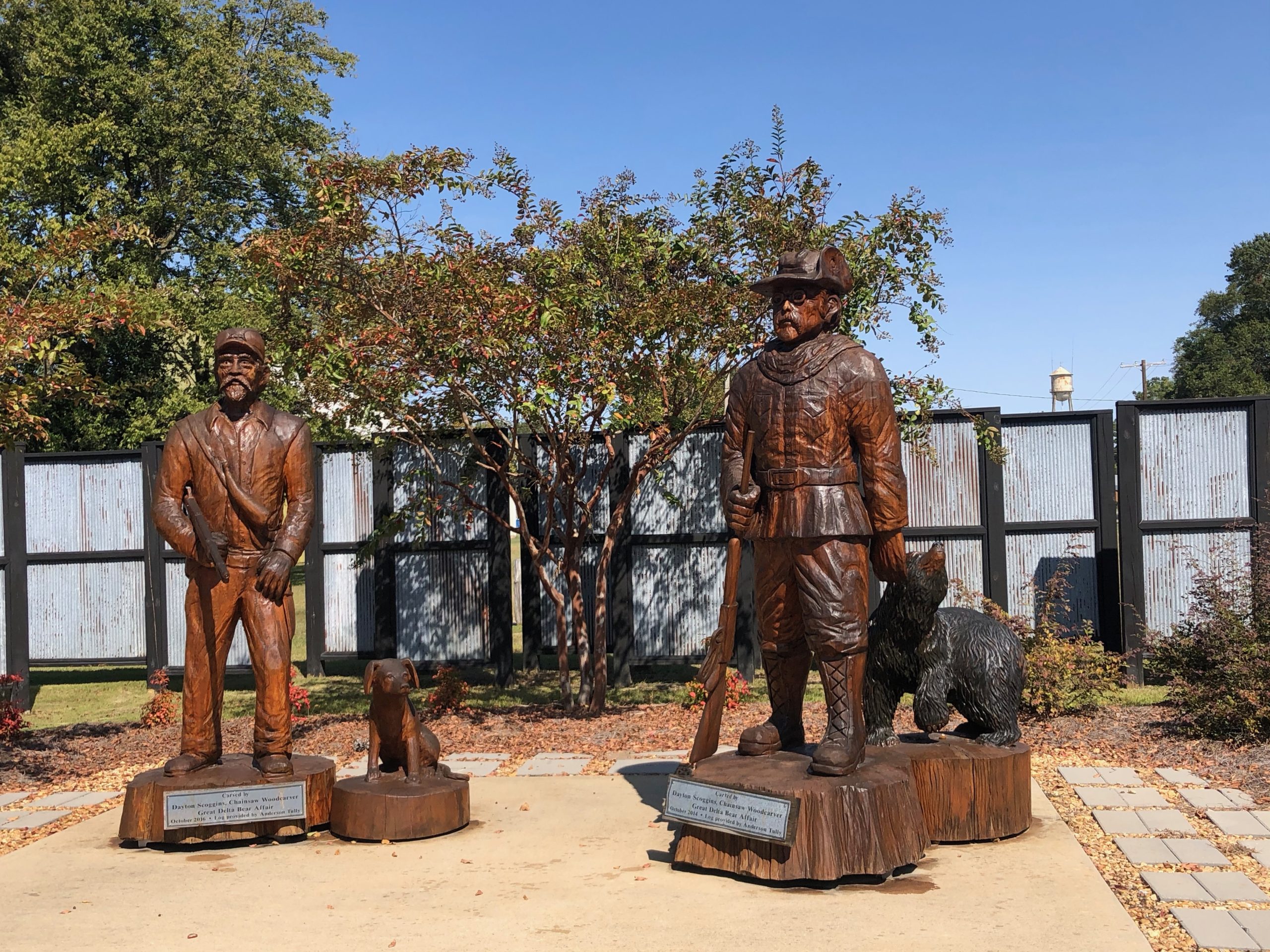 A bear hunt is a fun way to get out and explore Rolling Fork on foot or by car.
While you're in the historic downtown area park the car and explore the town on foot.
The downtown park has a historic shotgun shack, a guitar statue that is a tribute to Blues music and of course, the carvings of President Theodore Roosevelt and Holt Collier.
You can "hunt" a number of the bears while walking around to get an up close view of the intricate craftsmanship involved in making them.
Where To Eat in Rolling Fork, MS
After your hunt grab a bite to eat at Chuck's Dairy Bar on M-61. This is where the locals frequent and you'll often see a line of people waiting for their order.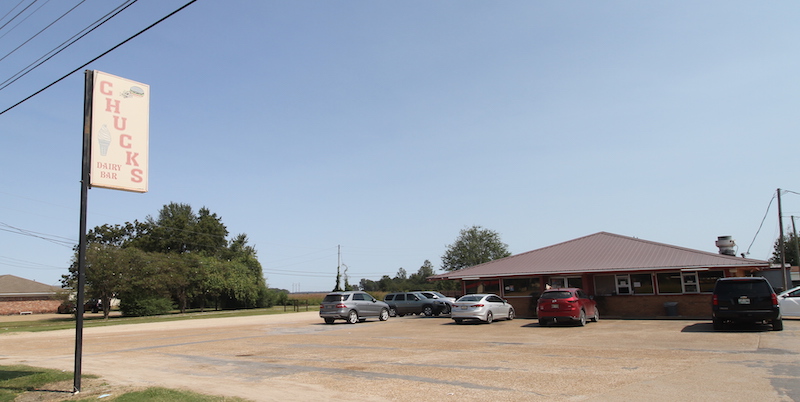 It's easy to see why it's loved by locals. Chucks offers up delicious food, hearty servings and a daily plate special. You can order to go or dine in. I recommend the catfish basket and since you're on vacation go ahead and order one of their famous milkshakes.
Plan To Attend the Great Delta Bear Affair in Rolling Fork
The town of Rolling Fork, Mississippi celebrates the teddy bear at the annual Great Delta Bear Affair festival.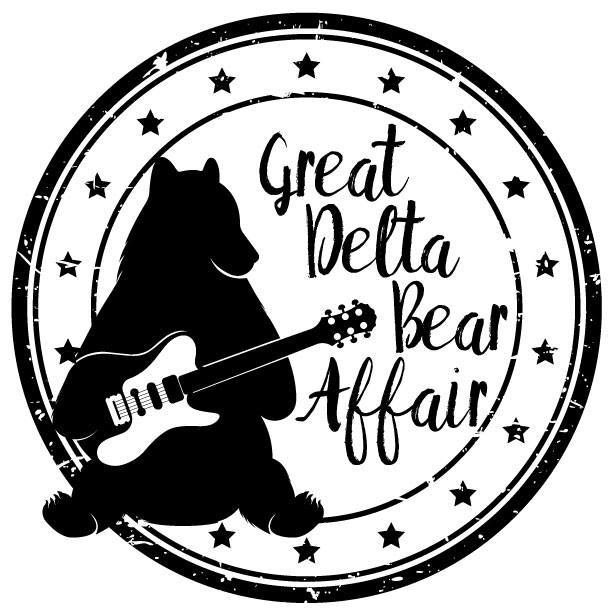 During the Great Delta Bear Affair festival you can enjoy:
wildlife education
a 5K run/walk
archaeological tours
a chainsaw woodcarving demonstration
fantastic live music
a children's interactive educational area
games for children
arts and crafts
food vendors,
an amazing fireworks display
Note, the festival is cancelled for 2020, but will be held in 2021. To support this great festival during this crazy time be sure to buy this adorable t-shirt. Available only while supplies last.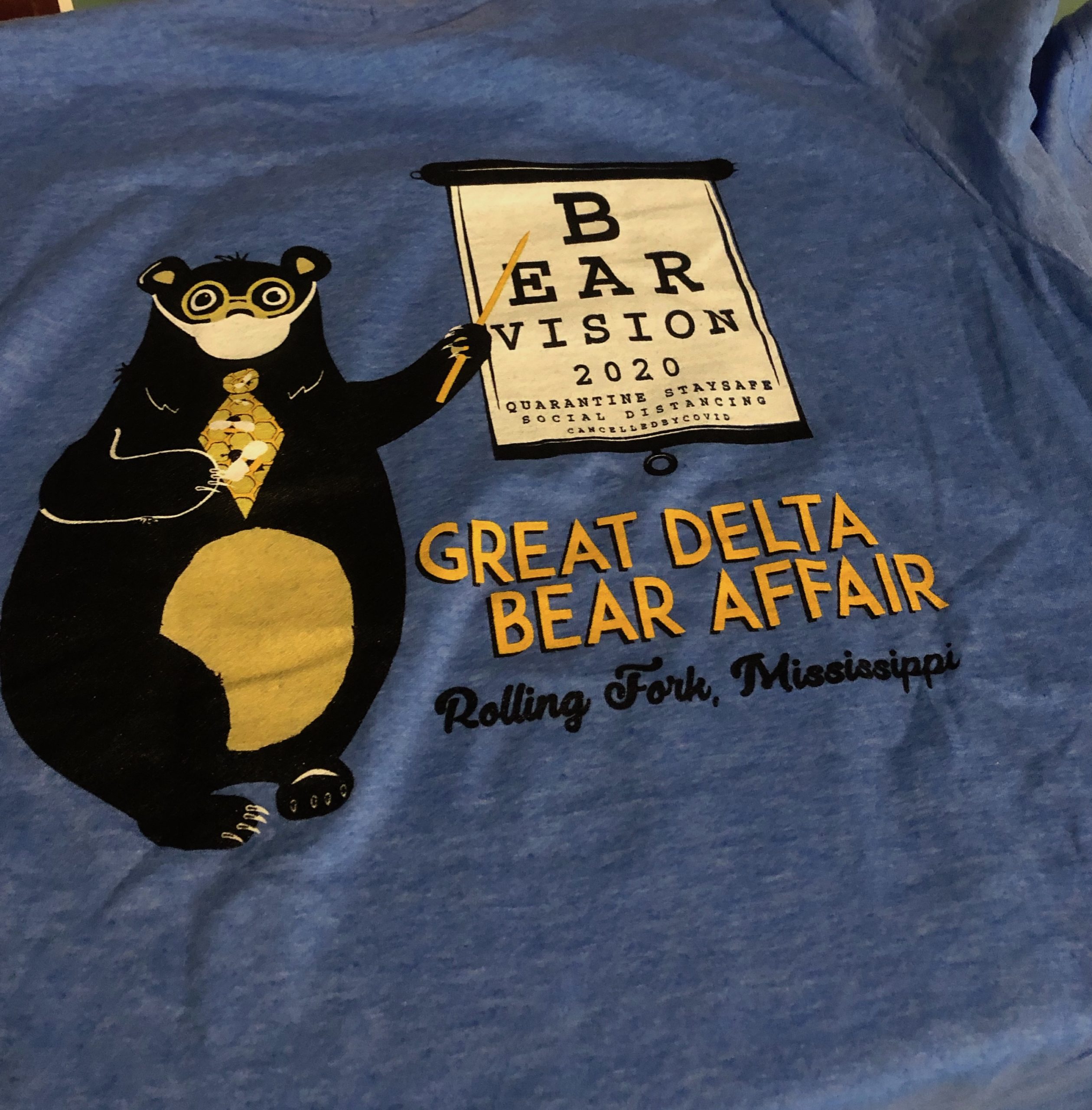 Mark your calendars for October 23, 2021 to attend an event named a Top 20 Event by The Southeast Tourism Society! You won't want to miss it.
While you're in the Mississippi Delta, be sure to detour over to Leland and explore the birthplace of Kermit the Frog.
Pin Go On A Fun Bear Hunt in Rolling Fork, MS to Pinterest