Somewhere along our road trip to California, Em discovered that Nutella and strawberries were just about the greatest snack on Earth. I'm not quite sure how it happened, but we had Nutella and we had strawberries and Em decided to put the two together.
Now, this may be a common thing, but what can I say, we don't get out much and this was a pretty tasty discovery. Converting them into Nutella and Strawberry Cookies was just genius!
Living in San Jacinto Valley, California for part of the winter we were quickly spoiled by the weekly farmer's markets with fresh, locally grown strawberries. That was a delightful treat for us to indulge in during the winter.
Like all good things, though, our fresh strawberry treats ended when we had to go back home.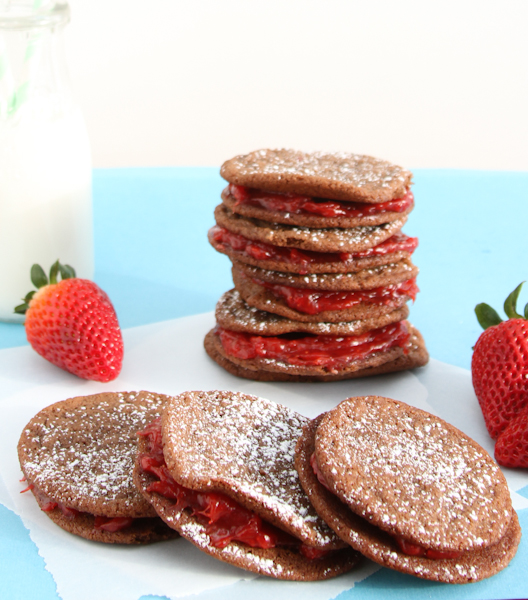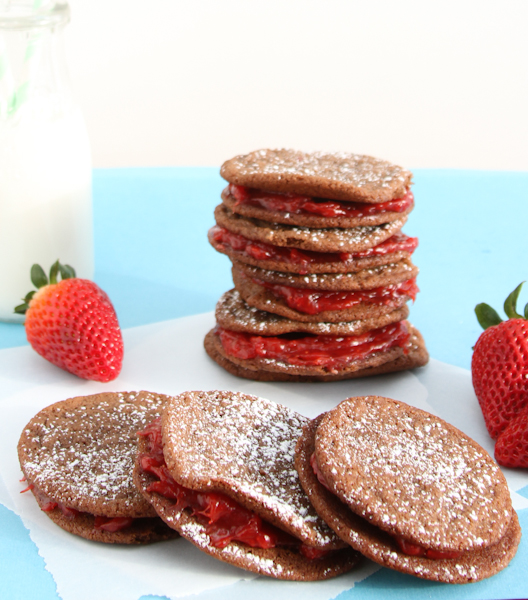 The other day I was digging through the freezer and happened to come across a few bags of strawberries I had frozen last summer. Oh happy day! I immediately thought it would be fun to make Em Nutella & strawberry cookies (note: I'm not a fan of Nutella, way to chocolatey for me). I used my typical peanut butter cookie recipe except I replaced the peanut butter with Nutella.
The recipe is easy enough to make and the results are delicious. I made a strawberry filling from scratch, but you could easily substitute any fruit jam for the filling.
Nutella and Strawberry Cookies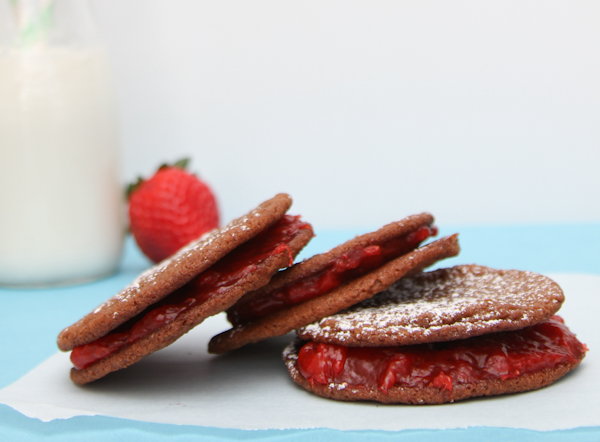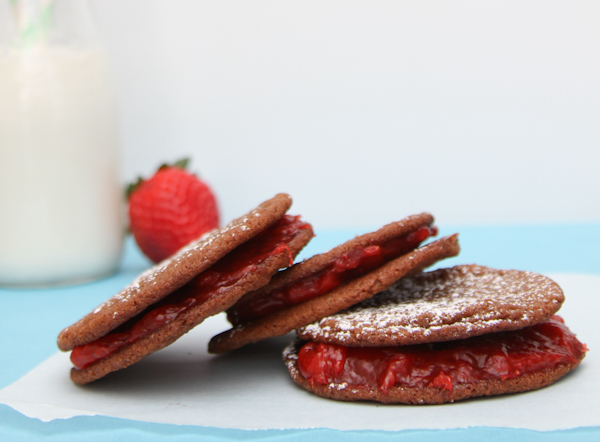 NUTELLA COOKIE INGREDIENTS
1/2 cup granulated sugar
1/2 cup brown sugar
1/2 cup butter, room temperature
1/2 cup nutella
1 egg
1 1/4 cup flour
3/4 teaspoon baking soda
1/2 teaspoon baking powder
1/4 teaspoon salt
NUTELLA COOKIE DIRECTIONS
Mix butter until softened and creamy. Add brown and granulated sugars and combine. Mix in the Nutella and egg. Add the dry ingredients to wet and stir until completely combined.
Cover in plastic wrap and refrigerate for a minimum of 2 hours or overnight.
Preheat oven to 375 degrees. Line cookie sheet with parchment paper. Roll dough into 1″ balls and place 2″ apart on cookie sheet. Bake for 12-15 minutes or until done.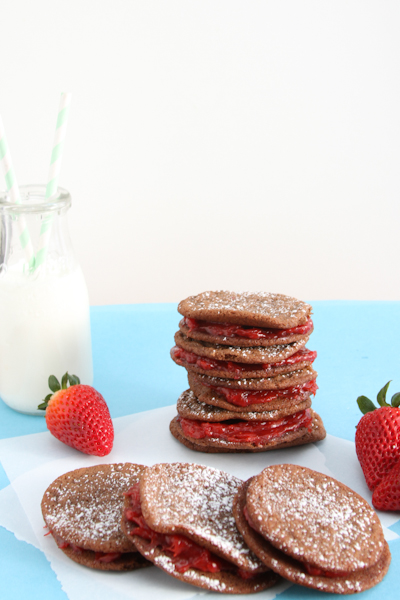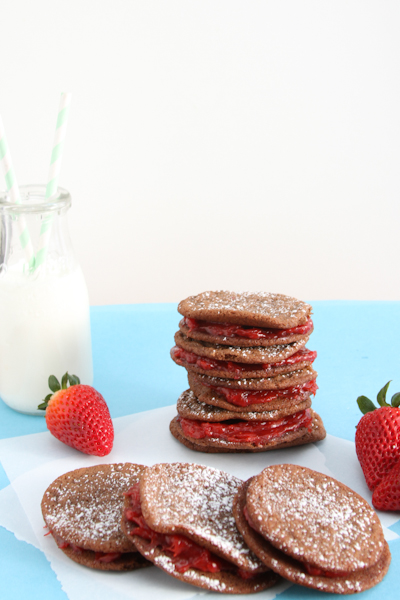 STRAWBERRY INGREDIENTS
1 ½ cups frozen strawberries, thawed & drained
½ cup sugar
3 tablespoons cornstarch
STRAWBERRY DIRECTIONS
Place strawberries in a small saucepan and heat for 10 minutes. Combine sugar and cornstarch in a small bowl and add to strawberries. Bring to a boil and reduce heat. Continue to simmer for 10 minutes or until sauce has thickened. Remove from heat and let cool.
Assemble cookies by spreading 1/2 – 1 tablespoon of strawberry filling on bottom of a cookie. Top with another cookie to create a cookie sandwich. Cookies will soften with filling.
Use remaining strawberry filling on toast or thumbprint cookies.