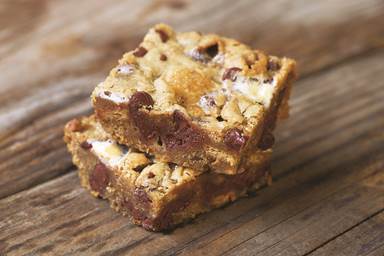 In the middle of winter enjoying s'mores over the campfire isn't really an option. Well, for me anyways. I don't do outdoor winter activities very well. To curb the s'more craving I stumbled across this Heavenly S'more Bars recipe. Perfect!
The people at Amoretti take the s'mores bars up a notch by adding Amoretti Graham Cracker spread to the mix. I might brown the butter for an extra bit of flavor as well. What is your favorite way to enjoy a s'more?
Heavenly S'more Bars Ingredients
½ cup unsalted butter (1 stick)
1 large egg
¾ cup light brown sugar, packed
1 tablespoon vanilla extract
¾ cup all-purpose flour
¼ tsp salt
½ cup Amoretti Graham Cracker Spread
4 graham crackers, chopped roughly
1 cup mini marshmallows
¾ cup semi-sweet chocolate chips
Heavenly S'more Bars Directions
Preheat oven to 350F. Line an 8×8 baking pan with non-stick aluminum foil, set aside.
Melt the butter, and let cool slightly. Whisk the butter, egg, brown sugar, vanilla and Graham Cracker spread together until smooth. Add the flour and stir until just combined.
Fold in graham cracker chunks, chocolate chips, and marshmallows. Spread the batter into the prepared pan, lightly smoothing it out with a spatula. Bake for about 20-22 minutes, or until bars have firmed up in the center. Allow to cool in pan for about 30 minutes before slicing and serving.