We've been receiving our Ipsy subscription for almost a year now and we still love it. Each month the Ipsy Glam Bag includes a variety of items based off of your profile.  I love that a makeup bag is included each month. That alone can be worth the low monthly subscription price. I've been recommending this subscription to all my friends because it really is the perfect gift for teen girls.
TOP THREE REASONS IPSY GLAM MAKES A GREAT GIFT FOR TEEN GIRLS
1. It's Affordable
Only $10/month. Yep, TEN DOLLARS. Probably one of the best gifts you can give without breaking the holiday bank.
2. Great Product
We love the try before you buy the idea. Some of the items are already full size, others are trial size. Either way, it lets us know what we love and we don't.
3. It's Keeps Giving
It's a monthly gift that keeps on giving. You pay monthly and can stop it at any time, but really at $10/month it's easy to let it keep on giving.
Read More: Must-Have Summer Beauty Essentials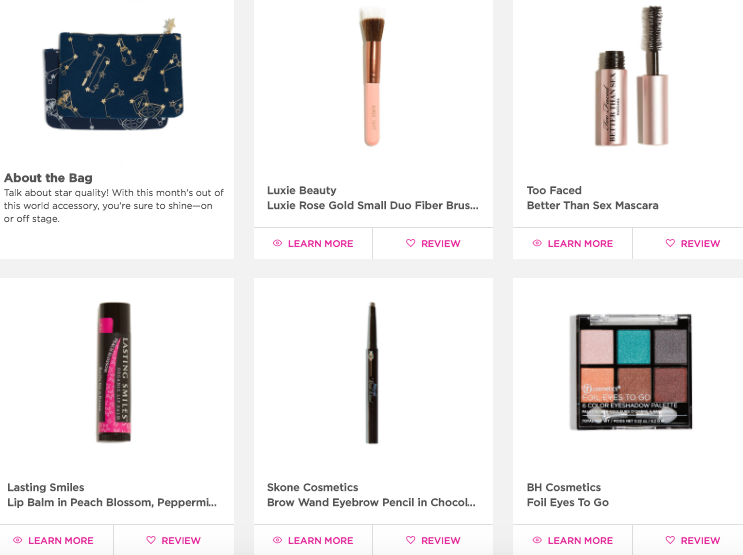 A Recent Ipsy Glam Bag Included
bh cosmetics Foil Eyes To Go
A palette of 6 fun colors to wear this holiday season.
Too Faced Better Than Sex Mascara
I've used this mascara in the past and really like it. The packaging does say 1,944% more volume. Now, in my humble opinion, that is a pretty big stretch, but I still like the mascara. It does increase volume, but not sure it's to that extent.
Read More: Body Shop Makeup Review
Lasting Smile Organic Peppermint Lip Balm
This is made with fair trade ingredients which already makes it a winner in my book, plus it goes on really smooth which I appreciate.
Skone Cosmetics Brow Wand Eyebrow Pencil
Not going to lie. I totally snagged this and put it in my makeup bag. I love it. My eyebrows need all the help they can get, but I need it to be easy and not look fake. The Skone Brow Wand does exactly that!
Luxie Beauty Luxie Rose Gold Small Duo Fiber Brush 524T
Great brush for blush or bronzer. I really liked the style and length of the brush and the bristles have a great texture.
Read More: 7 Best Subscription Boxes for Women
Want to learn more about the Ipsy Glam Bag monthly subscription? Click here.