Finally, we've have found a mattress that let's have a great nights sleep. Who knew it would have come in the form of a bed in a box Ghost Bed but that is what finally, finally gave us the rest we so badly needed. It doesn't help that we've been on the hunt for a new bed for a couple years. Our bed had become so uncomfortable that neither of us was getting a very good nights sleep, but looking for a new mattress can be intimidating, time-consuming and frustrating. The whole going to the store, laying on a bed in a room full of strangers, trying to determine if it's the "right" fit while all eyes are on you just isn't a comfortable situation. Thankfully, the Ghost Bed in a box was delivered right to the front door with no weird showroom moves required.


WHAT IS GHOST BED FOAM MATTRESS?
The Ghost Bed is made by the same company the makes Nature's Sleep mattress so they are not new to the sleep industry. It has been designed to be the perfect foam mattress that is comfortable, supportive and durable. The design also supports proper spinal alignment which is so important, especially as you get older. Plus, with a rod down the entire length of my spine spinal alignment during sleep is very important.
The Ghost Bed is a foam mattress that is taken up a couple steps from the cheap variations you find at the local brick and mortar stores. This is how the bed is layered:
1½" Continuous aerated latex foam is naturally responsive, plush and does not retain heat
2″ Gel memory foam uses a proprietary formula with larger cells to make it more reactive to the body for cooler nights
7½" High density base layer for increased support and longevity
11″ Total Height of the GhostBed Mattress
When the bed is placed on the foundation (purchased separately) you have a standard looking bed.

WHY SHOULD YOU TRY THE GHOST BED?
If you are in need of a new mattress for yourself or a guest room I can't recommend the Ghost Bed enough.
First, it removes the icky showroom situation.
Second, the Ghost Bed comes with a 101-night sleep trial. That's right, Ghost Bed will ship a foam mattress to you and let you try it for 101 nights. If at that time, you decide that the Ghost Bed isn't right for you, there is a no hassle, no tricks, and no cost return policy (note, foundations are not returnable).
Third, the bed comes with a 20-year warranty!
Bonus: FREE shipping for all 48 continental states AND 3, 6, and 12-month financing is available!
IS THE GHOST BED EASY TO ASSEMBLE?
The Ghost Bed arrives in a box and much like I roll my clothes for travel the foam mattress is rolled and placed in the box. Simply open the box and remove the mattress in the room where you'll use the bed and unroll. Simple as that. Check out the unboxing video above.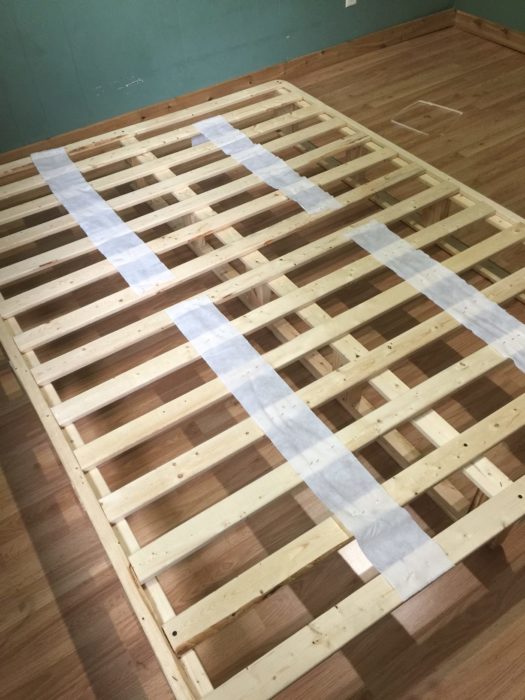 The foundation is easy to put together and goes quickly if you have a drill with a Phillips head. It's just a matter of connecting the boards to the base. Plan about 30 minutes to construct the foundation and about 5 minutes to open the box and unroll the mattress. Easy.
BUT, IS THE GHOST BED FOAM MATTRESS COMFORTABLE?
I will say that I was a little worried that I wouldn't like the bed. It's a foam bed and I've slept on a couple different types of foam mattresses and while they were ok, they were never great. Fortunately, the Ghost Bed was much different than my previous experiences. I think it comes down to buying from a company that has been in the mattress industry a long time and takes a good night's sleep seriously.
It took a couple night to adjust to the new mattress, but I think that's true for any new bed. Now that we've been sleeping on it a couple weeks we really like it. I've been sleeping HARD and oversleeping, which never happened before. Plus, I'm no longer waking up with intense back pain. I had gotten so used to waking up and the pain shooting through my back that it was a blessing to wake up and not have one, single ache. That right there is worth every penny the Ghost Bed costs.
SAVE $50 ON YOUR GHOST BED
Ghost Bed is offering Just Short of Crazy readers a $50 savings on their bed purchase. Simply click this link to automatically receive the discount on your order. Remember, there is a 101-night trial to see if the Ghost Bed is a good fit for you so it's a risk-free purchase.
disclaimer: Ghost Bed provided a foam mattress for my review. I'd like to give them a big THANK YOU for providing me with some of the best sleep I've had in a long time.
***PIN GHOST BED TO PINTEREST***