Looking for a fabulous holiday gift for your foodie friends? Why not get them the ultimate wine country cookbook from America's leading wine region—California?
More than just a cookbook, it takes readers on a wine country road trip of California, the leading wine and food destination in the U.S.
It also provides suggested sustainable wine pairings to bring out the best in each harvest dish—so it's sure to please everyone from new beginners to advanced wine lovers.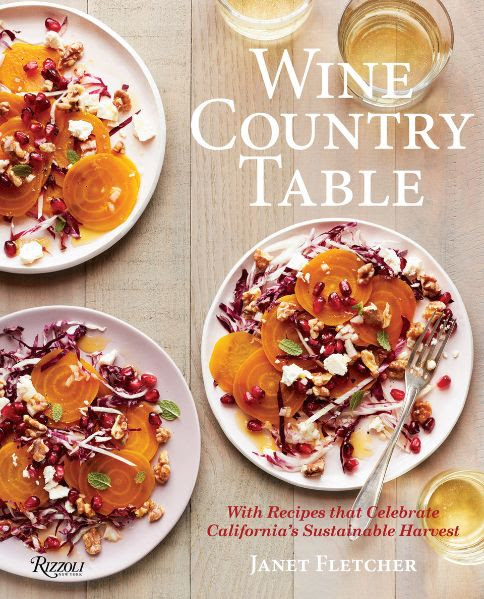 Written by award-winning Napa Valley author Janet Fletcher, WINE COUNTRY TABLE: WITH RECIPES THAT CELEBRATE CALIFORNIA'S SUSTAINABLE HARVEST, published by Rizzoli New York, offers compelling stories and 50 recipes that showcase the diversity of California's wines and regions, its agricultural bounty and the seasonal spirit that continues to define the produce-driven and ethnically influenced essence of California wine country cooking.
Wine Country Table showcases the true rock stars of California's world-renown culinary scene – the vintners and farmers throughout the state who grow more than 100 winegrape varieties and 400 specialty crops.
Beautifully photographed, the book offers a visual tour of 23 stunning farms and wineries where sustainable practices highlight the future of responsible farming and winegrowing embraced throughout California.
The book also spotlights California's key wine regions and winegrape varieties and its most important fruit and vegetable crops, with tips on how to select and use them.
The recipes cover all bases, from breakfast (Golden State Granola), lunch (Frittata with Broccoli Rabe and Sheep Cheese), and dinner (Lamb Meatballs with Artichokes and Olives) to dessert (Almond, Orange, and Olive Oil Cake), with helpful California wine suggestions.
Master the art of making Vietnamese Chicken Pho, learn the proper way to eat it, and complement it with a glass of California Riesling.
For Spring Vegetable Tabbouli with Fava Beans, Radishes, and Spring Herbs, pour a Chardonnay, Pinot Gris/Pinot Grigio.
Stir-fried Skirt Steak with Chinese Broccoli and Shiitake pairs well with both Cabernet Sauvignon and dry rosé.
Taste Mexico's influence on the California kitchen in dishes like Roasted Tomato Soup with Tortilla Crisps, ideal with Zinfandel or Sauvignon Blanc.