I had no idea just how many fun and unique lodging options are available for solo vacationers, couples, and even families looking for a unique experience when visiting this gorgeous area of Southwest Ohio.
When I think of the Hocking Hills region of Ohio, I definitely think of quaint cabins tucked in the woods or even the more extreme- tenting!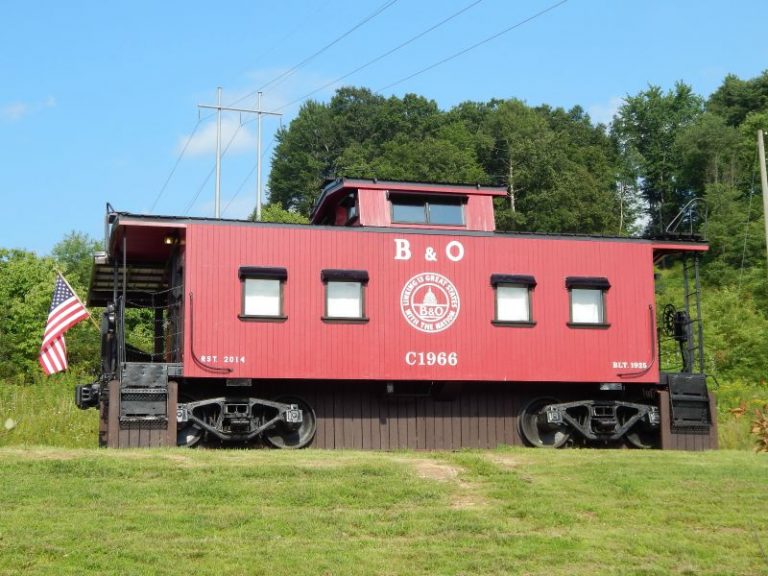 Fast track to Fiddlestix Village– a unique lodging concept right in the heart of Hocking Hills. Only a few-minute's drive to Ash Cave and Old Man's Cave, the teeny lodging community is right off one the main routes (St. Rte. 93) through the area and offers the coolest themed lodging including a Country Store, Cookie Cottage, and where we stayed- a converted train caboose!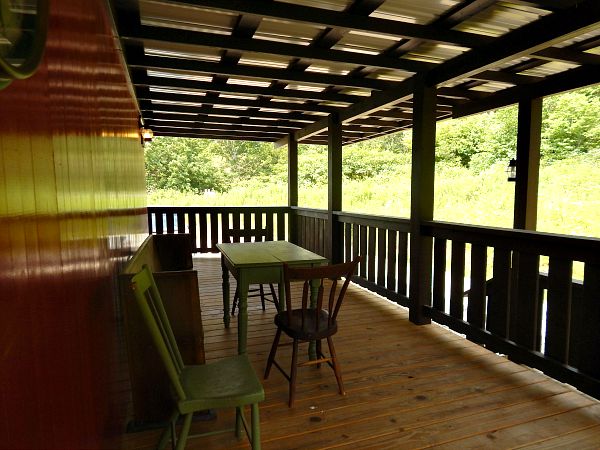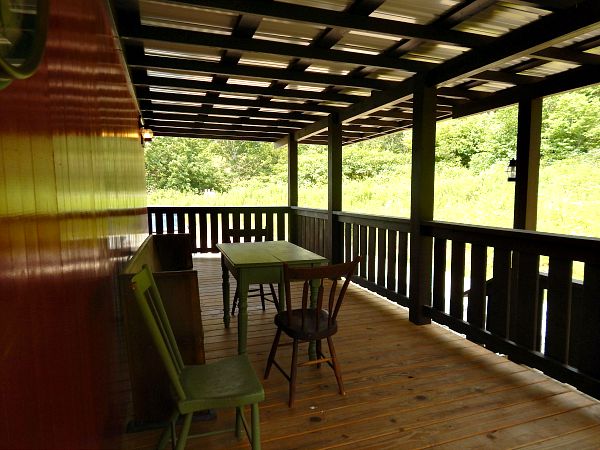 Yep, you definitely read that right. Fiddlestix Village took an authentic 1926 B&O train caboose, completely renovated it including climate control for any weather conditions you may encounter, added a large porch, indoor plumbing, and sleeping areas, and now it's a hotel.
Curiosity piqued? So was mine!
Unique Lodging in Hocking Hills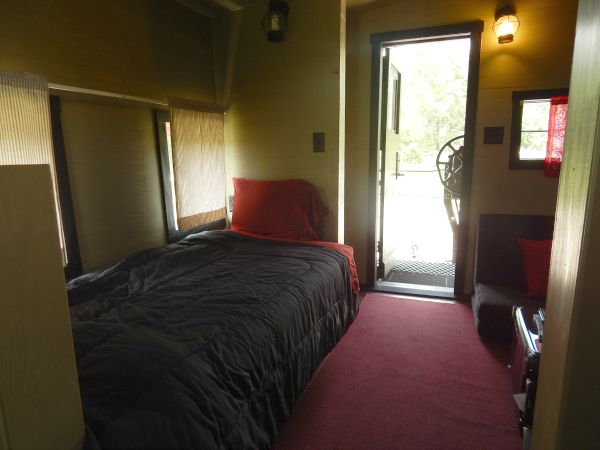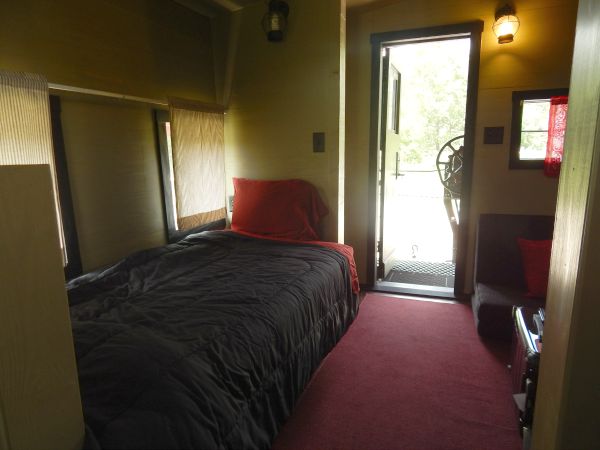 Fiddlestix's 1926 train caboose was decked out exactly as I hoped it would be with red and black bedding, train-themed decor, and even red and white bandanas used as curtains.
The two twin beds (the caboose actually sleeps two adults and two children if you bring their sleeping bags!) are bang next to the side windows and, compliments of the beautiful morning and evening views of lush hills and pretty skies, I found myself looking out of the windows more than anything else during our visit.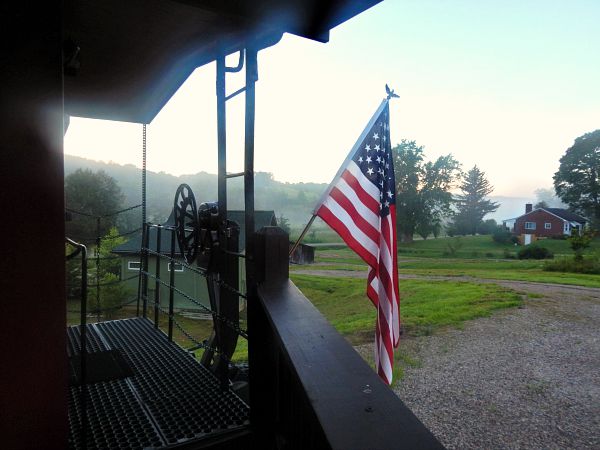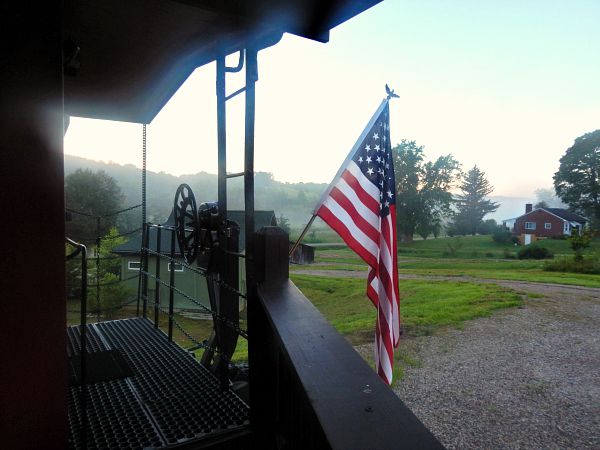 Fiddlestix Village offers free wifi as well, but it did tend to be a bit spotty. My solution? We connected to the wifi closer to the main office area and walked our iPads back up the hill. Easy peasy.
If you love watching the tele when you're on vacation, you'll have to make sure you bring a laptop with wifi capabilities as there is nary a television in sight. But, when you're in the Hocking Hills, you're not there to catch up on t.v. shows, right? We watched Netflix on our laptop each night before bed- definitely not a deal breaker at all.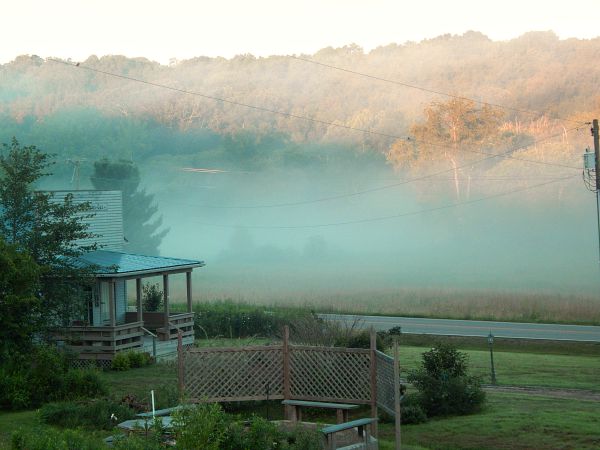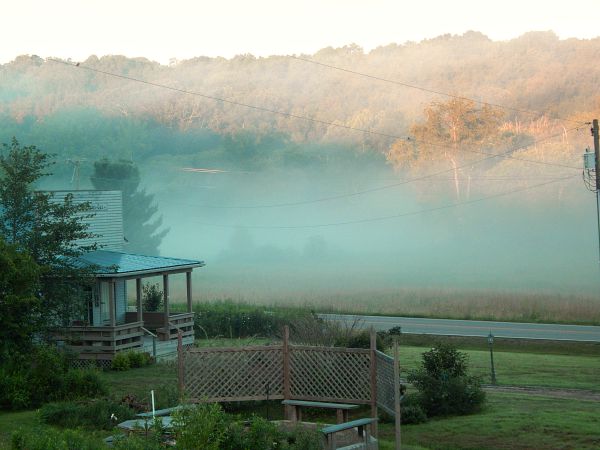 Everything inside the caboose is on the "quaint" size as well. The beds are twin-sized and are in between walls, so if you're super tall you may have a problem stretching out in one.
The bathroom offers a standard size toilet and a small stand-up shower with a sink and mirror across the hall. There's also a picnic table-style dining area and it was very accommodating for two adults with plenty of room for two more.
I do have to disclose that we had water issues during our visit, though.
The hot water for the caboose is on demand and, although the kitchen and bathroom sinks had plenty, the shower did not and we found ourselves taking cold showers during the first day. Once we alerted management, however, they happily allowed us to use a non-rented cabin to clean up.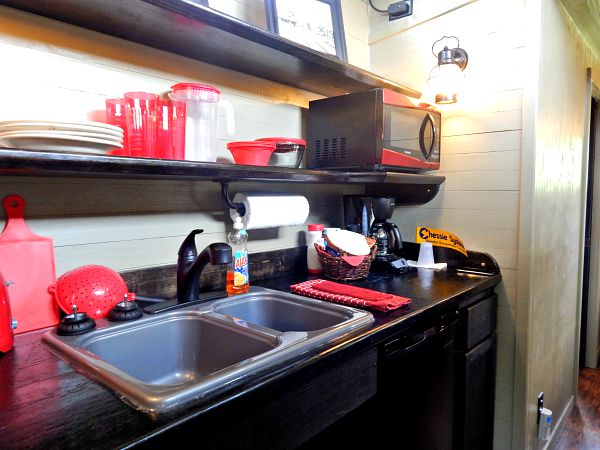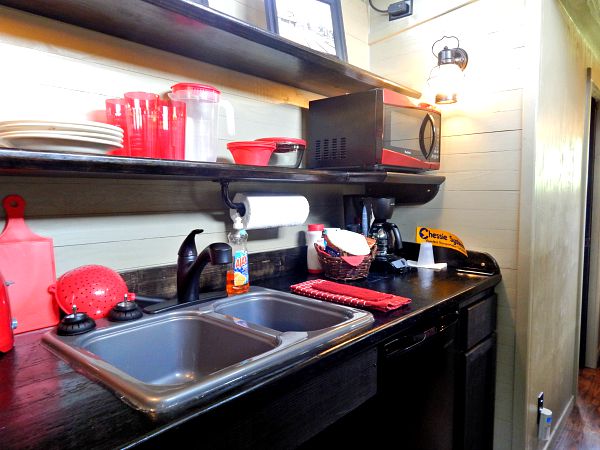 The kitchen, however, is a masterpiece. I have to commend the designers because they were able to fit a double sink, mini fridge with a small freezer area, shelves, a microwave, coffee pot, toaster, and all of the utensils and plates, bowls, mugs, and cups for four (all with a black, red, and white theme!) in the area. The kitchen area gets a ton of natural light compliments of the skylights overhead and we barely used any of the electrical lights on our visit.
Breakfast Fixins
With a stay at any Fiddlestix Village property, free breakfast "fixins" are included. Our caboose was loaded up with wheat bread, butter, cereal, milk, orange juice, and tea and coffee. There was also an adorable basket on the kitchen counter filled with coffee and tea amenities. Such a cute touch!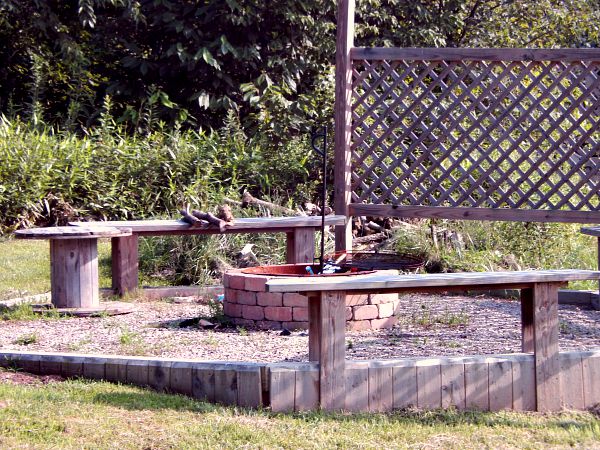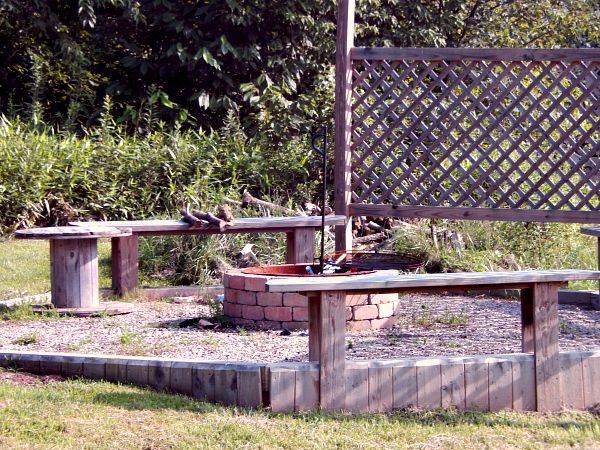 The village does have an awesome fire pit area with seating around the pit as well. There was wood stacked nearby for pit use and I could just picture folks sitting around at night making s'mores or roasting hot dogs and having a laugh.
What's Nearby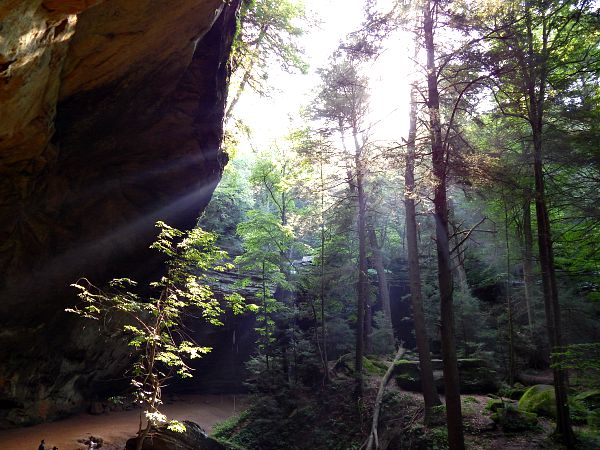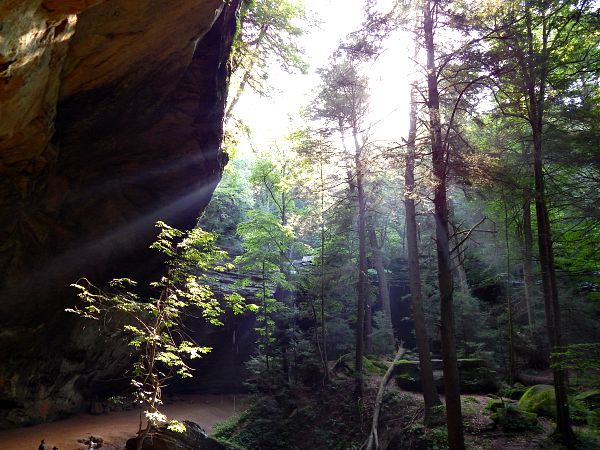 The beauty of Hocking Hills, of course!
Ash Cave is exactly 5 miles away, Old Man's Cave is under 10 miles away, and our main reason for visiting- Ohio Brew Week in Athens, Ohio.
A 40-minute drive from the village, the festival was only a right turn away and 25 miles down the road. Want to read about our amazing visit to Ohio Brew Week and why it's on its Tenth anniversary AND just keeps getting better and better each year?