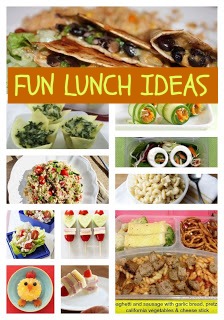 It is time to send the kids back to school, after the work of shopping for supplies and clothes it is easy to forget all about lunch. You don't have to get stuck in the school lunch rut this year! I found some great ideas to help inspire you to pack nutritious and delicious meals that will make your kids the envy of the cafeteria this school year.
Mini Ham, Cheese and Tomato Skewers– When isn't food on a stick more fun? These are sure to be as yummy as they are cute.
Salad in a Lettuce Bowl– You can send something that is good for a growing body and good for the planet too with this idea. Kids east the bowl the salad is served in which reduces waste.
Easy Mac n Cheese Kids love Mac n Cheese and Moms will love how easy this recipe is to prepare.
Silly Salad School Lunch-This is a great way to get them to eat their veggies and smile about it.
Fruity Friend– This little guy is almost too cute to eat, but he is packed full of goodness with the fruit he is made from.
These Ham, Cheese and Tomato Skewers are simply to prepare and fun to eat. Kids will like the change in pace this lunch brings to the table.
Go Beyond PB&J with these mouth watering Black Bean Quesadillas.
Operation Awesome lunch sums it up when you offer Spaghetti and Sausage with Garlic Bread. Â What kid wouldn't love this for lunch?
No chance of trading lunches when Spinach & Artichoke Cups are on the menu! I have a feeling a few teachers might even try to instigate a trade for these yummy cups!
Kids will feel quite grown up when you pack Mini Veggie Sushi for their lunch. This is packed full of goodness and is guaranteed to be fun to eat!
What kid doesn't like pizza or muffins? Combine 2 favorites with Pizza Muffins for a sure fire lunchtime hit!
Put a spin on lunch with Shish Kabob Sandwiches. Your kids will be the envy of the lunchtime crowd with these!
Mediterranean Cous Cous Salad will make your kids forget all about sandwiches for lunch!
PB&J is a lunch time tradition, but it deserves a make over definitely! Try PB&J Push Pops for a new look on a time tested kid friendly option.
Breathe new life into school lunch with Shrimp Kabobs. These are mouth watering and nutritious, which is a perfect combination for growing bodies and brains!
PHOTO CREDIT: Photos belong to their respective owners. All recipes are linked from the photographs – click on a photo to visit the creator's blog and view the recipes.