Thanks to #MIDairy for the invitation to Hudsonville Ice Cream!
Michigan Dairy recently invited me to a 2-day event to learn more about Michigan dairy. I read through the agenda and as soon as I read that it included a visit to Hudsonville Ice Cream I dashed off my RSVP. I mean, HELLO, it's Hudsonville ice cream. There was no way I was passing up an opportunity to take a behind the scenes tour at Hudsonville Ice Cream.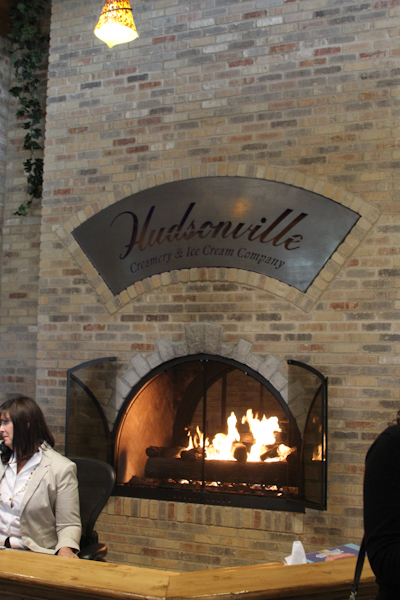 INSIDE HUDSONVILLE ICE CREAM OFFICE
Hudsonville Ice Cream is located in an unobtrusive building near Holland, MI. The outside looks just like a typical office building, but when I walked inside I was wowed by the warmth, decor and charm of the building.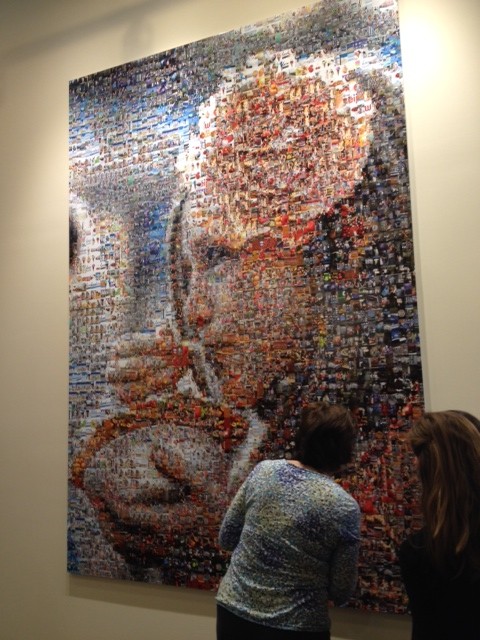 This amazing piece of artwork hangs in the office and is created from 100's of small images.
We were greeted by numerous staff and met in a living room area complete with sofas, recliners, and a fireplace. It is a gorgeous room and I know I would be using my laptop to work from that room if I was employed there.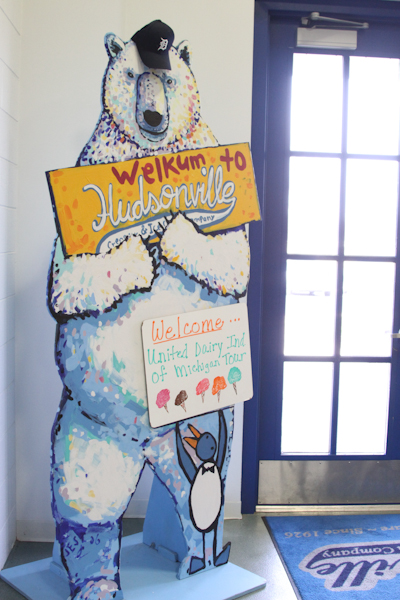 During my visit I learned about the history of Hudsonville Ice Cream, that they've been making ice cream for over 100 years, and I also learned about the pure, delicious ingredients that make their ice cream so very good.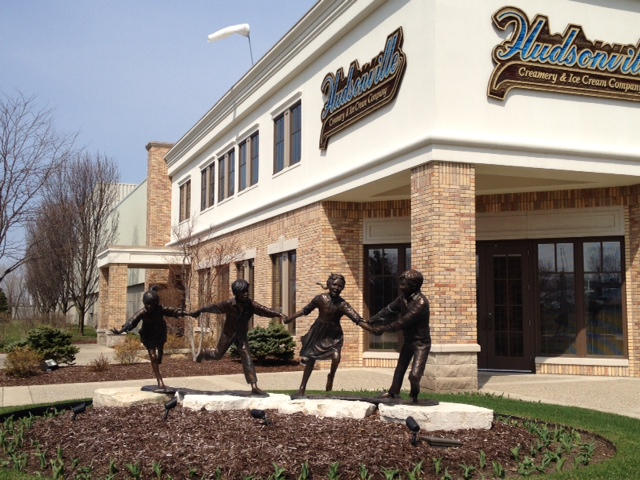 I appreciate that Hudsonville is a small company that is very family and customer friendly, but what I love about them is that they source the majority of their ingredients from Michigan farmers. Cream isn't carted from across the country to make their ice cream. They buy it from local farmers who are invested in Michigan's farming industry.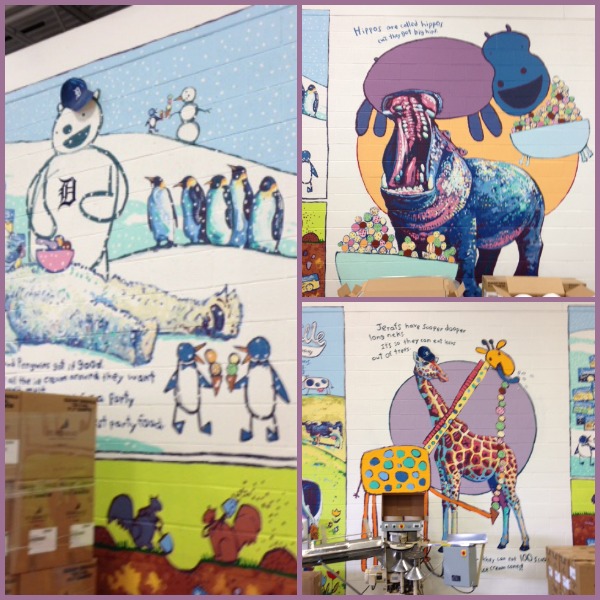 After the introduction to Hudsonville it was time to move out into the factory. Fun artwork adorns the walls in the factory and this fun feel continues through out the tour.
HUDSONVILLE ICE CREAM FACTORY TOUR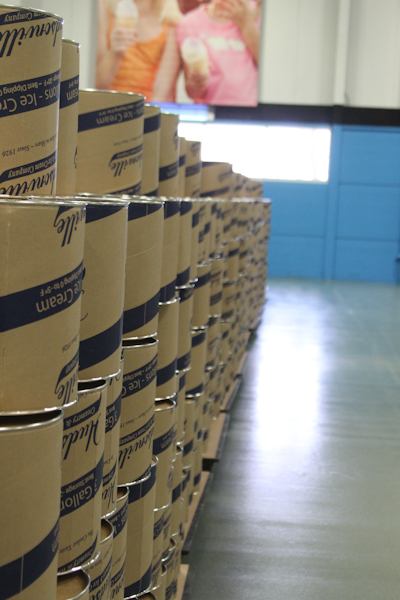 THIS is happiness waiting to happen 🙂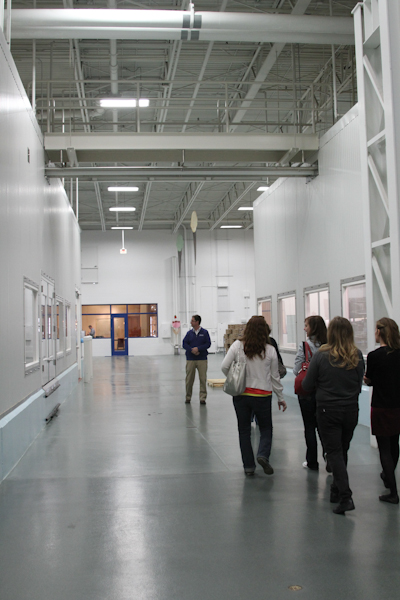 The making of the ice cream actually happens inside two different rooms within the building. Having separate rooms ensures that everything is kept very, very clean. Lucky for us there are windows that allow a peek inside that allows us to see ice cream production in action.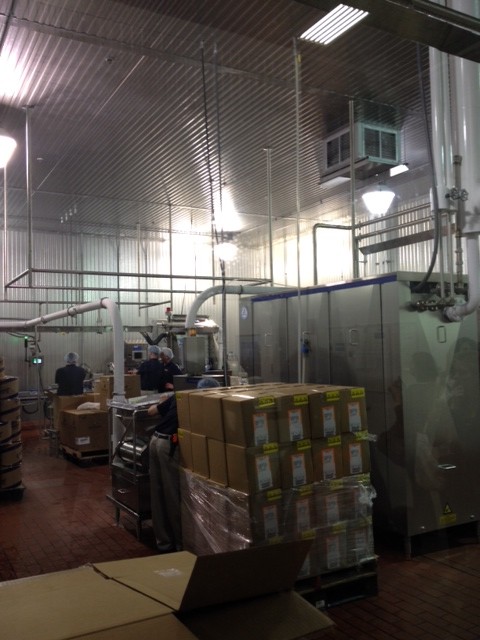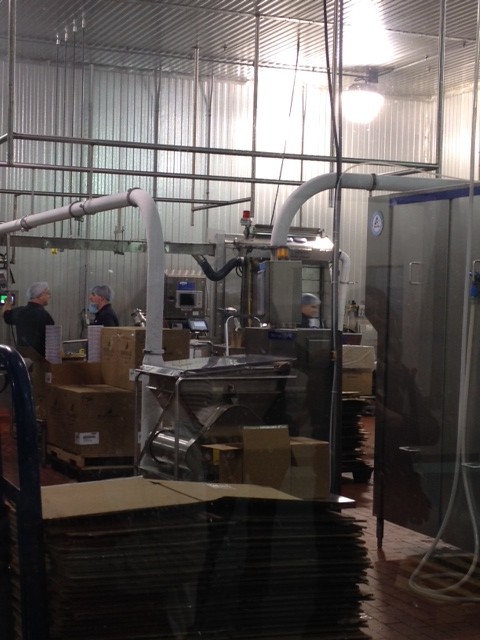 Employees were hard at work making a chocolate style ice cream on the day of our visit. After watching how the ice cream is made we made our way past the colorful holding tanks to the huge freezer where the ice cream is temporarily stored until it's shipped to the store.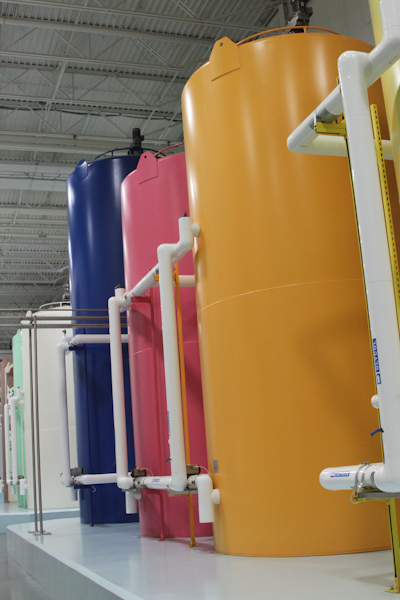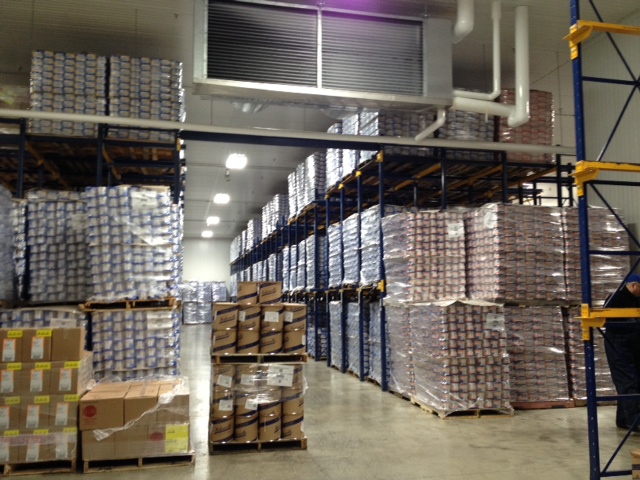 Someone hand me a spoon!
Touring the Hudsonville Ice Cream factory was very interesting and a lot of fun, but the best part was yet to come….TASTE TESTING!!!
HUDSONVILLE ICE CREAM FLAVORS + TASTE TEST
I tried vanilla first (which is almost always my favorite) and then I tried SeaSide Caramel and I may have found a new favorite. The SeaSide Caramel has chocolate covered salted caramels in vanilla flavored ice cream with a salted caramel ribbon. I have to say it's pretty awesome that part of my job is taste testing ice cream.
Hudsonville Ice Cream is a Michigan favorite and they have partnered with a few Michigan favorites to create specialty ice cream.
Tiger Traxx is appropriately named for the Detroit Tigers.  Watching a baseball game AND eating Hudsonville Tiger Traxx is a summer highlight. Tiger Traxx is creamy vanilla ice cream loaded with chocolate covered pretzel baseballs and a thick fudge swirl. It's, of course, available at Comerica Park, but, luckily, it's also available at the grocery store.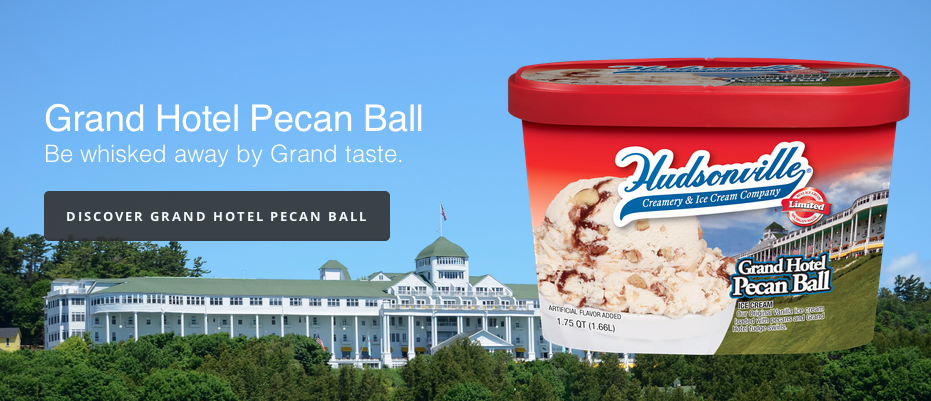 Hudsonville has also partnered with one of the most iconic hotels in the country and created Grand Hotel Pecan Ball ice cream in honor of the Grand Hotel on Mackinaw Island. Grand Hotel Pecan Ball loads roasted pecans and Grand Hotel fudge sauce into their original vanilla ice cream. When you visit Sadie's Ice Cream Parlor inside the Grand Hotel you will find Hudsonville ice cream exclusively.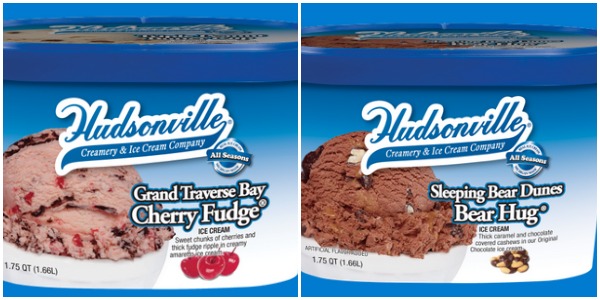 Sleeping Bear Dunes Bear Hugs® and Grand Traverse Bay Cherry Fudge are inspired by northern Michigan near where I live. Sleeping Bear Sand Dunes Bear Hugs® is chocolate flavored ice cream with chocolate covered cashews swirled with thick caramel and Grand Traverse Bay Cherry Fudge is amaretto flavored ice cream, cheery pieces and thick fudge swirls. By the way, if you've never visited Sleeping Bear Sand Dunes or the Grand Traverse Region, come on up. It has a lot to offer and is well worth a visit.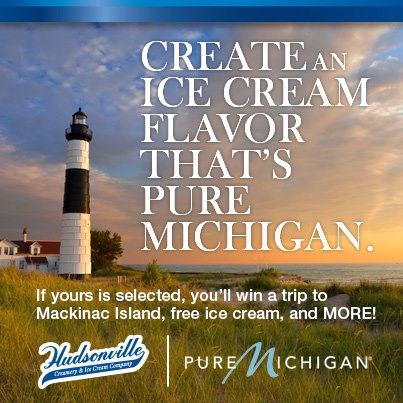 Hudsonville Ice Cream has so many great flavors and I highly recommend trying all of them. However, if they don't have a flavor that you think would make for great ice cream you can enter the annual "Official Flavor of Pure Michigan" contest. Watch their Facebook page for upcoming contest details.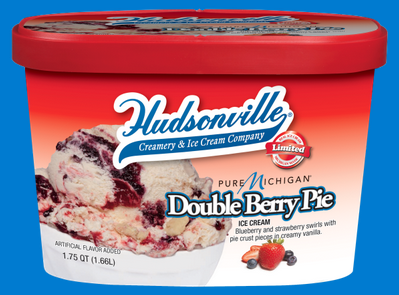 Last year the winning ice cream was Pure Michigan Double Berry Pie. I need to find this ice cream soon and give it a try. It has so many delicious ingredients! Pure Michigan Double Berry Pie is made with Hudsonville's creamy Original Vanilla ice cream and swirls of blueberries and strawberries surrounded by real pie crust pieces.
Have you tried Hudsonville Ice Cream? What is your favorite flavor?